About The Authors
For more information on how to work with the Gimme Some authors, please visit our Work With Us page.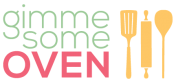 Ali Ebright is a freelance recipe developer and food writer, photographer and stylist, and blogs at Gimme Some Oven and Gimme Some Life.
Ali's philosophy on life and food are one and the same — good things are meant to be celebrated and shared. When it comes to cooking, she loves creating fresh, simple, creative and delicious meals to enjoy with good friends and family. Most of her recipes tend to fall in the quick and easy category, although she does love investing more time in a meal for a special occasion every now and then. She also is a big fan of the idea of 'all things in moderation', so yummy desserts are a must!
But while Ali loves food, it is only just one of many interests that shape her life. She absolutely loves all things music, traveling near and far, actually making things from Pinterest, cozying up with a good book, playing with her sweet pup, Henry, and just spending as much time as possible with friends and family. Come say hello and find Ali on Facebook, Twitter, Pinterest, Google + & Instagram to connect further!
To connect with Ali about opportunities to freelance and work together, please contact her here or visit the Work With Us page for more information.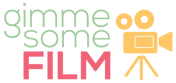 Sarah loves movies. She loves watching them (in crowded theatres, in empty theatres, on her couch, on her iPhone, at festivals, on planes, anywhere). She loves trying to write them (if you want a new appreciation for movies, just try to write a full-length script that makes sense…she's still working on that one). She loves making them (just finished her second short this fall). Most of all, she loves talking about them. Which is why she's more than excited to join the Gimme Some family as the Official Film Talker. Please talk back. It will make her as happy as she gets watching Bringing Up Baby.
Sarah has a full-time movie habit made possible by a full-time writing gig during the day. She tries to balance all this watching and writing with trail running, jazz singing and book clubbing. Sarah blogs at Gimme Some Film.

Bet Mercer is a poet-photographer who writes at Gimme Some Reads and Everyday Poetry. Bet appreciates words. Whether she's browsing quotes, opening a book for the first time, sitting with a poem or reading a favourite book over again — when just the right words are strung together to say something you didn't know it was possible to say — *sigh* there's nothing better. Mostly favours old fiction written by people who lived in the UK or Ireland, but every once in a while a homegrown (USA) modern writer will catch her eye.
As a photographer, Bet has had several gallery shows, comprised of images from her international travels, telling visual stories of how to more clearly see the world around you. One year she even got to participate in a moving art show on the Chicago L-train! As a filmmaker, she is a beginner, but enjoys screenwriting, editing, and directing; and looks forward to the day when she can watch her adaptations of her favourite books on the big screen.
Connect with Bet on Twitter, Pinterest, Flickr, Instagram, Etsy, Facebook and Google+; she loves a good conversation, so comment freely on her posts and send in suggestions or questions via her contact page!

Liz Stevens is a blogger at Gimme Some Style, wife, "dog mom", barista, and owner of a 1976 VW camper bus (life-long dream car). Basically she spends her days dreaming of ways to make everything she sees into something awesome. She has an intense love relationship with garage sales and trash on the side of the road. She and her husband co-own Quay Coffee in the River Market of downtown Kansas City, Missouri…meaning she drinks way too much coffee! (If you are ever in the area, Liz would love to grab a cup with you!) Her passion is building community and relationships with others around her, and what a better way to connect with others than through blogging! She doesn't claim to be an expert in the style world, but she does love all things pretty and she loves finding a great bargain!