Chocolate Almond Cheesecake
This post is brought to you by Blue Diamond Almonds.
The older I get, the more I realize I want to become like my mom.
Growing up, this was not so much the case.  As with many oldest daughters, I'm pretty sure the refrain of my teenaged years that I just wanted to be independent!  Do it my way!  Figure it out myself, thankyouverymuch!
But of course, as the years pass, I have come to realize that I'm the spitting image of my mom — both inside and out.   And that she's actually one of the coolest people I know.  And that I'd love to "grow up" to be more and more like her.
Why?
Well first off, let it be noted that my mom is a total badass when it comes to business.  As a female entrepreneur who's been out on my own for 3 years, I see it as no small accomplishment that my mom has persevered as a small business owner in the creative space for basically her entire career.  (Fun fact — I'm known in the needlework world by my middle nickname "Kate", which half of the namesake of Mom's successful cross-stitch design business, Lizzie*Kate, that basically put me through college and still supports our family today.)  Mom is super talented as a designer, she works very hard, she cares deeply about her customers, and yet she still knows when to clock out for the day and spend time with her friends and family.
On that note?  It's also no secret where I inherited my love of cooking and entertaining.  I have talked countless times on here before about how Mom was the one who had a well-balanced meal on the table pretty much every night growing up, even while working hard on said businesses above, plus cookie dough and Chex mix on hand for whenever we wanted a snack or friends stopped by.  She, of course, made this look effortless and my sister and I took her amazing food for granted until reality (finally) sunk in with our college cafeterias about how good we had it.  Today, she's still the go-to hostess with her friends, and will whip up a bowl of chili and toss a huge green salad and mix a batch of cookies whenever friends are invited over for anything from an impromptu grill-out to a church girls night to any day their beloved K-State 'cats have a game.
Also cool?  Her commitment to eating well and working out, her commitment to travel, her sense of style, her green thumb (which I decidedly did not, and never will, inherit), her bookishness, her sharp intellect, her faith, her spunk.  But the older I get, I've decided that I most want to learn how to be a giver like my Mom.  She is probably the only person on earth I know who doesn't think twice — not twice — about regularly giving huge portions of her time and energy and resources to helping others.  Whether that be the various groups she volunteers with around town, helping out her own mother and friends when they have health complications, or even popping up to Kansas City for a day to sous-chef and help her single daughter out with house projects — when she senses a need, Mom will be there in a heartbeat.  And she's a pro at getting things done.  And she doesn't ask for anything in return.  Pretty inspiring.
Yeah, it would be an honor to become more like my Mom.
Anyway, my Mom also happens to have been the #1 fan of this blog since my very first post and reads it every morning, so — hi, Mom!  She's a mega fan of all things chocolate.  So I whipped up a Chocolate Almond Cheesecake and brought it down to Wichita to share with her yesterday for Mother's Day.  I know, two chocolate posts in a row here on the blog (what?!).  But since chocolate happens to be Mom's favorite food group, I figured it was only appropriate.  :)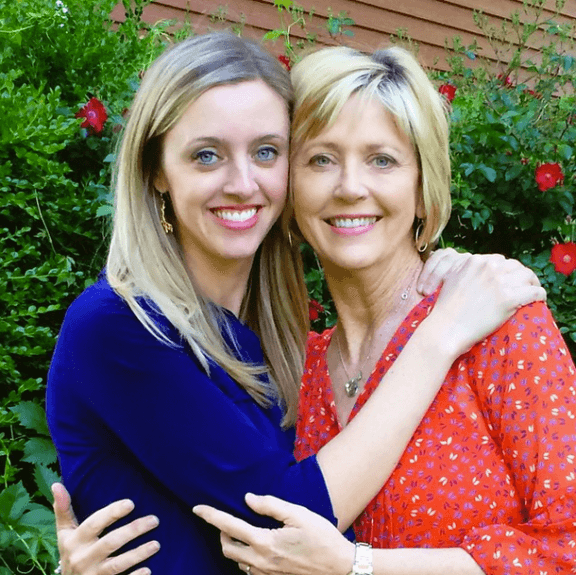 Well first off, there's my pretty mama.  :)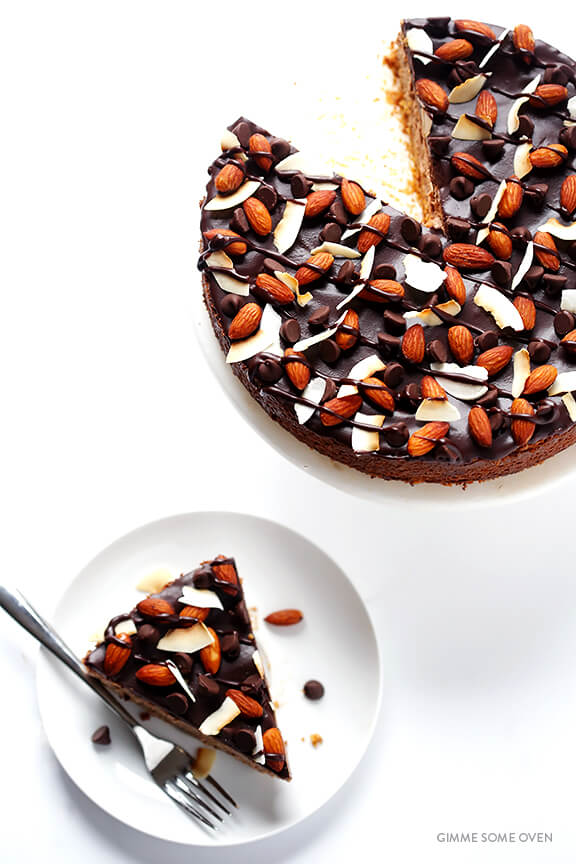 And second, here's the pretty cheesecake!  (Not quite as pretty, but hella delicious.)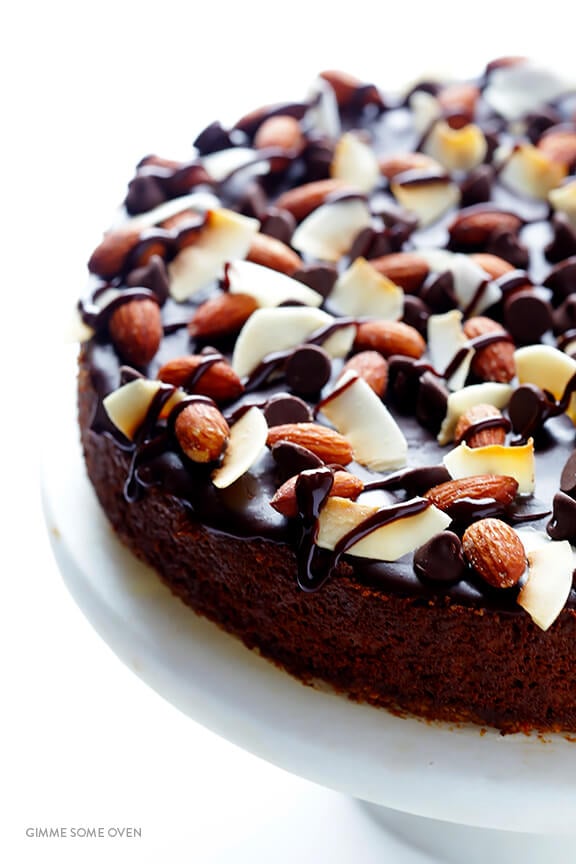 I knew that Mom was a big fan of the classic almond-coconut-chocolate combo in Almond Joy candy bars, so I decided to try incorporating that into a cheesecake.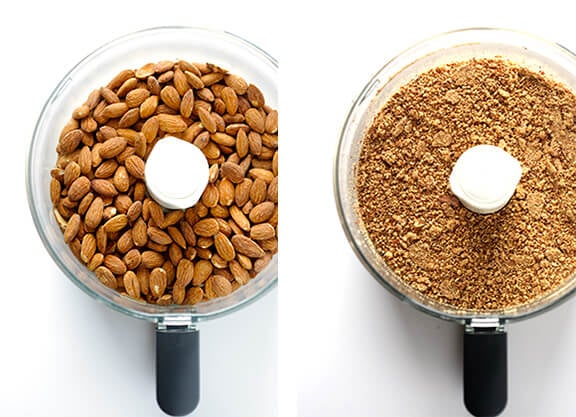 For something different, I decided to start with a (naturally gluten-free) almond crust.  You could just make it with almond meal, but I didn't have any on hand.  So I pulsed some of my favorite Blue Diamond Roasted Salted Almonds in a food processor until they were finely ground.  (You could also do this in a coffee grinder.)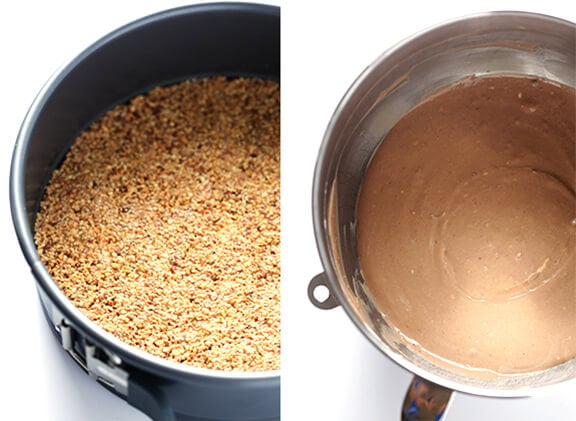 Mix the almonds with some butter and press the mixture into a springform pan, then pre-bake it in the oven for 15 minutes so that they're nice and toasty.  While they're baking, whip up a simple chocolate batter with a hint of almond extract.  (I used my favorite batter which has a low-fat cream cheese and Greek yogurt base, which is slightly healthier.)  ;)
Then pop the cheesecake in the oven to bake up to decadent, cheesy, creamy perfection.  And once it's baked, refrigerate until firm.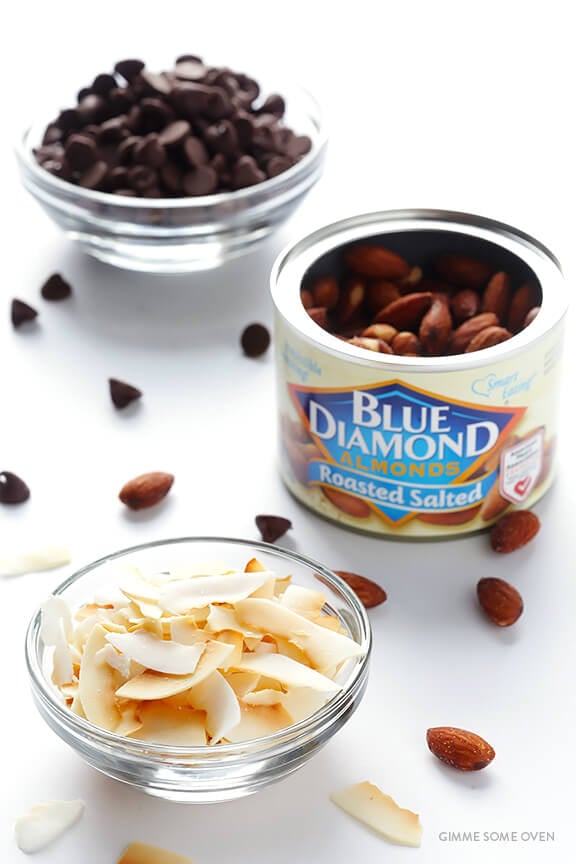 Then, it's time for the fun part — toppings!!!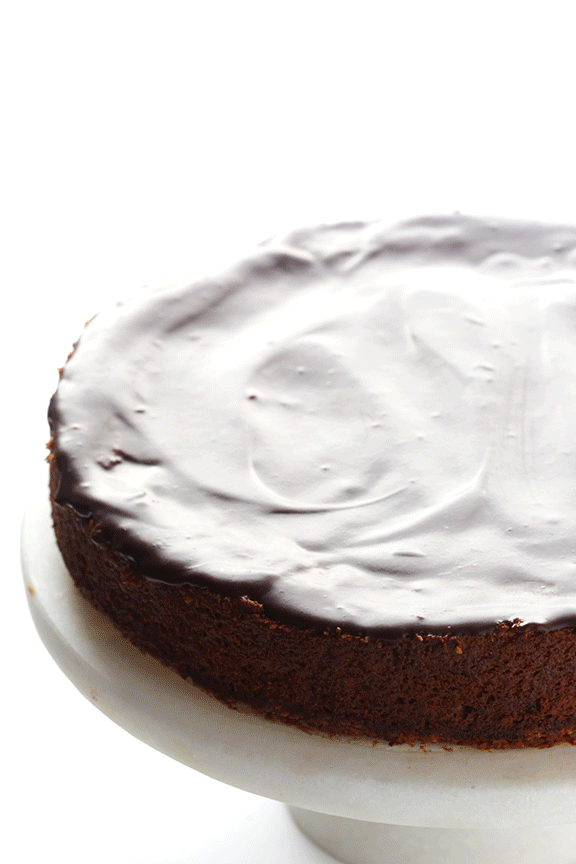 Anyone who saw my Samoa Cheesecake knows that I love some good toppings.  This cheesecake was actually really easy.  Begin by mixing up an easy chocolate ganache and spreading 2/3 of it on top of the cheesecake.  (I used almond milk instead of cream in mine for extra almond-y flavor, and also to cut down on the fat.)  Then sprinkle the ganache with almonds, toasted coconut and chocolate chips.  And for the grand finale, pour the extra ganache into a Ziplock bag or piping bag, and drizzle it on top.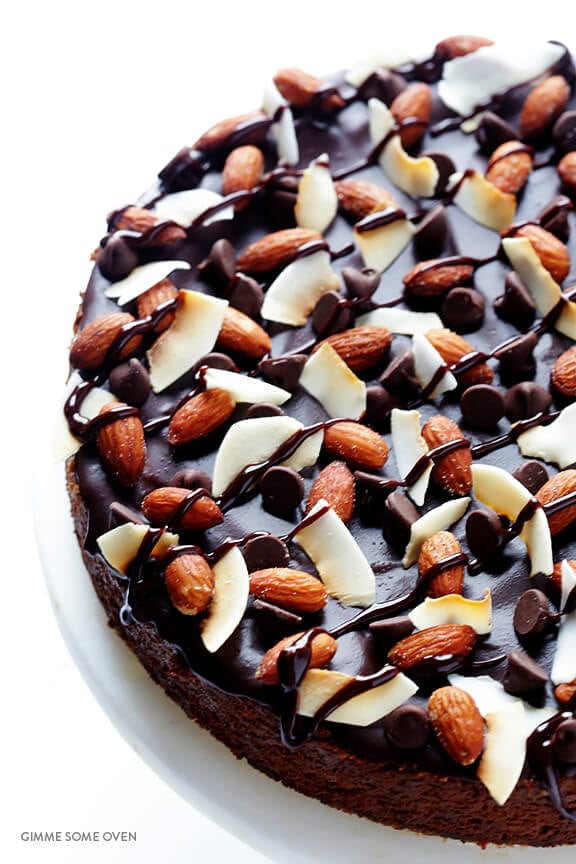 So pretty!!!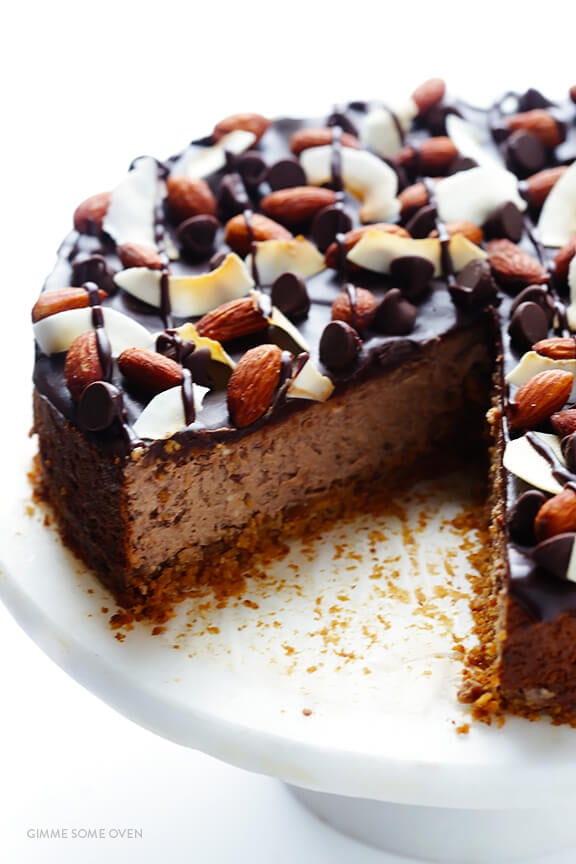 And even more important?  So tasty.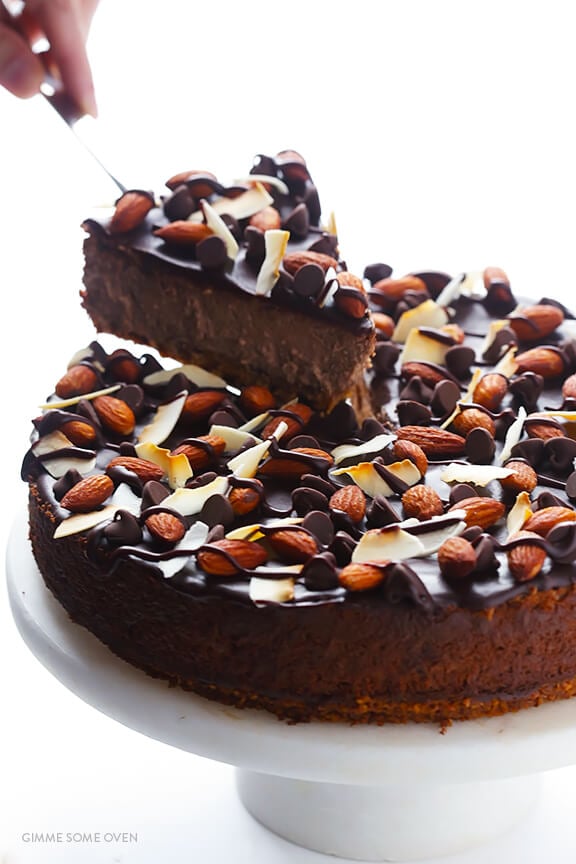 Seriously, everything from the buttery almond crust to the rich chocolate filling to the decadent topping was a total treat.  Definitely a splurge that falls into my category of "occasional indulgences", but worth every delicious bite.
Cheesecake "cheers" to my Mom, and all of the other amazing moms out there who we've realized are so much cooler than we ever knew, and who we hope to be more like with each passing day.  I love you, Mom!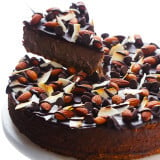 Almond Joy Cheesecake
All of the classic flavors of chocolate, almond and coconut combine perfectly in this delicious cheesecake, which also happens to be naturally gluten-free!
Ingredients:
CHEESECAKE INGREDIENTS:
2 cups almond meal**
6 Tablespoons (1/3 cup) melted butter
3 (8-ounce) bricks neufchatel (low-fat) cream cheese, softened
1 cup granulated sugar
1 cup plain or vanilla Greek yogurt
1/4 cup unsweetened cocoa powder
2 teaspoon vanilla extract
1 teaspoon almond extract
3 eggs
SAMOA TOPPING INGREDIENTS:
chocolate ganache (see ingredients below)
1/2 cup Blue Diamond almonds (I used Blue Diamond Roasted Salted Almonds)
1/2 cup semisweet or dark chocolate chips
1/2 cup toasted flaked or shredded coconut
CHOCOLATE GANACHE INGREDIENTS:
Directions:
TO MAKE THE CHEESECAKE:
Preheat oven to 325°F, and grease a 9-inch springform pan. Carefully wrap the outside of the pan in 2 layers of heavy-duty aluminum foil, being sure that there are NO gaps where water could seep through.
Stir together almond meal and melted butter in a large mixing bowl until evenly combined. Press the almond mixture evenly into the bottom of the springform pan. Then place the pan in a large roasting dish (or any pan larger than the springform), and bring a tea kettle or pot of water to boil in preparation for the water bath. Set aside.  (*If you don't want to place the pan directly in a water bath, you can skip this last step and just place a pan of water on the shelf beneath the cheesecake pan.)
Using an electric mixer, beat cream cheese on medium speed for 3 minutes until smooth. Add sugar and beat for an additional minute until well blended. Add Greek yogurt, cocoa powder, vanilla extract and almond extract.  Beat for an additional minute, stopping partway to scrape the bottom of the bowl with a spatula. Add eggs, one at a time, beating on low speed after each addition just until blended, and scraping the bottom of the pan once or twice. Do not overbeat! Pour into crust.
Place the double pans in the oven on a shelf on the bottom third of the oven. Very carefully use a tea kettle (or large measuring cup) to pour the boiling water in the larger pan to form a water bath around the springform, so that it comes up about 1-inch around the springform.
Close the oven door, and bake about 1 hour 15 min, or until center is almost set. (The cake should still jiggle ever so slightly.) Turn oven off, and open oven door slightly. Let cheesecake set in oven about 1 hour. Then remove cheesecake from oven, carefully run a knife around the edges of the cake, and then let cool to room temperature. Cover and refrigerate at least 4 hours or overnight. Remove springform rim, and top cheesecake with desired toppings.
Serve, or cover and refrigerate for up to 5 days.
TO MAKE THE TOPPING:
Spread about 2/3 of the chocolate ganache evenly over the top of the cheesecake, once it has been chilled.  Sprinkle evenly with almonds, chocolate chips and toasted coconut.
Add the remaining 1/3 of the chocolate ganache to a piping bag or Ziplock bag (with a tiny bottom corner snipped off), then drizzle it over the top of the cheesecake.  Or, you can also just drizzle it with a fork.
TO MAKE THE CHOCOLATE GANACHE:
Combine all ingredients in a small saucepan and heat over medium heat, stirring frequently, until the chocolate is completely melted.  Remove from heat and let cool for at least 5 minutes before drizzling.  The ganache will thicken as it cools.
**To make your own almond meal, simply pulse almonds in a food processor or coffee grinder until they reach a fine, powder-like consistency.  Be careful not to over-process, or they will turn into almond butter.  Also, I used Blue Diamond Roasted Salted Almonds, because I liked the hint of salt they added to the crust.  If you use unsalted almonds, I recommend adding in an extra pinch of salt.
All images and text ©
If you make this recipe, be sure to snap a photo and hashtag it #gimmesomeoven. I'd love to see what you cook!
This is a sponsored post in partnership with Blue Diamond Almonds.  I am partnering with them this year to bring you all sorts of delicious new recipes, and all almond-loving opinions are my own as always.  Thanks for continuing to support the brands who help make this site possible!