Bailey's Chocolate Truffles
Ok, I may have gotten a little carried away this week with Bailey's desserts…
After making these delicious brownies, I decided to use the leftover Irish cream to whip up a batch of truffles! I admit I haven't made many truffles after giving away literally hundreds of them a few years ago for Christmas gifts. (There may be such a thing as too much chocolate!) But these were so simple and delicious that I already want to make more! They were rich and chocolate-y, the Bailey's was delicious and subtle, and the texture was just right. Perfect to go with your St. Patrick's Day meal, or anytime you have a Bailey's craving. :)
(And if you tune back in tomorrow, there may or may not be one more Bailey's recipe to follow…)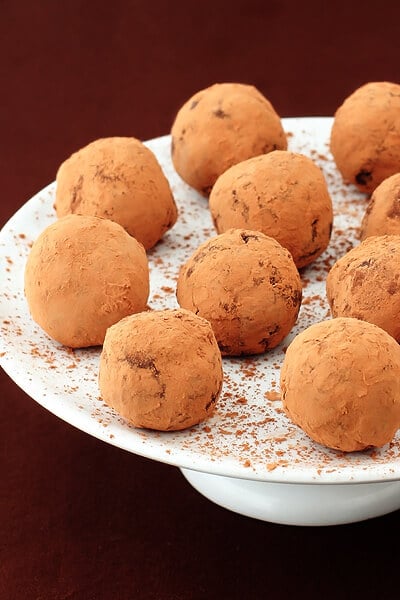 Bailey's Chocolate Truffles
Ingredients
12 oz. dark or semisweet chocolate chips
4 Tbsp. Irish cream (I prefer Bailey's)
2 Tbsp. heavy cream
1 tsp. instant coffee powder (optional)
1/2 tsp. vanilla extract
unsweetened cocoa powder, for dusting
Method
Stir together the cream, Irish cream, and vanilla in a heat-proof bowl, and set the bowl over a pan of simmering water. Cook until nearly boiling. Using a wire whisk, slowly stir the chocolate chips into the warm cream until completely melted. Remove bowl from heat, cover and chill for 1 hour or until the mixture is pliable but firm enough to scoop.
Use a small cookie scoop (or a spoon) to scoop out the chocolate, and roll into truffles of your desired size. Dust with cocoa powder, then set aside. Refrigerate until ready to serve.
Ali's Tip:
These are also great dipped in melted chocolate, or with a coffee bean rolled inside.