Butternut Squash, Bacon & Blue Cheese Macaroni & Cheese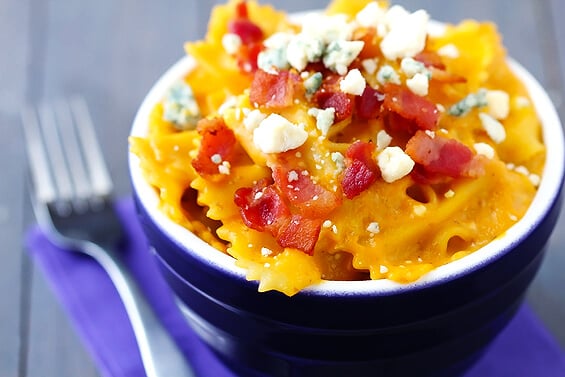 Two weeks ago when I was craving some mac and cheese, I could not decide whether to make a batch with pumpkin or butternut squash.  Or whether to bake it or go straight from the stovetop.  Oh, the tough decisions of life…
That day, I ended up deciding to go with this baked pumpkin macaroni, which was fabulous.  But a few days later, the extra butternut squash that I had pureed after making these cupcakes was calling my name. So, because I'm an adult…and because I can….I decided to proudly make a second batch of mac and cheese in one week.  Judge away.
But it was glorious.  :)
For a slightly different twist on this version, I decided to pair the butternut with some crispy bacon.  Then also melted blue cheese into the sauce and crumbled some extra on top of each serving.  It was also so creamy and yummy fresh off the stove that I decided to serve it as stovetop mac and cheese.  (Although if you're a big baked-with-breadcrumbs fan, I'm sure this would be lovely after being popped in the oven too!)  However you make it, I'm pretty sure your friends and family will adore this one.
Ok, I promise I'll take a break on mac and cheese recipes for awhile.  But couldn't resist sharing one more seasonal excuse reason to make some mac and cheese!!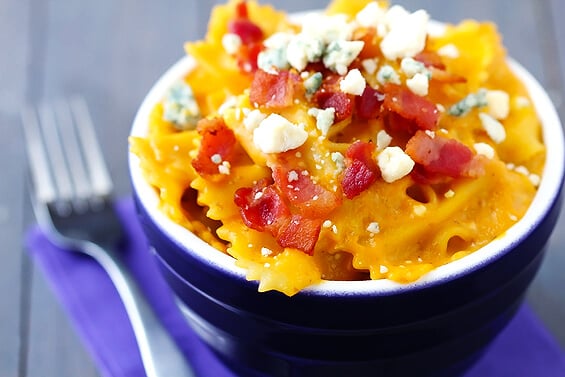 Butternut Squash, Bacon & Blue Cheese Macaroni & Cheese
Creamy stovetop mac and cheese made with butternut squash, bacon and blue cheese - YUM!
Ingredients:
2 (12-ounce) cans 2% evaporated milk
2 cups butternut squash puree (**see note below for instructions**)
2 large eggs
1 tsp. salt
1/2 tsp. ground black pepper
1/8 tsp. cayenne
1 lb. dry pasta (I used farfalle/bowtie pasta)
10 strips bacon, diced
1/2 cup finely-diced white or yellow onion
3 cloves garlic, minced
12 oz. shredded sharp cheddar cheese
4 oz. crumbled blue cheese, plus extra (I used an additional 4 oz.) for garnish
Directions:
In a mixing bowl, whisk together the evaporated milk, butternut squash puree, eggs, salt, pepper and cayenne until combined.

Bring a large pot of salted water to a boil, and cook the pasta until al dente. Drain the pasta, and then return the pasta back to the pot.

Meanwhile (while the pasta is cooking), cook the bacon in a large skillet over high heat until cooked and crispy. Remove the bacon with a slotted spoon, and reserve the bacon grease. Return 2 tablespoons of bacon to the skillet, and reduce heat to medium-high. Add the onion and saute for 5 minutes or until translucent. Add the garlic and cook for an additional minute. Remove from heat, and then whisk the onion/garlic mixture into the evaporated milk mixture.

Once the pasta is cooked and drained, pour the evaporated milk mixture into the pot with the pasta and stir until combined. Continue cooking over medium-high heat, stirring occasionally, for about 3-4 minutes, or until the sauce comes to a simmer and thickens.

Remove pan from heat and stir in the cheeses until melted and evenly-distributed.

Serve immediately, garnished with the crispy bacon and extra blue cheese crumbles.

**To make butternut squash puree, roughly chop up some butternut squash. Then cook it in the microwave (covered with plastic wrap to keep in the moisture) for about 5-6 minutes until soft. Transfer to a food processor and puree until smooth. (Or you can mash it with a fork.)
Leave a Comment:
Comments
Trackbacks/Pingbacks