Chocolate Avocado Hot Fudge Cake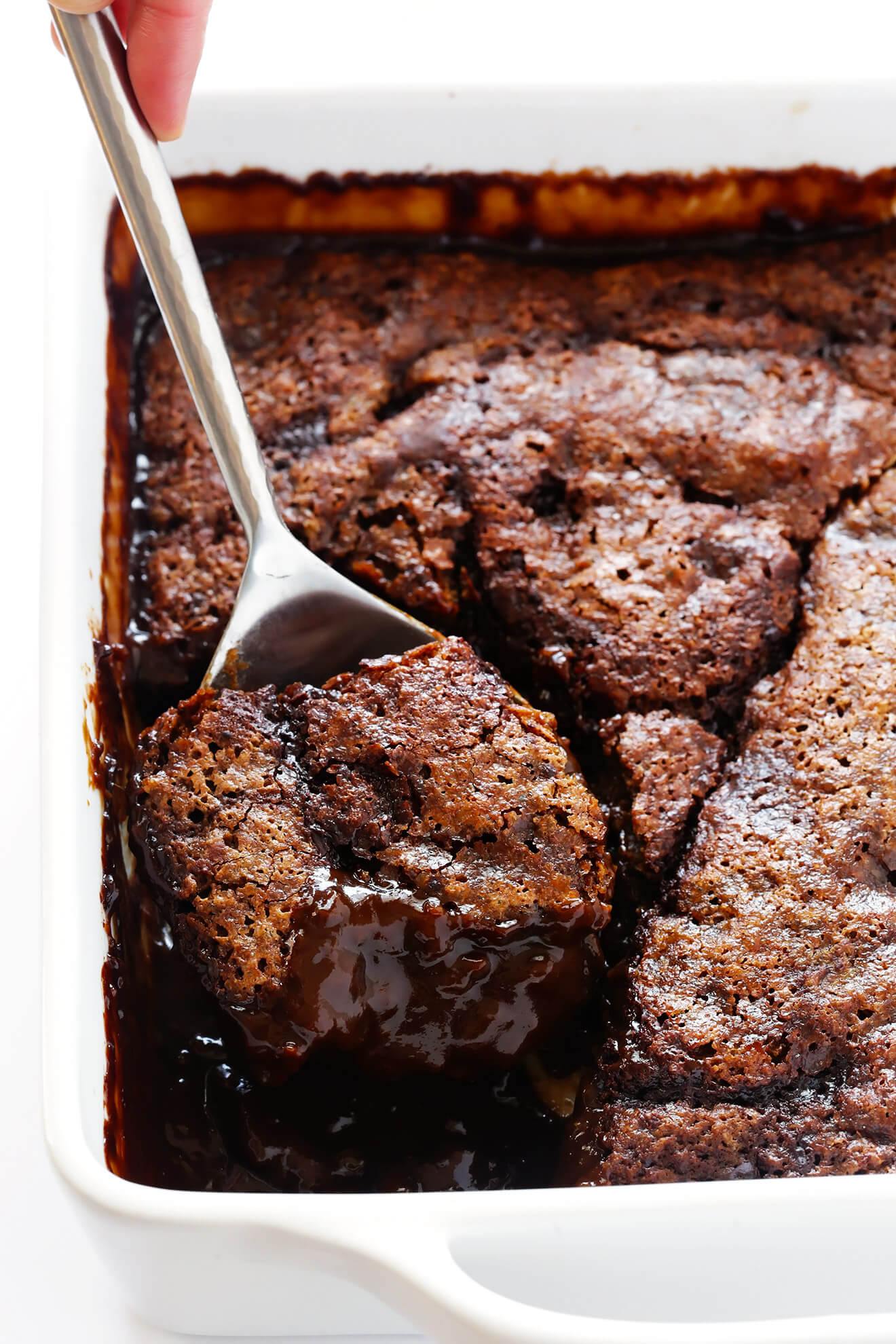 It's no secret that I'm a big fan of chocolate + avocado.
These vegan chocolate avocado brownies are my long-time favorites.  This (also vegan) dark chocolate avocado mousse is absolute magic.  I regularly toss some leftover avocado in these two smoothies to make them extra creamy.  And now today, I'm adding another new chocolate avocado recipe to the blog archives that is may just be the most delicious, decadent, and dreamy recipe EVER.
Guys, you absolutely have to try this Chocolate Avocado Hot Fudge Cake.
It only takes about 10 minutes to prepare.  It's made with slightly healthier ingredients, including lots of fresh mashed avocado in place of oil (and can also easily be made vegan).  It uses an everyday "secret" ingredient that helps bring out even more of this rich chocolate flavors.  And the best part?  With hot fudge cakes, you get the best of both when you pull the hot pan out of the oven — a warm and delicious chocolate cake on top, plus a ooey, gooey, divine hot fudge sauce bubbling up over the sides, waiting to be revealed on the bottom.
I can't think of a better way to start a Monday, can you?
Chocolate Avocado Hot Fudge Cake | 1-Minute Video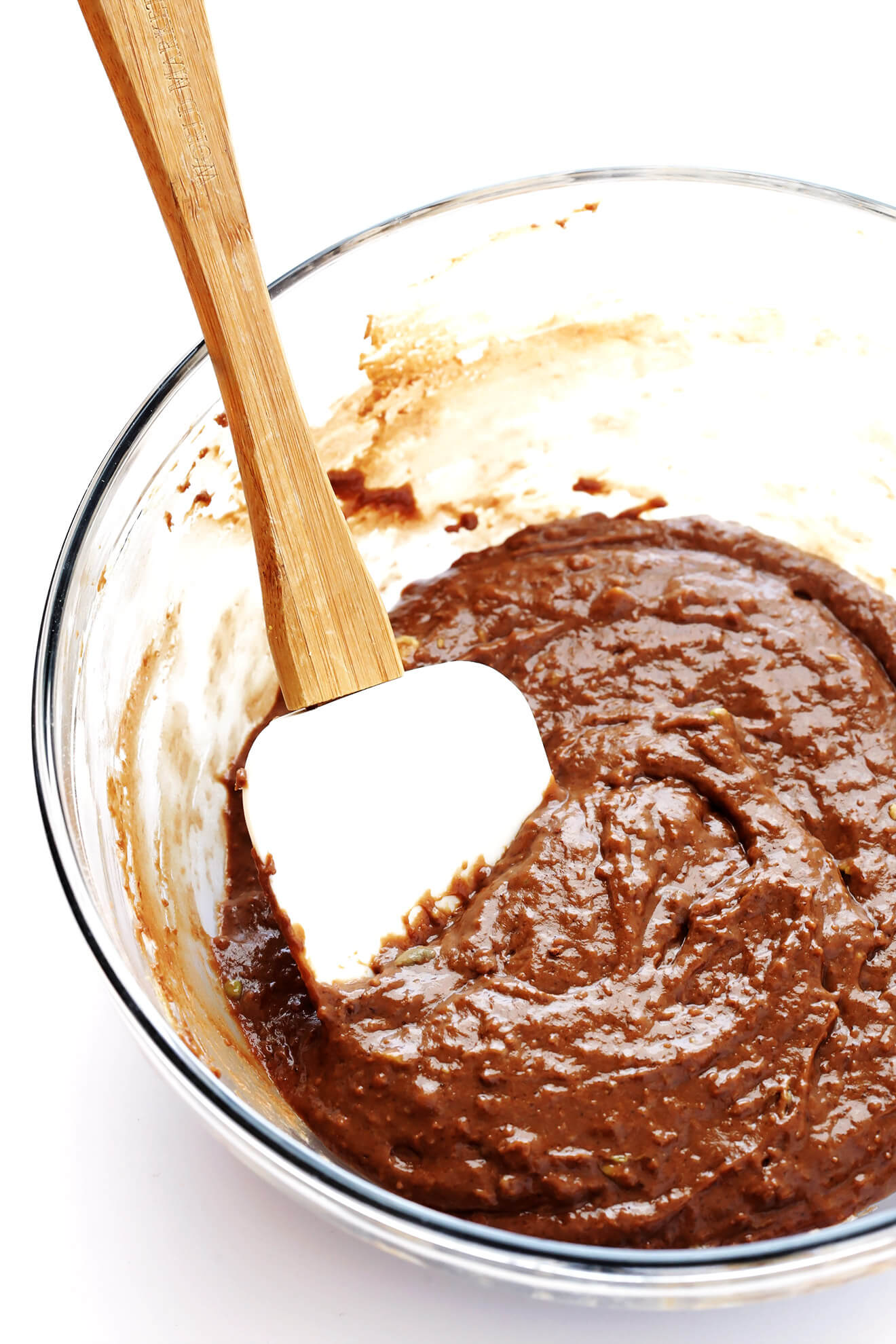 Like I said, this cake really couldn't be simpler to prepare.  Just whip up the initial thick cake batter, which uses mashed (or pureed) fresh avocado as the oil, white whole wheat flour (or you can use regular all-purpose flour), cane sugar (my favorite, or you can use regular granulated sugar), cocoa powder, milk (any kind), baking powder, vanilla and salt.  Press the batter into a greased pan.
Then comes the fun part!  To make the hot fudge "sauce", simply whisk together some more sugar and cocoa powder and sprinkle it evenly on top of the batter.  Then pour some boiling hot water on top of the mixture to prepare the sauce!  Or better yet — make that some hot coffee instead of water.  Because — fun fact — coffee naturally brings out the flavor of chocolate big-time, and tastes delicious in this cake.  Or if you don't have time to prepare hot coffee, you can simply add a teaspoon of espresso powder to the batter.  Or, you can nix the coffee entirely, and it'll still taste great.  Up to you.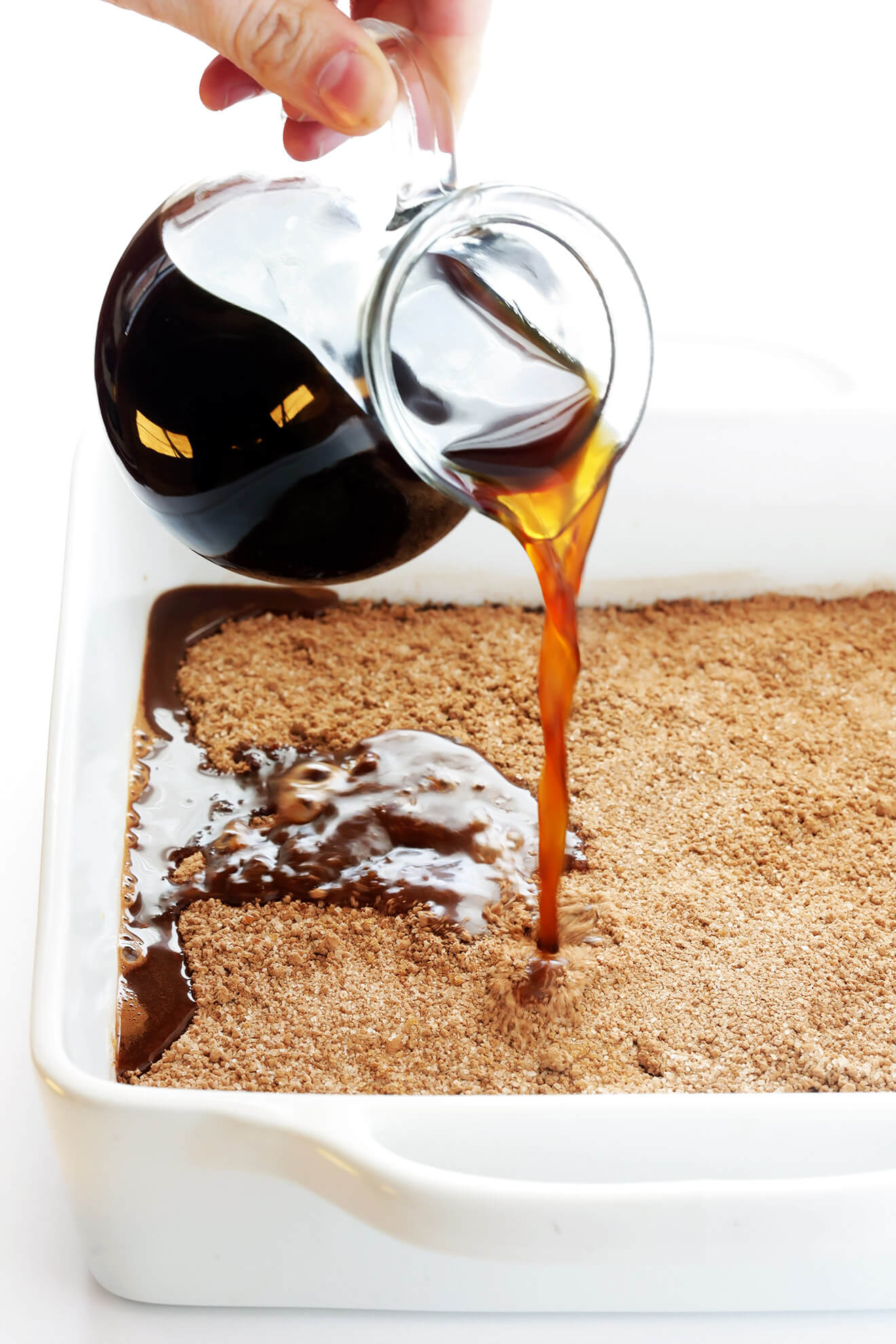 Then carefully carry the pan to the oven (being sure not to slosh that hot coffee over the sides) and bake the cake for about 35 minutes.  Then remove it from the oven and let it sit for about 15 minutes so that the hot fudge sauce can thicken a bit.  Then grab a spoon and dive in…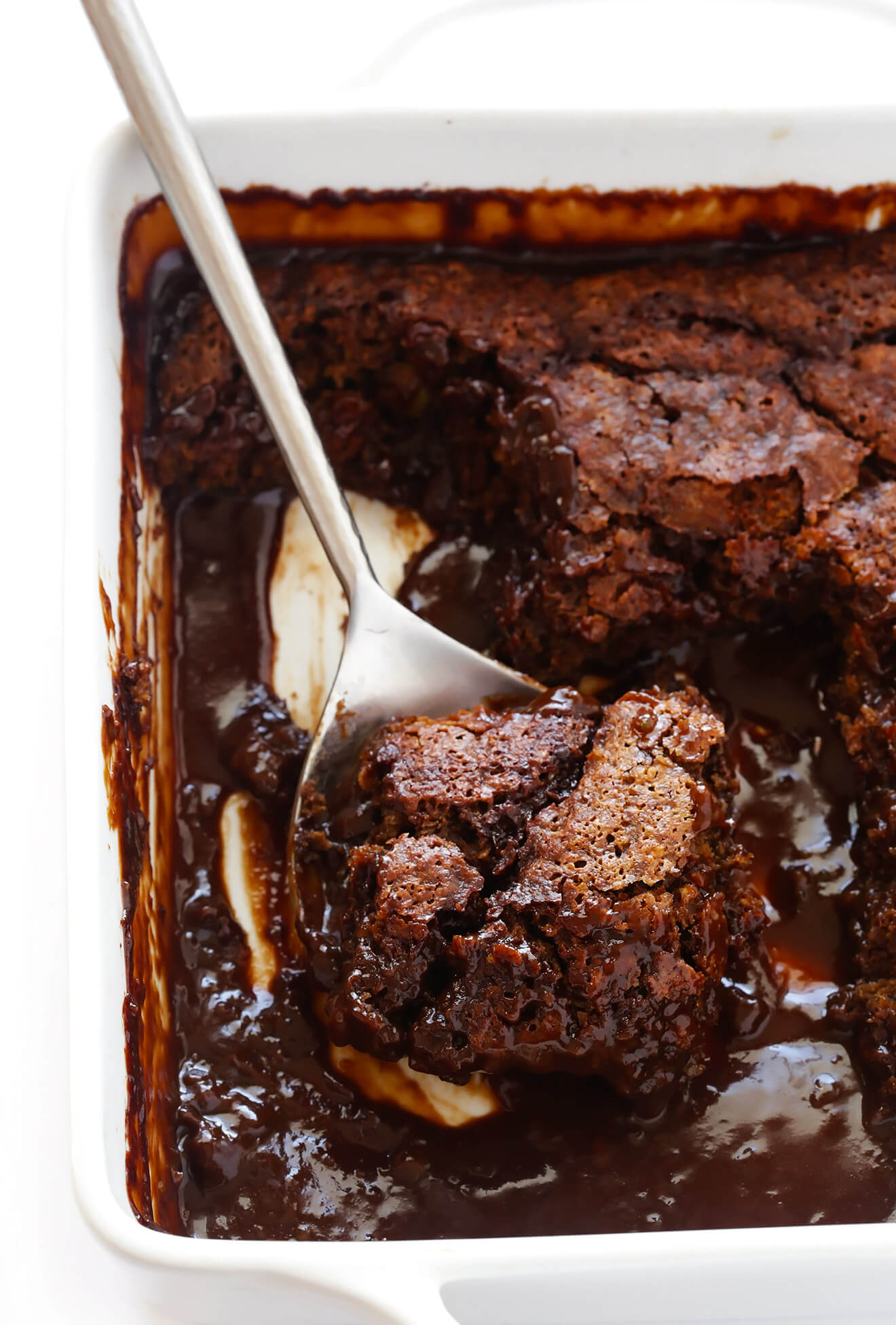 …and voila!  Both a fabulous cake and a rich hot fudge sauce will be yours to enjoy!!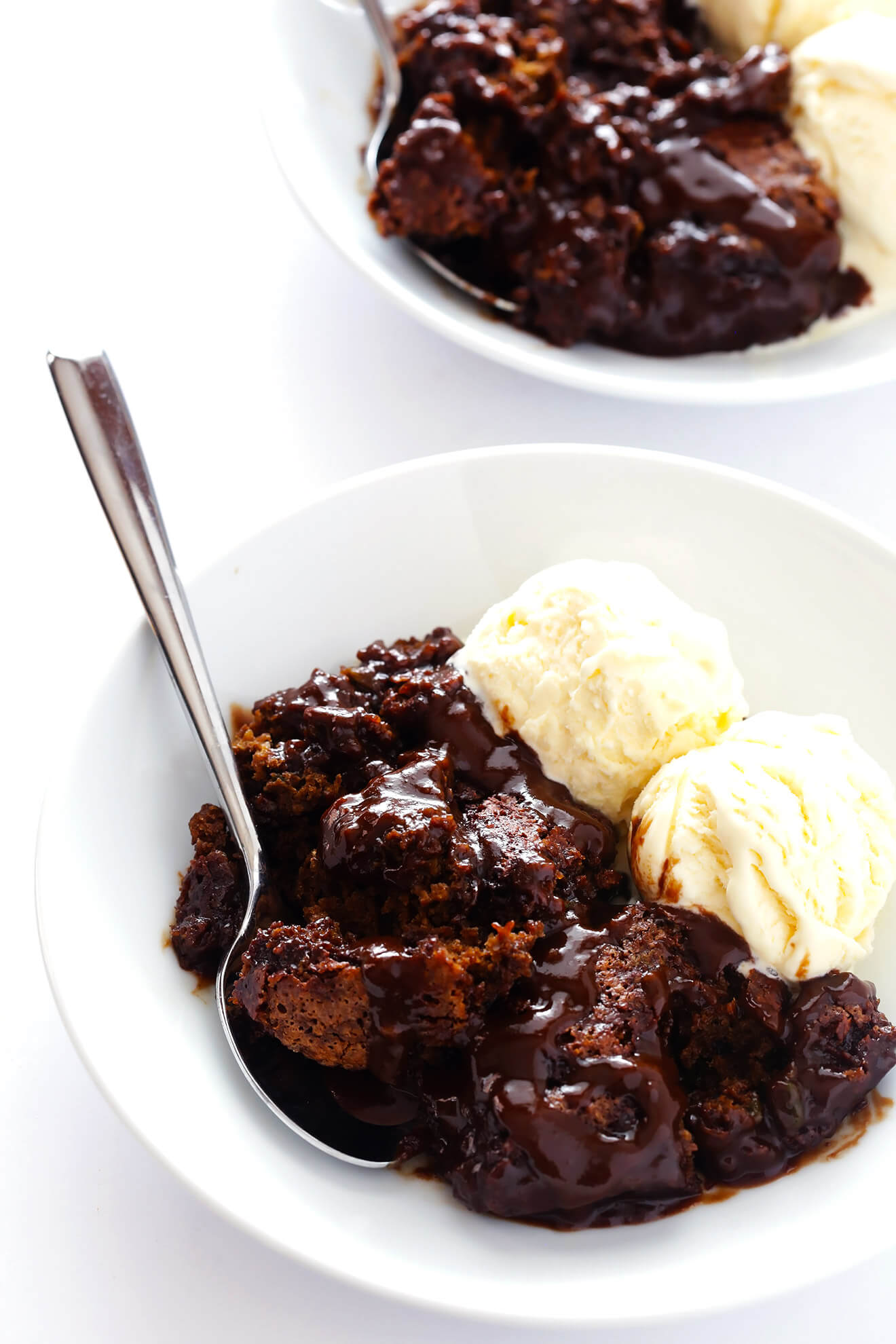 Serve it up with a side of ice cream, or whipped cream, or whatever sounds good.  I just recommend that you serve it up immediately while the cake and sauce are nice and warm, and enjoy every last bite.
Chocolate + Avocado FTW!
Chocolate Avocado Hot Fudge Cake
Ingredients:
Directions:
If you make this recipe, be sure to snap a photo and hashtag it #gimmesomeoven. I'd love to see what you cook!