Chorizo Queso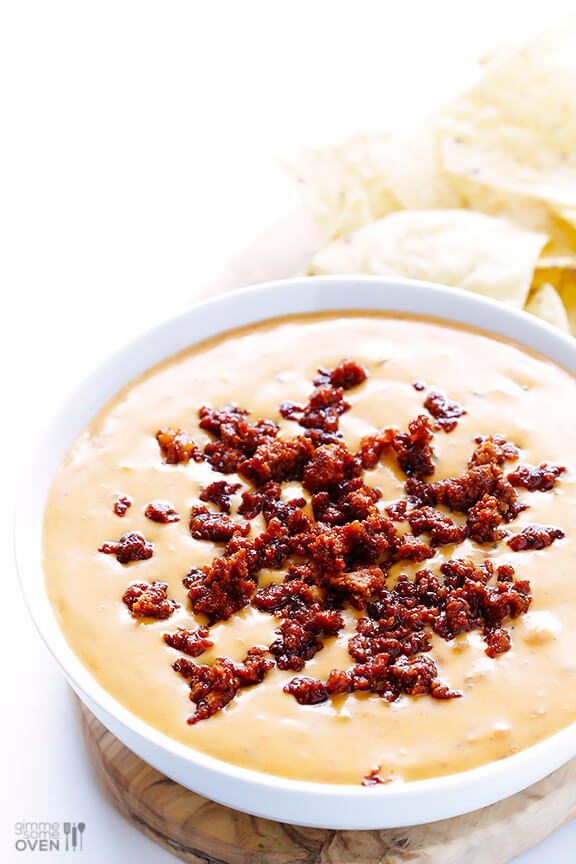 Just when you thought chips and queso couldn't get any better…
…chorizo joined the party.
Oh, and not just any party.  The homemade, creamy, flavorful, perfect-for-dipping and nacho-ing queso party.  The all-natural, made-with-actual-factual-cheddar-and-fresh-ingredients party.  The ready-to-go-in-20-minutes, easy-to-make, and perfect-for-serving-at-an-actual-party party.
NOT, mind you, the usual processed cheese party.  No way, Jose.  Our old, mysterious friend Velveeta was not invited to this one.  So you can rest easy knowing that natural cheeses and ingredients are getting scooped up on those delicious chips.
So what do you think?  Ready to partaaaaay?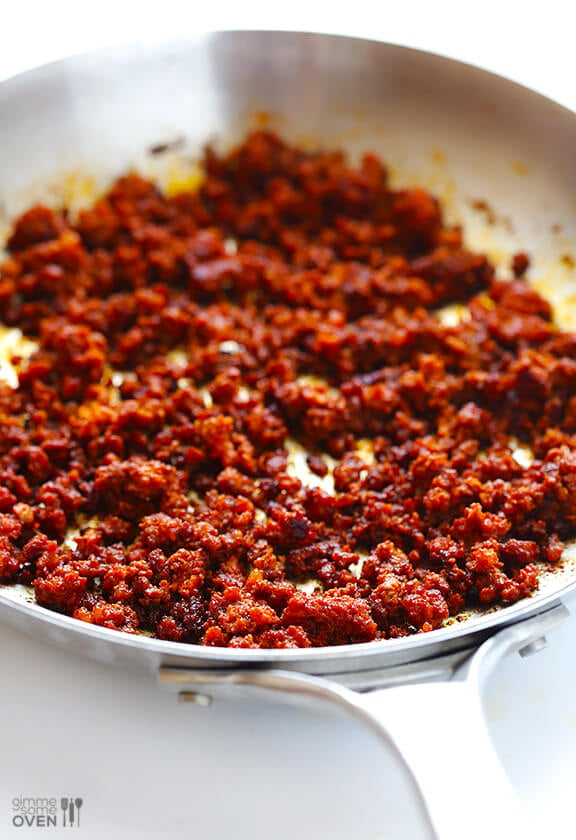 If you've never made homemade all-natural queso before, it's super simple!
Just begin by sauteing up a pan of crispy chorizo.  (Yes, it really is that red in person!)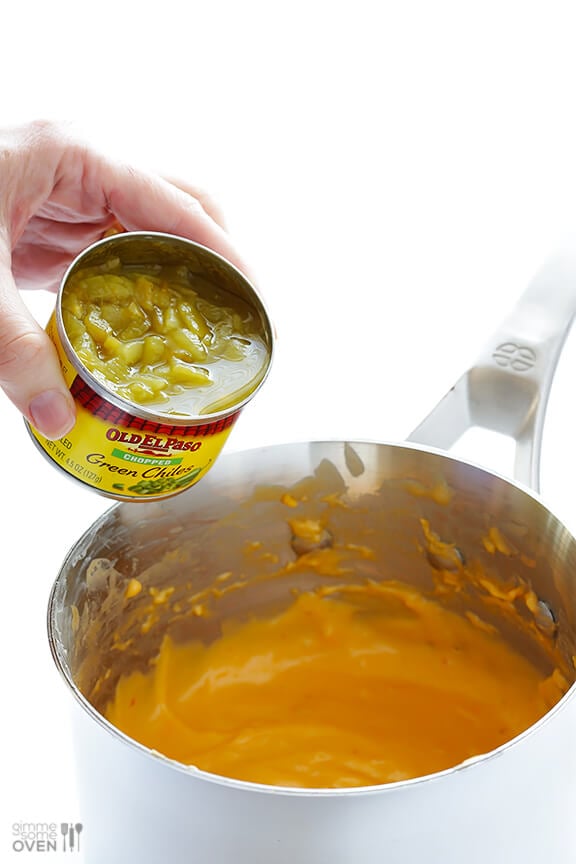 Then while the chorizo is cooking up, begin making your cheese sauce.
This particular recipe calls for a cornstarch and butter and evaporated milk base, which helps to make it extra smooth and creamy.  Then sharp (or extra-sharp) cheddar cheese, fire-roasted tomatoes and Old El Paso chopped green chiles are added in to provide maximum flavor…with no Velveeta in sight.  (Hallelujah!)
For an extra smooth and creamy queso, just be sure to use freshly grated cheese.  As in, buy the block and grate it yourself.  (Or use a food processor to grate it at lightening-fast speeds if you have one.)  The pre-shredded cheese has a special coating on it to keep it from clumping, which doesn't bode especially well for melting into cheese dips.  So grate away!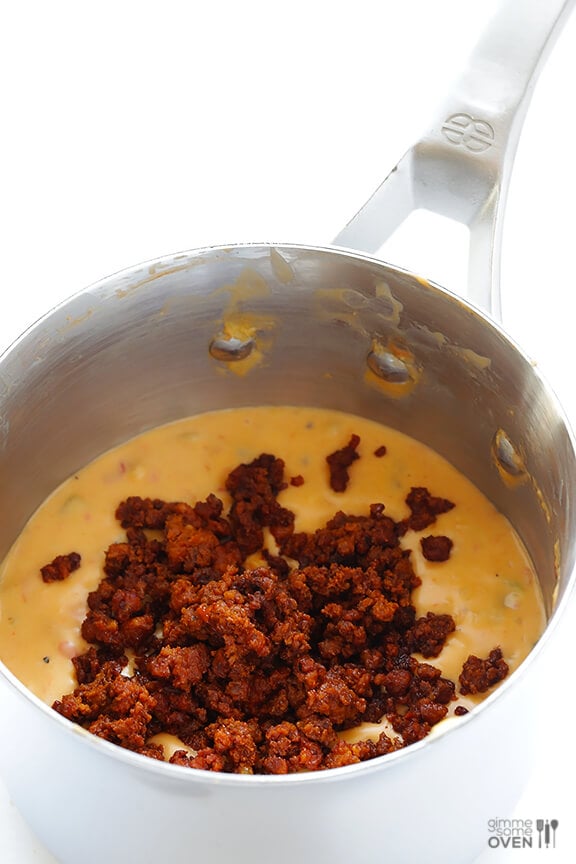 Once your queso base is ready, stir in most of the cooked chorizo…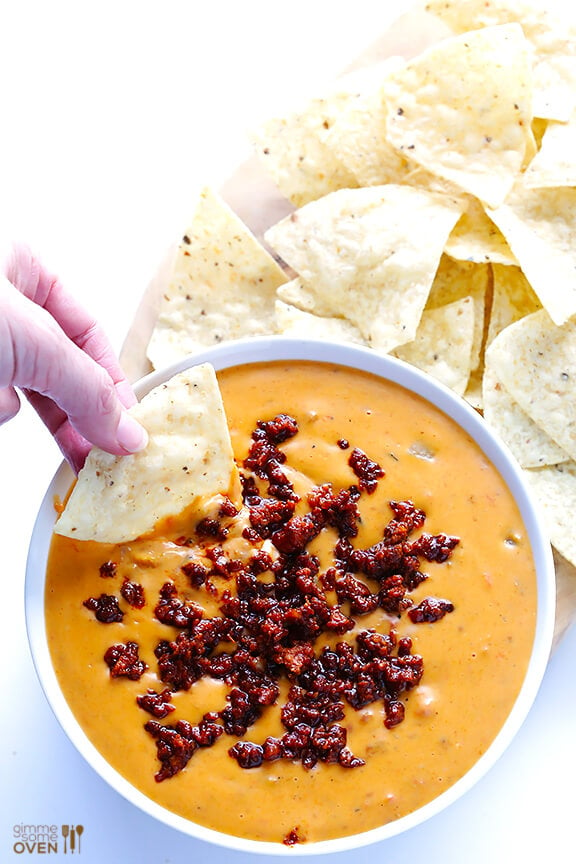 …and if you want bonus points for presentation, save a little of that chorizo to add on top as a garnish.  And get ready, because this stuff is sure to disappear before you know it.
Party time!!!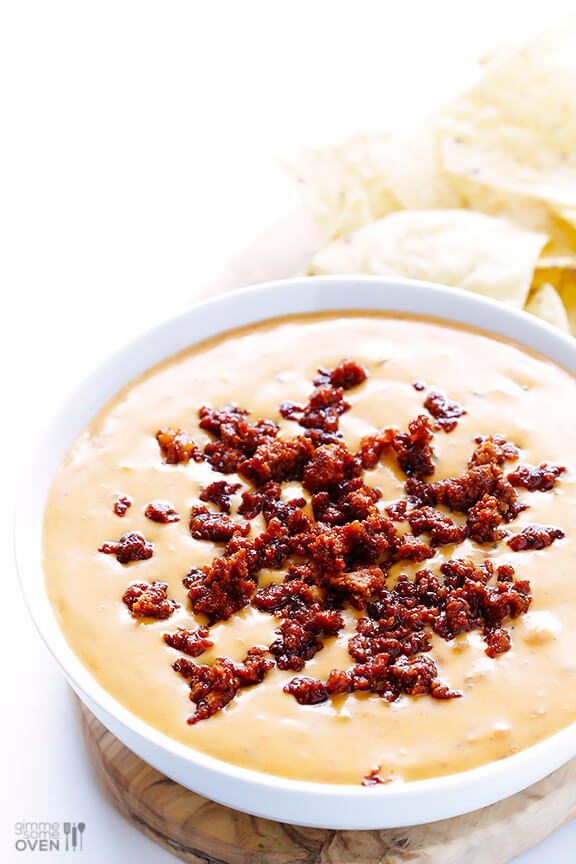 Chorizo Queso
This Chorizo Queso (a.k.a. Chorizo Cheese Dip) recipe is made all-natural with cheddar cheese, and spiced up with some delicious Mexican chorizo.
Ingredients:
7-8 ounces chorizo, casings removed
2 tablespoons butter
2 tablespoons cornstarch
1 (12-ounce) can evaporated milk
2 ounces cream cheese
8 ounces sharp cheddar cheese, freshly shredded
1 (4-ounce) can Old El Paso chopped green chiles
½ cup diced tomatoes
½ teaspoon salt, or more/less to taste
Directions:
Saute chorizo in a large saute pan over high heat until cooked through and crispy, about 10 minutes, crumbling and stirring with a spoon constantly. Remove from heat and set aside.

While the chorizo is cooking, melt the butter in a separate medium sauce pan over medium-high heat. Whisk in the cornstarch until combined and cook for 1 minute, stirring constantly. Add the evaporated milk, and whisk until combined and smooth. Add in half of the cheese, and stir until melted. Repeat with the second half of the cheese. Stir in the green chiles, tomatoes, and cooked chorizo until combined.

Taste the queso, and season with your desired amount of salt. Serve immediately with chips.

All images and text ©

If you make this recipe, be sure to snap a photo and hashtag it #gimmesomeoven. I'd love to see what you cook!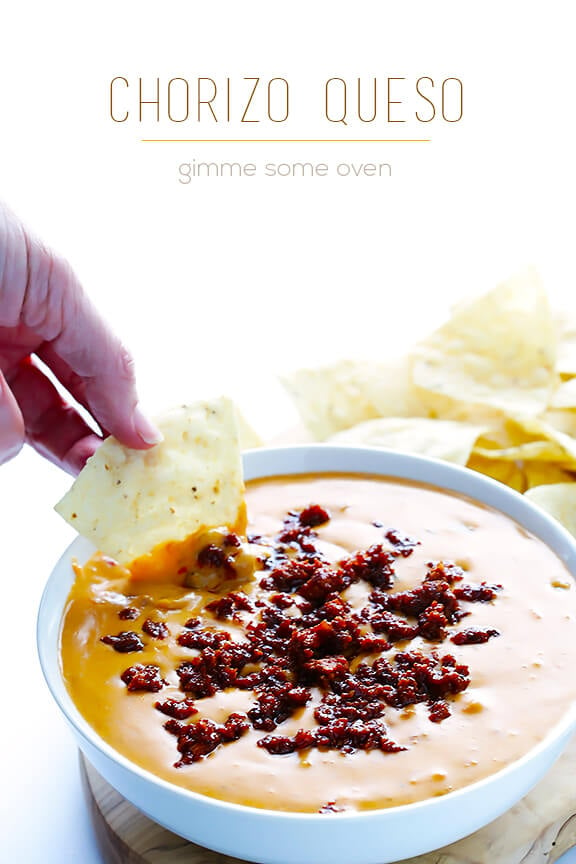 This is a sponsored post in my partnership with Old El Paso, where I will be developing all sorts of fresh and tasty Mexican recipes to share with you.  All opinions are 100% my own as always.  Big thanks for helping support the brands which make this site possible.