Classic Banana Muffins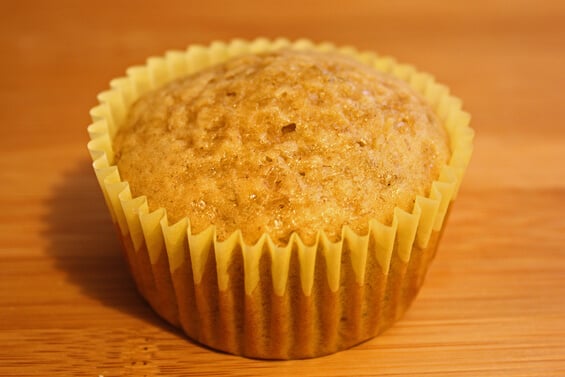 When I pay my visit to our local farmers' market every Saturday morning, I always feel compelled to swing by the outdoor grocery nextdoor to pickup a basket of bananas. And why bananas, you might ask? Because for some fantastic reason, they sell 3 lbs. for $1. Who can pass up a bargain (and the potential for a delightful week of smoothies and muffins and whatnot) like that?
Needless to say, I still often have a surplus sitting around the house. So being that I'm single and usually fail to make it through an entire loaf of bread before it goes bad, I love turning this recipe into a batch of yummy muffins! They freeze beautifully, and are perfect for healthy snacking or a breakfast-on-the-run.
I should also point out that – being as bananas as I am for banana bread – I've been on a search for a fabulous recipe for years. And I'm thrilled to share that I finally found a winner! The flavor in these muffins is perfection, the ingredients are reasonably healthy, the texture is a nice balance between chewy and light, and they are of course deliciously moist. So cheers to the test cooks at Cooks Illustrated for getting it right!!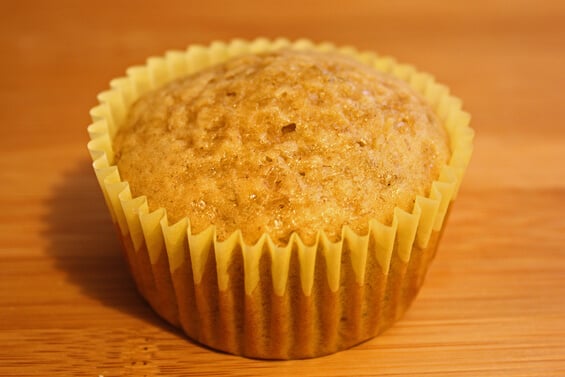 Classic Banana Muffins
The BEST recipe I've found for classic banana muffins! Detailed instructions and photos included.
Ingredients:
2 cups all-purpose flour, unbleached
3/4 cup sugar
3/4 tsp. baking soda
1/2 tsp. cinnamon
1/2 tsp. salt
3 very ripe, mashed bananas (about 1 1/2 cups)
1/4 cup plain (or banana-flavored) yogurt
2 large eggs
6 tbsp. unsalted butter, melted and cooled
1 tsp. vanilla extract
(Optional: 1 cups toasted, coarsely-chopped walnuts)
Directions:
Adjust oven rack to middle position and heat oven to 350 degrees. Prepare muffin liners or lightly grease muffin pan. (For banana bread, grease bottom only of regular loaf pan, or grease and flour bottom and sides of nonstick 9-by-5-by-3-inch loaf pan.) Set aside. Combine flour, sugar, baking soda, salt, cinnamon (and optional walnuts) in large bowl; set aside.
Mix mashed bananas, yogurt, eggs, butter, and vanilla with wooden spoon in medium bowl. Lightly fold banana mixture into dry ingredients with rubber spatula until just combined and batter looks thick and chunky. Scrape batter into prepared muffin cups; bake until muffins are golden brown and toothpick inserted in center comes out clean, about 15 minutes. Cool in pan for 5 minutes, then transfer to wire rack. Serve warm or at room temperature.

For some simple decor, sprinkle a pinch of raw sugar and/or cinnamon on top of each muffin. This will make them sparkle!

Adapted from Cooks Illustrated
Leave a Comment:
Comments