Classic Chicken Noodle Soup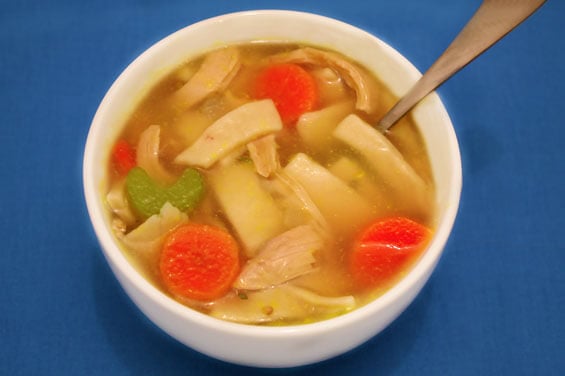 Ok, so definitely not my best picture in the world.  (Apparently my camera's not a fan of these December days short on daylight…)
But I assure you…this is one of the best soups.  The epitome of a classic – chicken noodle soup.
When I stop to think about it, it's amazing how a single food can bring back so many memories.  From warming our family up on chilly nights growing up, to "curing" a cold, to lunches with friends and coworkers at Panera (yes, this is still my favorite soup there), to providing some great warmth and comfort on a week as crazy-busy as this one, and on…and on….
Yes, definitely a classic.  :)  So rather than play around with variations, I present to you my favorite recipe for good ol' homestyle chicken noodle soup.  Full of herbs that offer deep, delicious flavor.  Full of great veggies and chicken.  And of course noodles.  Oodles of noodles.
Bring on the comfort (food).  :)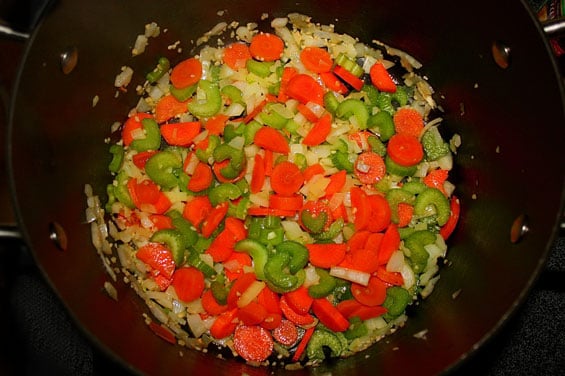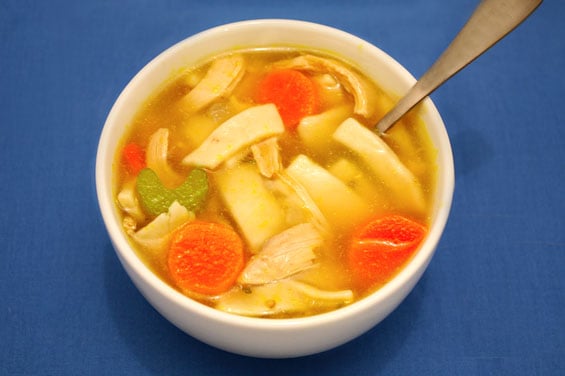 Classic Chicken Noodle Soup
You will love this Classic Chicken Noodle Soup Recipe – the ultimate comfort food! So good!
Ingredients:
2 Tbsp. olive oil or butter
1 large onion, diced
1 cup carrots, diced
1 cup celery, diced
4 cloves garlic, peeled and minced (about 2 tsp.)
8 cups good chicken stock
2 bay leaves
1 1/2 tsp. chopped fresh thyme (or 1 tsp. dried)
1 1/2 tsp. finely-chopped fresh rosemary (or 1 tsp. dried)
3 cups cooked shredded chicken
3 cups egg noodles (homemade or dried)
salt 'n' freshly-ground black pepper
Directions:
In a large pot, heat olive oil (or butter) over medium-heat. Add onions, carrots, celery and garlic, and saute for 8-10 minutes or until onions are translucent.
Add in the chicken stock, bay leaves, thyme, and rosemary and bring to a boil. Reduce heat, and simmer for 30-45 minutes (or until veggies are completely soft). Add in chicken, then season to taste with salt and (lots of!) freshly-ground black pepper.
Meanwhile, fill a medium-sized pot with water and add at least 1 Tbsp. salt, then bring to a boil. Add noodles (fresh or dried) and cook according to package instructions until al dente. Drain, then add the noodles to the soup pot. Remove bay leaves, then serve.
(Optional: If you like a less-brothy soup, feel free to cook the noodles in with the soup broth. I get annoyed when they soak up all of that delicious broth, but others may like a chunkier soup.)
Ali's Tip:
There are so many other fun variations on this soup. Here are a few fun add-ins that still keep it pretty "classic":
1 to 2 cups evaporated milk to make a "creamier" chicken soup
1-3 hot chili peppers (or 1/2 tsp. crushed red pepper) to give it very subtle heat in the background
1 cup of diced potatoes to add some texture
substitute in turkey for chicken
substitute in your other favorite fresh or dried Italian herbs
All images and text ©
If you make this recipe, be sure to snap a photo and hashtag it #gimmesomeoven. I'd love to see what you cook!