Creamy Chorizo and Brussels Sprouts Soup
I have to admit that I've never watched much of the Food Network.  I haven't had cable since college, and with limited time to watch tv, it seems like all of my favorite dramas and sitcoms have always prevailed over cooking shows.  (Yes, believe it, this food blogger will watch Parenthood or The Mindy Project over Giada any day.)
But every now and then, I do tune into the show "Chopped" on Hulu, and love it.  Like, ridiculously love it.  I know that the whole point of the show is to throw crazy ingredient combinations at these chefs and give them a crazy short period of time to create some sort of masterpiece.  But good grief — I'm always in awe of the fact that (most of the time) those chefs actually make it work!!!  Spam?  Wasabi peas?  Chicken intestines?  Hakuna matata on "Chopped".
So when I was approached by McCormick to participate in their Go 4 Gourmet challenge, in which they give cooks 4 surprise ingredients and ask them to incorporate them into a "gourmet" dish, the Wanna-Be-A-Chopped-Chef in me instantly had to agree!
So judge for yourself and see what you think of my little creation!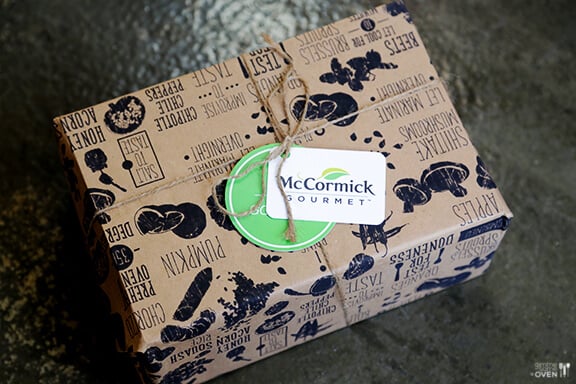 It all began when I received a package in the mail from McCormick with my surprise four ingredients: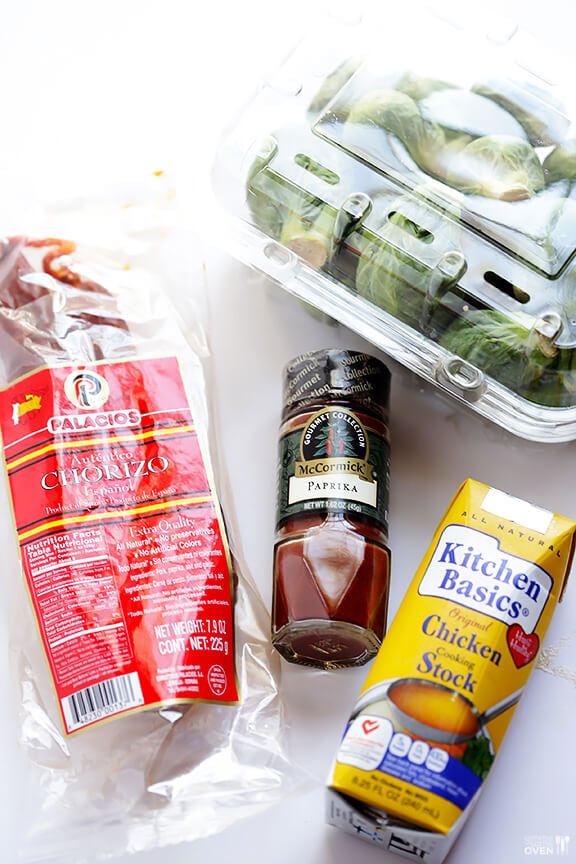 Spanish chorizo, chicken stock, paprika, and brussels sprouts (which I was instructed to pick up at the store).
I was initially thinking it would be fun to do some sort of paella or some gourmet mashed potatoes or stuffed chicken breasts.  But after arriving home still sick with this crazy never-ending cold this week, literally the only thing I was craving was a warm bowl of soup.  And plus, I feel like the chefs are always praised on "Chopped" for letting the main ingredients shine through.  So I decided to toss everything together in a stockpot and see what happened…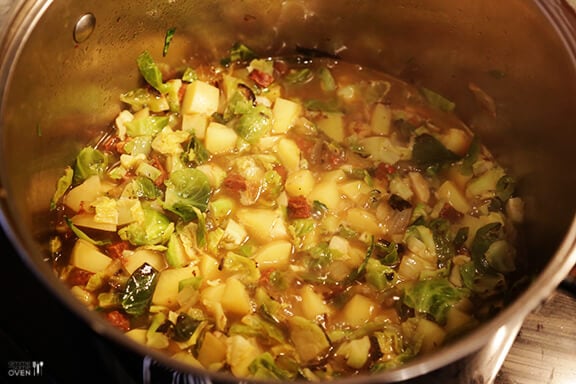 …and behold, this Creamy Chorizo and Brussels Sprouts Soup was born.
Basically, I just sauteed all of that yummy chorizo, and then cooked some onion, garlic, and all of the brussels sprouts in the chorizo grease (yes, YUM).  Then I added in some potatoes to give it some thickness, and made a tasty simple broth with chicken stock, paprika, salt and pepper.  Since the chorizo was already a little on the "indulgent" side, I decided to add in creamy-ness with some evaporated milk instead of heavy cream, which worked out perfectly.  And then for a little finishing touch, I topped each bowl with some shredded Manchego cheese for a Spanish kick (or you could cheat and use Italian Parmesan) and a little fresh parsley.
It's Spanish, simple, savory, and super scrumptious.
And it can be made in about a half hour, which is how I like to do "gourmet".  ;)
Be sure to check out all of the other great recipes in the Go 4 Gourmet challenges too!  The next round of ingredients begins this week, and I can't wait to see what people create with them!
How To Cut Brussels Sprouts | 1-Minute Video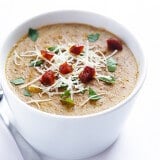 Creamy Chorizo and Brussels Sprouts Soup
Brussels sprouts and chorizo are the rockstars in this flavorful, creamy, Spanish soup!
Ingredients:
8 ounces Spanish chorizo, finely diced
1 medium white onion, diced
2 cloves garlic, minced
1 lb. brussels sprouts, finely chopped
4 cups chicken broth
2 cups (about 1/2 pound) diced Yukon gold potatoes
1 tsp. paprika
1/2 tsp. sea salt
1/4 tsp. black pepper
1 (6 oz.) can evaporated milk
optional toppings: shredded Manchego or Parmesan cheese, chopped fresh parsley, reserved chorizo
Directions:
Saute chorizo in a large stockpot over medium high heat until cooked, about 3-5 minutes, stirring occasionally. Remove chorizo with a slotted spoon. Reserve 2 tablespoons of grease in the stockpot, and discard the rest.
Add onion to the stockpot, and saute in the chorizo grease for 5 minutes or until soft and translucent, stirring occasionally. Add garlic and brussels sprouts, and saute for an additional 3 minutes or until the brussels sprouts begin to brown, stirring occasionally. Add chicken broth, potatoes, paprika, salt and pepper, and stir to combine. Bring to a boil, then reduce heat to medium-low, cover and simmer for 10-15 minutes, or until the potatoes are tender.
If you would like a pureed soup, blend soup using an immersion blender or stand blender. If you would like a chunkier soup, leave it as is. Stir in evaporated milk and chorizo, reserving 1/4 cup chorizo for toppings if desired. Season with additional salt and pepper if needed.
Serve warm with toppings.
All images and text ©
If you make this recipe, be sure to snap a photo and hashtag it #gimmesomeoven. I'd love to see what you cook!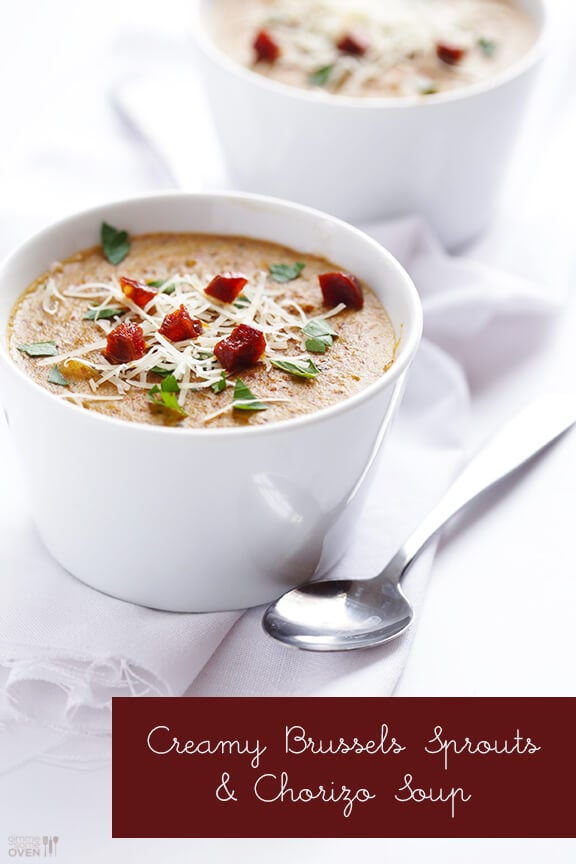 Disclaimer: This is a compensated sponsored post from McCormick.  I was invited to be a part of the Go 4 Gourmet challenge, but all opinions are 100% my own as always.  Thank you for supporting the amazing brands that help make this site possible!