5-Ingredient Fresh Orange Smoothie (Orange Julius Copycat)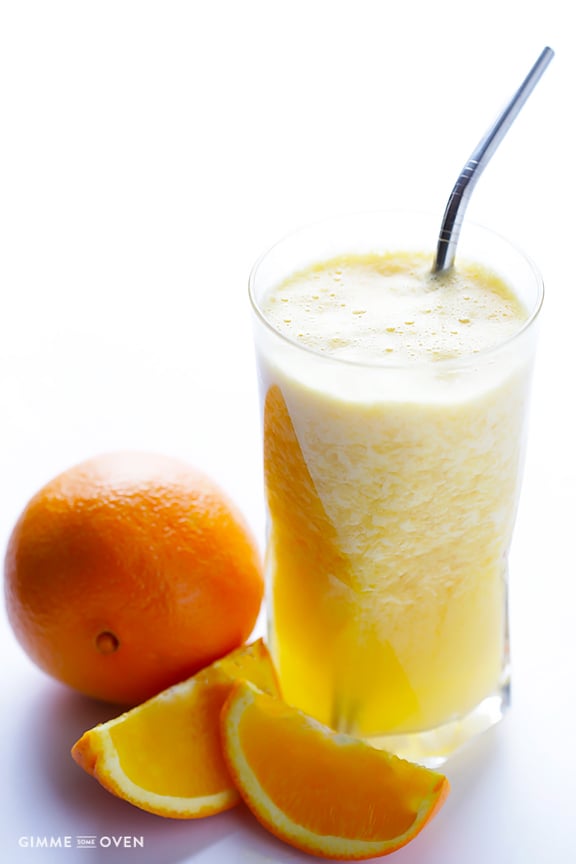 I can't believe I haven't posted on this yet!  I literally make this drink all the time.
Allow me to introduce you to MY version of the famous "orange julius".  But rather than being made with canned concentrate, and a few other questionable ingredients, this orange smoothie is made with fabulously fresh ingredients that you can feel good about enjoying.  And all you literally do is drop everything in a blender, and push the button.  Oh-so-easy!
I should point out that this one is more of a "method" than a precise "recipe".  I generally just toss in a little of this and that, but here are some yummy proportions to get you started.  Feel free to sub in your favorite kind of milk, and (optional) honey, agave, or other sweetener that you like.
Cheers!!
5-Ingredient Fresh Orange Smoothie (Orange Julius Copycat)
A healthy orange smoothie made with FRESH oranges, and your choice of milk and sweetener. Enjoy this fresh orange smoothie ("Orange Julius") recipe today!
Ingredients:
4 fresh oranges, peeled
2 cups ice
1/3 cup milk (I used almond milk, but any kind will work)
1-2 tablespoons honey
1 tsp. vanilla
Directions:
Combine all ingredients in a blender, and blend until smooth.  Add more ice if you would like.

If you make this recipe, be sure to snap a photo and hashtag it #gimmesomeoven. I'd love to see what you cook!
Ali's Tip:
My favorite trick with this is to pop the peeled oranges in the freezer for 30 minutes prior to making these.  So that they're not thoroughly frozen, but definitely chilled and beginning to freeze.  Then you can use slightly less ice.  :)
Leave a Comment:
Comments
Trackbacks/Pingbacks