Green Smoothie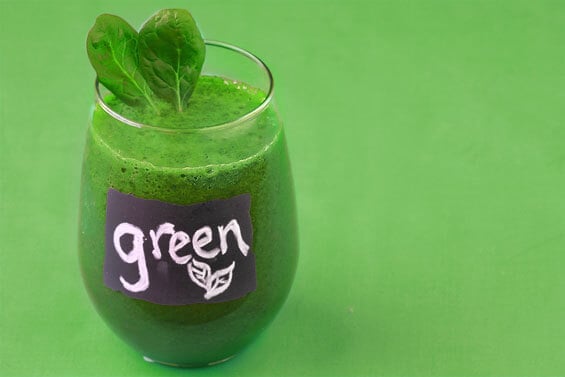 Ok, I have to admit that I saved the best for last. Behold, the color for "Smoothie Week" – GREEN!
This smoothie happens to be modeled after one of my favorite fresh juices called "clean green" from a neighborhood coffee shop. When I first saw it being served there, I realized they weren't kidding with the name. My camera was having a bit of trouble with the tone-on-tone, but have no doubt, this smoothie is GREEN! :)
But have no fear — this smoothie is fantastic. The simple fruit combination is fresh, sweet and delicious. And — hard as it may be to believe — you honestly can't taste the spinach. Kind of crazy. Without a doubt, though, the best part of this smoothie that you cannot leave out is the extra ginger. The kick it gives at the end is no less than perfect.
I make this specific smoothie at least once a week. It truly is a favorite. Enjoy!! :)
Green Smoothie
Ingredients
2 cups fresh baby spinach, rinsed
1 Granny Smith green apple, cored
1 banana, peeled
1 orange, peeled
1 tsp. grated fresh ginger (or 1/2 tsp. ground ginger)
Method
Combine all ingredients in a blender and mix until smooth and well-combined.
Ali's Tip:
I usually double the recipe when I make it to store half in the freezer for another day. It actually makes great leftovers! :)