How To Roast a Head of Garlic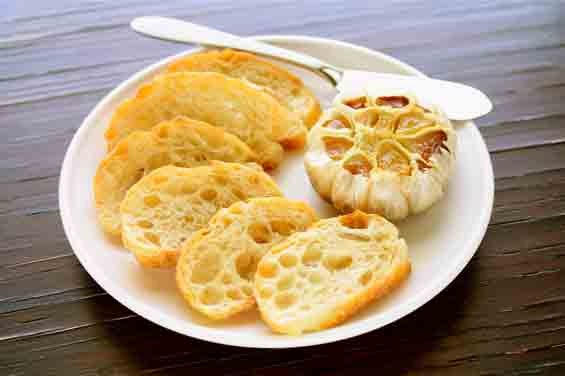 Somehow I got in a conversation with some friends the other day about roasted garlic, and was intrigued to find out that many people have still never tried making this camelized deliciousness!  So alas, I felt compelled to present a quick "how to" on the simple technique.
Being that I have a tendency to go overboard on garlic and throw it in just about everything I cook (I sympathize with Monica on "Friends!), this technique is something I'm quite familiar with.  The joy of it is that the process is super simple, takes about 2 seconds to prepare, and the roasted garlic can be used in a myriad of ways (see notes in recipe).  But the best part is that it makes your kitchen smell hea-ven-ly.
So if you've never given this a try, you must!!  It's a roastin', toastin', deliciously good time.  :)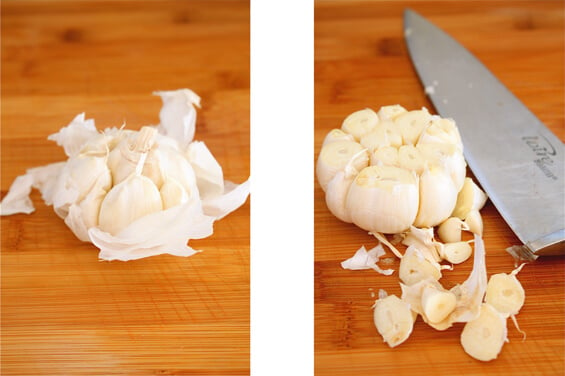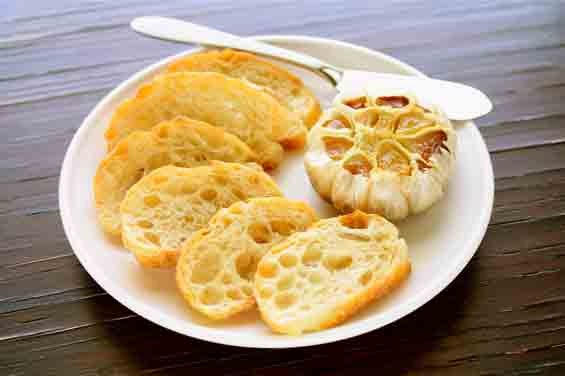 How To: Roast a Head of Garlic
Roasting garlic will totally kick your recipes up a notch — and it's so simple!! Detailed instructions and photos included.
Ingredients:
1 head of garlic
1-2 tsp. olive oil
Directions:
Peel off the outer papery covering of the head of garlic. Using a sharp knife, then slice of 1/4″-1/2″ of the tops of the cloves, so that the inside of each clove is exposed.
Place the head on a square of aluminum foil. Drizzle the olive oil over the top of the cloves, and then use your fingers to spread it around well. Then fold up the foil over the top of the clove, so that it is fully enclosed. Either place the pouch directly on the oven rack, or you can place it on a pan (or muffin tins work well if you're roasting multiple heads of garlic!).
Bake at 400 degrees for 30-35 minutes, until the garlic is soft and lightly browned. Remove from foil and serve.
When buying whole heads of garlic, "looks" count.  :)  Go for the heads that have clean and unbroken skins, are firm to the touch, and have tightly-packed cloves.  Avoid any heads that have little green stems sprouting out the top, as these are over-ripe.
All images and text ©
If you make this recipe, be sure to snap a photo and hashtag it #gimmesomeoven. I'd love to see what you cook!
Possible uses:
Served as a simple appetizer:  Just provide small cocktail forks or knives to pull the cloves out of their skins, and use as a spread on bread or crackers.  To give it an extra kick, sprinkle some of your favorite spices on top of the cloves as well.
Used in cooking: Works great in soups, pastas, mashed potatoes, dips/spreads, with meat/poultry/seafood, hummus…you name it!
Eaten "as is": Just use your fingers to squeeze out the cloves, and enjoy plain!  :)
How to store:
Place cloves in a jar, and fill it with enough olive oil so that the cloves are submerged.  Cover jar and refridgerate for up to 10 days.