Hummus Mashed Potatoes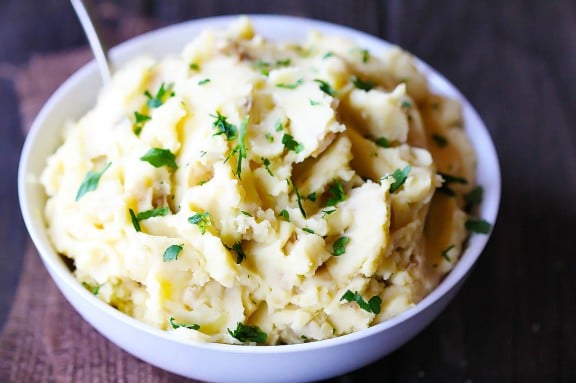 Ever since I posted my hummus-crusted chicken recipe last month, I have been itching to try some more creative recipes with hummus.
So in honor of Thanksgiving, and my complete love of all things mashed potatoes, I decided to try an experiment this week — hummus mashed potatoes!  Yep.  Instead of adding in loads of sour cream or heavy cream or, really, any kind of cream to make these "creamy", I just stirred in a little butter, salt, and a big batch of hummus.  And believe it or not, it worked!!!
The key is definitely finding a hummus recipe that is full of flavor.  I used one that was extra garlicky with a little hot pepper.  But if you love roasted red pepper hummus, or wasabi hummus, or whatever your favorite flavor may be — go with that.  Then mix it in with some mashed Yukon golds and a little salt and butter (or olive oil if you want to make these vegan), and literally, you're good to go.
So easy, so flavorful, and these are probably even better for you than straight mashed potatoes.  Can't wait to serve these with my family this Thanksgiving!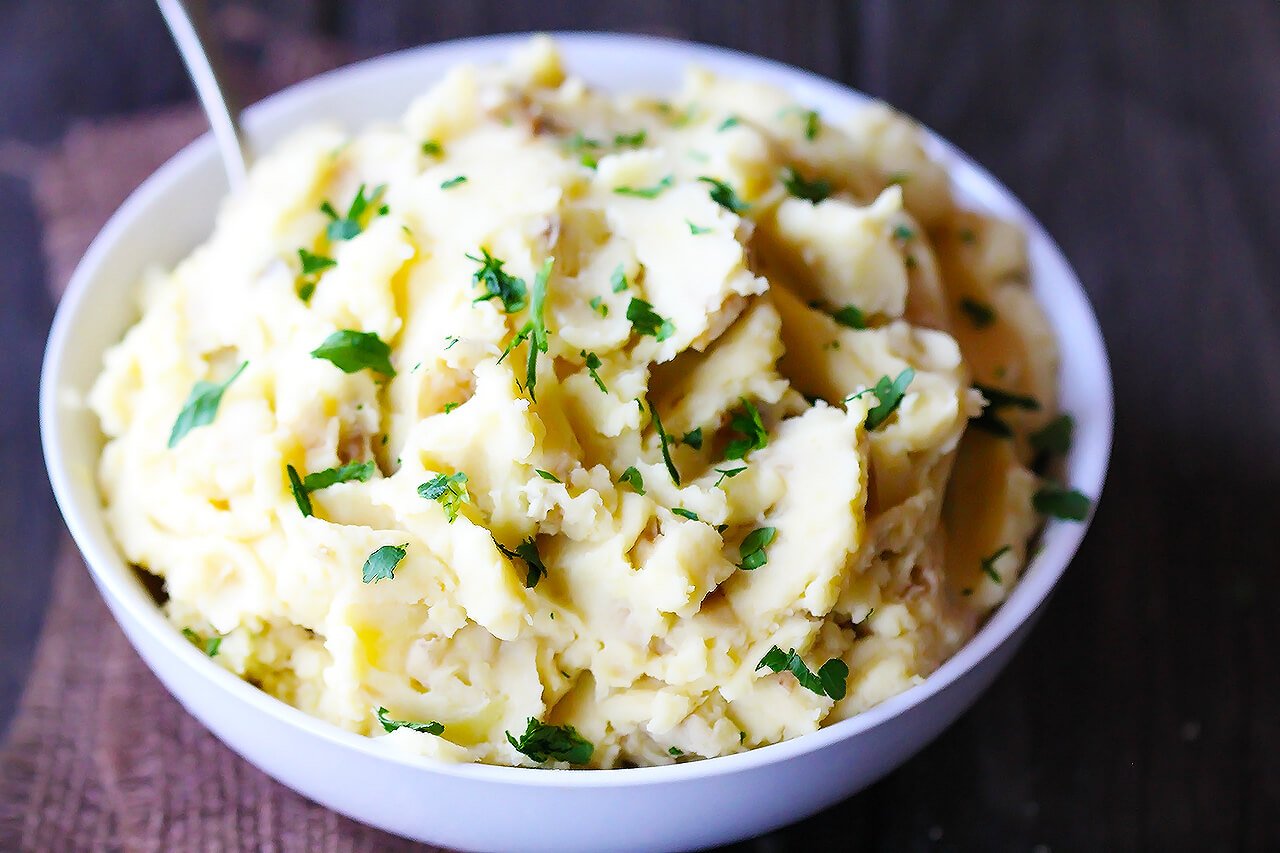 Hummus Mashed Potatoes
Hummus makes for extra creamy and delicious mashed potatoes!
Ingredients:
3 lbs. Yukon gold potatoes
3 Tbsp. butter or vegan butter
2 cups favorite hummus, homemade or store-bought
1/2 tsp. salt (or more to taste)
1/4 tsp. freshly-cracked black pepper
optional garnish: chopped fresh Italian parsley, lemon wedges, extra drizzle of olive oil
Directions:
Peel the potatoes if you would like, and cut them into large chunks, roughly the same size. Immediately add to a large stockpot and fill with water until the potatoes are covered. Bring to a boil over high heat. Then reduce heat to medium and simmer for 20-30 minutes, or until a fork will go gently through the potatoes. Remove from heat and drain the water.

Then return pot to the burner and use a potato masher to mash the potatoes until smooth. Then turn off heat, and add in butter, hummus salt and pepper. Stir until combined. Season with additional salt and pepper if needed. Then top with garnishes if desired.

If you make this recipe, be sure to snap a photo and hashtag it #gimmesomeoven. I'd love to see what you cook!
Leave a Comment:
Comments
Trackbacks/Pingbacks