Lighter New England Clam Chowder
Mmmmm…clam chowder. :)
For whatever reason, people seem to either absolutely love it or hate it. (Although in my experience, it seems that at least half of those who don't like it have never even given it a try!!)
I happen to be one who absolutely loves it. Every time I pass by the clam aisle at the grocery store (ahem – the canned clam aisle – the option we're reduced to living precisely in the center of the country), I can hardly resist! This classic soup is my total idea of comfort food. Its hearty, thick texture – combined with the amazing blend of flavors – is absolutely perfect on chilly days like today!
My favorite thing about making it at home, however, is being able to choose which ingredients to use. Holy cow. Just looking at the nutrition facts of the clam chowder at most restaurants gives me a heart attack. (Loads of cream, butter and bacon come to mind….) I've made mine with milk and turkey bacon (although this time used the real stuff since I had some on hand!) for years, and have never had people mention the difference.
So if you're looking for a "lighter" version, would highly recommend giving this one a try! It's definitely a favorite. :)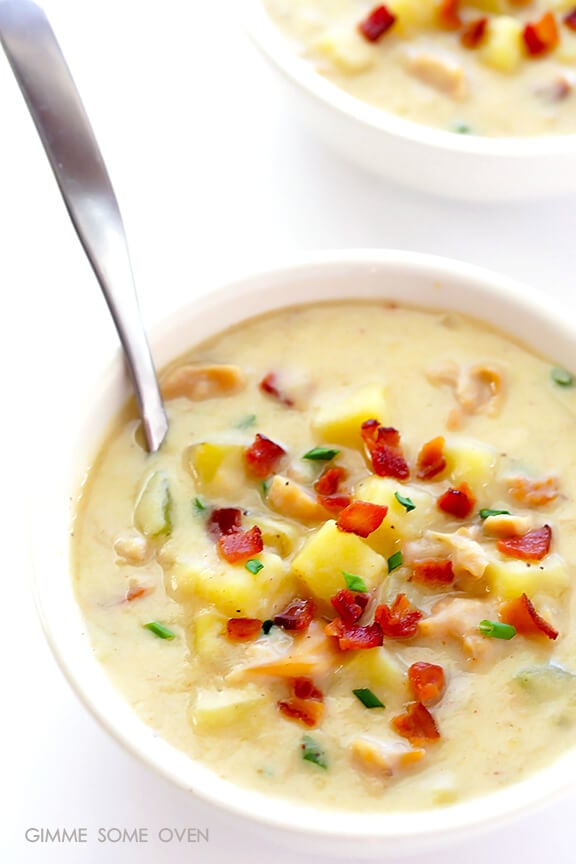 Lighter New England Clam Chowder
If you love New England Clam Chowder, try this lighter version! It's still thick, creamy, and delicious, but it's made lighter with a few simple tweaks.
Ingredients:
4 slices bacon, diced
1 medium onion, diced
1 stalk celery, ends trimmed and diced
2 cloves garlic, minced
3 Tablespoons all-purpose flour
1.5 pounds Yukon gold or red potatoes, diced (and peeled if you'd rather not have skins)
1 (8 ounce) bottle clam juice
4 cups milk (I used 2%)
1 bay leaf
1 teaspoon salt, or more/less to taste
1/2 teaspoon Old Bay seasoning
1/2 tsp. thyme
1/4 tsp. freshly-ground black pepper
2 (7-ounce) cans minced clams (not drained, keep the juice!)
optional garnish: chopped chives, dash of hot sauce
Directions:
In a large heavy saucepan (or Dutch oven), cook the bacon until it is nearly crisp. Remove the bacon, and leave about 1 Tbsp. of grease in the pan (If using turkey bacon, you may need to add a tablespoon of oil.) Add onions, celery and garlic, and saute over medium-high heat until vegetables are translucent, stirring occasionally. Stir in flour, and cook for another 3 minutes. Add in clam juice, milk, bay leaf and seasonings. Bring to a boil. Simmer and stir frequently for 10-15 minutes, or until potatoes are thoroughly cooked (they should be easily mashed with a spoon). Add in clams with their juice. Discard bay leaf and season with salt, pepper, and hot sauce. Serve in bowls, and garnish with extra bacon and/or chopped parsley.

If you make this recipe, be sure to snap a photo and hashtag it #gimmesomeoven. I'd love to see what you cook!
Ali's Tip:
To make a thicker soup with more of a "bisque" texture, feel free to blend half (or all) of the soup before adding in the clams. You can either do this by ladeling some of the soup into a blender, and then adding it back in after it has been blended. Or by using an immersion blender directly in your pot of soup. This is an easy thickening trick without using tons of cream!! :)
Leave a Comment:
Comments