Mayan Chocolate Cupcakes with Cocoa-Cinnamon Buttercream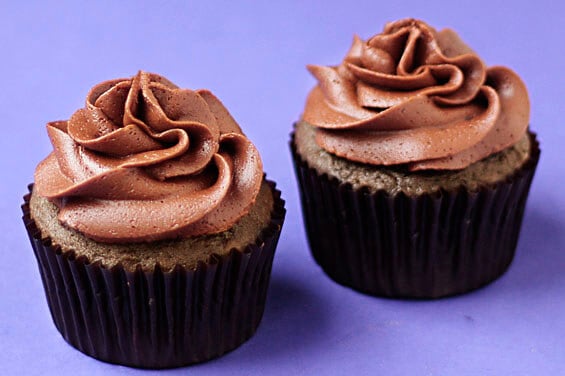 Ta da!!! Here it is – the first recipe from last weekend's cupcake-a-thon.
Mayan. Chocolate. Cupcakes. YUM!
These were without a doubt the crowd favorite of the evening. Which of course, came as no surprise — who can resist double chocolate?! But of course, we couldn't just do plain chocolate. :) Decided to add in a hint of cinnamon, chili powder, and cayenne for a fun extra kick. And thankfully, people loved it!!!!!
As I mentioned in the cupcake-a-thon post, since we were making hundreds of these in one day, I relented and decided to go "semi-homemade", using a boxed cake mix as the base for the recipe. But we also used the tips from "Hello Cupcake", adding in an extra egg and a cup of buttermilk to make the cupcakes extra moist. (Which sooooo many people commented on — they truly were perfectly moist!)
As much as I'm humbled to admit, using the cake mix, these were some of my favorite cupcakes ever. So I definitely recommend giving them a try….soon!! :)
Mayan Chocolate Cupcakes with Cocoa-Cinnamon Buttercream
Ingredients
Cupcake Ingredients:

1 (18.25 oz.) box Devil's Food (or other chocolate variety) cake mix
1 cup buttermilk
1/2 cup vegetable or canola oil
1 tsp. cinnamon
1/2 tsp. chili powder
1/4 tsp. cayenne
4 eggs

Frosting Ingredients:

1 stick (1/2 cup) butter, room temperature
1/2 cup unsweetened cocoa powder (I prefer dark chocolate cocoa, but any works!)
1/4 cup milk
1 tsp. cinnamon
2 1/2 cups powdered sugar (more or less to achieve desired consistency)
Method
Preheat the oven to 350 degrees. Line 24 muffin cups with paper liners.
Add the first six cake ingredients (cake mix through cayenne) together in a large mixing bowl. Beat with an electric mixer on low to medium speed until moistened, about 30 seconds. Add eggs one at a time, until the batter is well-mixed. Increase speed to high and beat until thick, 2 minutes longer.
Pour or scoop the batter into the paper liners until they are 2/3 full. Bake for 15-20 minutes, or until a toothpick inserted in the middle comes out clean. Remove from oven and let cupcakes cool on a wire rack.
To Make Frosting:
Cream butter in an electric mixer on medium-speed until smooth and fluffy, about 2-3 minutes. Then add cocoa powder and cinnamon and mix on low-speed until combined. Gradually add in the milk and powdered sugar, alternately, until combined. Then beat on medium speed until light and fluffy, another 3-5 minutes. (Add in more powdered sugar if consistency is too thin.)
***To frost 24 cupcakes as I did (pictured above), I'd recommend making a double batch of the frosting. But if you're just spreading it on with a knife, one batch should be plenty! :)
Ali's Tip:
For an extra kick, try grinding a pinch of ground sea salt on top of these! It truly kicks them up a notch! (And then you can tell your friends that they're "salted cocoa-cinnamon buttercream"!)