No-Bake Summer Vegetable Lasagna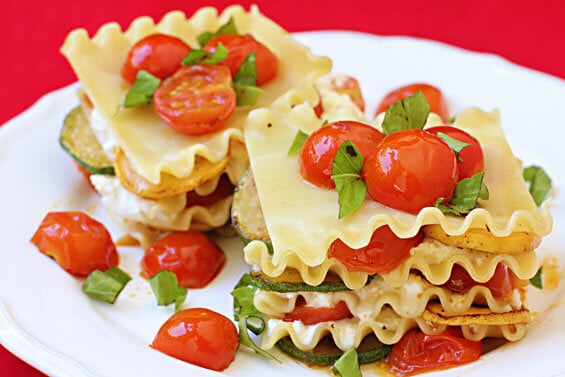 ***Click here to enter this week's giveaway for custom eco-friendly grocery bags!  Giveaway ends September 6, 11:59pm.***
We've had mixed results with our garden this year.  Thanks to a few weeks of some blazing summer heat (which scorched a few plants), and one of our trees that randomly decided to grow like crazy directly over the garden (blocking the sun over a third of the bed)…we didn't get quite the harvest we expected.  But we definitely had tremendous success in one area — tomatoes!
Actually, all of our tomato plants have been going crazy, but there is without a doubt one leader of the pack — this one huge cherry tomato plant.  Apparently it's going for the gold — I've never had so many cherry tomatoes in my life!  So fun to eat and share with friends.  :)
One of the recipes I was looking forward to trying with them this summer was a simple no-bake vegetable lasagna.  I've seen this approach for years, but have somehow never tried it myself.  So last week, I (very briefly) heated up the stove to boil the lasagna noodles and saute the veggies (kept it simple with zucchini/squash).  And then had maybe a little too much fun playing with my food and assembling these cuties.  Since I was just cooking for me, myself and I that day — I quartered the recipe.
And while I must admit, the word "lasagna" in my mind has always equaled "WORK" — these little guys were completely simple!  I pretty much followed Martha's recipe and kept things totally simple (with yummy, vegetarian ingredients), and they came together in about 20 minutes total, and were completely delightful!  I loved the no-sauce approach — just fresh, light, delicious ingredients.  And a perfect way to use up some cherry tomatoes.  AND, I didn't even have to heat up my oven. Yessss!
Can't wait to give this a try with some other creative ingredients soon!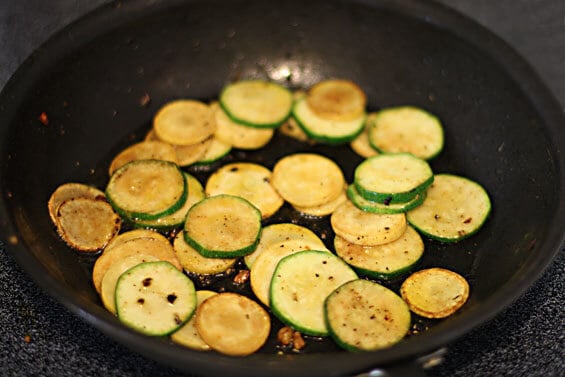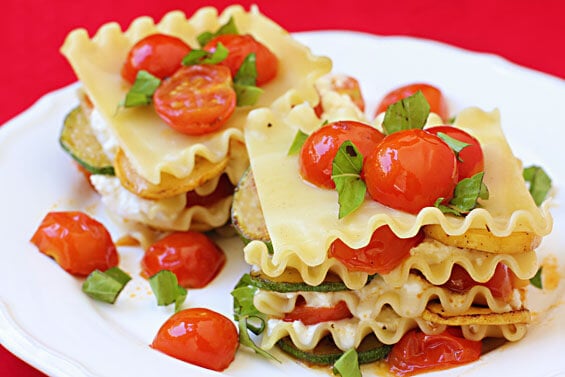 No-Bake Summer Vegetable Lasagna
You will love this No-Bake Summer Vegetable Lasagna recipe! Toss in those beautiful red cherry tomatoes and enjoy this quick and easy meal.
Ingredients:
1/2 cup ricotta cheese
3 Tbsp. grated Parmesan cheese
3 Tbsp. + 2 tsp. extra virgin olive oil
coarse salt and ground pepper
8 lasagna noodles
2 small garlic cloves, minced
2 pints grape tomatoes
2 zucchini (about 1 lb) — I used half zucchini, half yellow squash
small handful fresh basil (optional)
Directions:
In a small bowl, combine ricotta, Parmesan, and 2 tsp oil; season with salt and pepper. In a large pot of boiling salted water, cook noodles according to package instructions; drain.

Meanwhile, in a large skillet, heat 1 Tablespoon oil over medium-high. Add garlic (minced) and tomatoes (halved); season with salt and pepper. Cook, stirring, until slightly broken down, about 3 minutes. Transfer tomatoes to a bowl. Add 1 Tablespoon oil, zucchini and squash (sliced thinly) to skillet; season with salt and pepper. Cook, stirring until zucchini are tender, about 5 minutes. Transfer to another bowl and stir in basil (torn).

Place some tomatoes on four plates; top with a noodle and small spoonfuls ricotta, zucchini, add more tomatoes. Repeat layering twice, then top with remaining noodles and tomatoes. Garnish with basil.

Recipe adapted from Everyday Food.

All images and text ©

If you make this recipe, be sure to snap a photo and hashtag it #gimmesomeoven. I'd love to see what you cook!
Ali's Tip:
As I said, I kept it simple with ingredients.  But feel free to experiment with pretty much whatever you'd like in this one – veggies, cheeses, herbs, sauces, or even meats/seafood (if you'd like) — whatever sounds good!