Roasted Chickpeas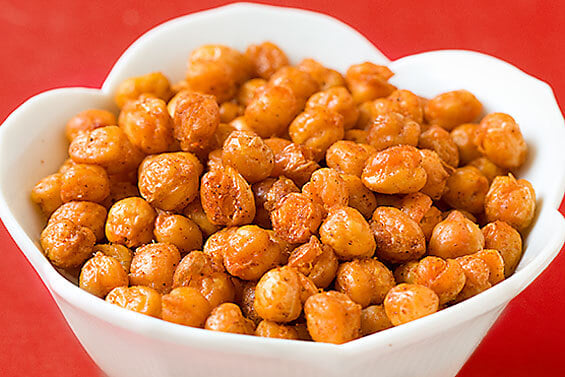 As much as I love meals, I love to snack. It's my weakness. My joy. My distraction from staring at a computer for hours on end in a cubicle.
I know…terrible.
But hey — moderation and nutrition are wonderful things. :) So to satisfy the "crunch" cravings, I've recently jumped on the roasted chickpeas (garbanzo beans) bandwagon. These little guys are fantastic! Not only are they packed with great crunch and flavor, but they're filled with fiber and nutrients, AND cost less than $1 per batch to make. I heart. :)
Below I've included a recipe suggestion for smoked paprika roasted chickpeas (my fav), but you can absolutely experiment with whatever seasonings you like.
Cheers to healthy snacking on…um…beans!
Roasted Chickpeas
Ingredients
1 (15 oz.) can chickpeas (a.k.a. garbanzo beans), drained and rinsed
1 Tbsp. olive oil
1 tsp. smoked paprika
pinch or two of salt to taste

Other seasoning ideas instead of smoked paprika:

chipotle powder
chili powder
cumin
garlic powder
onion powder
curry powder
sesame oil / soy sauce
cayenne
rosemary / Italian seasonings
Method
Preheat oven to 360F. Drain, rinse and blot the chickpeas dry with a paper towel. (You want to remove as much excess moisture as possible!) Pour the chickpeas into a bowl, and stir in all of the other ingredients until evenly coated.
Place on a baking sheet lined with parchment paper and roast for 40-50 minutes, stirring the chickpeas every 10-15 minutes. The chickpeas should be dry and crisp on the outside, but still have the slightest chew when initially tasted. (But they will continue to cook and dry a bit more once removed from the oven.)
Let cool for about 10 minutes on the sheet, then serve or store in an airtight container
Ali's Tip:
Look out! These little guys have the potential to explode in the oven. (Think…popcorn!) So don't be surprised if you hear a few "pops" as they finish up. :)