Roasted Garlic and Brie Soup
When I asked my 7-yr-old piano student yesterday to tell me what was new in his world, he rolled his eyes and matter-of-factly informed me that "Um….it's cold outside again".  So true, so true.  After a month of gorgeous spring weather, the temperatures in Kansas Cty have randomly decided to dip over the last week, forcing everyone to pull out long-sleeved shirts, turn on their car heaters, and switch back to hot instead of iced coffee.  Boo.
Me?  I decided it was a perfect opportunity to pull out a warm, delicious soup recipe I'd been wanting to try.  Because who wouldn't turn down garlic+brie…especially in a soup!  Sure enough, it was the perfect comfort food that I was looking for.  The soft brie I used melted down beautifully to give the soup a creamy texture with that classic burst of flavor.  And the roasted garlic gave it an irresistibly subtle, buttery depth of flavor.
Very simple, yet this would undoubtedly pass as tres gourmet. :)  Loved it!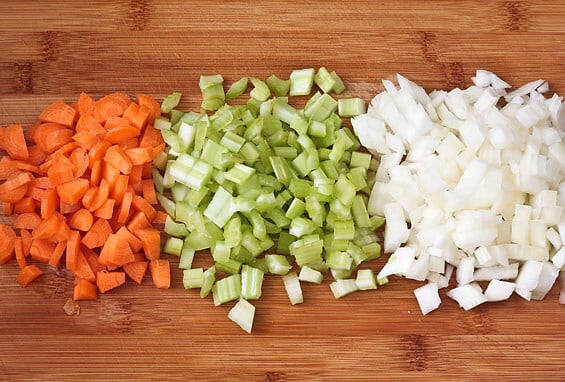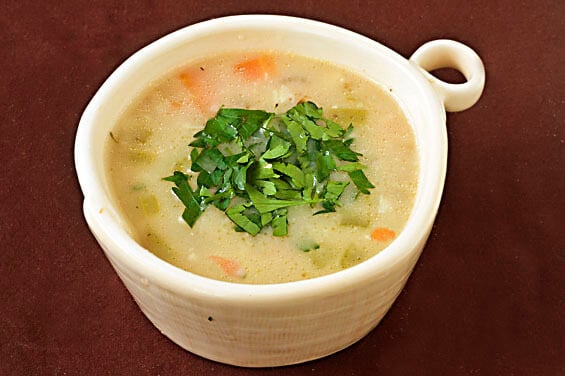 Roasted Garlic & Brie Soup
Very simple, yet this would undoubtedly pass as tres gourmet. You'll love this Roasted Garlic & Brie Soup recipe!
Ingredients:
2 heads of roasted garlic (see recipe – ingredients are garlic and olive oil)
7 ounces Brie, rind removed and chopped (or less – I recommend adding a bit at a time to taste)
2 ribs celery, finely diced
1 medium onion, finely diced
1 medium carrot, finely diced
3 Tbsp. olive oil
1/4 cup flour
6 cups chicken broth
1 tsp. fresh thyme, chopped (or 1/2 tsp. dried thyme)
1 tsp. fresh oregano, chopped (or 1/2 tsp. dried oregano)
optional: fresh parsley, chopped (for garnish)
Directions:
Heat olive oil in a large pot over medium-high heat. Add celery, onion and carrot and saute for 8-10 minutes, stirring regularly until the vegetables have softened.

Add flour and stir for another minute to combine. Then add chicken broth and bring to a boil. Reduce heat and simmer 15 minutes, stirring often.

Carefully squeeze the roasted garlic cloves out of the heads, and place them in the food processor (or blender). Add in one cup soup mixture and process until smooth. Return processed mixture to pot and add in the thyme and oregano. Bring to a simmer.

Add cheese and stir slowly until melted. Season to taste with salt and freshly ground black pepper (or a tiny dash of white pepper), and serve. Garnish with chopped parsley if you'd like.

If you make this recipe, be sure to snap a photo and hashtag it #gimmesomeoven. I'd love to see what you cook!
Ali's Tip:
Like I mentioned, I used a soft variety of Brie.  But any kind will work.  Some of the harder varieties may just yield a few more cheesy lumps, but it will still be delicious!