Roasted Vegetable & Black Bean Tacos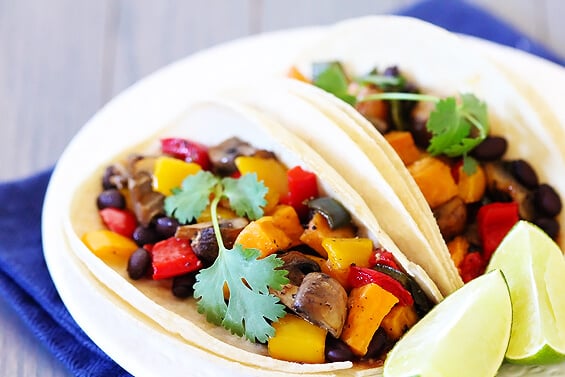 As much as I adore living right nextdoor to a farmers' market, I have to admit that every now and then, my eyes are bigger than my stomach.  Or really, my eyes are just more "optimistic" about my cooking schedule than I am.  :)
Either way, when I find myself at the end of the week with some remaining fruit or veggies that are shriveling and about to seriously pass their prime, I bust out my favorite solution — roasting them!  I adore roasted veggies anyway, but it's also a great way to rescue veggies that might still be tasty but no longer look quite as perfect.
So last night when I found myself with some now not-quite-as-gorgeous bell peppers and poblanos begging to be used, I ended up roasting a pan of veggies and turning them into these easy tacos.  So this really isn't a fancy recipe, per se, but they were so tasty and easy that I thought they were worth sharing!  Just layered the roasted veggies, some of my favorite salsa, and some black beans (for protein!) together.  And voila — a super-simple and delicious dinner was ready to go.
The best part is that you can do this with just about any veggies.  And I've also listed a bunch of topping options below.  Definitely a great "to the rescue" dinner for summer produce lovers!!!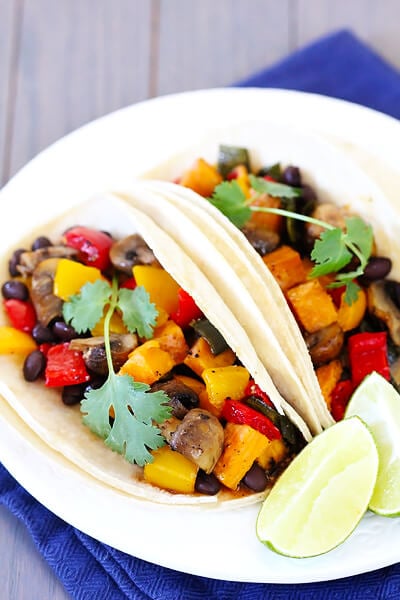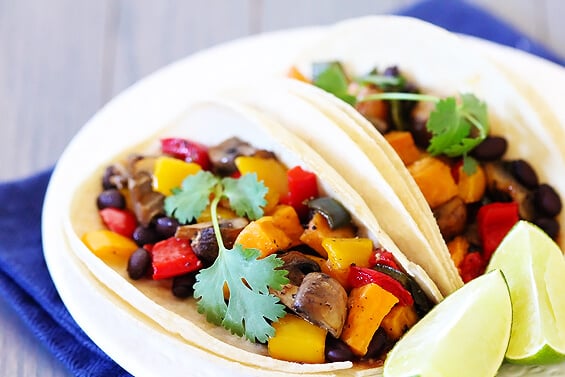 Roasted Vegetable & Black Bean Tacos
A quick and easy dinner to make use of leftover veggies — you will love this Roasted Vegetable & Black Bean Tacos recipe!
Ingredients:
diced vegetables (I used red/yellow bell peppers, sweet potatoes, poblanos, onions, and mushrooms)
canola or vegetable oil
salt and freshly-cracked black pepper
corn tortillas
black beans, drained (if from a can)
optional toppings: chopped cilantro, sour cream, shredded cheese, guacamole, etc.
Directions:
Preheat oven to 425 degrees. Line a baking sheet with aluminum foil.
Toss the vegetables in oil (about 1 Tbsp. oil for every 4 cups of veggies). Then spread out in a single layer on the prepared baking sheet, and season with salt and freshly-ground black pepper. Roast for about 20-25 minutes, until veggies are soft and have just started to brown around the edges. Remove and set aside.
Assemble tacos by layering a few spoonfuls of salsa on a tortilla, then layer with black beans, roasted veggies, and desired toppings. Serve warm.
Ali's Tip: One of my favorite "toppings" is the blend of finely chopped cilantro and white onion.  I learned that "street-style" from one of my favorite Mexi restaurants, and it is sooooo good!
All images and text ©
If you make this recipe, be sure to snap a photo and hashtag it #gimmesomeoven. I'd love to see what you cook!