Santa Fe Salad with Cilantro-Lime-Peanut Vinaigrette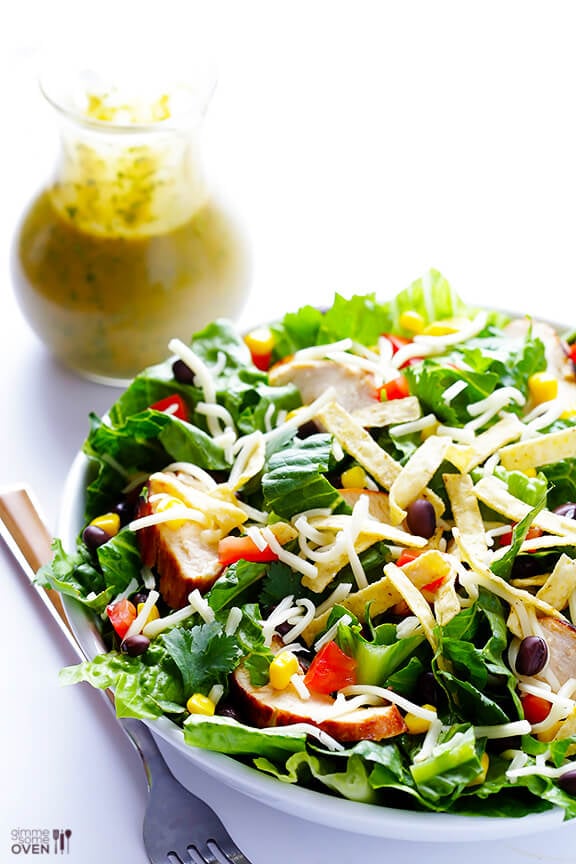 Salads make me smile.  :)  Fresh salads, pasta salads, fruit salads, and even my grandma's jello salad all hold a special place in my heart.  But I must confess — this has not always been so.  In fact, up until just about ten years ago, I was anti– salad!  (I know, I know…picky eater…didn't know what I was missing.)  Thankfully one trip to the Cheesecake Factory changed all of that.  A persuasive friend insisted that I try a bite of her Santa Fe salad, and the rest was history…
To this day, it still remains one of my favorite salads ever.  The ingredient mix is fun and fresh, but the magic, of course, is in the dressing.  Oh my word – it is delightful, and oh-so-rich.  The blend of the peanut butter, lime, and cilantro is brilliant, and is complimented well by my beloved favorite ingredient – sesame oil.  I'll often whip up a double batch of the vinaigrette just to have some extra on hand, or to use in another recipe as a marinade or sauce.
My confession and disclaimer, of course, is that this is only my attempt at a copy of this recipe.  The original is still my favorite, but I definitely enjoy this as a close second.  Also love that you can feed four at home for what one individual salad costs at the restaurant!  Still…props, kudos, cheers, hurrah, and bravo to the original creative chefs at the Cheesecake Factory for not only introducing this yummy creation, but for helping a picky 16-yr-old finally go "green".  :)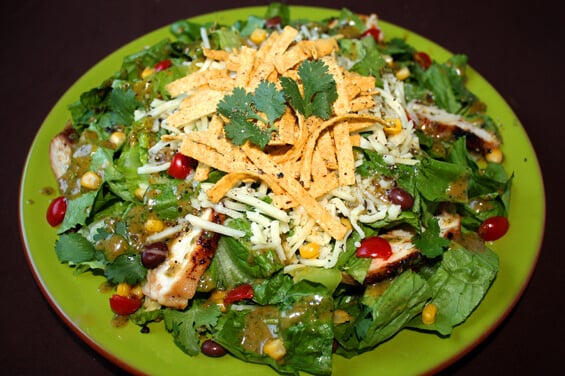 Santa Fe Salad with Cilantro-Lime-Peanut Vinaigrette
This Santa Fe salad with cilantro-lime-peanut vinaigrette is so savory and refreshing — perfect for lunch or dinner!
Ingredients:
4 boneless, skinless chicken breasts
1/2 cup teriyaki marinade
2 Tbsp. olive oil
1 head romaine or leaf lettuce
1 large tomato, diced
1 (15 oz.) can black beans, rinsed
1 (16 oz.) can whole kernel corn, drained
1 cup fresh cilantro, stems cut off
1 1/2 cups grated Monterrey Jack cheese
2 cups toasted corn tortilla strips
Cilantro-lime-peanut vinaigrette (see below)
Cilantro-Lime-Peanut Vinaigrette Ingredients:
1/2 cup olive oil
1/4 cup fresh cilantro
1/4 cup peanut butter (I prefer natural)
3 cloves garlic, peeled and smashed
1 Tbsp. brown sugar
1 Tbsp. red wine vinegar
1 Tbsp. lime juice
1 tsp. lime zest (approx. zest of one lime)
1 tsp. sesame oil
Directions:
To make vinaigrette, mix the first eight ingredients in a food processor. Then slowly add olive oil to mixture, and blend until smooth. Add freshly ground black pepper to taste.
To prepare salad, marinate chicken at least 1 hour in teriyaki marinade in gallon-size plastic bag or bowl. Once it is ready, heat oil in skillet over medium heat. Add chicken breasts and cook 7-10 minutes on each side, or until juices run clear. Remove and let cool, then slice into thin strips.
While chicken is cooking, wash and dry the lettuce, then cut into bite-sized pieces. Mix in cilantro, corn, beans, and tomatoes. Divide the mixture between the four plates, and top each salad with chicken, then cheese, then tortilla strips. Dress with vinaigrette, and finish with freshly-ground black pepper.
Ok, I may be overly enthusiastic about these little tortilla strips — love them!! In case you've never purchased them, they are usually available at the grocery store, often found in the salad dressing aisle. (I found these ones at Aldi!) If you feel like going the extra mile, though, they're simple to make homemade. Just cut up your favorite flour or corn tortillas into 3 even columns, and then cut them again horizontally into matchsticks. Add salt or other seasonings if you'd like. Then pop them in the oven (or toaster oven – yay!) and broil until they crisp up. Voila. However, if you're making this salad on the fly, crumbled tortilla chips are of course a perfectly yummy substitute. :)
If you make this recipe, be sure to snap a photo and hashtag it #gimmesomeoven. I'd love to see what you cook!