Shrimp Scampi With Parmesan Risotto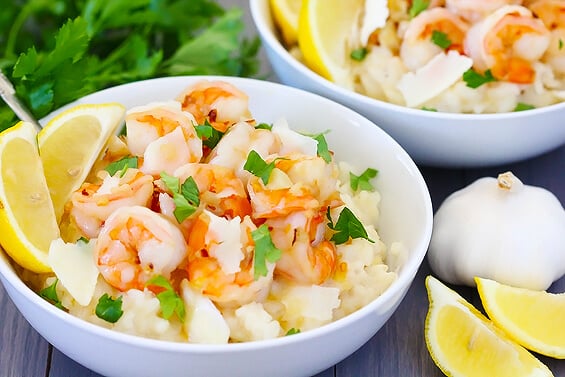 I know that it's summer and just about every kind of fresh vegetable and fruit seems to be in season.  But this week I have had this crazy craving for shrimp scampi!!
Granted, it calls for some lovely fresh parsley lemons.  And of course, lots of fresh garlic.  But other than that, it's pretty much all about the shrimp and butter and cheese and carbs — which are always in season in my book.  ;)
For a slightly different twist on traditional shrimp scampi served over pasta, I decided to go risotto this time.  Added in some parmesan and garlic to make it extra tasty, and then topped it with the always-amazing shrimp scampi.  I had no doubt it would be good.  But holy moly, the shrimp with the parmesan risotto turned out to be a total winner of a recipe.  Such a perfect combination!  I may never go back to plain ol' pasta noodles now…
So if you happen to be like me and crave this comfort food in the heat of the summer, or in the coziest cool of winter, I'm pretty sure you'll love this one too!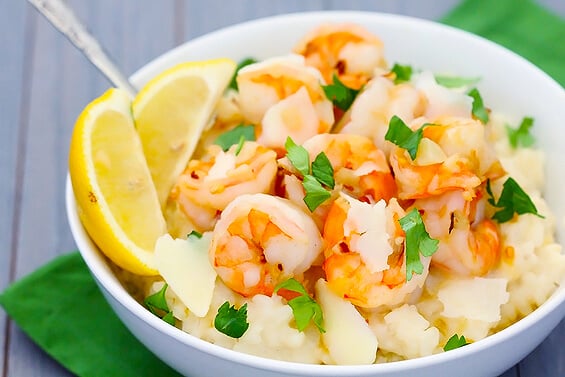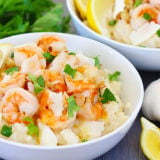 Shrimp Scampi with Parmesan Riotto
Classic shrimp scampi served with a delicious Parmesan risotto.
Ingredients:
Parmesan Risotto Ingredients:
5 to 6 cups chicken stock
3 tablespoons olive oil
1/2 cup finely chopped shallots or yellow onion
2 cloves garlic, minced
1 cup Arborio rice
1/2 cup dry white wine
4 Tbsp. butter
2/3 cup grated Parmesan cheese
salt and freshly-cracked black pepper
Shrimp Scampi Ingredients:
3 Tbsp. butter
2 Tbsp. olive oil
1/2 to 1 tsp. red pepper flakes, to taste
1/2 white onion, finely diced
4 cloves garlic, slivered or minced
1 pound large shrimp, shelled and de-veined
1/2 cup dry white wine
juice of two lemons
generous pinches of salt and freshly-cracked black pepper
chopped fresh flat-leaf parsley, for garnish
Directions:
To Make The Parmesan Risotto:
Heat stock in saucepan over medium heat; keep at a low simmer. Heat olive oil in a heavy-bottomed saucepan over medium heat. Add shallots to oil, and cook, stirring, until translucent. Add garlic and cook for an additional minute. Add rice, and cook, stirring, until rice begins to make a clicking sound like glass beads, 3 to 4 minutes. Add wine to rice mixture. Cook, stirring, until wine is absorbed by rice.
Using a ladle, add 3/4 cup hot stock to rice. Using a wooden spoon, stir rice constantly, at a moderate speed. When rice mixture is just thick enough to leave a clear wake behind the spoon, add another 3/4 cup stock.
Continue adding stock 3/4 cup at a time and stirring constantly until rice is mostly translucent but still opaque in the center. Rice should be al dente but not crunchy. As rice nears doneness, watch carefully and add smaller amounts of liquid to make sure it does not overcook. The final mixture should be thick enough that grains of rice are suspended in liquid the consistency of heavy cream. It will thicken slightly when removed from heat.
Remove from heat. Stir in butter and Parmesan cheese. Season with salt and pepper. Divide into serving bowls, and top with shrimp scampi.
To Make The Shrimp Scampi:
Heat olive oil, butter and red pepper flakes in large skillet over medium heat. Add onions and cook for two or three minutes, or until onions are translucent. Add garlic and cook for an additional minute.
Increase heat to high, and add in the shrimp in a single layer . Add wine, lemon juice, salt and pepper, and cook for 2-3 minutes. Flip shrimp and cook for an additional minute or two until the shrimp are pink and opaque, then remove from heat.
Serve with parmesan risotto.
All images and text ©
If you make this recipe, be sure to snap a photo and hashtag it #gimmesomeoven. I'd love to see what you cook!