Thai Basil Chicken Lettuce Wraps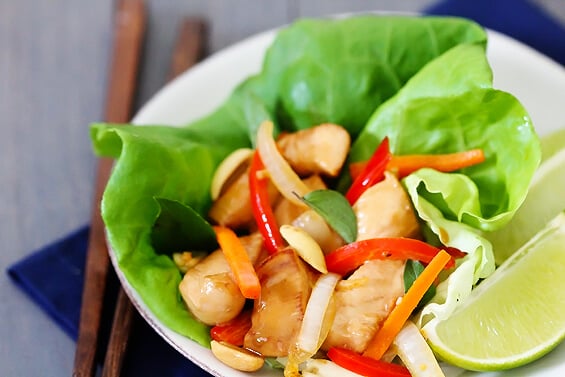 One of the best things about my recent move down to the River Market area in Kansas City is getting to live near this humongous Asian foods market!  It always feels like a field trip whenever I go in there.  So many fascinating things to see!!!
Yesterday when I was there, I suddenly had a craving for some Thai basil chicken.  I posted this recipe for it a few years ago, and it is still such a comfort food for me!  Since it's summer, though, and 100 bajillion degrees outside, thought it would be fun to turn the dish into some lettuce wraps!  I also decided to add in some coconut milk and chili garlic sauce, per Heidi's recommendations.  And voila!  Within about 20 minutes, my kitchen smelled unbelievably amazing, and these adorable lettuce wraps were born!
Being my forgetful self, I somehow forgot to include the shitake mushrooms and bean sprouts that I had sitting on the counter for the batch of these that I photographed.  But feel free to add them in, or to toss some of your other favorite veggies into this dish!  I know that traditional Thai basil chicken is pretty much all about the chicken, but I love loading my lettuce wraps up with some fresh veg and color too.
Enjoy!!!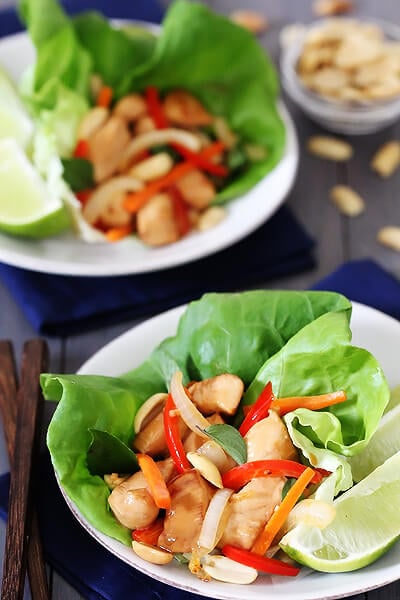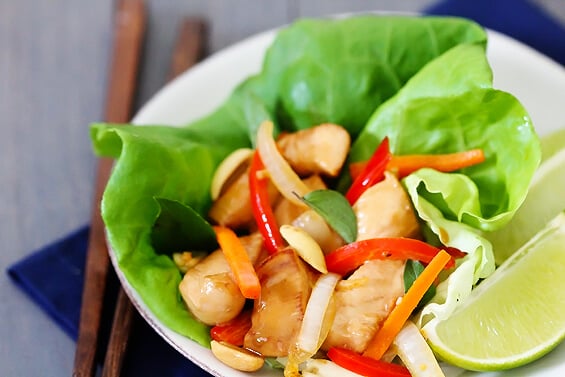 Thai Basil Chicken Lettuce Wraps
Delicious "Thai Basil Chicken" is the perfect filling for tasty lettuce wraps!
Ingredients:
1/4 cup canola or vegetable oil
1 small white onion, thinly sliced
1 red pepper, thinly sliced
1 cup shredded carrots
2 Tbsp. minced ginger
3 garlic cloves, minced
1 cup sliced shitake mushrooms (optional)
1 cup bean sprouts (optional)
1 lb. ground or diced chicken breasts
1 1/2 cup plus 1/4 cup for garnish of thai basil, or basil of your preference
1 can coconut milk
4 Tbsp. soy sauce (use light soy sauce for less salty flavor)
6 Tbsp. rice wine vinegar
3 Tbsp. fish sauce
1 Tbsp. chile garlic sauce or Sambal Oelek or more to taste
1 cup loosely-packed Thai basil leaves
butter or romaine lettuce leaves
ground peanuts and lime for garnish
Directions:
In a medium saucepan, combine coconut milk, soy sauce, rice vinegar, fish sauce, chile sauce and Thai basil over medium-high heat. Bring to a boil and then reduce heat to medium low, and simmer until reduced by half, about 10-12 minutes.
While sauce is simmering, heat 2 Tbsp. oil in a large skillet over medium heat. Add onion, red pepper, carrots, Bring 2 T oil to medium-high heat and sauté onion, red pepper, carrots, ginger and garlic until mostly cooked and softened, about 5-7 minutes. Add mushrooms and bean sprouts and saute for an additional 3 minutes. Remove from pan.
Add an additional 2 Tbsp. oil to pan and brown chicken for 4-6 minutes until cooked through. Remove from pan.
Combine the coconut sauce with the cooked chicken and vegetables and toss until combined. Portion the mixture into lettuce cups, then garnish with crushed peanuts, lime and additional Thai basil leaves if desired. Serve immediately.
All images and text ©
If you make this recipe, be sure to snap a photo and hashtag it #gimmesomeoven. I'd love to see what you cook!