12 Ways To Rock Your Crock-Pot This Thanksgiving!
This post may contain affiliate links. Please read my disclosure policy.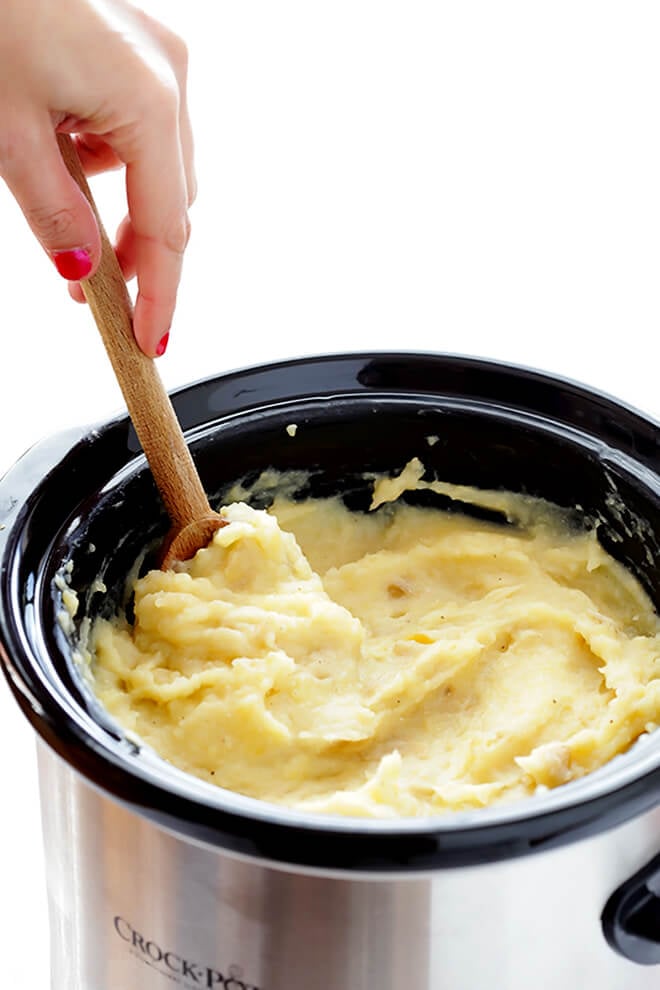 Happy Thanksgiving Week, everyone!
Are you all ready for the big day on Thursday?? Ha, to be honest, I have no idea yet what's happening with my family and what's on the menu for Thanksgiving this year. As this post goes live, I'll be flying high somewhere over the ocean en route back from Korea to Kansas City. And after having been out of the country for a few weeks, I'm totally behind on everything for the holiday this year. And I'm guessing that I may be the jet-lagged family member who beats everyone to naptime even before the turkey coma sets in. ?
BUT, after not having cooked for a few weeks, I've gotta admit that I am really excited to get back in (an American!) kitchen again. And as I was poking through the Thanksgiving recipe archives here on the blog, I was reminded of how many delicious short-cut Thanksgiving crock-pot recipes I might want to make! Do you usually use your slow cooker on Thanksgiving?? Well, if you haven't before, I highly recommend putting it to work on the holiday because:
a) It can cook almost any classic Thanksgiving course, from the turkey to ham to stuffing to mashed potatoes to creamed corn and beyond. (See below!)
b) It will save you some valuable oven space which — I don't know about you — is always prime real estate in my kitchen on Thanksgiving.
c) It's so dang easy to use, and can save you valuable time and energy on a busy day. So that way, you can spend less time being tied to the kitchen, and more time relaxing and making memories and soaking up good time with those you love.
So if you're looking for some crowd-pleasing new recipes to take some of the stress out of the holiday, I've got a delicious lineup below. From appetizers, to traditional main courses, to my favorite vegetarian/gluten-free main course, to sides, to drinks and even dessert — I'm tellin' ya — your crock pot can absolutely rock it this Thanksgiving! And hey, if you're really feeling the slow cooking vibes, our family would be the first to admit that we often have a couple crock-pots working at once. (This 6-quart slow cooker and this 4-quart slow cooker are my faves, if you need a recommendation.)  The more, the merrier, right?!
Alright, without further ado, let's get to these recipes…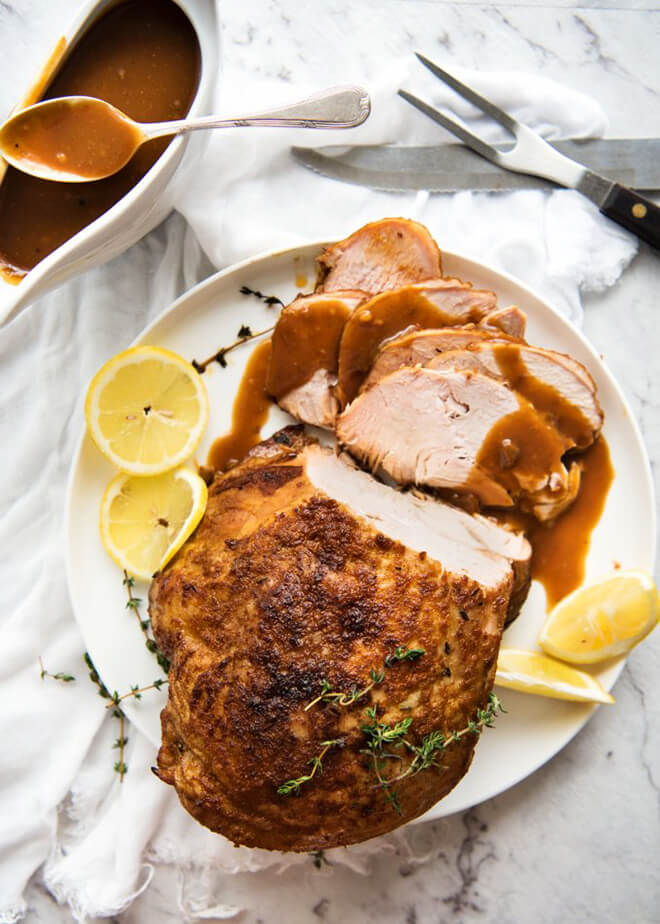 Juicy Slow Cooker Turkey Breast | RecipeTin Eats
Guys! If you don't want the fuss of cooking an entire bird this Thanksgiving, let your slow cooker be the one to do all of the work!! Seriously, this delicious and juicy turkey breast only takes about 3 minutes to prep (3 minutes!!), then you can pop it in the slow cooker and let it cook all day while you spend more time with your friends and family. Then when it's time for dinner, just pop it under the broiler to crisp up the skin (and turn the juices into grave if you'd like), and a delicious turkey will be ready to share and enjoy. Brilliant.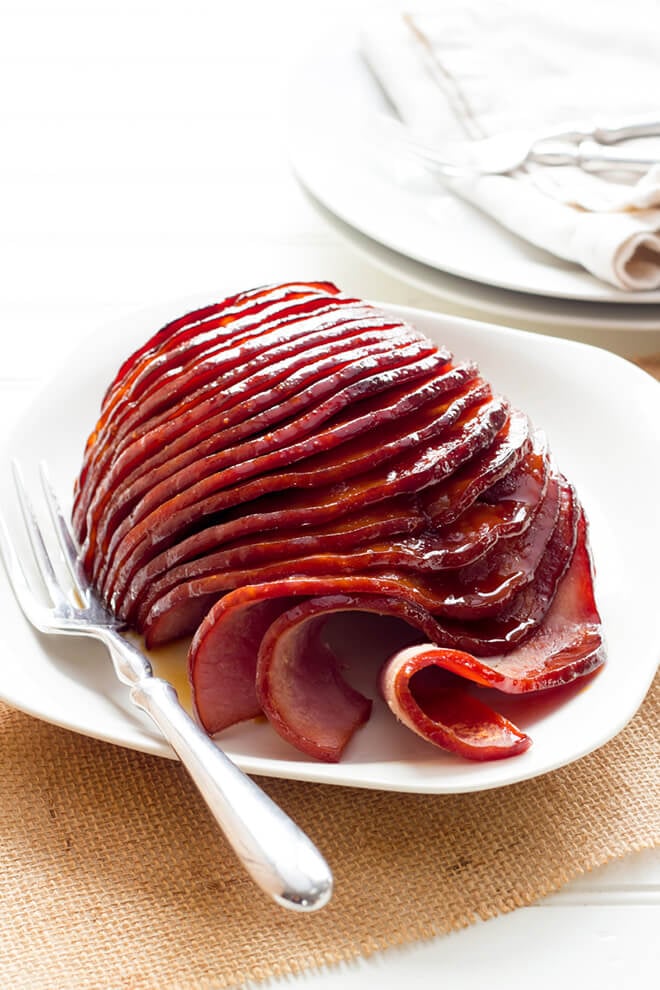 Slow Cooker Honey-Glazed Ham | Wholefully
Same thing goes for the ham! If you'd rather not take up valuable real estate in your oven with a big Thanksgiving ham, consider cooking it in the slow cooker instead! This simple recipe only takes a few minutes to prep, and is made with the most delicious honey-mustard glaze. Perfect for the holidays.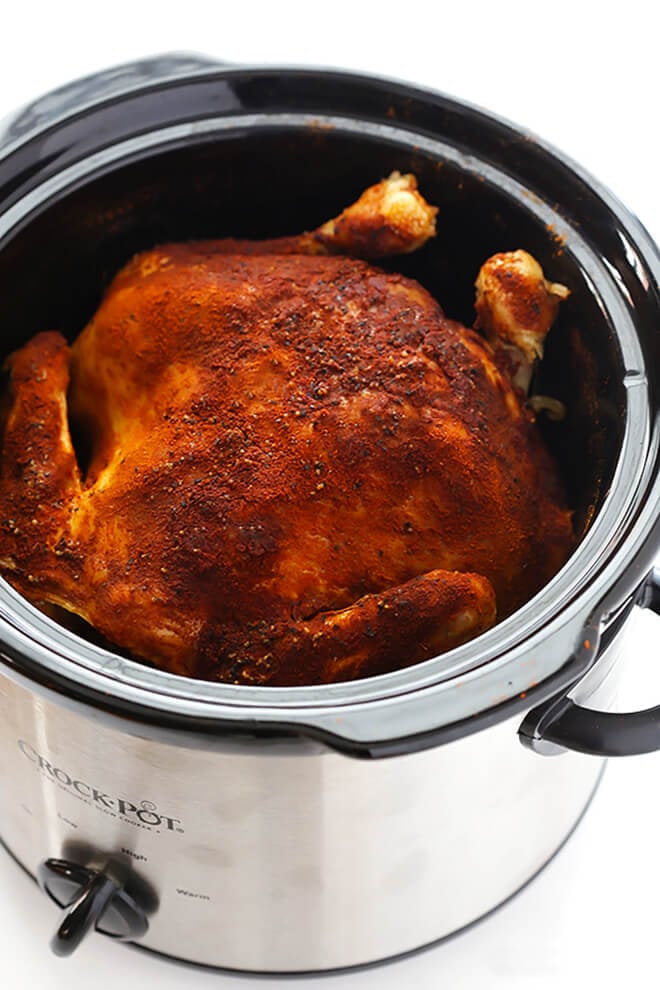 Slow Cooker "Rotisserie" Chicken | Gimme Some Oven
If you're not particularly into ham or turkey and would like a different protein this Thanksgiving, I'm a huge fan of this slow cooker "rotisserie" chicken. It also just takes a few minutes to prep, and will cook up the most flavorful savory whole chicken that goes well with any meal.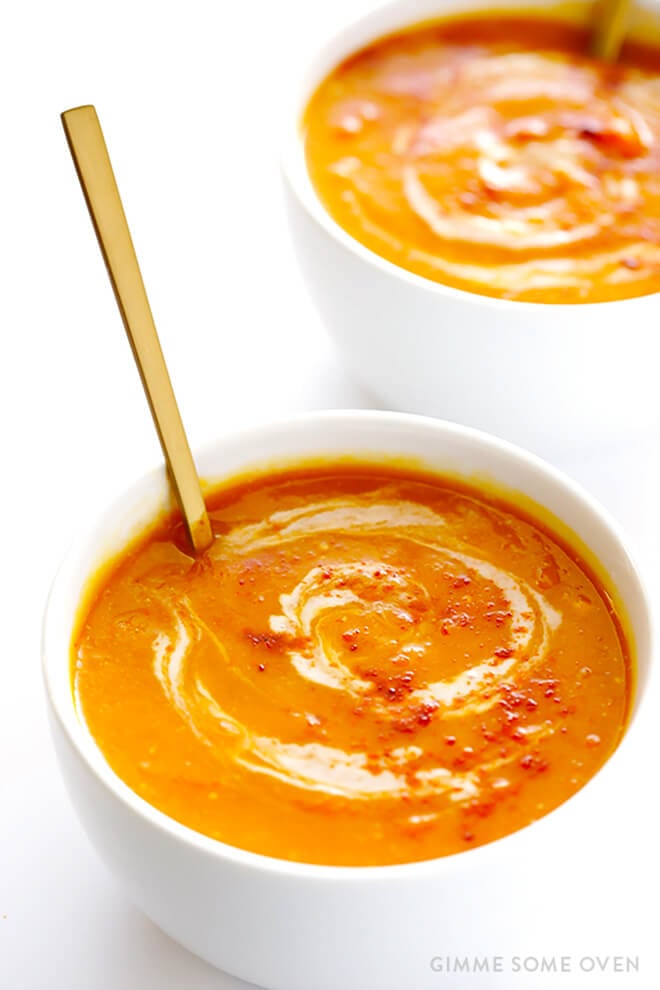 Slow Cooker Butternut Squash Soup | Gimme Some Oven
If you're looking for a delicious vegetarian (and actually vegan and gluten-free too!) main course for Thanksgiving, my favorite butternut squash soup recipe is always a crowd pleaser! It's easy to prep (feel free to use frozen butternut squash if you'd like to make it even easier), it's full of the most delicious sweet and savory and slightly spicy flavors, and it also freezes well if you'd like to make it in advance or save the Thanksgiving leftovers for later.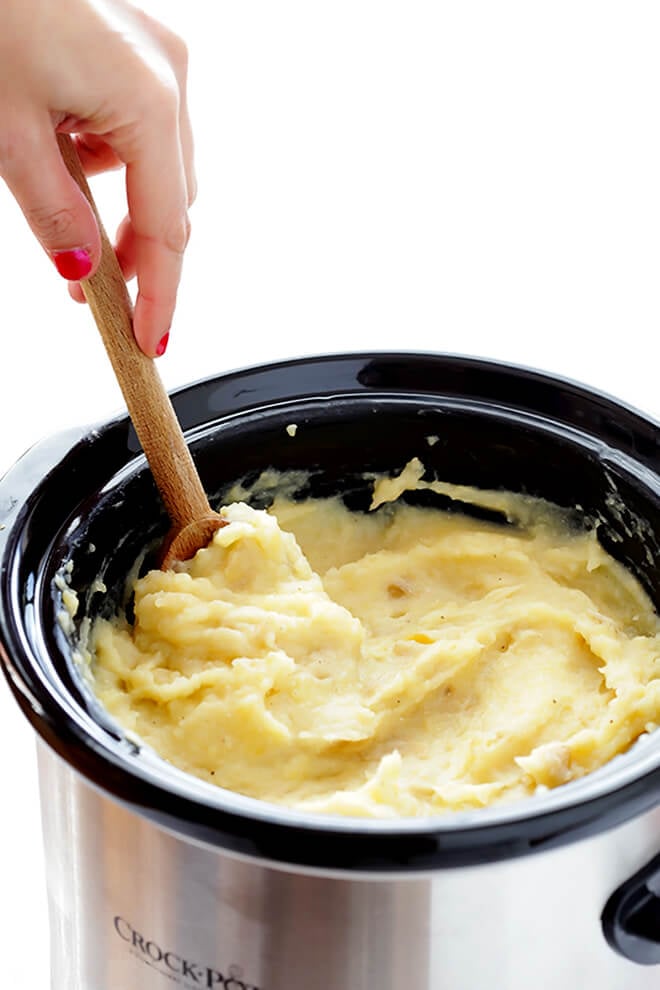 Slow Cooker Mashed Potatoes | Gimme Some Oven
This is probably our most popular Thanksgiving slow cooker recipe on the site, and also happens to be one of my personal faves. Because as it turns out, mashed potatoes are ridiculously easy to make in the slow cooker! And you can totally customize them however you'd like. You can roughly mash them to make chunky "smashed" potatoes, or whip them until they're completely smooth. You can serve them plane, or stir in all of your favorite add-ins like crumbled bacon, shredded cheese, chives, etc. You can make them with Yukon gold potatoes (my fave), or Russets or red potatoes will also work. YOU PICK. Can't go wrong here. :)
(Also, if you'd like to make a double batch, just use a large 6-quart slow cooker.)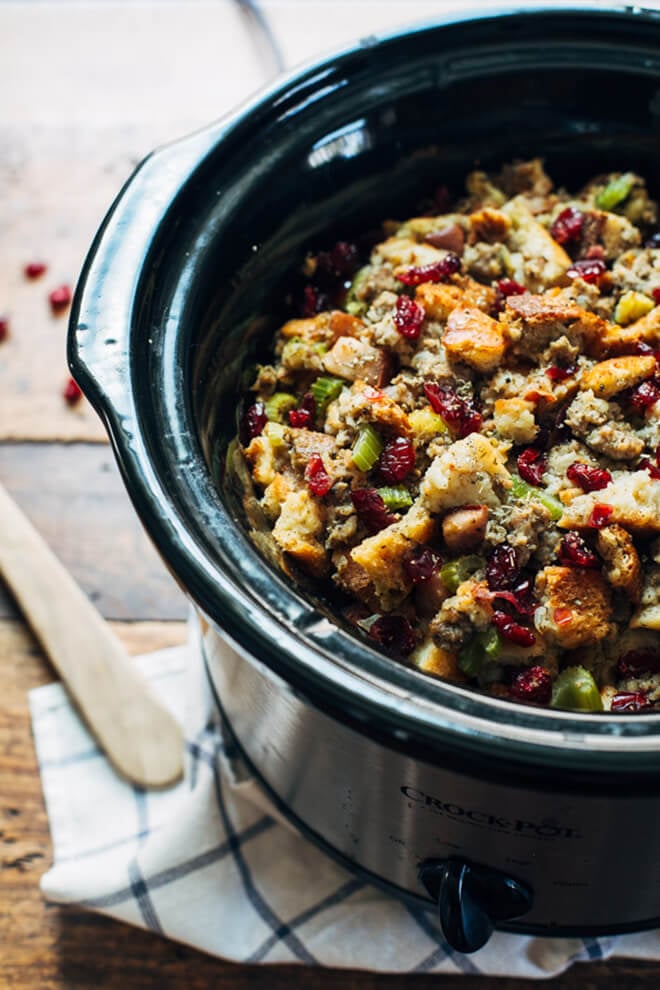 Slow Cooker Pear & Sausage Stuffing | Pinch Of Yum
And what Thanksgiving is complete without the stuffing?! ? Turns out this is also an easy one to make in the crock-pot, and my friend, Lindsay's recipe is one of my faves. It's the perfect balance of sweet and savory with all of those fresh pears and cranberry, zesty sausage and celery, and lots of bread to make this a hearty and oh-so-delicious crowd favorite. Here's her write-up about the dish, and the actual recipe is here.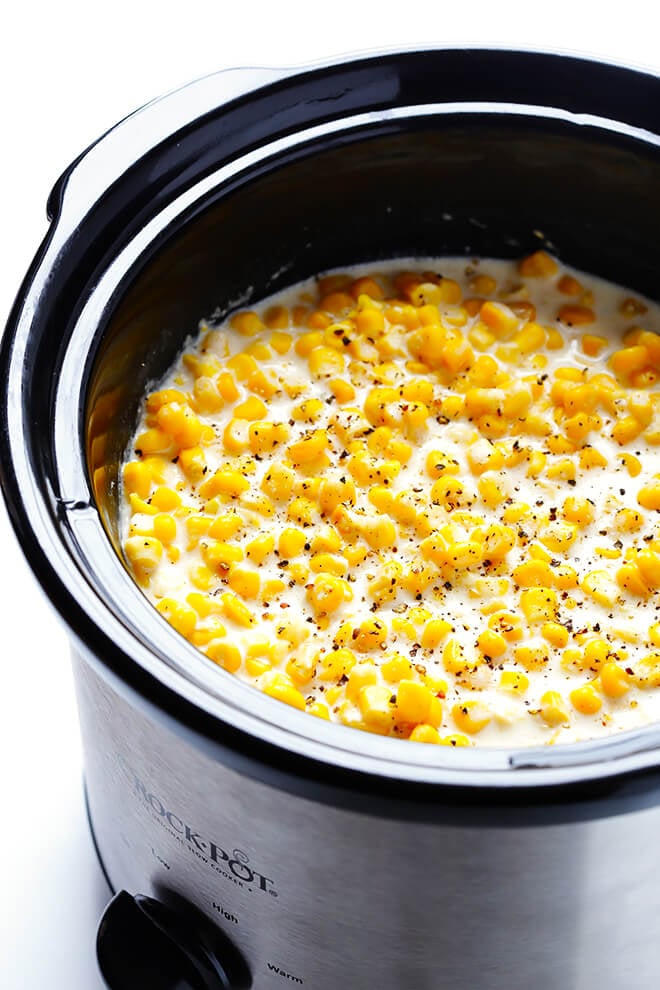 Slow Cooker Creamed Corn | Gimme Some Oven
Seriously, why whip out the cans of creamed corn when it's so easy to make it from scratch? Literally just dump everything in the crock-pot for this recipe and — like magic — perfectly creamed corn will be ready to enjoy with just a simple stir hours later. SO EASY.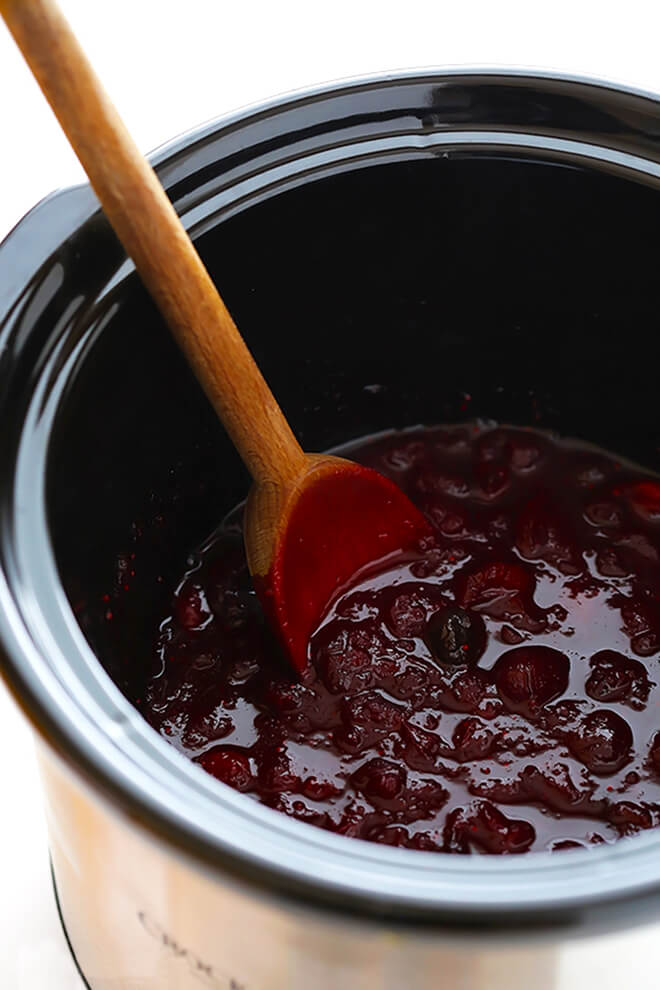 Slow Cooker Cranberry Sauce | Gimme Some Oven
Also ultra-easy?? This delicious slow cooker cranberry sauce. Just dump all of the ingredients in the crock-pot, and fuggetaboutit for a few hours until they're ready to serve. One quick stir, and they're ready to go!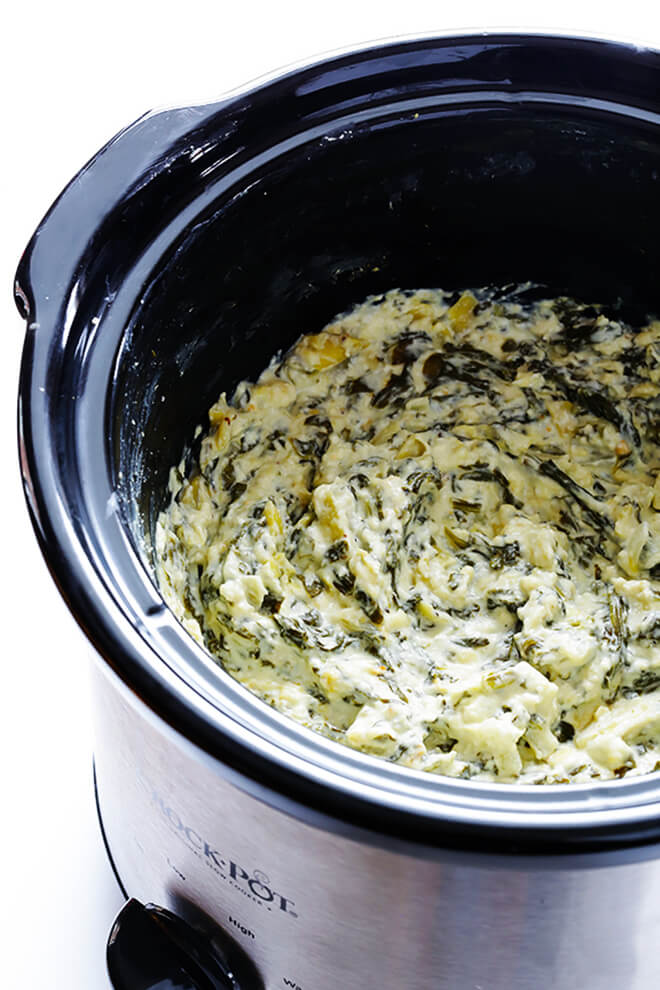 Slow Cooker Spinach Artichoke Dip | Gimme Some Oven
Alright, I don't know about you, but our family is big into appetizers and snacking all day while the rest of the Thanksgiving meal is being prepared. So if you're looking for an easy appetizer, I think it's safe to say that just about everyone loves a creamy, dreamy, classic Spinach Artichoke Dip. This one is simple to make in the slow cooker, it's lightened up a bit with some healthier ingredents (compared to most traditional versions), and — my gosh — I'll be the first to warn you that it's downright irresistible. Serve it up with chips, pita, crusty bread, you name it. Can't go wrong. ?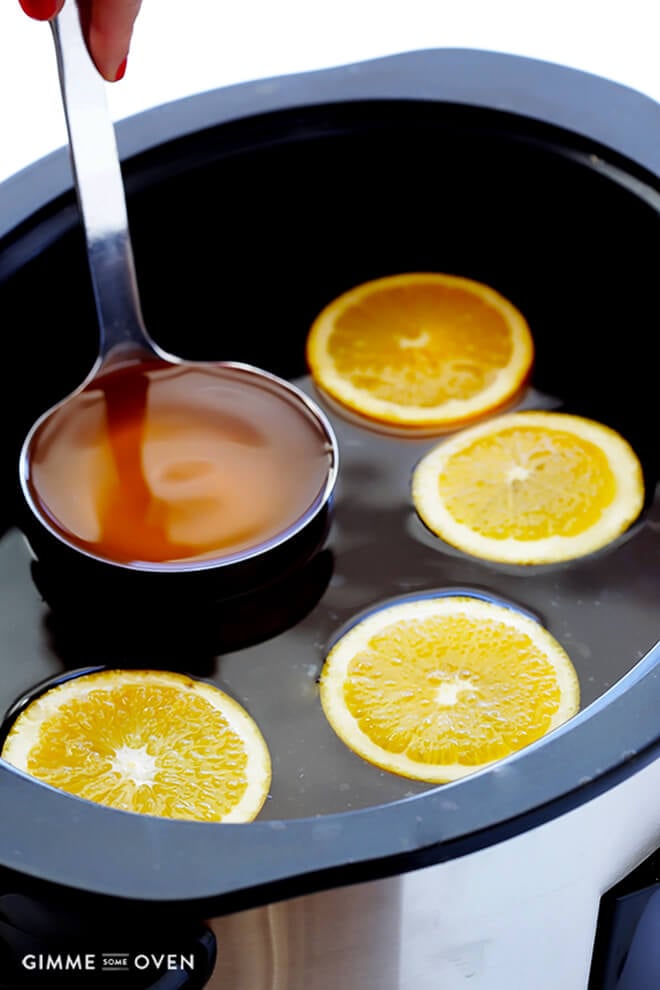 Slow Cooker Apple Cider | Gimme Some Oven
Oh my goodness, I make this slow cooker apple cider multiple times a month during the holidays. It's the perfect drink for a party, it's surprisingly easy to make and easy to customize (you can make it as sweet as you'd like, using your preferred kind of sweetener), it's easy to turn into a quick cocktail if need be (just add a splash of bourbon!), and — oh my goodness — it will make your home smell absolutely AMAZING. Seriously, this cider beats any fall candle I know. ?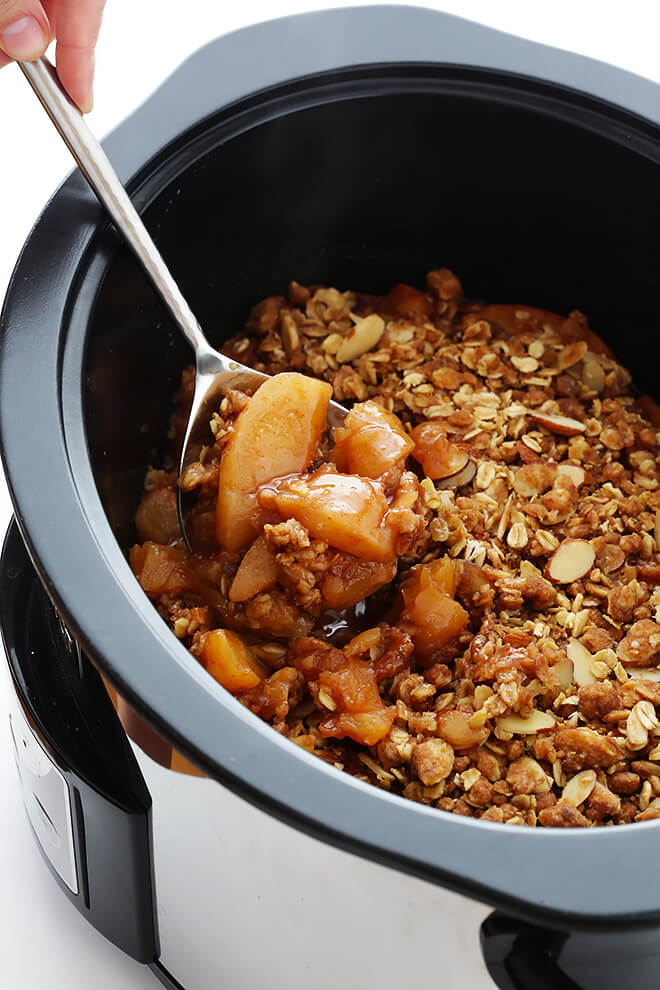 Slow Cooker Apple Crisp | Gimme Some Oven
Some of you may have also seen this Slow Cooker Apple Crisp recipe pop up on the blog this month. It's a new favorite of mine, and thanks to an easy trick, the oatmeal-almond topping legitimately turns out crispy when made in the slow cooker! So delicious, especially when served with a scoop of vanilla ice cream. (Ok ok, and maybe a drizzle of caramel sauce too.)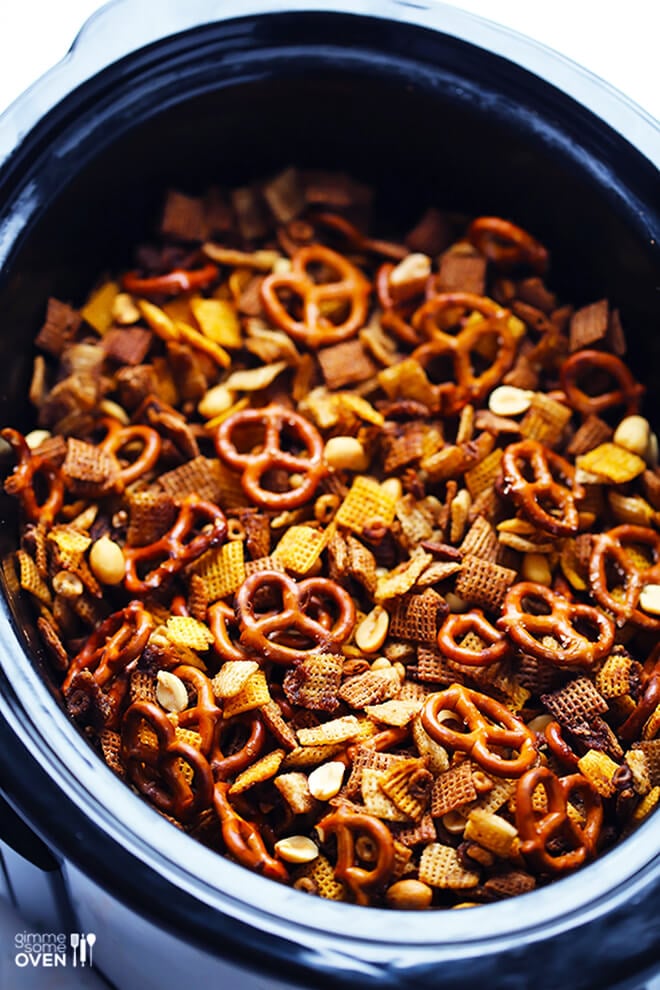 Slow Cooker Chex Mix | Gimme Some Oven
Finally, no holiday is complete in the Ebright household without a batch of freshly-made Chex Mix. I don't know if this is common in other households, but it's totally our family's "thing". Whoever makes it determines what ingredients go in it (<– my mom adds extra wheat chex and Kix cereal to hers, my sister likes tons of goldfish crackers in hers, I believe "less is more" when it comes to pretzels and wheat chex in mine, etc. etc.). But regardless of whoever makes it each year, we always gobble it up instantly. And it mayyyy be to blame for spoiling our appetites for a few meals in the process. ? Definitely one of my all-time favorite snacks, and it's so easy to make in the slow cooker.
If you have any favorite Thanksgiving crock-pot recipes, be sure to share them in the comment section below. Otherwise, happy slow cooking everyone! And happy Thanksgiving!
This post contains affiliate links. ♥