2-Ingredient Slow Cooker Salsa Chicken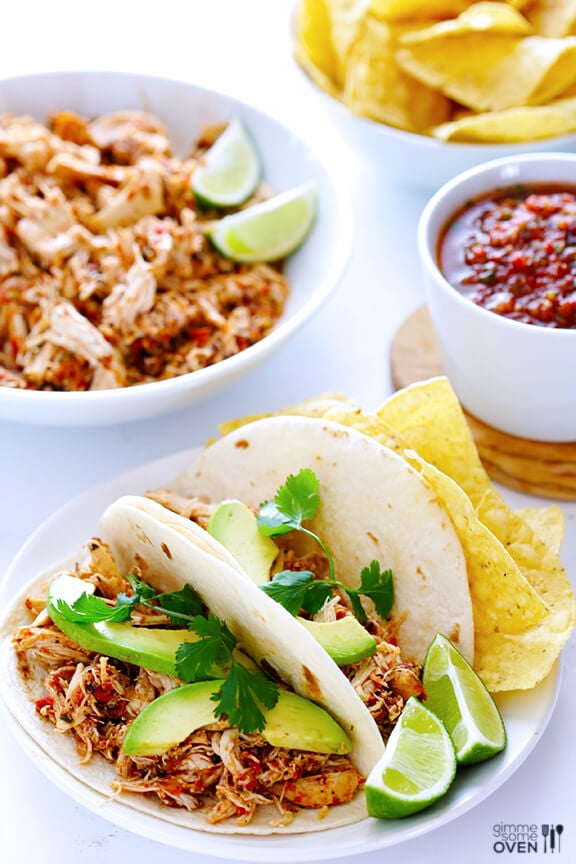 Oh good grief.
I have been making slow cooker shredded chicken for years.  And I have been making homemade salsa for years and years and years.  But it was not until this year that the lightbulb finally decided to click on, I realized that chicken and salsa were a ridiculously obvious match made in crockpot heaven.
Brilliant or obvious?  You decide.
Either way, if you love Mexican shredded chicken, this one falls in the must-try category.  Why?
It only requires 2 ingredients.  It takes less than 2 minutes to prep.  And then once your slow cooker has worked its magic, it takes less than 2 minutes to shred.  And then this wonderfully seasoned, simple, juicy, flavorful chicken is yours "2" enjoy on countless dishes.  (Couldn't resist.)
Here's the how "2".  (Ok, somebody help me.)
Sorry, I still can't get over the fact that it took me until I was 30 to think of this.  Moving on…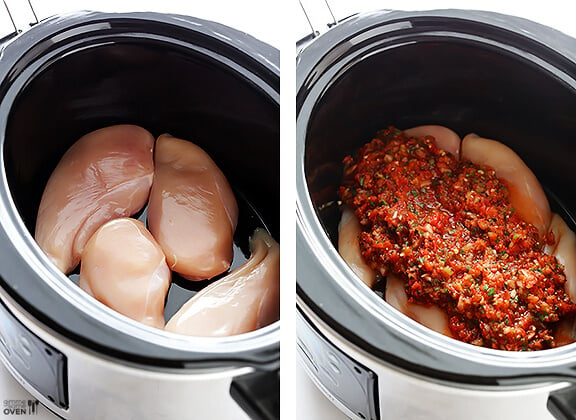 To make this salsa chicken, just pop some raw chicken in a slow cooker.  (I didn't want to mess with bones, so went with chicken breasts for easy shredding.)  Then cover it with lots of your favorite salsa.  (I used the restaurant-style salsa that I posted yesterday.)  Season it with some extra salt and pepper, give it a stir, and then let your slow cooker do its thing.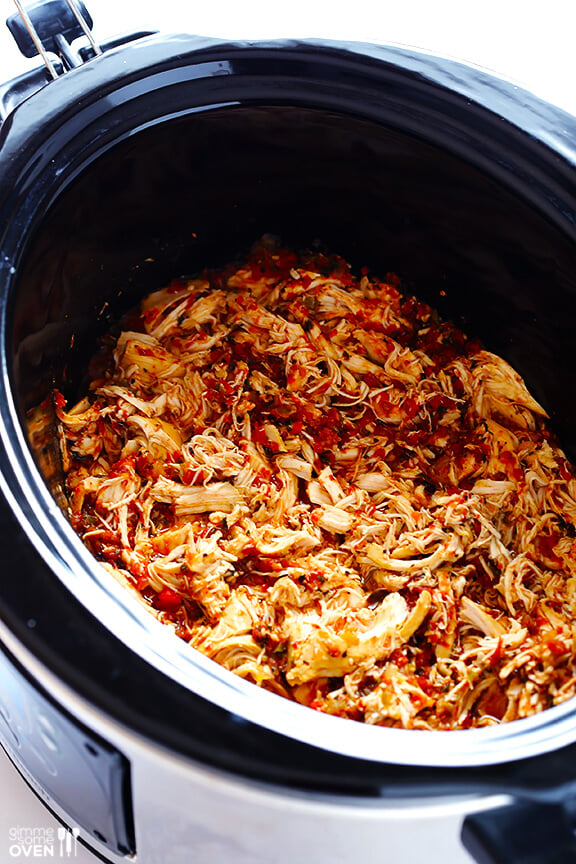 After about 4 hours (or all day long while you're at work), pop off that lid, and the chicken should fall apart into shredded, juicy, salsa-y perfection.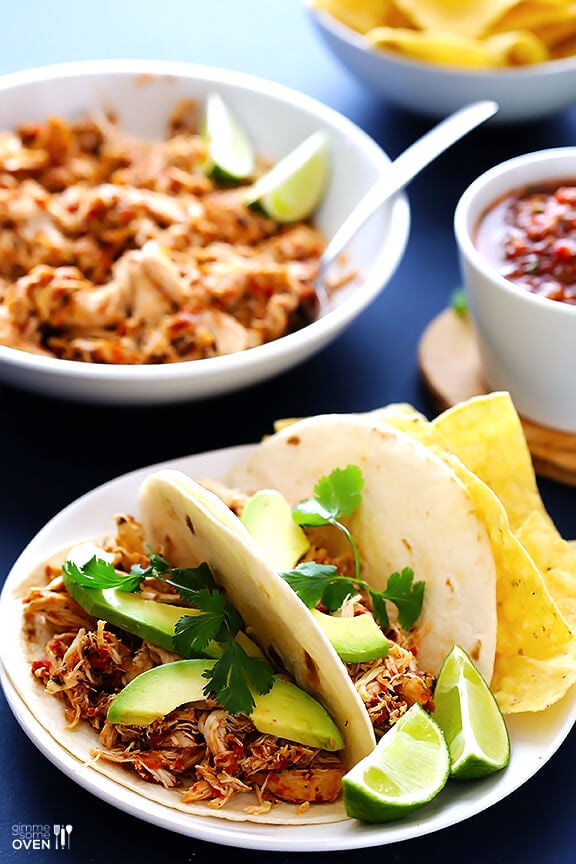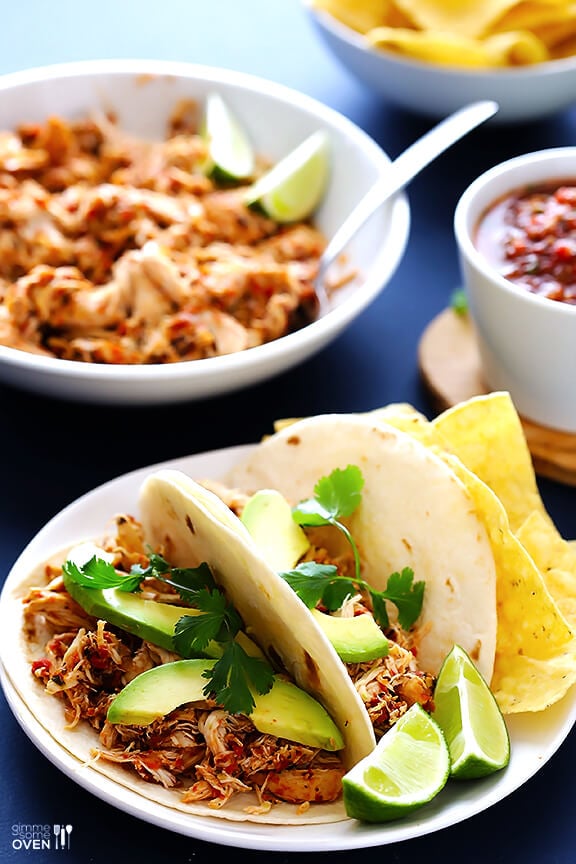 I popped half of mine into some tortillas along with avocado to make these simple chicken soft tacos.  But the salsa chicken would work perfectly on just about any other Mexican chicken dish you can imagine — quesadillas, taquitos, salads, chimichangas, you name it.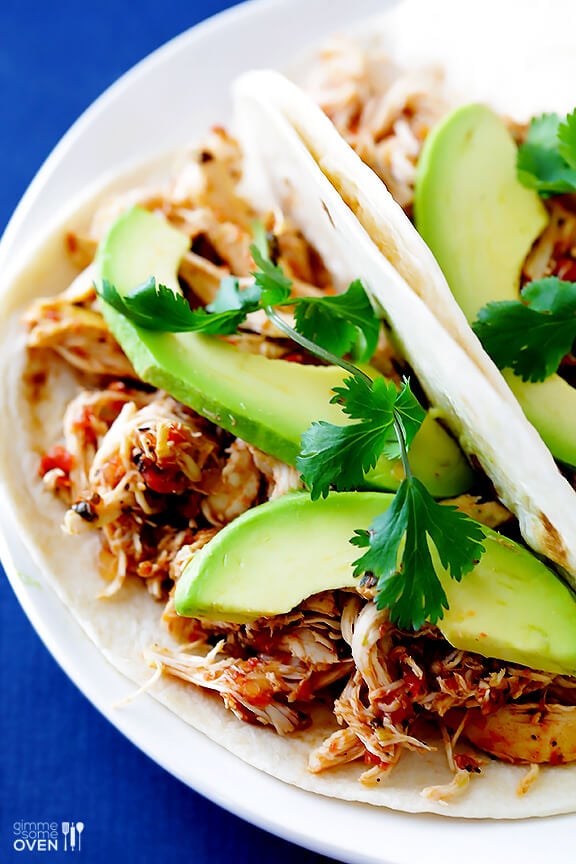 The key is just to use really good salsa, since the seasonings in the salsa are obviously what will flavor the chicken.  Remember, too, that the chicken will release plenty of its own juices during cooking.  So don't be afraid to use some salsa with an extra "kick", since the intensity of its flavor will get watered down slightly while cooking.  I also recommend seasoning the meat with extra salt and pepper before cooking.  (And if you like heat, feel free to throw in an extra jalapeno too.)
I mean seriously.  Shredded Mexi chicken could not get any easier.  You've gotta try it.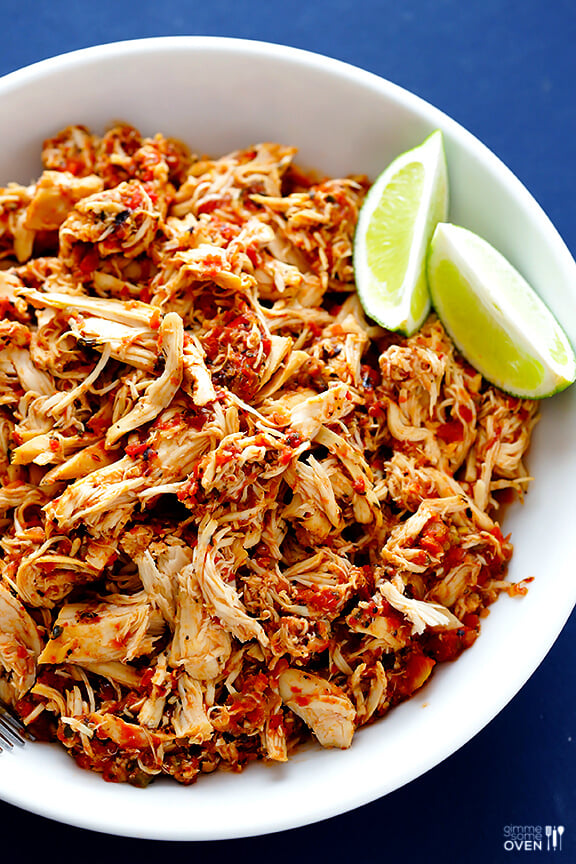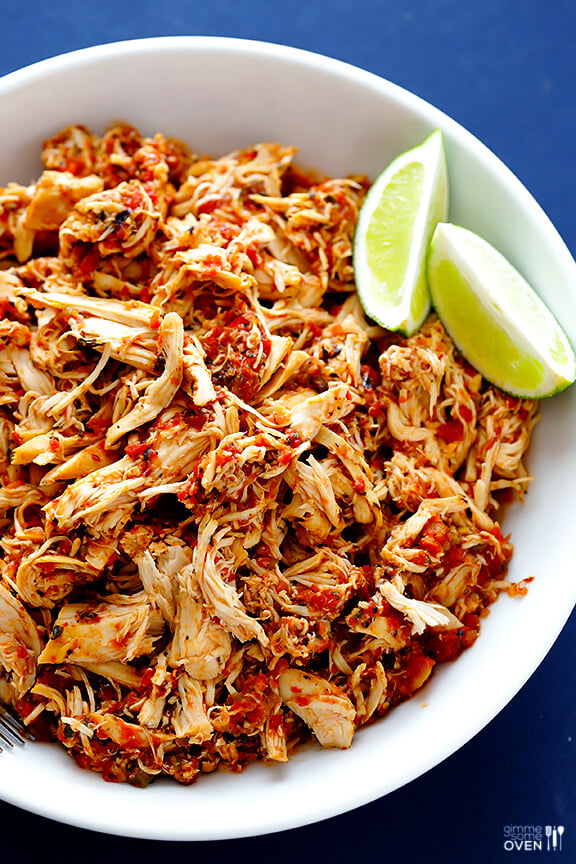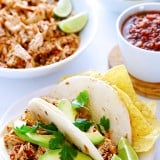 2-Ingredient Slow Cooker Salsa Chicken
All you need are 2 simple ingredients to make this slow cooker shredded chicken — good salsa and chicken!
Ingredients:
4 boneless, skinless chicken breasts (about 2 lbs total)*
2 cups favorite salsa
salt and pepper
(optional: fresh lime wedges for serving)
Directions:
Place chicken breasts in a slow cooker and cover with salsa. Toss until the chicken is covered.
Cover and cook on high for 4 hours (or low for 6-8 hours), or until the chicken shreds easily with a fork. Shred the chicken in the slow cooker and toss with the remaining salsa and juices until well-mixed. Serve immediately, or refrigerate in an airtight container for up to 5 days. (This chicken also freezes well.)
*You can really use just about any cut of chicken for this recipe. For easy shredding though (so that you don't have to mess with bones), I recommend boneless chicken breasts or thighs. This should be about 2 lbs of chicken total.
All images and text ©
If you make this recipe, be sure to snap a photo and hashtag it #gimmesomeoven. I'd love to see what you cook!