4-Ingredient Peanut Butter Chocolate Cookies
Ok guys, I wasn't planning to post this recipe, since it's basically just adding one ingredient to my favorite 3-Ingredient Peanut Butter Cookies that I posted last holiday season.  But this peanut buttery chocolatey goodness was too good not to share.
And my friend swore that these were "pretty much his favorite cookies EVER".
And come on — just 4 ingredients?  Hard to beat.
So what's a blogger to do?
Well, of course.
Blog them.  ;)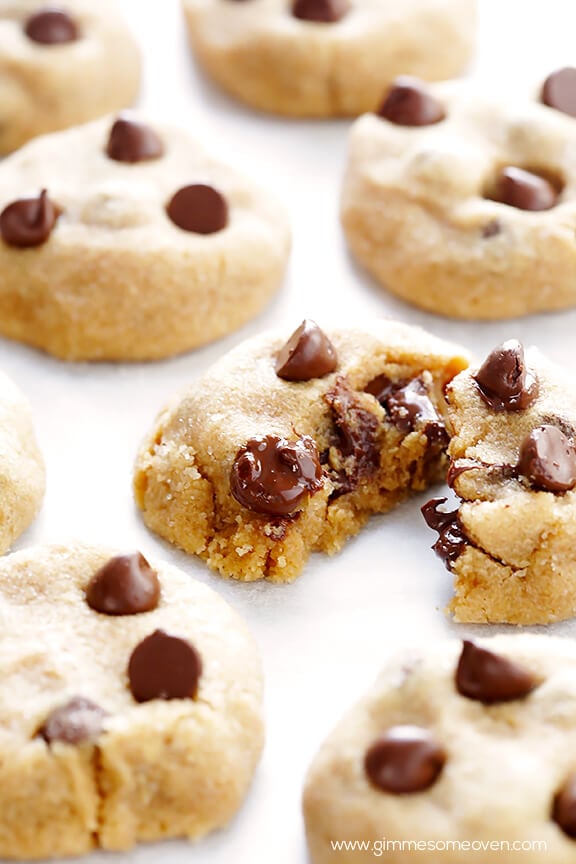 Actually, these cookies also extra-special today because they are my contribution to a virtual baby shower (make that a double baby shower for twins!!) that a bunch of food bloggers have joined together to throw for my friend Bev.
For those of you who have never experienced the Bev-ness of Bev Cooks, you'd better hop over to her beautiful and hilarious blog right now to experience it for yourself.  She's bright, she's witty, she's a hard worker, and she's a rockstar cook.
But beyond that, Bev is a fellow Kansas City-an (do we actually call ourselves that?!) and used to live just a mile away from me before I moved downtown.  I'm totally grateful to count her as a friend in town and a fellow blogging compadre, and am super excited about these two little buns in the oven that she's a-cookin' right now!  Bev has candidly and bravely shared on her blog about how she and her husband struggled for years with infertility.  But I'm ridiculously grateful that her story has had a happy ending, and that she and Aaron are now expecting twins!!!  That's right.  A little boy and girl are about to make their grand entrance into the Weidner family, and I cannot wait for the stories and photos and baby posts that are to come.  I have no doubt that cuteness will abound — both with the kiddos and their always charming mama.  And I can't wait to hear Bev's fabulous take on it all.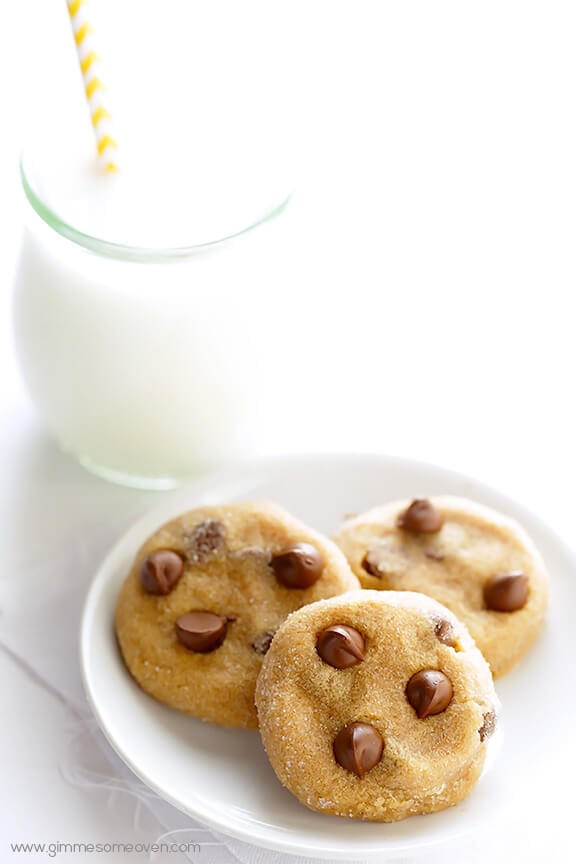 BUT, when it comes to food and cooking, the one thing about Bev is that she's nnnnnnnot so much into the whole desserts thing.  Every now and then some sweets will sneak their way onto her blog.  But for the most part, Bev is a savory girl after my own heart.
But I figured that some 4 ingredient cookies (really — two of the four are "savory" Bev!!) might fit the bill, even for a not-so-desserty friend.  They are super easy to make and — at least in my experience — a total crowd-pleaser of a recipe.  Here's the how to: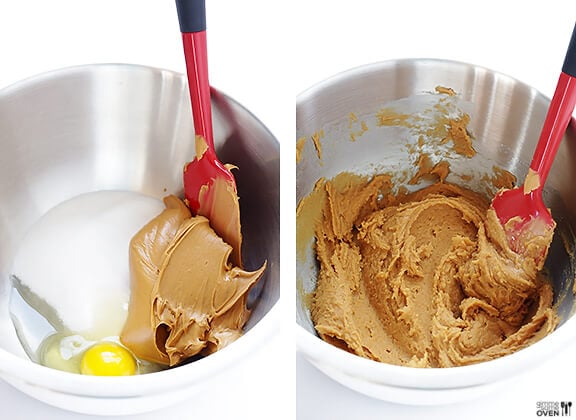 Basically, you combine the first three ingredients — PB, sugar and egg — in a bowl and stir until combined.  You can use an electric stand mixer, or I chose to burn a few extra calories and do it by hand.  ;)  Easy peasy.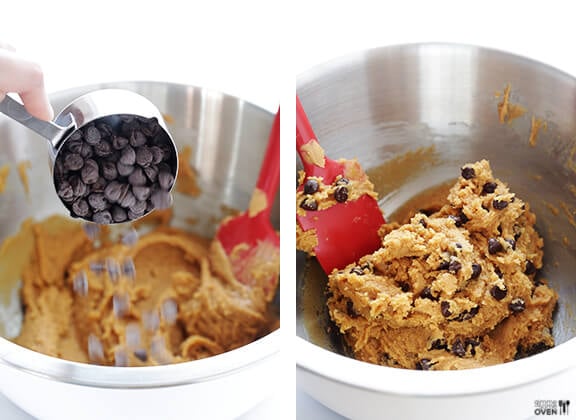 Add in those chocolate chips, and stir until combined.
Then roll the dough into balls, and place on a baking sheet.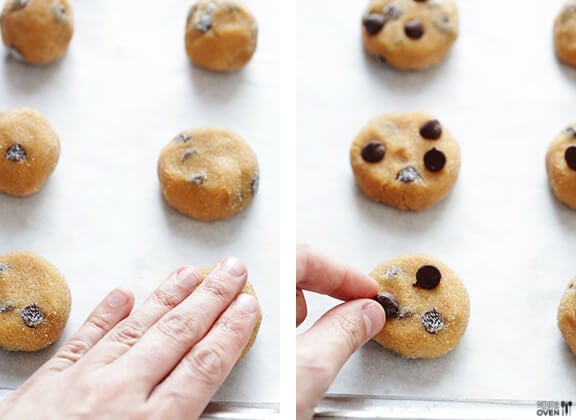 Use your fingers to flatten each dough ball a bit, since they won't really rise when baking.  And if you want an extra little food styling tip, press a few extra chocolate chips onto the top of each dough ball before baking for some extra chocolate chip-y goodness.
Bake for about 6-8 minutes, or until the bottoms of the cookies begin to slightly harden…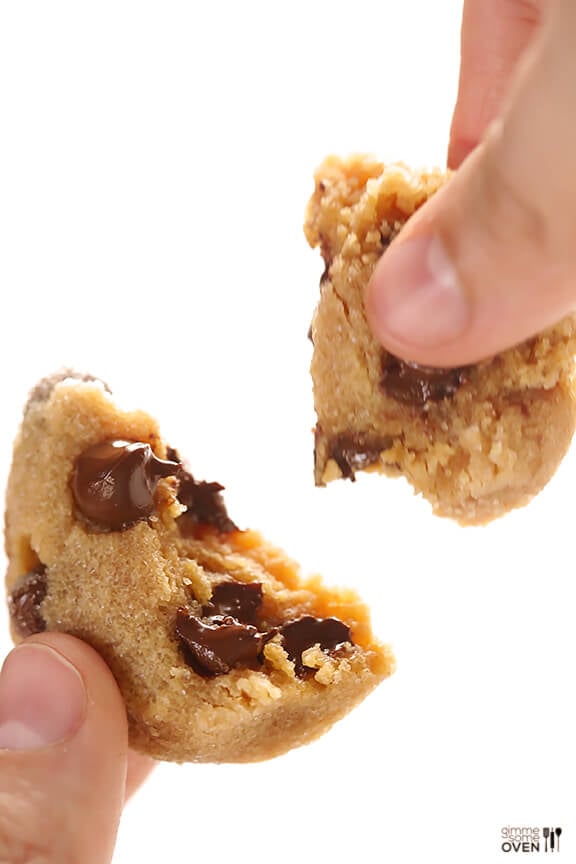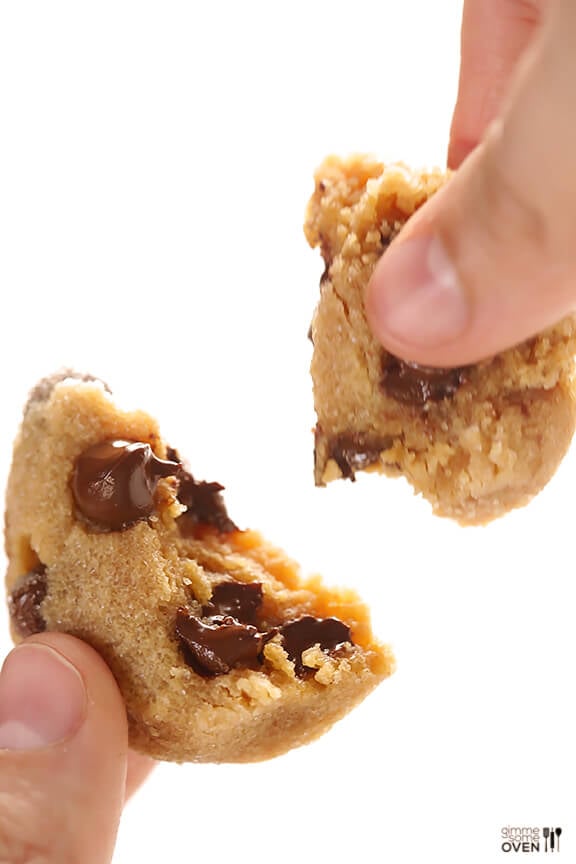 …and then dive in.  Well, the recipe says to let them cool on a wire rack.  But no one really listens to that part, right?!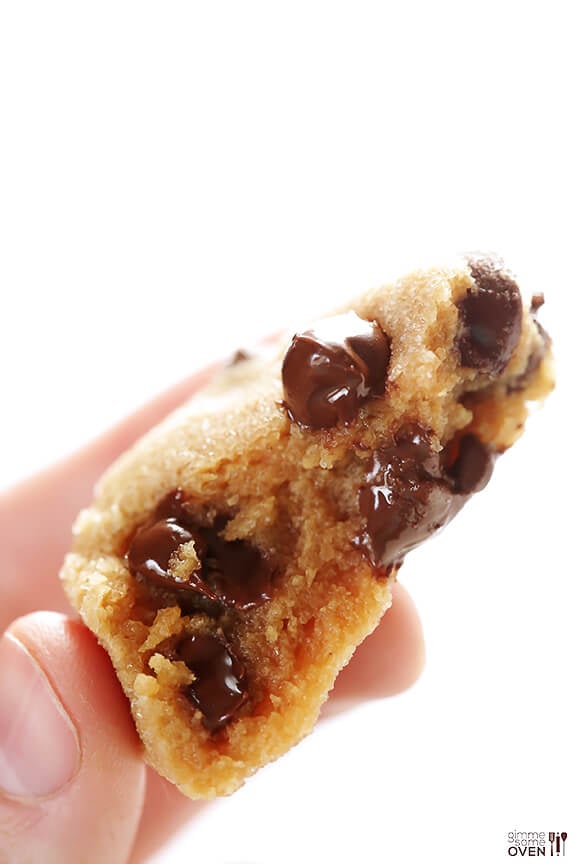 Happy baby shower to you, Bev!  Mwah!!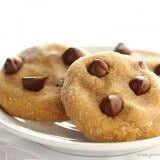 4-Ingredient Peanut Butter Chocolate Cookies
These 4-Ingredient Peanut Butter Chocolate Cookies are easy to make, gluten-free, and crazy delicious!
Ingredients:
1 cup peanut butter (crunchy or creamy)
1 cup sugar (plus extra for dipping if desired)
1 egg
1/2 cup semisweet or dark chocolate chips
Directions:
Preheat oven to 350 degrees F (175 degrees C). Line a baking sheet with [parchment paper|.
Using an electric mixer or a strong spoon, mix together the peanut butter, white sugar, egg and chocolate chips until smooth.
Form dough into round tablespoon-fulls. Then roll in an extra bowl of sugar, if desired, to coat the outside of the dough ball. Place on the baking sheet at least 2 inches apart, and flatten slightly with your hand or a spatula. If desired, place a few extra chocolate chips on top of each cookie for extra delicious (and attractive) chocolate-ness.
Bake for 6 to 8 minutes, until the cookies are just slightly browned on the bottom, being careful not to over-bake. Remove and let cool on the baking sheet for 1 minute, then transfer to a wire rack to cool completely.
All images and text ©
If you make this recipe, be sure to snap a photo and hashtag it #gimmesomeoven. I'd love to see what you cook!
Be sure to also check out the other of the recipes for Bev's virtual baby shower:
Appetizers
Bacon Cotija Guacamole from Gaby Dalkin
Gruyère Gougères from Shaina Olmanson
Lemon Risotto Tarts from Kelly Salemi
Goat Cheese Crostini with Pesto and Roasted Red Peppers from Liz Della Croce
Spinach and Feta Quinoa Bites from Aggie Goodman
Roasted Red Grape, Brie and Rosemary Flatbread from Laurie McNamara
The Fastest Appetizer Ever from Brooke McLay
Apple Pear Tart – Two Ways from Sarah Glyer
Drinks
Chocolate Chai Frappe from Brandy O'Neill
Cherry Chocolate Kiss Smoothie from Amy Flanigan
Cranberry Sorbet Bellini – Non-Alcoholic and Alcoholic from Megan Keno
Peppermint Mocha Affogato from Christina Lane
toasted marshmallow cream hot chocolate from Jessica Merchant
Pomegranate Lemonade Punch from Heather Christo
Salads
Kale Salad with Pomegranate, Orange and Pine Nuts from Rachel Gurk
Pear Cranberry Arugula Salad from Tracy Benjamin
Brussels Sprout Salad + maple roasted cranberry dressing from Katie Unger
Gluten-Free Pasta Salad from Lisa Thiele
Hearty Roasted Winter Vegetable Salad with Honey Ginger Dressing from Heather Disarro
Winter Citrus Salad from Catherine McCord
Entrees
Creamy Roasted Red Pepper and Chicken Sausage Pasta from Heidi Larsen
Eggplant Parmesan Lasagna from Joanne Ozug
cheesy chicken enchilada 'double' stacks from Lauren Grier
Jalapeno Popper Chicken Soup from Kevin Lynch
Thai Spiced Chicken with Coconut Cream Swiss Chard from Brandi Evans
Sausage and Red Pepper Quiche from Tasty Kitchen
Roasted Red Pepper Pasta with Goat Cheese from Julie Deily
Desserts
Soft and Chewy Oatmeal Coconut Chocolate Chip Cookies from Averie Sunshine
Glazed Dulce de Leche Pound Cake from Meagan Micozzi
Mississippi Mud Pie Brownie Ice Cream from Megan DeKok
Buttermint Frosted Sugar Cookie Cups from Shelly Jaronsky
4-Ingredient Peanut Butter Chocolate Cookies from Ali Ebright
Sweet Potato Creme Brulee from Brian Samuels
Whole Wheat Double Chocolate Mint Cookies from Aimée Wimbush-Bourque
Mini Chocolate Stout Cheesecake with Salted Beer Caramel Sauce from Jackie Dodd
Red Velvet Hi Hat Cookies from Kristan Roland
Double Chocolate Panini from Kathy Strahs