5-Ingredient Chili
I have to admit that I'm a bit of a fair weather football fan.
I know, it's terrible.  I remember being so excited when I moved to Kansas City after college that I was finally going to be living in a city with a professional football team.  But after season…after season…after season of not much "winning", I may have fallen off the map a bit.  As of a few months ago, I probably couldn't have even told you the name of the quarterback.  Yeesh.
BUT.  The Chiefs are now 9-0, and for better or worse, I am back in the "game" and have tuned in every Sunday that I've been in town.  And they are rocking it!!!  The entire city is stoked.  And I love that it goes without saying now that everyone — even some of my other non-football-fan friends — has pre-booked all of their Sunday afternoons to watch the game together.  Pretty darn fun.
If you ask this food blogger, though, no game day is complete without a big pot of chili simmering in the background.  It's like macaroni and cheese.  Peanut butter and jelly.  Peas and carrots.  Football and chili just go together.
So if you're looking to whip up a delicious batch of chili in a snap, you have to try this fabulous five-ingredient easy chili recipe!
5-Ingredient Easy Chili Recipe | 1-Minute Video
Yep, we're still going with our week of 5-ingredient soup recipes on the blog.  And you can't talk about soup without talking about chili!!!
Once again, I was a little doubtful whether a rich and delicious chili could actually be made with so few ingredients.  But when it comes down to it, the main seasoning you need for chili is true to its name sake — lots of chili powder.  When you add that to ground beef (or turkey), onion, tomatoes/chiles, and beans, you are good to go!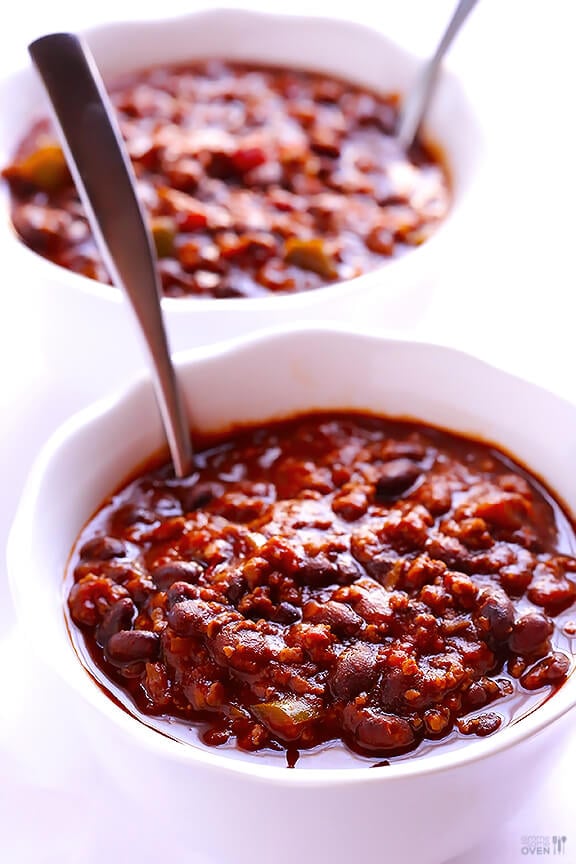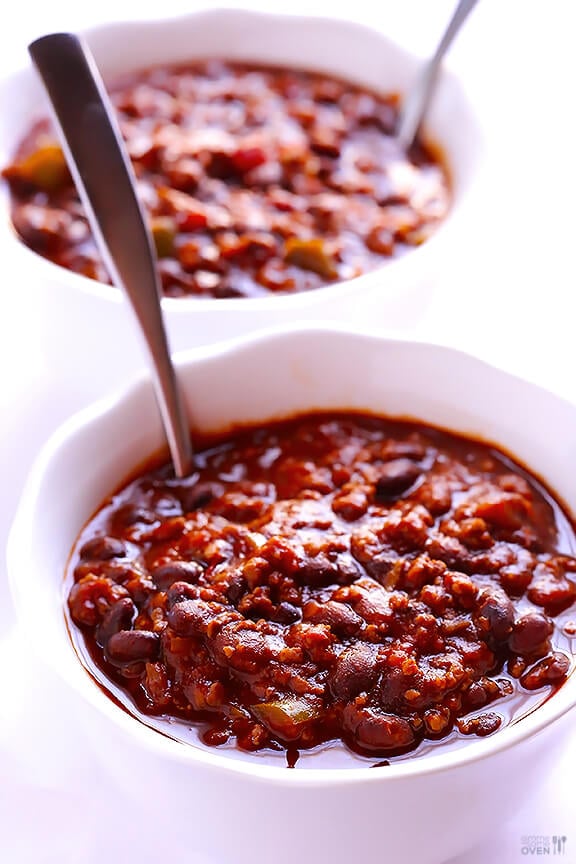 Plus, this easy chili recipe comes together in less than 30 minutes, and can also be frozen to enjoy for your next game day, or whenever the chili craving strikes.  My friends all voted it one of the best chili recipes they'd had — and had no idea it was made with so few ingredients.
Score!  ;)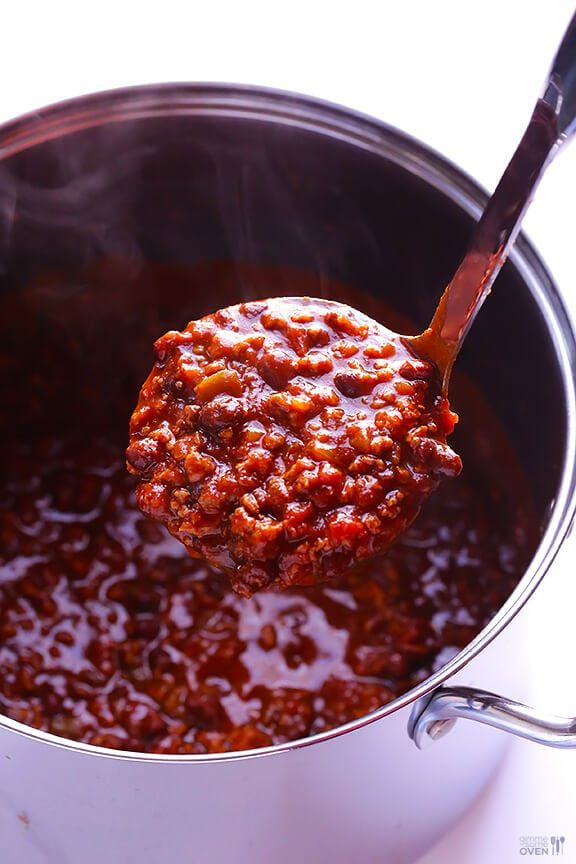 5-Ingredient Easy Chili
No one will ever guess that this delicious chili was made with just 5 ingredients!
Ingredients:
1 lb. ground beef or turkey*
1 small white onion, diced
3 (15 oz.) cans diced tomatoes with green chiles
2 (15 oz.) cans beans, drained (black beans, kidney beans, a combo, or whatever you like)
2 Tbsp. chili powder
(optional toppings: shredded cheese, chopped green onions, sour cream, cilantro, etc.)
Directions:
In a large stockpot, cook ground beef or turkey over medium-high heat until browned, stirring frequently.  Using a slotted spoon, transfer the cooked beef or turkey to a separate plate and set aside.  Reserve 1 tablespoon of grease in the stockpot, and discard the rest.
Add the onion to the stockpot and saute for 4-5 minutes, or until soft.
Add remaining ingredients and the cooked beef or turkey to the stockpot, and stir to combine. Bring to a boil, then reduce heat to medium-low, cover, and simmer for 10 minutes.
Serve immediately, garnished with optional toppings if desired.  Or, store in a sealed container for up to 3 days.
*If using ground turkey, you may need to heat a tablespoon of olive oil beforehand to help cook and brown the turkey, and then add an additional tablespoon of oil to cook the onion.
**You can also make this in the slow cooker.  You just need to brown your meat on the stove and drain it before adding the meat to your slow cooker.  Then slow cook the chili on low for 6-8 hours or on high for 3-4 hours.
All images and text ©
If you make this recipe, be sure to snap a photo and hashtag it #gimmesomeoven. I'd love to see what you cook!
This post contains affiliate links.