5-Ingredient Mango Salsa
This 5-ingredient mango salsa recipe is quick and easy to make, and always so fresh and delicious.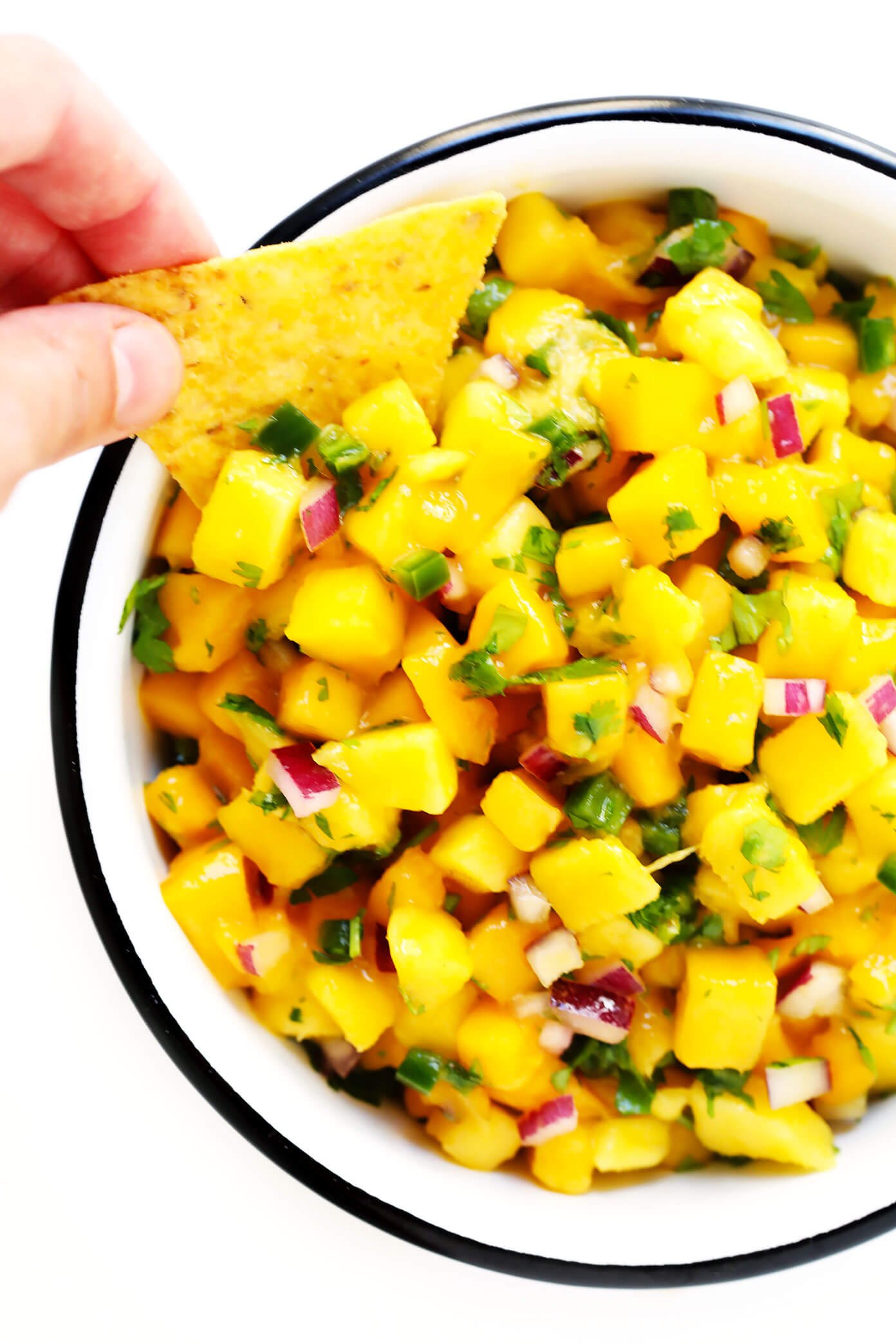 One of the things I love best about living in my neighborhood is the almost daily conversations that everyone has about fresh produce.
Nope, not the weather.  Fresh produce.
This is entirely due to the fact that we live across the street from the largest outdoor market in Kansas City.  On the weekends, literally thousands and thousands of people from across the city pack into our neighborhood to visit the market.  But during the weekdays, it is blissfully chill and much quieter.  But the other bonus is that all of the weekend's produce is mega discounted.
So it's not unusual to walk into the coffee shop in the morning and hear people talking about the $1 huge carton of strawberries they scored the day before and ate for breakfast.  Nor is it unusual to pass someone on the stairwell of our loft and have them eagerly tip you off that avocadoes are 2/$1 that afternoon.  It makes me adore my neighborhood even more.  But last week, pretty sure I was the one texting, Facebook messaging, and telling everyone in sight that for the first time in months, mangoes were on sale!!!  My favorite fruit ever!  $4/1!  And perfectly ripe and delicious!
So I, of course, came home with 8.  And then promptly used a few to make my go-to favorite recipe for surplus mangoes — mango salsa.
I can't even count the number of times that I have made mango salsa throughout the years.  As far as fruity salsas go, it's easily my favorite.  And whenever I serve it to a crowd, others apparently share the love because it always disappears in a snap.
I took it to my neighbor night gathering last week when we were celebrating Seis de Mayo (yes, extending the Cinco de Mayo Mexi food extravaganza as long as possible).  And before I hardly had a few bites, it had disappeared.  Everyone loves mango salsa!
The good news is that it's also ridiculously easy to make.  And if you want to go the minimal route, you can make a fantastic version with just 5 simple ingredients.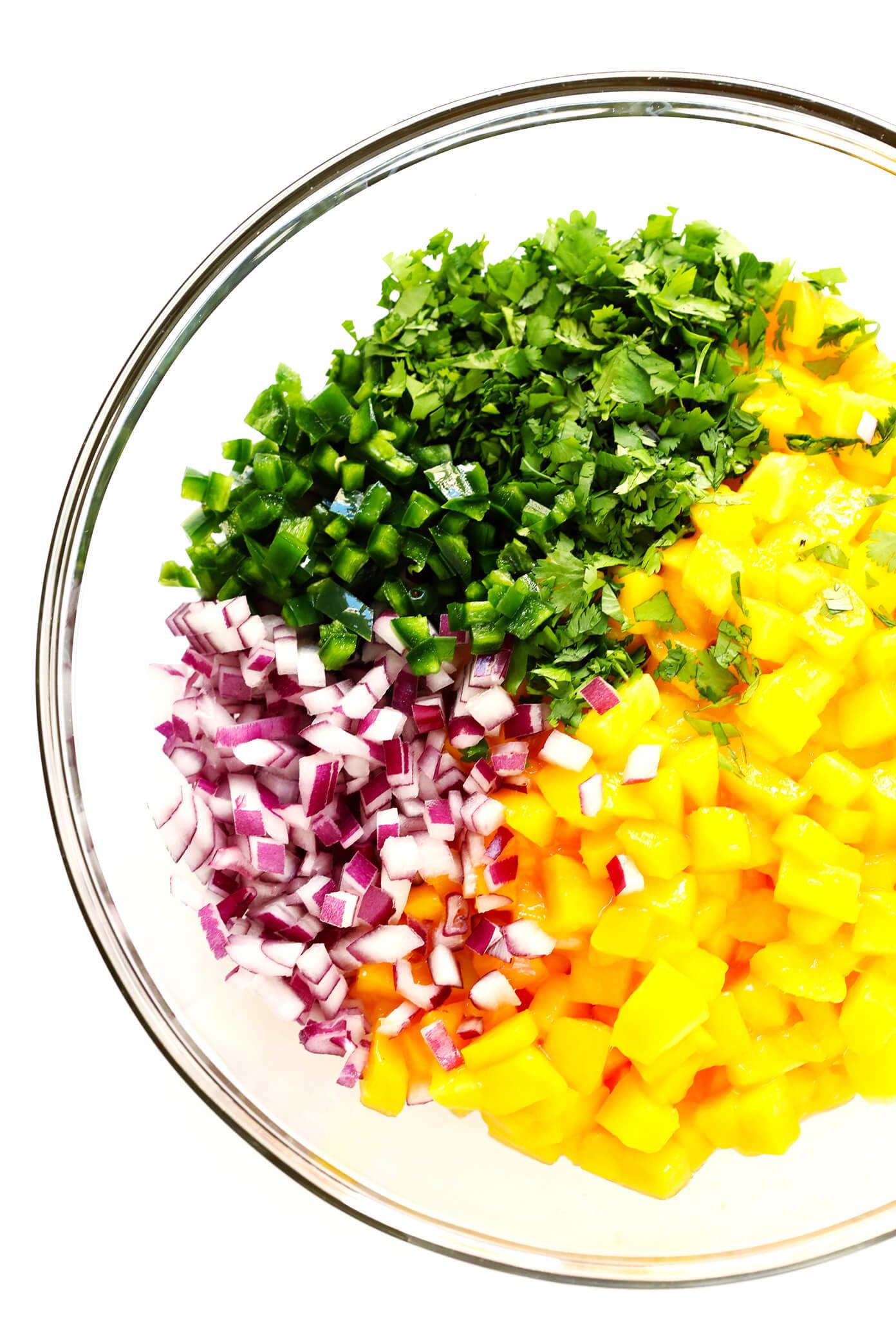 Fresh Mango Salsa Ingredients:
To make this easy mango salsa recipe, you will need:
Fresh Mangoes: Nice and ripe, and diced to your desired size.  (Feel free to check out my tutorial on How To Select, Peel & Dice A Mango.)
Red Onion: Also peeled and finely diced.
Jalapeño: For a milder salsa, I recommend using just one pepper, seeded and diced.  Or for a spicier salsa, feel free to add two peppers.
Fresh Cilantro: Finely-chopped
Fresh Lime: Please avoid the bottled stuff — your salsa will taste so much better with fresh lime juice!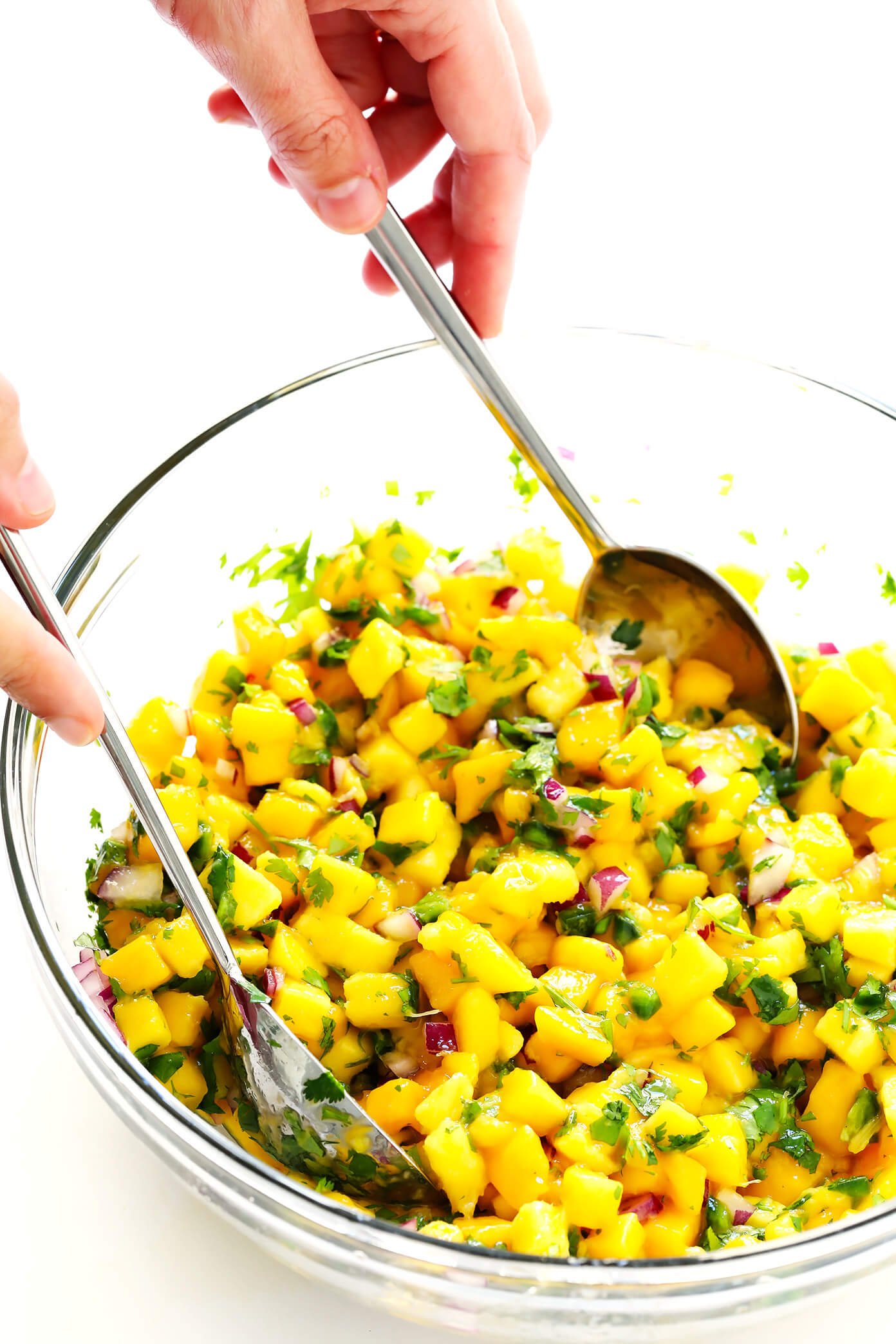 How To Make Mango Salsa:
It's so easy!  Simply…
Prep all of your ingredients: The size of your dice is totally up to you.  So feel free to make your salsa as chunky or finely-chopped as you prefer.
Combine ingredients: Toss everything together in a mixing bowl until evenly combined.
Taste and season: Feel free to add in some salt and pepper here, or also add in extra lime juice or cilantro if desired.
Serve: Then dive in!  Or refrigerate in a sealed container for up to 2 days.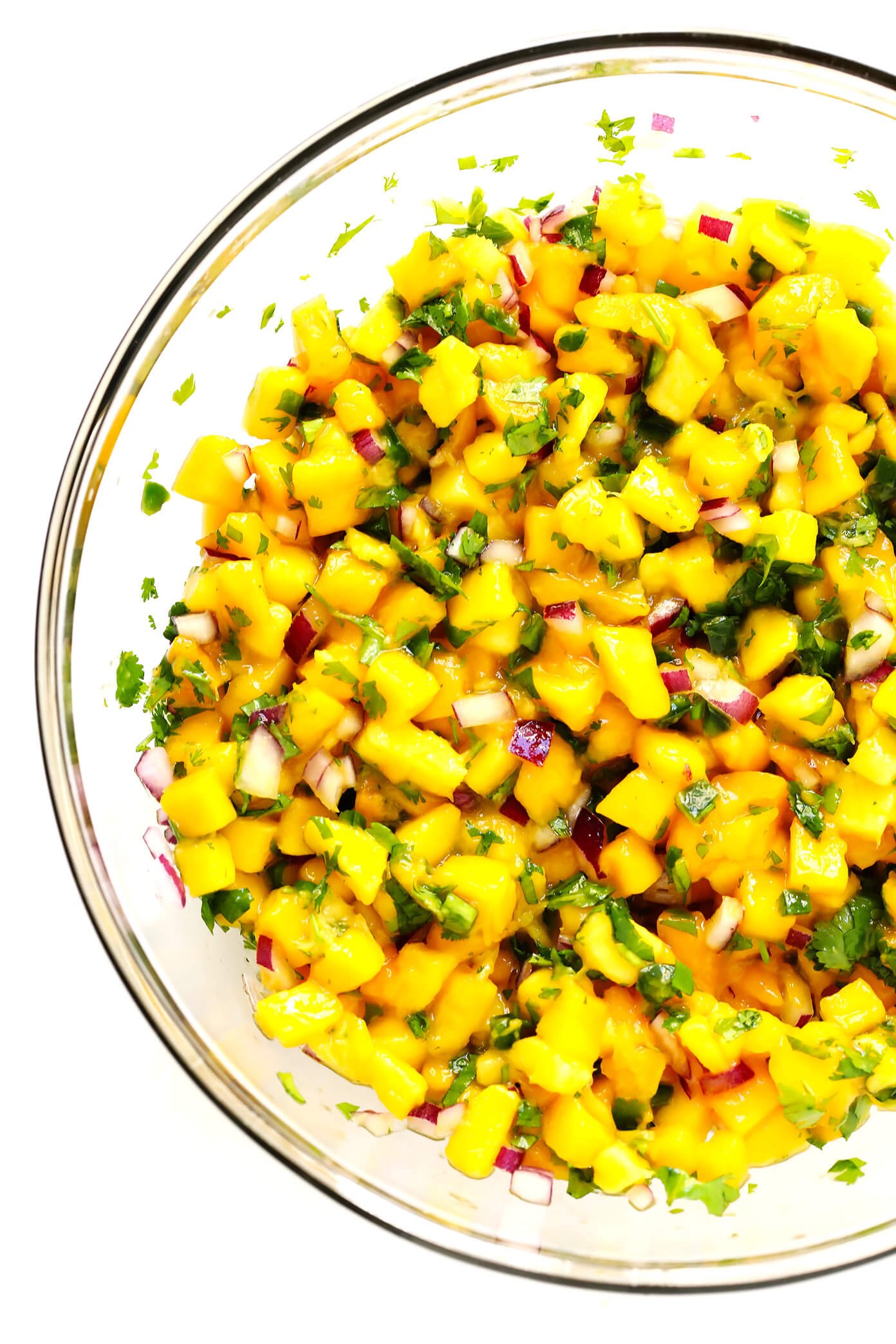 Ways To Use Mango Salsa:
Feel free to use this recipe as:
A Stand-Alone Dip: Just add chips!
A Taco Filling: Perfect for adding to any of your favorite taco recipes.
A Topping: Delicious for sprinkling on cooked meat, seafood or veggies.  Or on top of burrito bowls, quesadillas, enchiladas…you name it!
More Homemade Salsa Recipes:
If you're looking for more salsa inspiration, here are a few more of my go-to homemade salsa recipes:
Enjoy, everyone!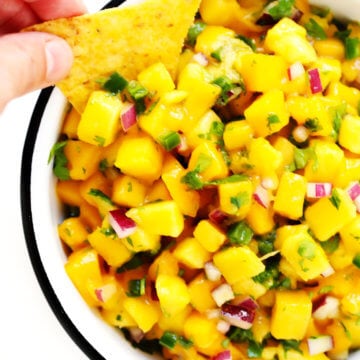 5-Ingredient Mango Salsa
All you need are 5 ingredients to make delicious fresh mango salsa!
Ingredients:
2 ripe mangoes, peeled, pitted and diced (about 3 cups)
1 small red onion, peeled and diced
1-2 jalapenos, seeded and diced
1/2 cup chopped fresh cilantro, loosely packed
juice of one lime
Directions:
Toss all ingredients together until combined. Season with salt and pepper if needed.
Serve immediately, or refrigerate in a sealed container for up to 2 days.
All images and text ©
If you make this recipe, be sure to snap a photo and hashtag it #gimmesomeoven. I'd love to see what you cook!