5-Ingredient Pesto Chicken Soup
Whoa.  I just realized that 2 weeks from today, I will be in Italy!  Italia!!!
(Oh yeah, and today I also just realized when reading my flight confirmation email that I fly out next Tuesday instead of Wednesday, the date I'd had in my mind for months.  Tiny detail.  ;))
Still, assuming I catch the correct plane and actually make it across the pond, I cannot wait to be in Europe!  I will be spending a few days in Austria, then a week in Germany, and then my sister and I are going to cap off the trip with four days in Florence.  She's an art teacher and is happily planning our artistic itinerary.  And me?  You'd better believe this food blogger is planning a mega food tour around the region.  I have a list of recommended places to visit from friends, which include everything from fresh pasta…to gelato…to pizza…to gelato…to espresso…to gelato…to paninis…to local wine…to gelato…oh, and maybe some more gelato.  It's going to be magnifico.
So to (ahem) get my palate in the Italian spirit before leaving, I have been doing the hard work of making and eating endless batches of fresh homemade pesto.  And one of the recipes I have re-fallen in love with is an oldie but goodie from the blog archives that I am renaming this 5-Ingredient Basil Chicken Soup.  It's basically like the Italian version of my favorite 5-Ingredient White Chicken Chili.  And oh man, it is a winner.
The old recipe that I had on the blog was just a simple spinach and white bean soup with pesto swirled in.  But hey, something about chicken soup is always all the more comforting, right?  So I decided to update the recipe with some shredded chicken stirred in, and the result was basically a 5-ingredient Italian version of my favorite Mexican soup.
And oh my goodness, just like the Mexi version, this soup could not be easier to make.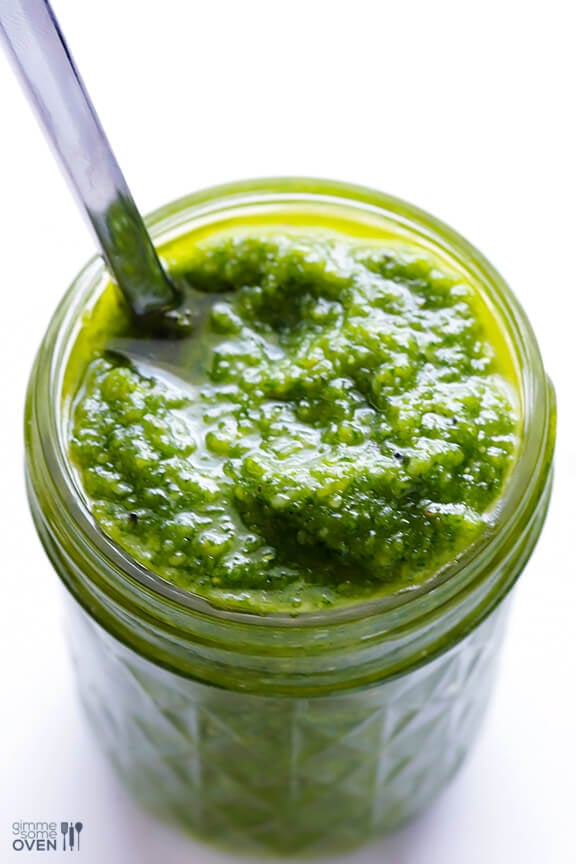 I have to say, though, this soup will rise or fall on the quality of your pesto.  If you're in a hurry, you can buy the store-bought stuff.  (And if you do, the brand I genuinely recommend is DeLallo.  This is not a sponsored post.  It is just the best I've tried, times a hundred.)  But if you have a few extra minutes, I highly recommend pulling the food processor out and making a batch of my homemade pesto recipe.  It's classic, it is simple to make, and it is unbelievably good when made with fresh basil.
Actually, you can use any sort of pesto for this recipe — kale pesto, arugula pesto, pistachio pesto, etc.  But if you want to go classic, basil pesto will never fail.  :)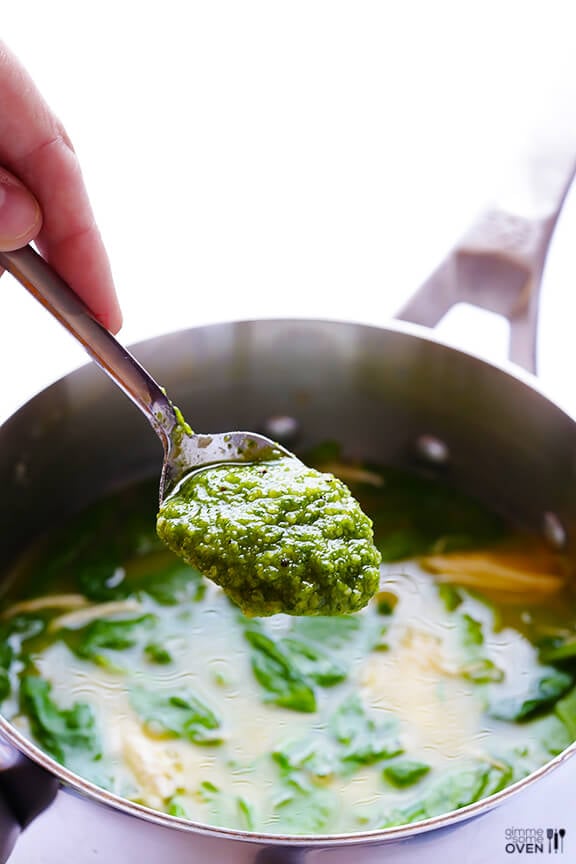 To make the soup, simply stir together your first four ingredients — chicken stock, shredded cooked chicken, spinach and white beans — in a saucepan.  Then bring them to a simmer.  Stir in your pesto, and cook it for a few extra minutes.  And then serve!!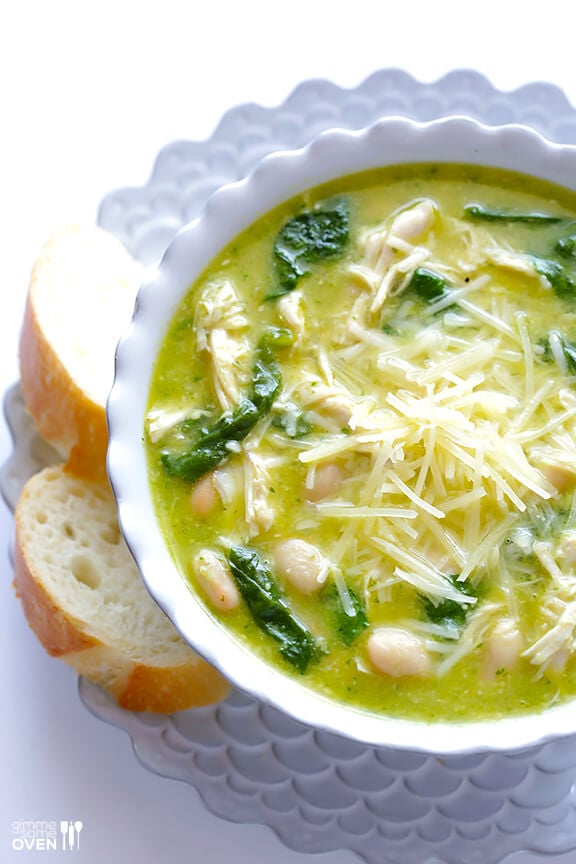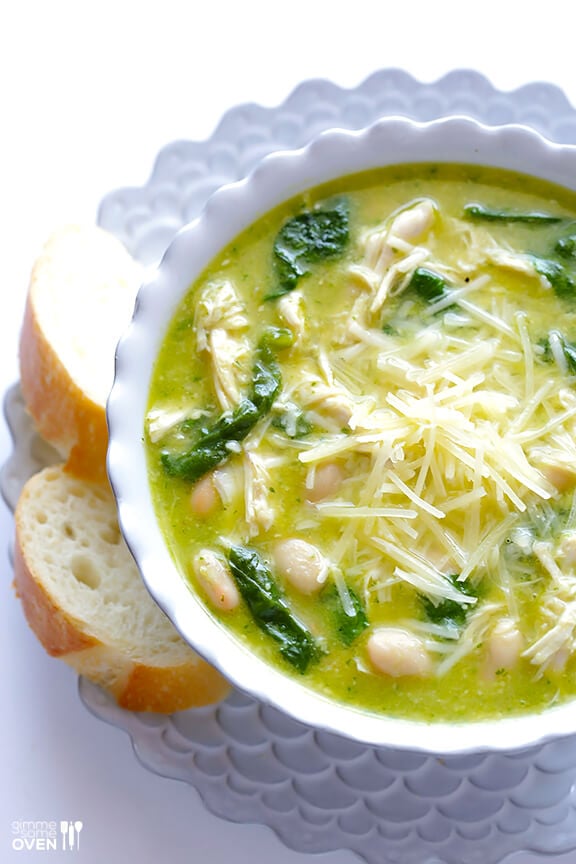 I like mine topped with some extra freshly-grated Parmesan, and served with crusty bread.  And I like to go back for seconds on this one, because it is just too good.

So if you're looking for a quick meal, or a use for some leftover pesto, or even just a new take on comforting chicken soup, I genuinely can't recommend this recipe enough.  So, SO good.
Cheers to great Italian food!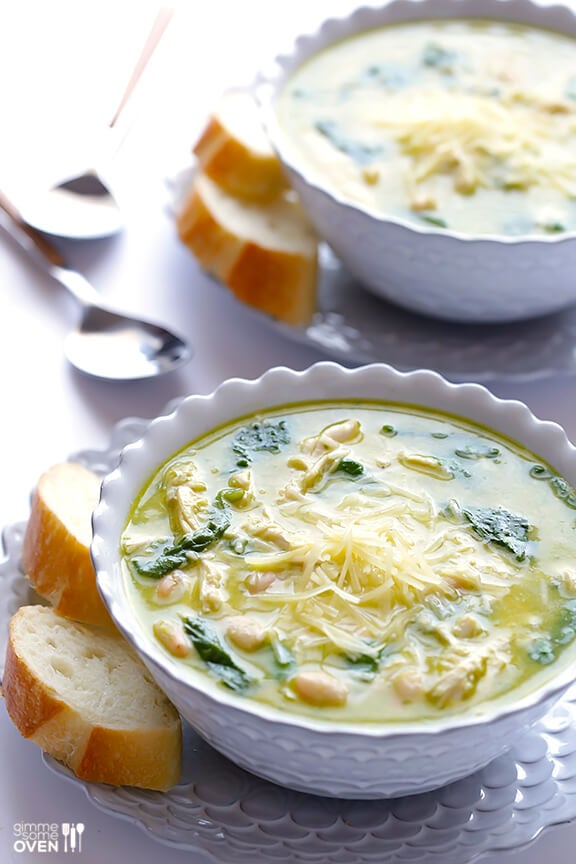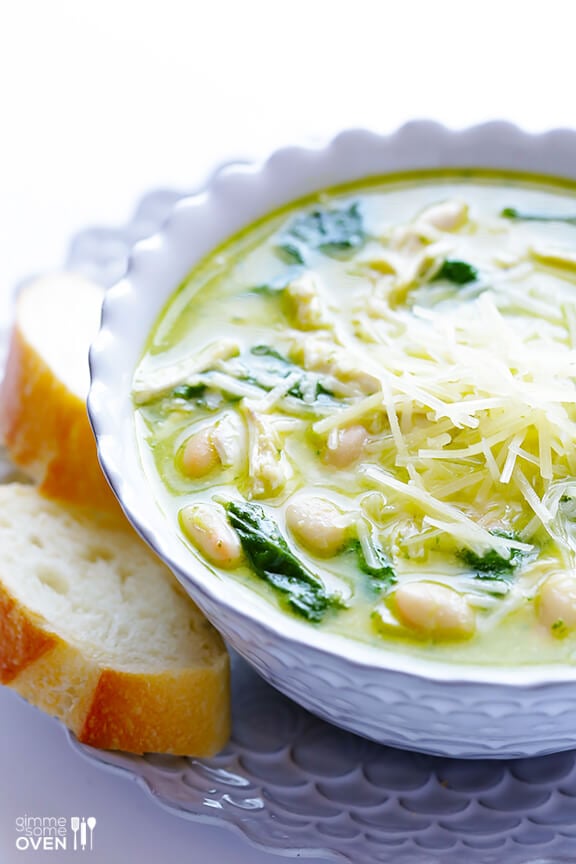 5-Ingredient Pesto Chicken Soup
This 5-Ingredient Pesto Chicken Soup is super quick and easy to make. Plus it is full of the most amazing flavor!
Ingredients:
4 cups good-quality chicken stock
3 handfuls (about 3 cups) fresh spinach
2 cups shredded cooked chicken
2 (14 ounce) cans Great Northern or cannellini beans, rinsed and drained
1/3 cup pesto (I recommend using my homemade pesto recipe http://www.gimmesomeoven.com/how-to-make-pesto/)
(optional topping: grated Parmesan cheese)
Directions:
Stir together chicken stock, spinach, chicken, beans in a medium saucepan. Cook over high heat until the soup reaches a simmer. Then reduce heat to medium, stir in the pesto, and let the soup continue to simmer for 2 minutes.
Serve warm, topped with Parmesan cheese if desired.
All images and text ©
If you make this recipe, be sure to snap a photo and hashtag it #gimmesomeoven. I'd love to see what you cook!