7 Layer Dip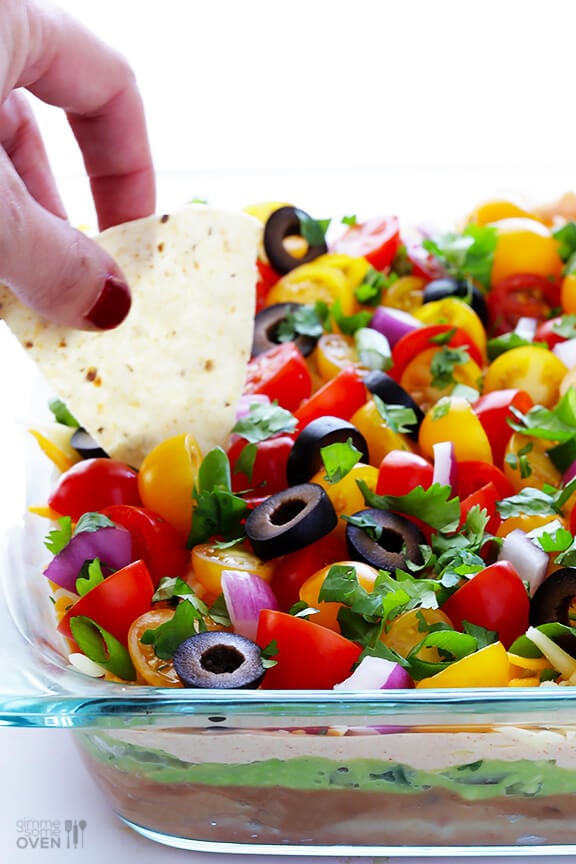 Guess who's going to the World Series for the first time in 29 years?!?!?!?!?!
Kansas Cityyyyyyyyy!!!!!!
The last time the Royals made it into the World Series (around this time back in 1985), you probably would have found me rocking my favorite pumpkin suit while cheering on the team.  (Ok ok, probably watching Elmo.)
Photo credit: my friend, Maux
But twenty-nine years later (yesterday), I was squished into a dive bar in midtown with about 10 friends and what felt like the rest of the city…eating and drinking and cheering and Let's-Go-Ro-yals-clap-clap-clapclapclap-ing….and then freaking out when the Royals won.  You guys, we WON!  Kansas City really won!  We're going to the World Series!!!
I'm pretty sure that the cheering in Kansas City yesterday could have been heard on the moon.  So much fun.
Oh!  And just when the game couldn't get any better, my former student Gracie was selected to belt out God Bless America in the 7th inning (so proud of her!), Paul Rudd came back to town for the game ("party at mom's house!"), and I got to jam out to my friend Sara Swenson's "Let The Good Boys Win" song about the Royals on the way home (which is still available for free download right now — do it!).
So yep, I'm warning you now, get ready for all sorts of game day everything coming on the blog this next week.  Because that's pretty much all that anyone in Kansas City has on the brain right now.  And as you saw in the title for today's post, I'm sharing my take on one of the most epic, "winning" game day recipes — 7 Layer Dip.
I actually made this one on the recommendation of a friend.  I couldn't decide what to bring to an earlier watch party, but when I asked her for a suggestion, she replied without hesitation that she wanted 7 Layer Dip.  I have made it a handful of times before, but never blogged about it.  So I decided it was time to photograph my version of it and share it with you all too.
My version, of course, is all about the colors.
And the delicious flavors.
(But let's be real, mostly the colors.)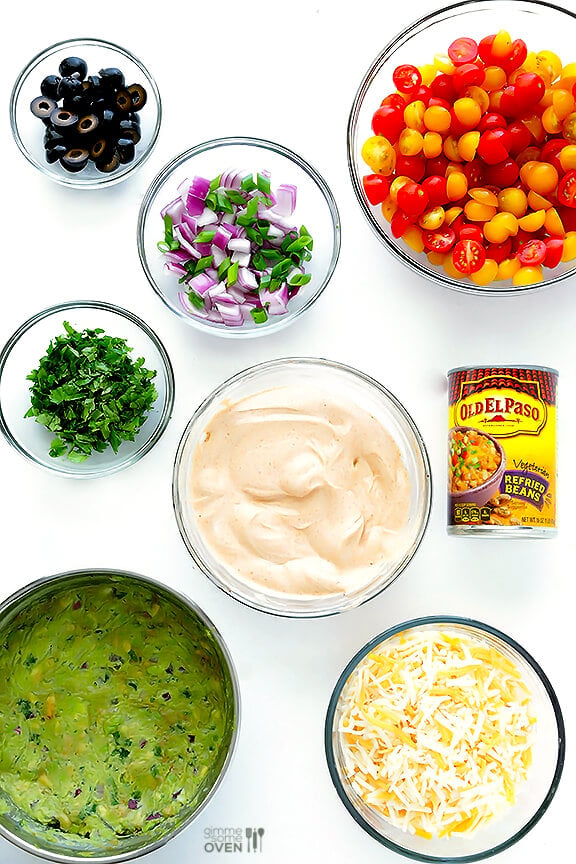 I'll be honest though, any time I have eaten 7 Layer Dip, I can never quite discern exactly what the 7 layers are supposed to be.  Some are obvious — refried beans (I used Old El Paso's vegetarian refried beans), guacamole, taco-seasoned sour cream, and cheese.  But everything else always seems to be a big toppings party with whatever ingredients sound good.
Since I'm all about the colors, and since I'm on a mission to "freshen up" some classic Mexican recipe with Old El Paso this year, I went with some red and yellow cherry tomatoes, black olives, green onions, and extra red onions and cilantro (that were also used in the guac).  Let's just pretend those add up to 7.

To make the 7 Layer Dip, simply layer all of the ingredients in even layers in a big casserole dish or a large bowl or plate.
(Note: I do not recommend making this, as often happens, in a large trifle dish.  The goal is for people to be able to get all 7(ish) layers in one scoop.  So the shallower the serving dish, the better.)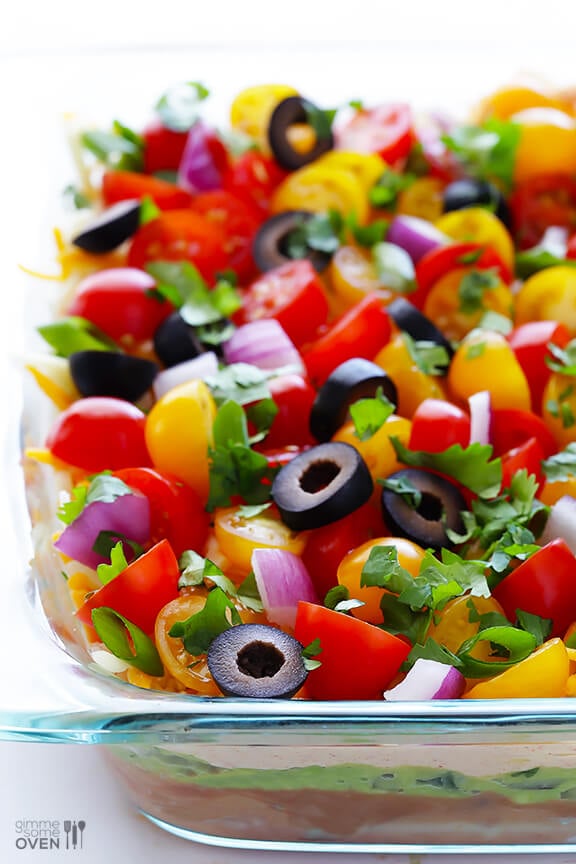 Then once it's ready to go, take a moment to admire all of those gorgeous, happy, fresh colors…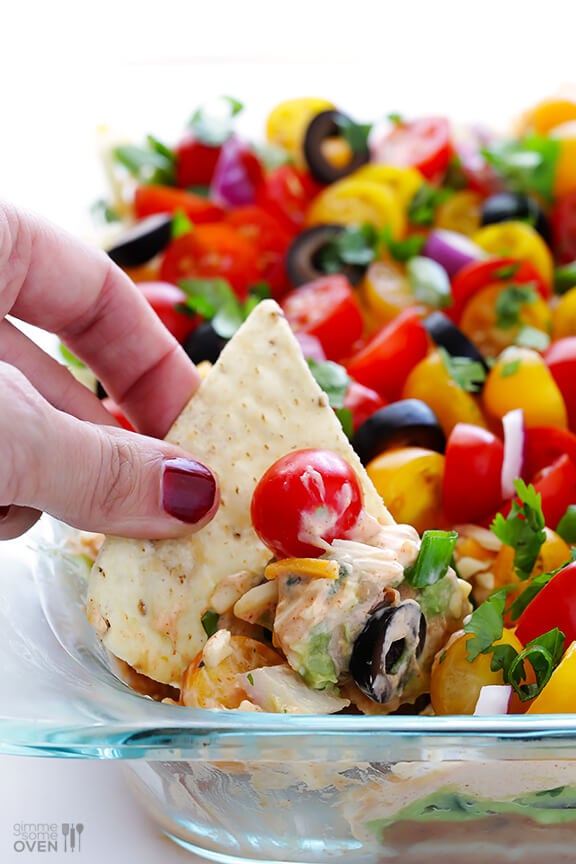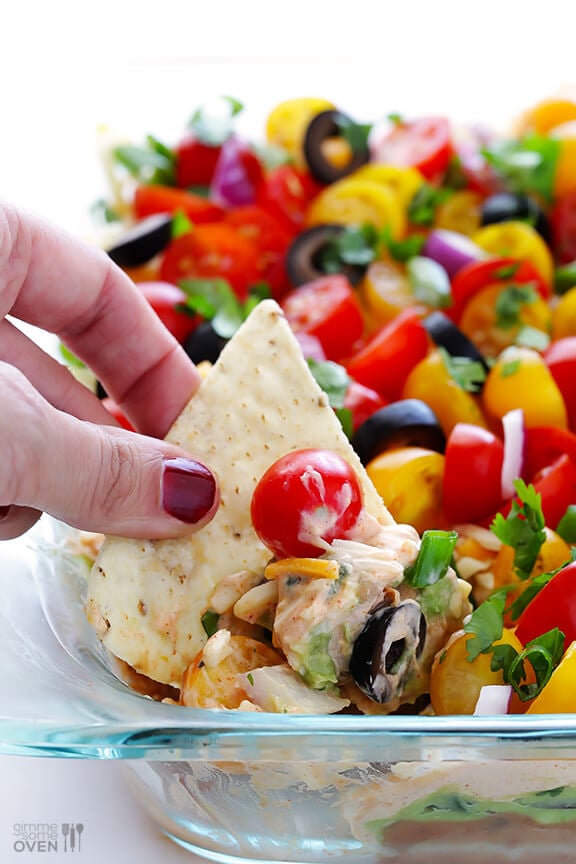 …and then dive in.  
And then get back to cheering on that favorite team of yours.  GO ROYALS!!!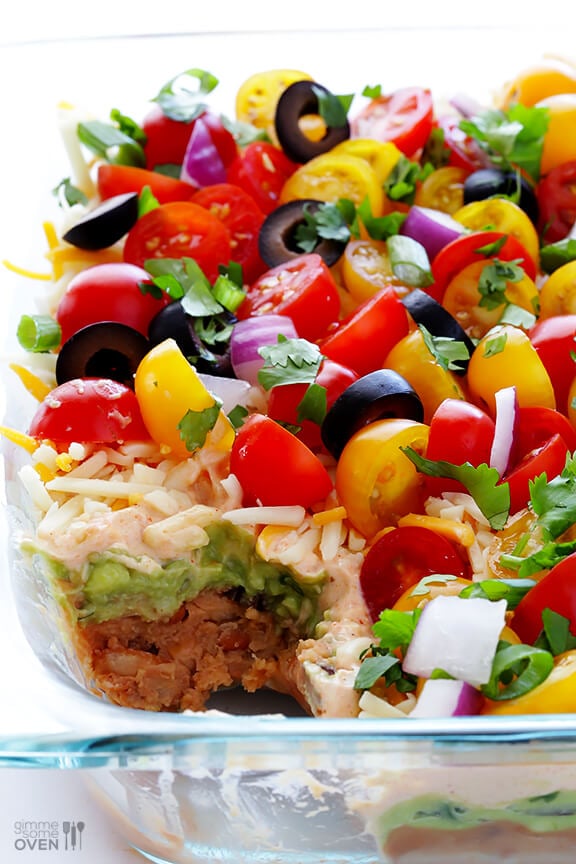 7 Layer Dip
This is my favorite recipe for classic 7 Layer Dip. It's fresh, colorful, and always a winner with a crowd!
Ingredients:
1 (16-ounce) container sour cream (2 cups)
¼ cup (1 packet) Old El Paso taco seasoning
2 (15-ounce) cans Old El Paso refried beans
3 cups freshly-made guacamole
2 cups shredded Mexican cheese
2 cups cherry or grape tomatoes, halved
½ cup sliced (drained) black olives
⅓ cup diced red onion
¼ cup thinly-sliced green onions
¼ cup fresh roughly-chopped cilantro leaves
Directions:
In a small bowl, whisk together sour cream and taco seasoning until thoroughly combined.  Set aside.
Spread the refried beans out in an even layer in the bottom of a 9×13-inch baking dish.  Layer the guacamole in an even layer on top of the beans, followed by a layer of the sour cream mixture, then the cheese, tomatoes, olives, red onion, and green onions.  Then sprinkle the cilantro evenly on top of the green onions.
Serve immediately with chips for dipping.  Or cover with plastic wrap and refrigerate for up to 6 hours.
All images and text ©
If you make this recipe, be sure to snap a photo and hashtag it #gimmesomeoven. I'd love to see what you cook!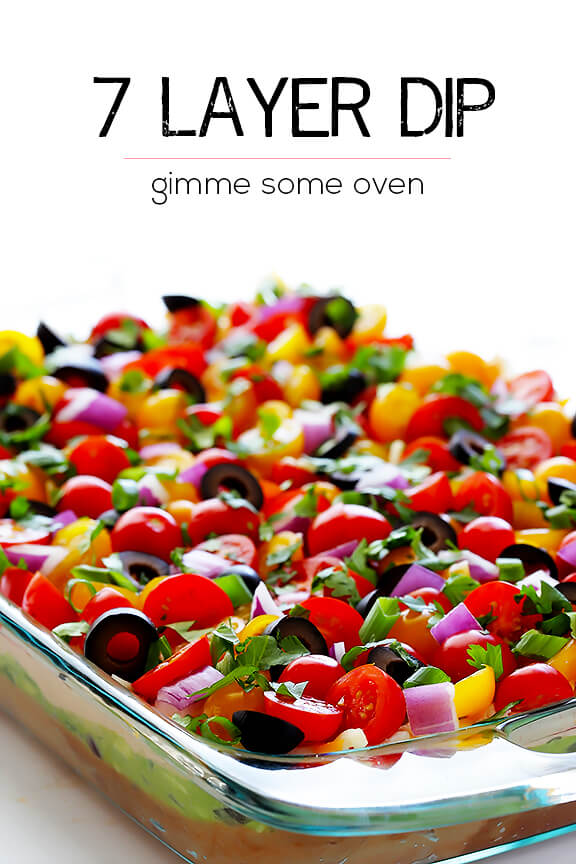 This is a sponsored post in partnership with Old El Paso.  I am joining a team of bloggers to develop all sorts of fresh, Mexican recipes this year, and all opinions are my own as always.  Thanks for supporting the brands that help make this site possible.