a "sparkling" fourth of july
This post may contain affiliate links. Please read my disclosure policy.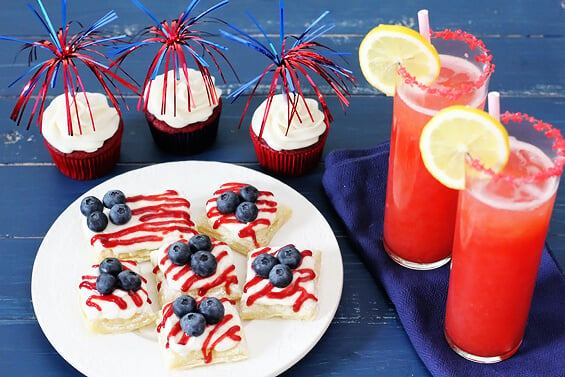 Every Fourth of July, our family traditionally gathers in my dad's tiny hometown of Lyons, Kansas for our annual fireworks extravaganza. We all meet at my aunt and uncle's house, and after hours of catching up and enjoying an absolutely amazing spread of summer foods, the sun begins to set and we all gear up to see if we can top the previous year's show.

And yes…we are the ones putting on the show. None of this going to "see" fireworks. We are the ones who make the countless giddy trips to the firework stands and then have a blast (ha!) setting them off! We always still start off with some snakes and colorful smoke bombs as an ode to childhood. But now we're all into the anything that might make the neighbors a mile away "oooh" and "ahhh". Any of my friends and family will tell you I'm a bit of a pyro fireworks fanatic.

But without a doubt, one of our all-time favorite traditions is having everyone line up for sparkler time. There's something so magical about seeing those sparks dancing around, and to see the kid come out in all of my now-adult cousins. I love it.

In honor of that annual event, I thought I would offer some ideas for a fun "sparkler"-themed Fourth of July party! They're perfect for BlogHer's Summer Entertaining series, brought to you by Home Depot. Read on for the recipes below!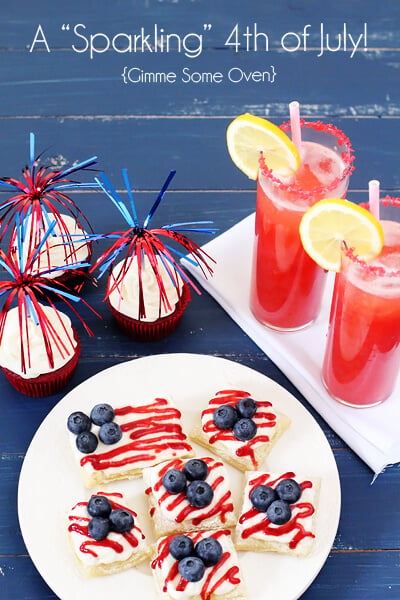 These three simple recipes don't just celebrate the red, white, and blue—they also have a little extra "spark" from popping candy, such as Pop Rocks! I'm pretty sure I hadn't bought the candy in about…mmm…a decade. But as soon as I took a little taste, I just about jumped at how crazy the "sparks" are!
I added them to my favorite "Red Velvet Cupcakes with Cream Cheese Frosting" recipe by putting a hidden layer in between the cake and the frosting. Then I did the same with these adorable "Berry Cream Cheese Pastry Bites". But then I think the most fun was using them to rim our glasses for "Sparkling Strawberry Lemonade". I'm thinking I should have called it "DOUBLE Sparkling Strawberry Lemonade," because this drink was snapping, crackling and popping all over the place. So fun!
Of course, any of these recipes would be all the better when paired with some super-fun actual sparklers! (That is, if they're legal in your neck of the woods.) ;)
Cheers to a "sparkling" 4th of July!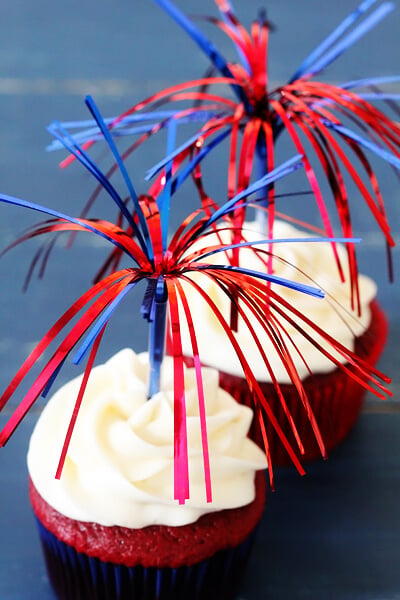 Red Velvet Cupcakes with Cream Cheese Frosting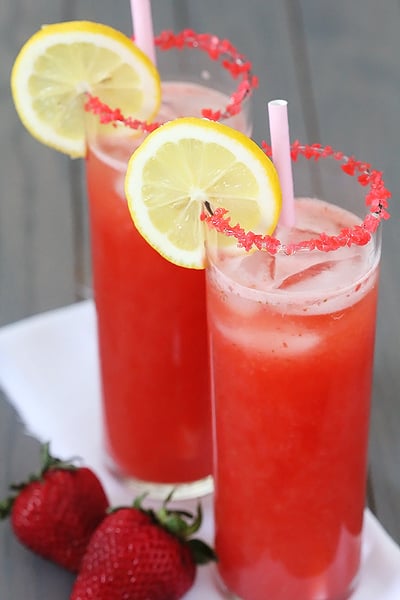 "Sparkling" Strawberry Lemonade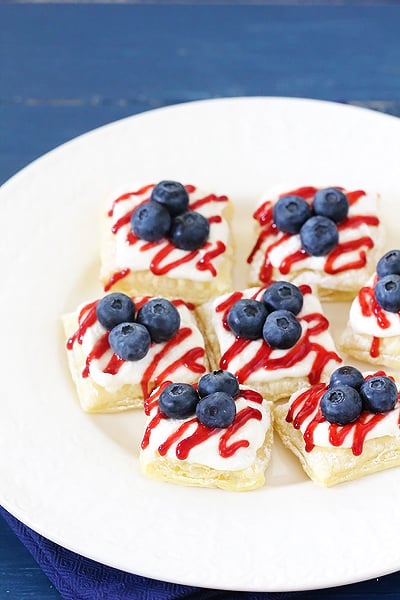 Berry Cream Cheese Pastry Bites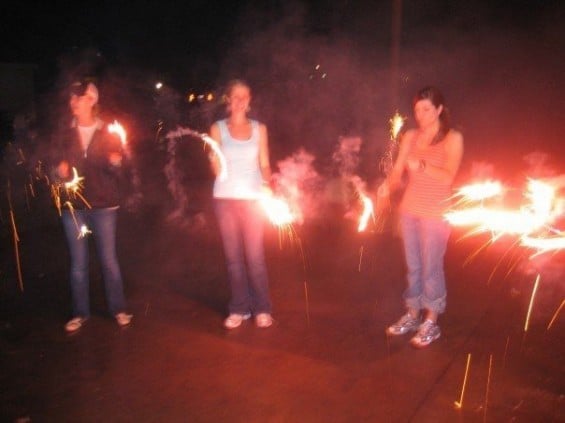 Circa 2008 – Sparkler fun with the family
(And that's me in the middle—back when I was a blonde!)
This post is part of the BlogHer Summer Entertaining series, which includes 100 percent editorial content presented by a participating sponsor. Our advertisers do not produce editorial content. This post is made possible by Home Depot and BlogHer.
What is your favorite sparkling summer treat? Share your ideas in the comments below.