Apple Cinnamon Pork Chops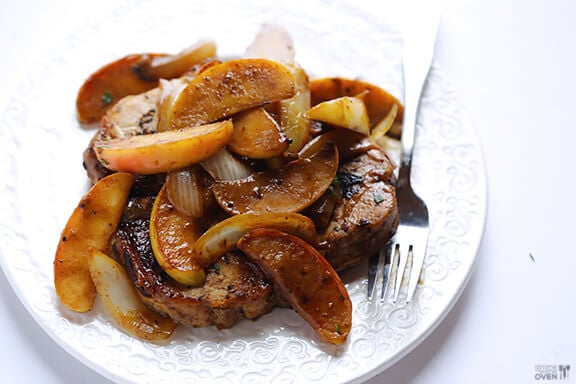 Happy Monday, everyone!  I'm excited to be kicking off the week by sharing with you about a new (and free!) e-book that I am a part of — The Cooking For Comfort E-Cookbook!
I am honored to be joining with The National Pork Board on this collaborative project, which features recipes from a bunch of talented bloggers, Chef Michelle Bernstein (James Beard Award Winner), and Ray Lampe (BBQ expert), and others.  In a nutshell, this free e-cookbook is true to its name, and is comfort food at its finest.  There are recipes ranging from Cassie's Sweet Potato & Maple Sausage Breakfast Skillet, to Lauren's biscuits and gravy, Jenny's Bacon Pesto Mac & Cheese, and so many more.
The first of my two contributions to this cookbook goes out to my Dad — this Apple Cinnamon Pork Chops recipe.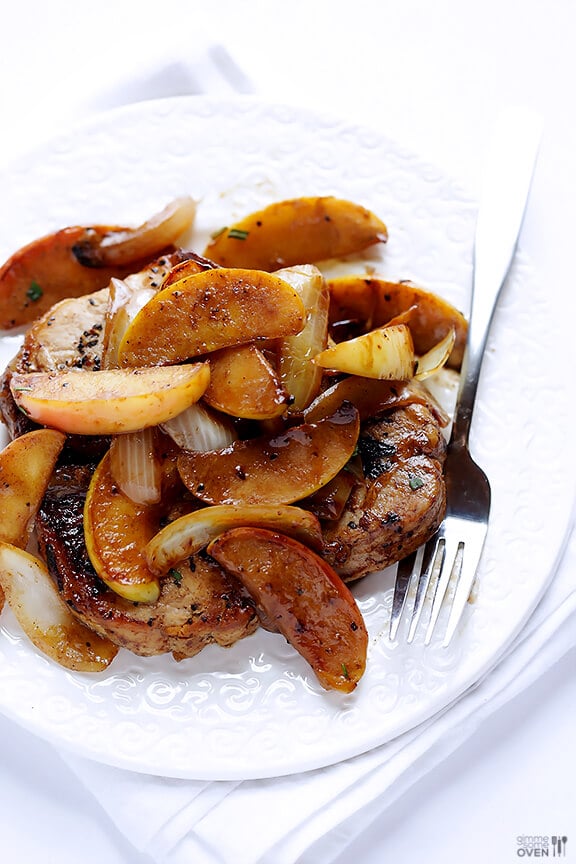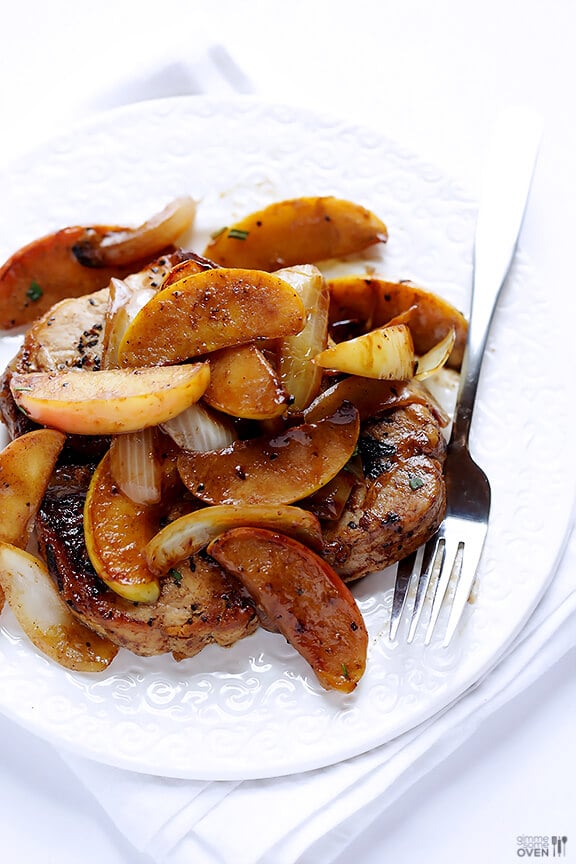 For as long as I can remember, my dad has loved pork chops.
And let me tell you, he can also grill a darn good pork chop.  I remember even during freezing winters growing up, when it was "pork chop" night, my dad would happily bundle up and head out to the grill and sear them up to juicy perfection.  While my mom, sister, and I — of course — stayed in the comfort of the warm kitchen to make sides, toppings, etc.  Then we would all sit down to a delicious dinner together to enjoy it all.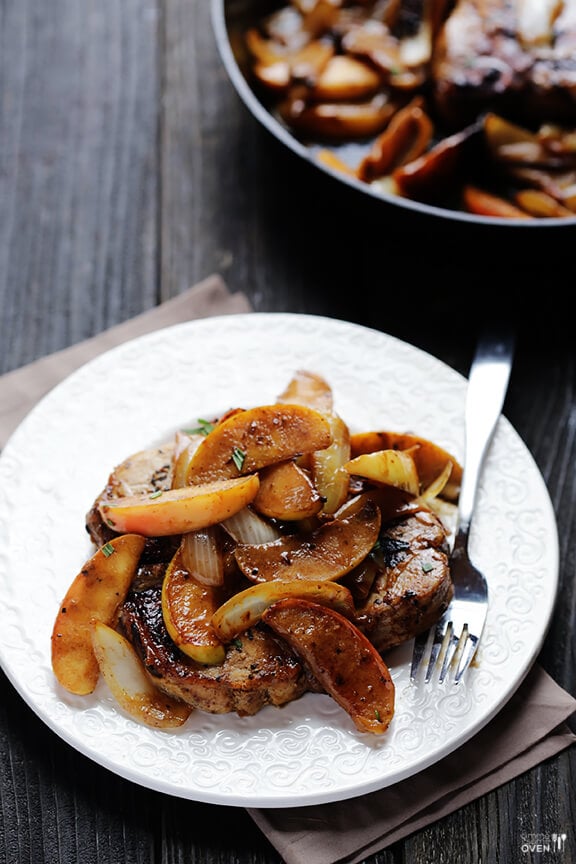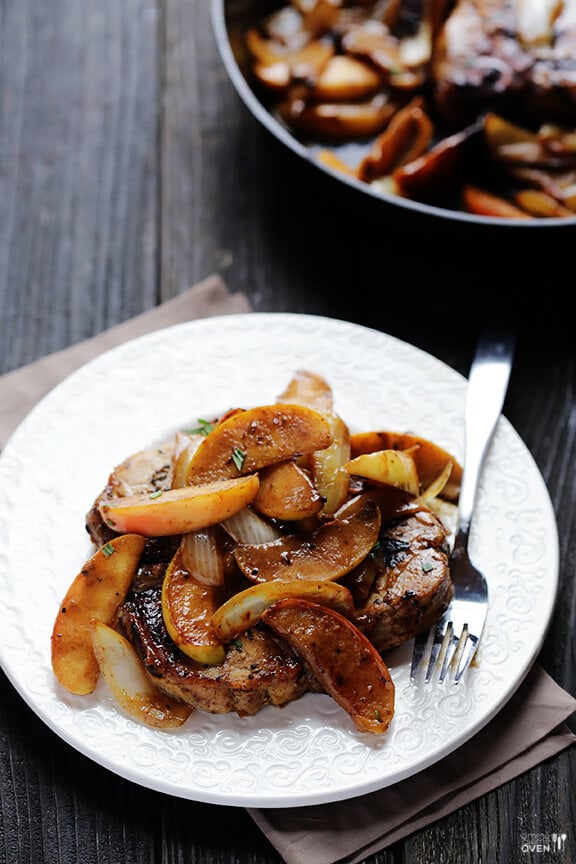 Not much has changed since I was a kid.  Dad still loves pork chops.  And I still prefer to be inside (especially this chilly week!) rather than manning the grill during the winter comfort food months.
So for my pork contribution to the e-cookbook, I decided to make this Apple Cinnamon Pork Chops recipe.  Although my version can be made entirely indoors in a good ol' skillet.  (That's my kind of comfort!)
And let me assure you, this one's a good one.  Thick, juicy pork chops are seared to perfection.  And then they are topped with a creamy, sweet and cinnamon-y topping of sauteed apples and onions.  It's a one-skillet meal that's full of sweet and savory flavors, and is sure to be a crowd-pleaser.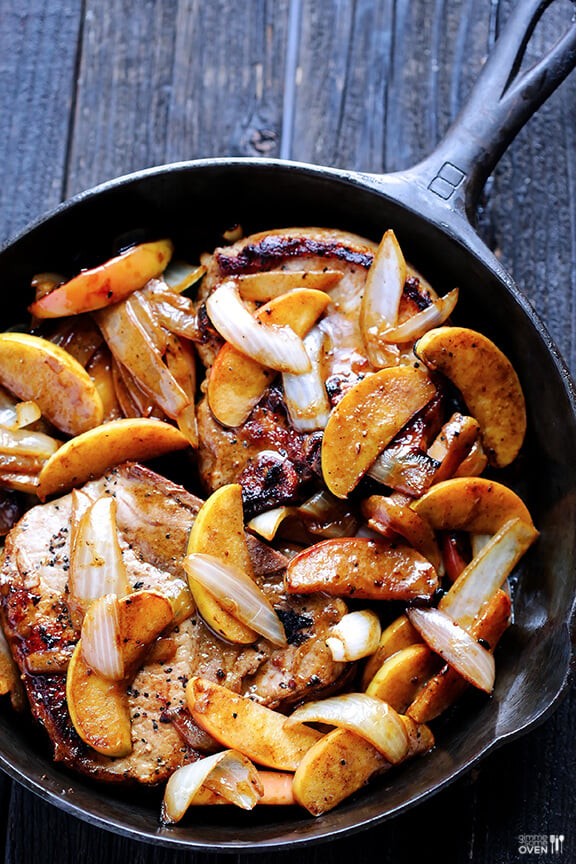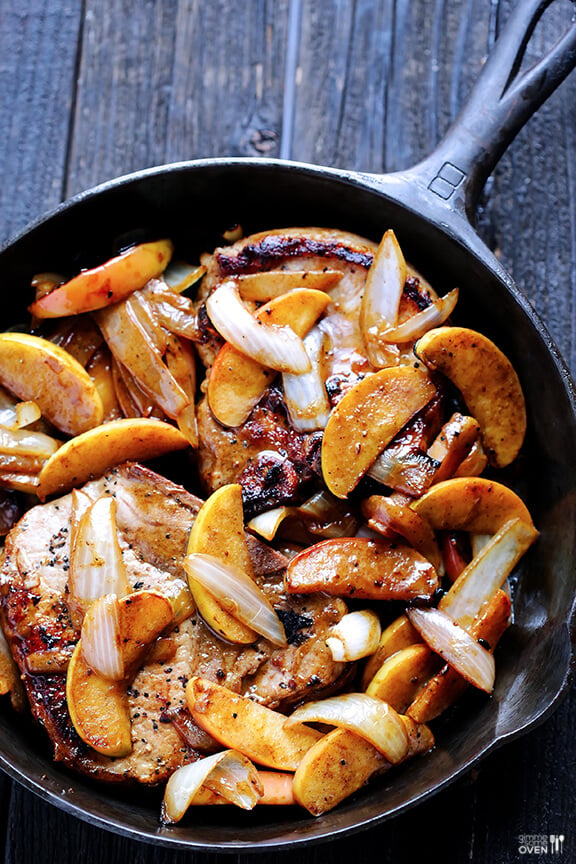 So be sure to download your own free copy of the Cooking for Comfort E-Cookbook today, and check out the National Pork Board on their website, Twitter, Facebook and Pinterest.
Then get ready to enjoy some serious comfort food.  :)
Be sure to also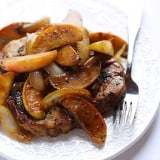 Apple Cinnamon Pork Chops
Thick, juicy pork chops are topped with a creamy, sweet, cinnamon-y apple and onion topping. It's comfort food at its best!
Ingredients:
4 Ribeye (rib) pork chops, bone-in, about 3/4-inch thick
Salt and pepper
3 tablespoons butter, divided
2 apples, peeled (optional), cored and thinly sliced
1 large white onion, halved and thinly sliced
2 tablespoons packed brown sugar
2 teaspoons ground cinnamon
Pinch ground cayenne pepper
2/3 cup apple cider
1/3 cup heavy cream
Directions:
Generously season the chops with salt and pepper on both sides. Set aside.
In a large skillet over medium-high heat, melt 2 tablespoons of butter. Immediately add the pork chops and cook until brown, about 3 minutes per side. Transfer to a plate and set aside. Let chops rest for 3 minutes.
Return the skillet to medium-high heat and melt 1 tablespoon of butter. Immediately add the apples and onion and cook, stirring occasionally, until the onion is translucent, about 5 minutes. Stir in the brown sugar, cinnamon and cayenne. Stir in the apple cider and cream. Add the pork chops, nestling them into the liquid, and cook until the internal temperature of the pork reaches between 145 degrees F. (medium rare), with a 3-minute rest, and 160 degrees F. (medium), 3 to 4 minutes per side.
Serve the chops with the apple mixture spooned on top
All images and text ©
If you make this recipe, be sure to snap a photo and hashtag it #gimmesomeoven. I'd love to see what you cook!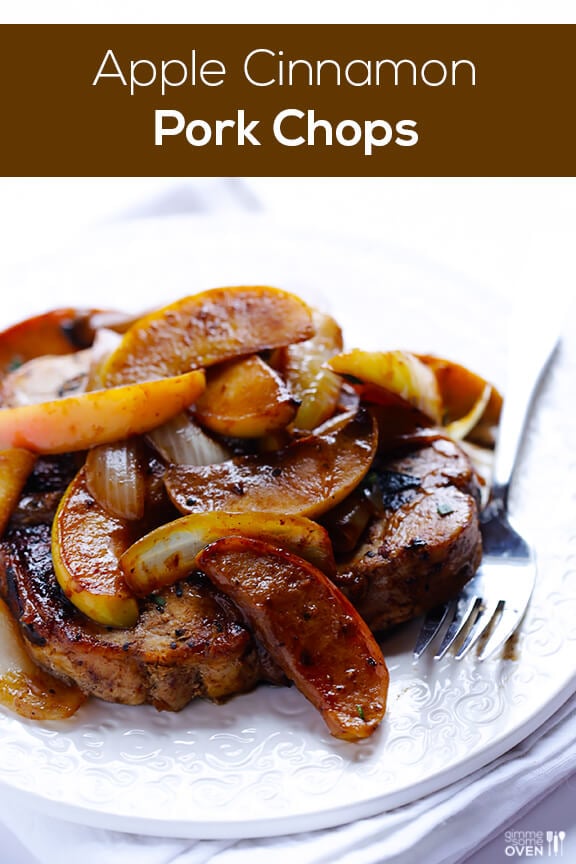 Disclaimer: This is a compensated sponsored post from the National Pork Board.  All opinions are 100% my own as always, and I'm honored to be a part of the project.  Thank you for supporting the brands which help make this blog possible! :)