Apple Cinnamon Raisin Bars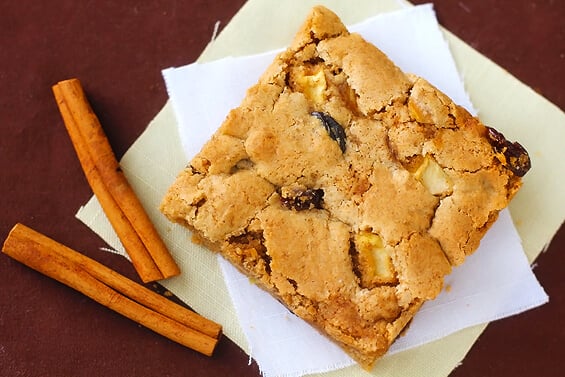 Look out.  I'm warning you right now that this recipe is addictive…
My roommate, Christin, introduced me to these bars last week.  I was just finishing a 12-hour day of work around 9pm and found a text from her inviting me to try these "new apple bars" when I got home.  Never one to turn down homemade dessert, and super-hungry after a long day, I immediately grabbed one when I walked in the door.  And oh my word.  Looking at the recipe beforehand, I was expecting good.  These were great!!! They are are everything a sweet, fruity, cinnamony, chewy bar should be.
Pretty sure I immediately made a second batch to bring to a choir potluck last night.  Although this time I substituted in white whole wheat flour and added in some nutmeg, and loved the result!  Definitely a great quick, delicious, and crowd-pleasing recipe to keep on file.  I'm pretty sure it will be reappearing in my kitchen again verrrrry soon.  :)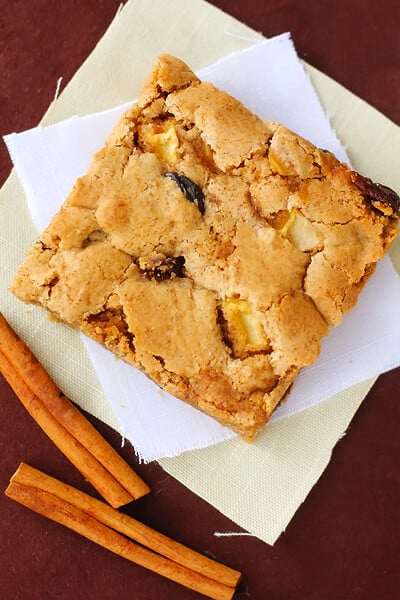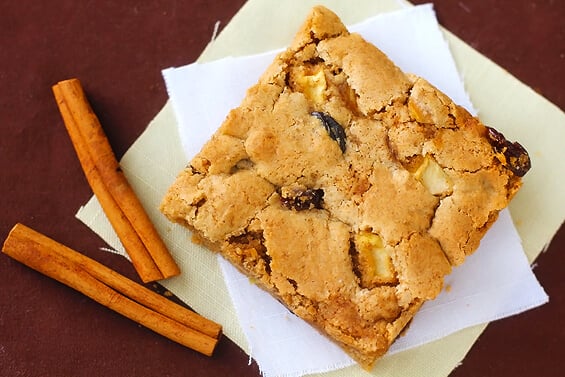 Apple Cinnamon Raisin Bars
This delicious Apple Cinnamon Raisin Bars recipe is perfect for snacking, or even for dessert. Try them today!
Ingredients:
2 cups all-purpose flour (or white whole-wheat flour)
2 tsp. baking powder
1 1/2 tsp. ground cinnamon
1/4 tsp. nutmeg (optional)
1/2 tsp. salt
2 cups packed light-brown sugar
2 eggs
1/2 cup (1 stick) butter, softened
1 tsp. vanilla extract
1 Golden Delicious apple, diced into 1/4″ cubes (about 1 1/2 cups)
3/4 cup raisins
3/4 cup chopped pecans or walnuts (optional)
Directions:
Heat oven to 350 degrees F. Liberally coat a 13 x 9 x 2-inch baking pan with nonstick cooking spray; set aside.
In a medium-size bowl, whisk together flour, baking powder, cinnamon, nutmg and salt; set aside.
In a large bowl, with an electric mixer on medium speed, blend together sugar, eggs, butter and vanilla for 3 minutes or until smooth. Reduce speed to low and gradually add flour mixture; mix for 2 minutes or until just incorporated. Stir in diced apples, raisins and (optional) nuts, and spread into prepared pan.
Bake at 350F degrees for 30-35 minutes or until toothpick inserted in center comes out clean. Cool completely before cutting into bars and serving.
If you make this recipe, be sure to snap a photo and hashtag it #gimmesomeoven. I'd love to see what you cook!
Ali's Tip:
This would also be delicious using pears instead of apples!
Source:
Adapted from Family Circle.