Asian Pepper Steak Kabobs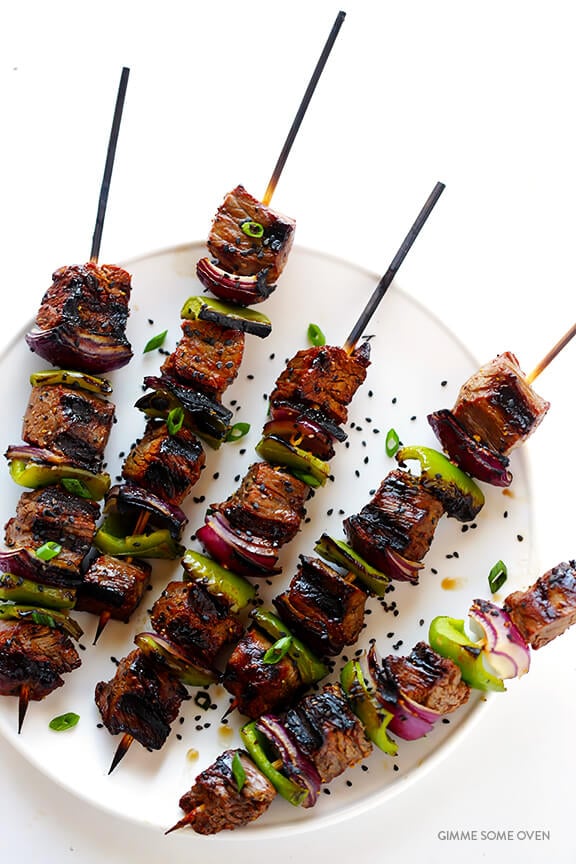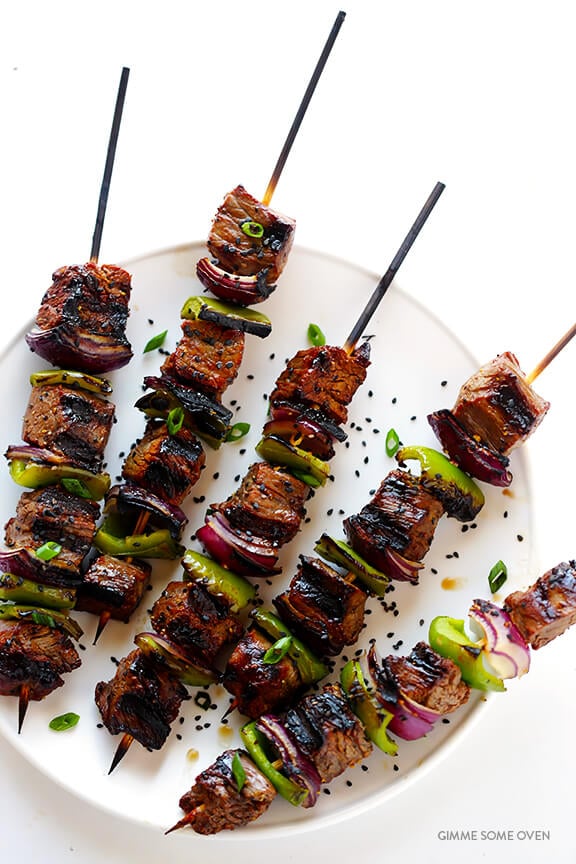 Man, I feel like I'm starting this week with such a full heart.
This weekend was filled to the brim with basically everything I love in life.  I had a handful of impromptu coffee dates with friends, with my favorite kinds of conversations (you know, bouncing between the pour-your-heart-out deep stuff one minute, and the art of perfectly icing a cinnamon roll the next, and back and forth, and on and on — the best).  I went for some long walks in the summer sunshine.  My neighbors and I made good use of our grill.  I took a much-needed "introvert's night in", and enjoyed some pasta and wine and a movie at home with my pup.  My ESL student and her family made me the most amazing tamarind-chicken stew, and then when I turned down my "American fork" and asked them to teach me how to eat it Burmese-style (with just your hands!), turned into the most hilarious and delightful and memorable meal together.  Oh, and I slept in each morning, which felt absolutely glorious.
But hand down, the best part of the weekend was last night.  I can't remember whether I've mentioned it on here, but I've been practicing with a new band for the past 6 months or so, and it has been an absolute (and often literal) blast.  We're called The Nightingale Orchestra (because we always practice late at night, when nightingales make their music), and the group is filled with 11 incredible musicians (5 string players, 3 guitarists, 2 keyboardists, 1 drummer), jamming out to some deeply beautiful and super-creative songs written by my friend, Micah.  And man, after taking somewhat of a musical hiatus after leaving my old worship-leading job, this group has been such a reminder of what a thrill it is to make music together with friends.  Especially when they're such cool, kind, and talented musicians.  Especially when we're working on songs that we all love.  And especially when we finally get to play a show and share those songs with a packed-out space full of all of our friends and community.  Oh man, I think I'm still grinning ear to ear.  Such a fun, awesome, gift of a night.
And the perfect send-off into a Monday, eh?!  Well, for anyone else who might be working on meal plans for the week today, I have a recipe that from the grill this past weekend that you should totally add to your grocery list.  It's one of my favorite classic Asian dishes, skewered up and grilled to perfection — Asian Pepper Steak Kabobs!
First off, here's a little peek of our show last night.  That's me in the right-hand corner at the piano.  :)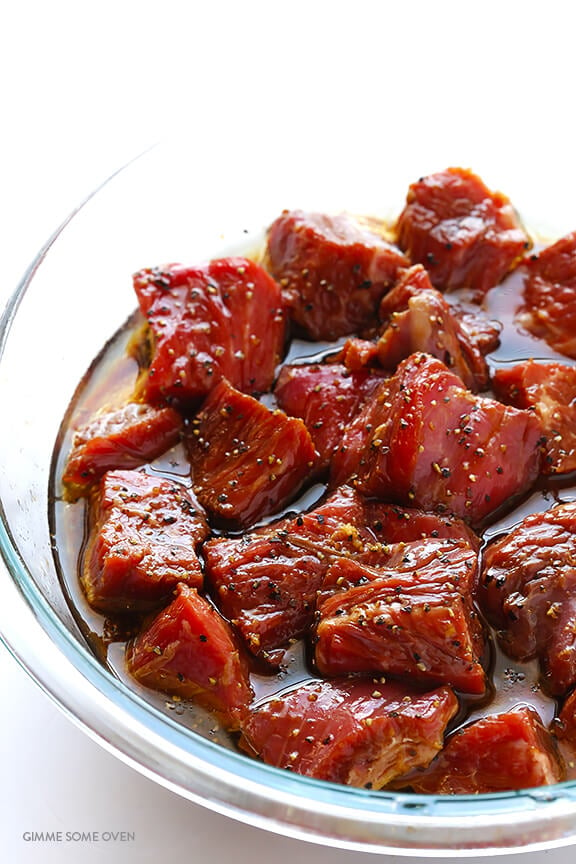 As any of you following along on Snapchat may have noticed (yes, I am now a full-blown Snapchat convert — come say hi at @gimmesomeoven!), I made these on one of our first sunny days in a week on Friday.  And then proceeded to hoard the leftovers and eat them for nearly every meal the rest of the weekend, which is no small thing considering that you all know how much I hate leftovers!
Seriously, they are so good.
And so easy to make!
Just marinate some steak in a simple Asian marinade for a few hours.  (I used flank steak to make them extra tender, but sirloins would also be great.)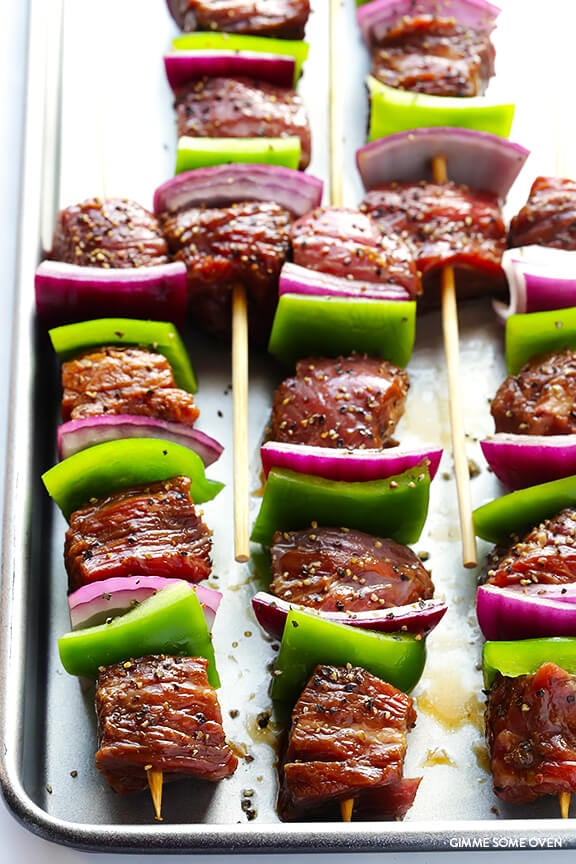 Then skewer them up with some bell peppers and onions.  (And/or mushrooms, or tomatoes, or whatever sounds good to you.)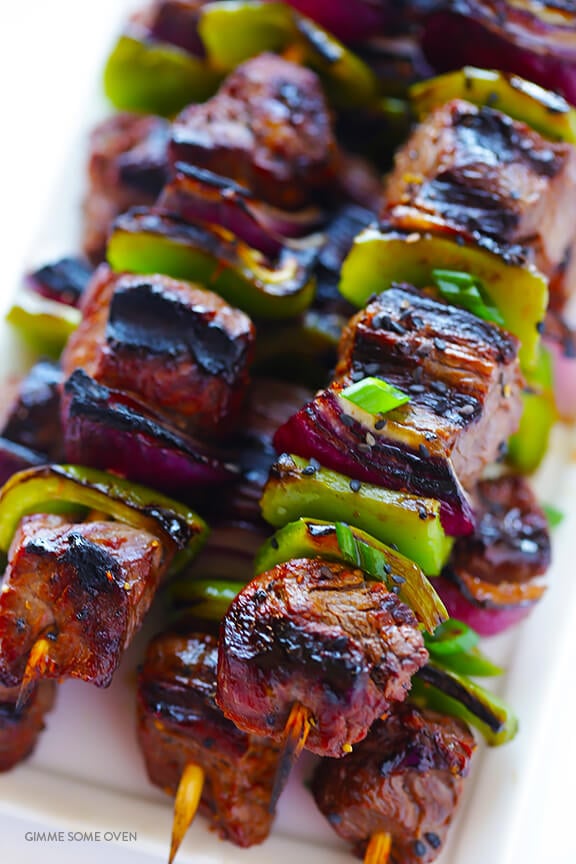 Then sear them over high heat on the grill until the steak is cooked to your desired level of doneness.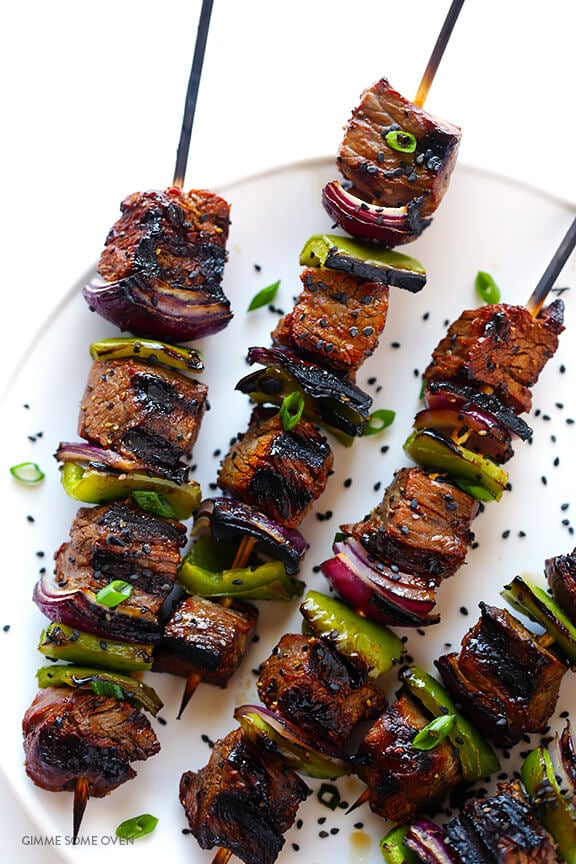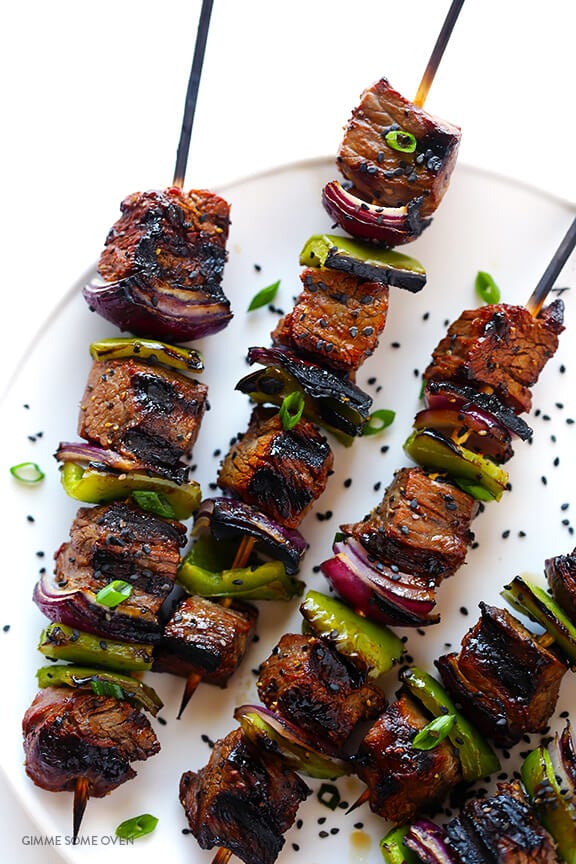 Brush them with a little extra soy sauce, rice wine vinegar and sesame oil afterwards, and then sprinkle them with sesame seeds if you'd like.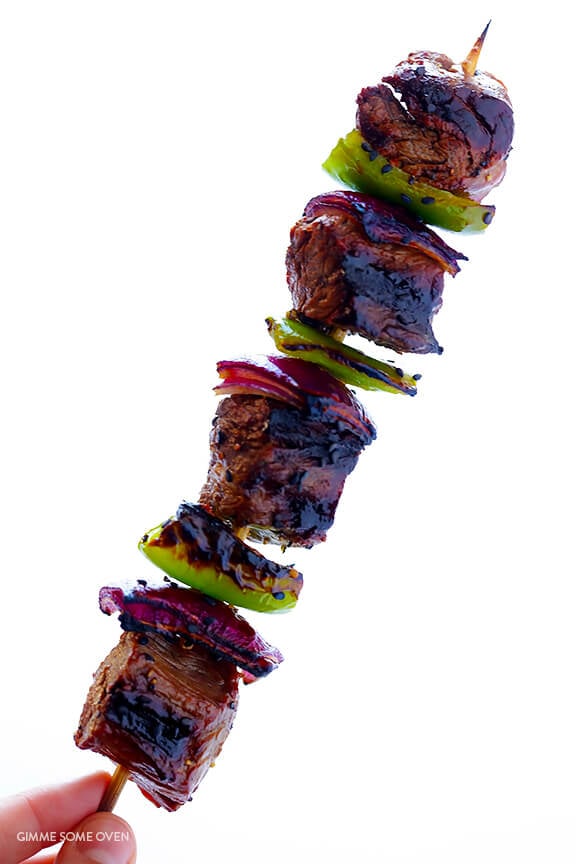 Then serve 'em up!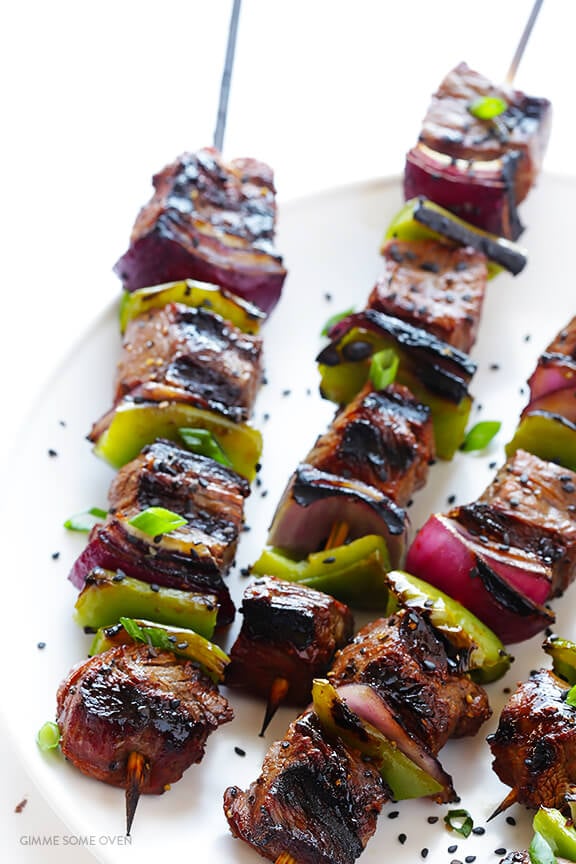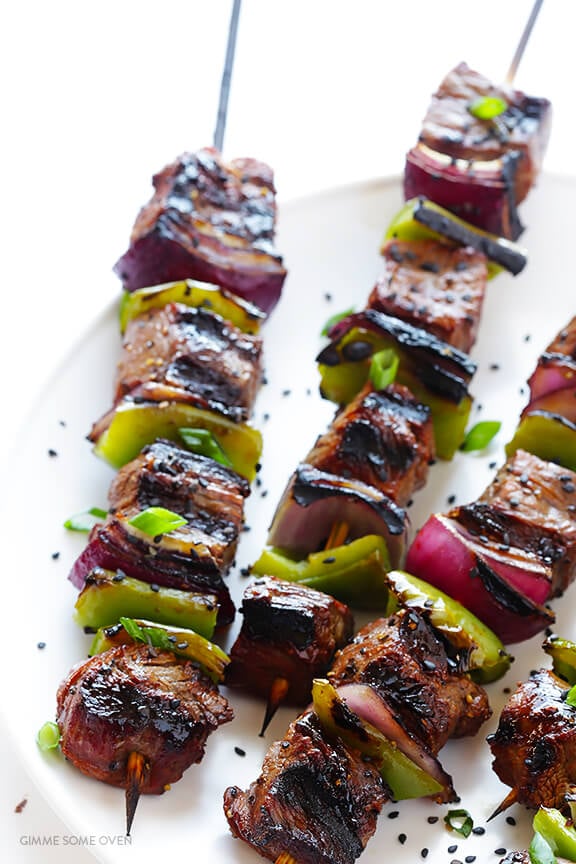 I've gotta say — I've always been a fan of traditional pepper steak, but I think that the grilled kabob version is now my favorite.  There's something about that smoky charred note that just kicks this dish up a big notch.  And let's be real, I also just love any recipe you can cook on a stick.  :)
So if you love pepper steak, grab your skewers and make these happen pronto!
(And, ahem, maybe even make some extras for leftovers.)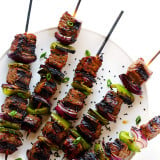 Asian Pepper Steak Kabobs
This Asian Pepper Steak Kabobs recipe is easy to make, perfect for grilling, and absolutely delicious!
Ingredients:
MARINADE INGREDIENTS:
3 cloves garlic, minced
1/4 cup low-sodium soy sauce*
3 tablespoons olive oil
3 tablespoons rice wine vinegar
1/4 tsp. coarsely-ground black pepper
1 tablespoon finely-chopped fresh ginger
BRUSHING SAUCE INGREDIENTS:
2 tablespoons low-sodium soy sauce*
1 tablespoon rice wine vinegar
1 teaspoon sesame oil
ASIAN PEPPER STEAK KABOBS INGREDIENTS:
1 lb. flank steak or sirloin steak, cut into 1-inch bite-sized pieces
1 large bell pepper, cored and cut into 1-inch pieces
1 large red onion, peeled and cut into 1-inch pieces
metal or wooden skewers (*if using wooden skewers, be sure to soak them in water for at least 10 minute prior to using)
optional garnishes: thinly-sliced green onions and toasted sesame seeds
Directions:
To make the marinade:
Whisk all ingredients together until combined.
To make the brushing sauce:
Whisk all ingredients together until combined.
To make the Asian Pepper Steak Kabobs:
Combine the prepared marinade and steak pieces in a large bowl, and toss to combine.  Cover and refrigerate for between 1-4 hours.
Heat grill to medium-high heat.  Thread skewers alternately with the marinated steak, peppers and onions.  Brush each skewer liberally with the marinade (not the brushing sauce).  Then grill for 2-3 minutes per side, turning once, or until the steak is cooked to your desired level of doneness.  Remove skewers from grill and let rest for 5 minutes.  Then brush each skewer with the brushing sauce.
Serve immediately.
*If making this recipe gluten-free, substitute gluten-free soy sauce (or tamari).
All images and text ©
If you make this recipe, be sure to snap a photo and hashtag it #gimmesomeoven. I'd love to see what you cook!