Asparagus and Arugula Pasta Salad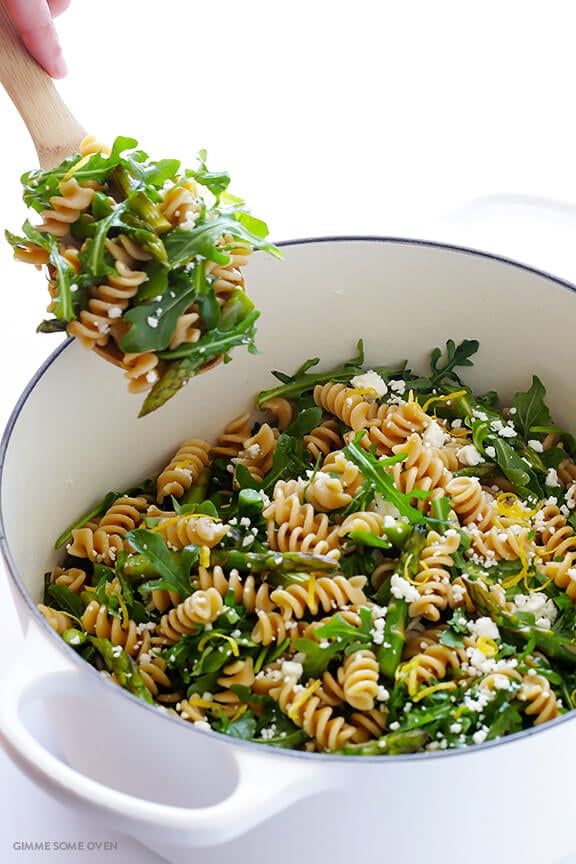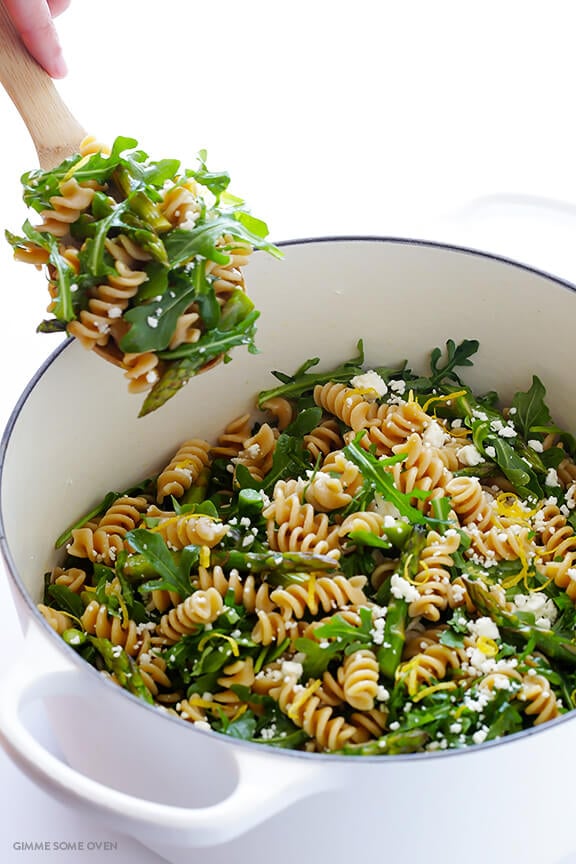 I have been in total spring cleaning mode this past week.
Actually, make that spring cleaning-out-anything-and-everything-unnecessary-in-my-home mode.
Ever since I sold about half of my belongings and moved from a 3-bedroom house (plus a basement) to a 1-bedroom loft in downtown Kansas City, I have made it a point to try and keep things pretty minimal at home.  And for the most part, I think I do a decent job.  But somehow some extra "stuff" still has a way of slowly accumulating, mostly in those pesky closets that are so good at hiding junk.  So I'm taking full advantage of spring cleaning season to clean house and get back to the absolute basics.  From clothes, to home decor, to dishes, to camera equipment, to books, to dog toys, to makeup, to jewelry and more, I keep taking my friend Michelle's advice and asking — "do I looooove it?"  If not, it's sayonnara, stuff!
My cleaning streak has also extended to the fridge, where it was high time for a little minimizing and (ahem) cleaning out.  And as tends to happen, sometimes the randomest ingredients in there lead to the most delicious meals.  Case in point?  This fabulous asparagus pasta salad that I whipped together with some leftover ingredients that were about to go bad.  It was like one big ode to my favorite Spring produce, and ended up being so tasty that I might intentionally buy the ingredients again to make another batch.  And you might want to too…
The rockstar of the salad, of course, was a bunch of asparagus I had sitting in the fridge that was about to go bad.  (Note some of the stalks going a little yellow and sinewy on the bottom!)
I tend to get a little over-excited about the arrival of fresh asparagus season in the spring and buy asparagus every single time I go to the grocery store.  I don't consider this a problem…except when a busy week somehow gets in the way of using it before it goes bad.  I saved it in the knick of time though, and chopped it into some bite-sized pieces and then sauteed it up with some garlic and olive oil.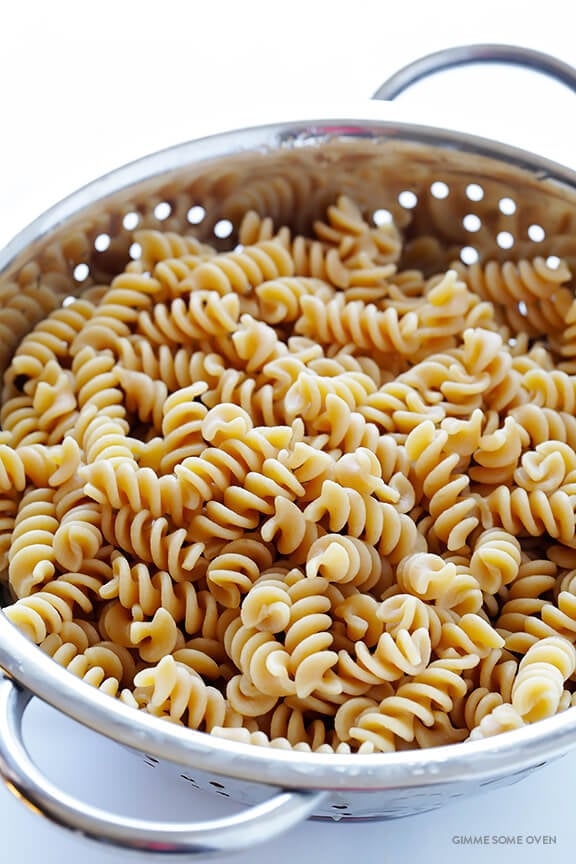 I always keep my pantry stocked with my favorite whole-wheat pasta, so I cooked up a batch to go with the asparagus.  And then since it was warm outside and the windows were open, I decided to rinse it with cold water afterwards and go the pasta salad route.
I had some leftover arugula in the fridge (that was also on the verge of biting the dust), as well as some lemons (which I always keep on hand for lemon water), feta cheese, and a bit of fresh basil.  So I tossed them all together and decided to see what happened.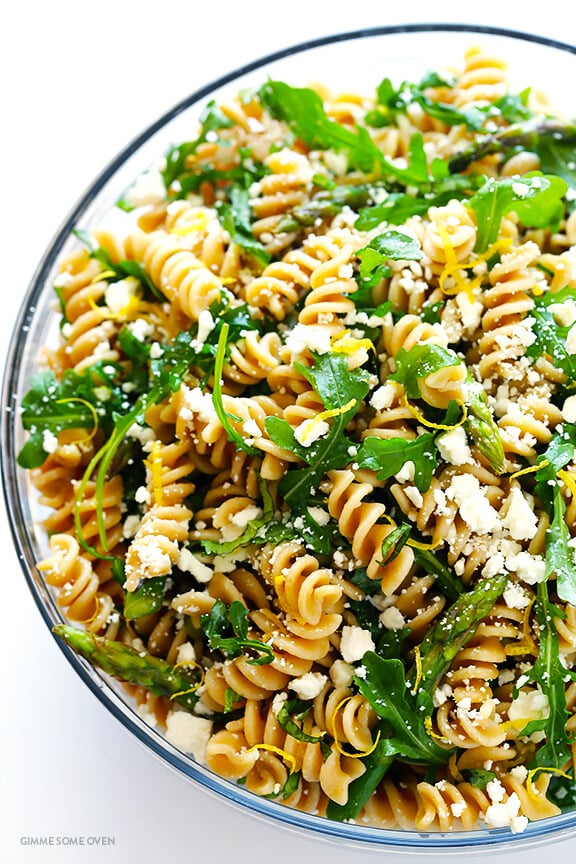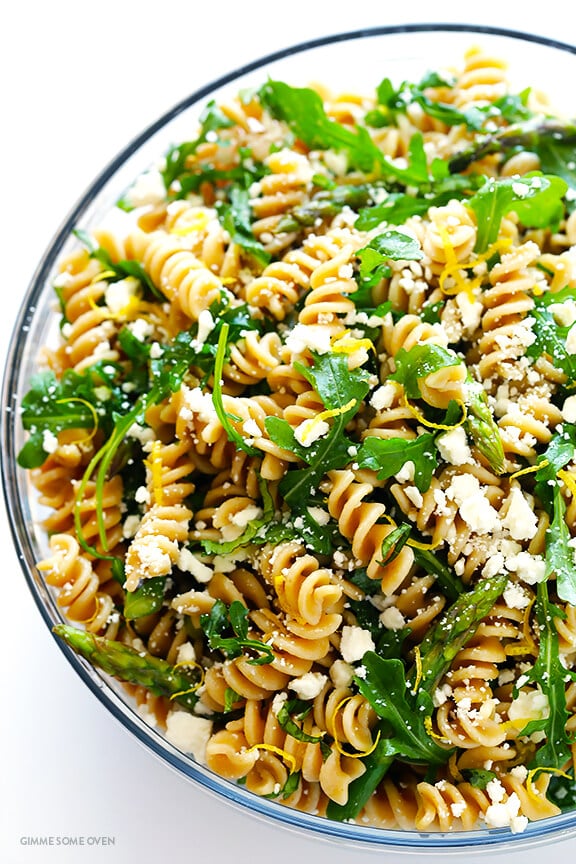 Well, let's be real, I had a pretty good guess of what would happen.  This asparagus pasta salad was a total winner!!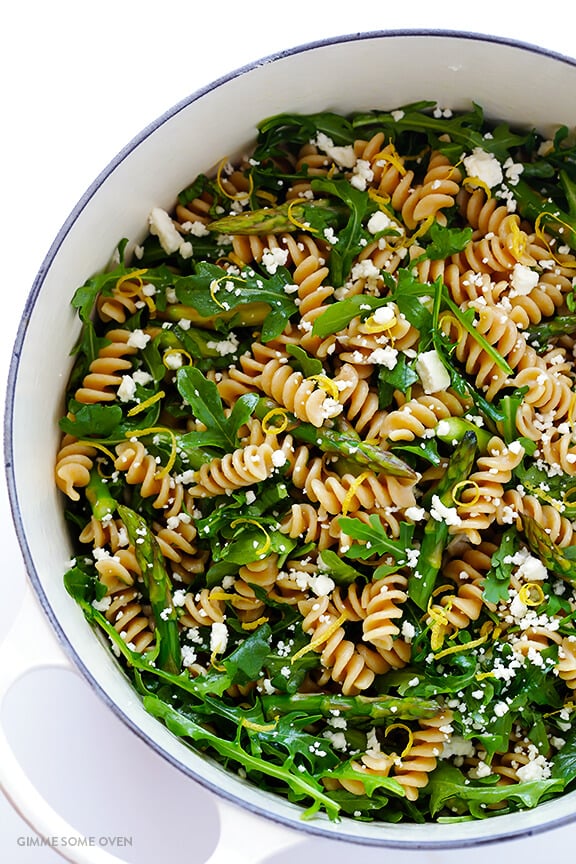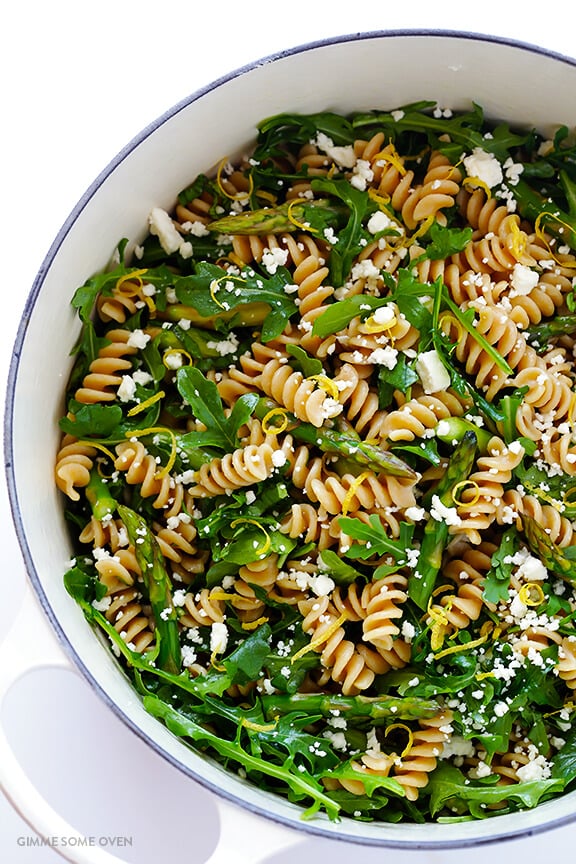 All of those spring ingredients — asparagus, arugula and basil — tied together perfectly to give the salad a deliciously fresh and peppery and savory flavor.  The lemon juice (and peel) gave it a bright kick of citrus.  And the feta cheese was wonderfully creamy and tied everything together perfectly.
(Although if I make this again, I might add in a bit of red wine vinegar and use goat cheese for an even tangier edge.  Or Parmesan if I'm feeling extra Italian.  Oooh, and if you have some pine nuts on hand, I would also recommend toasting a few up to add in!  This recipe is clearly just the starting point for all sorts of directions you could go!)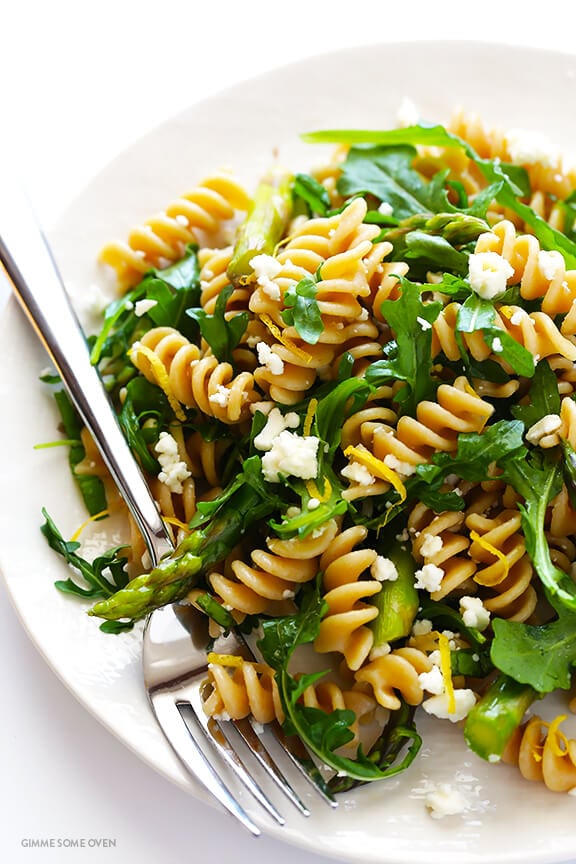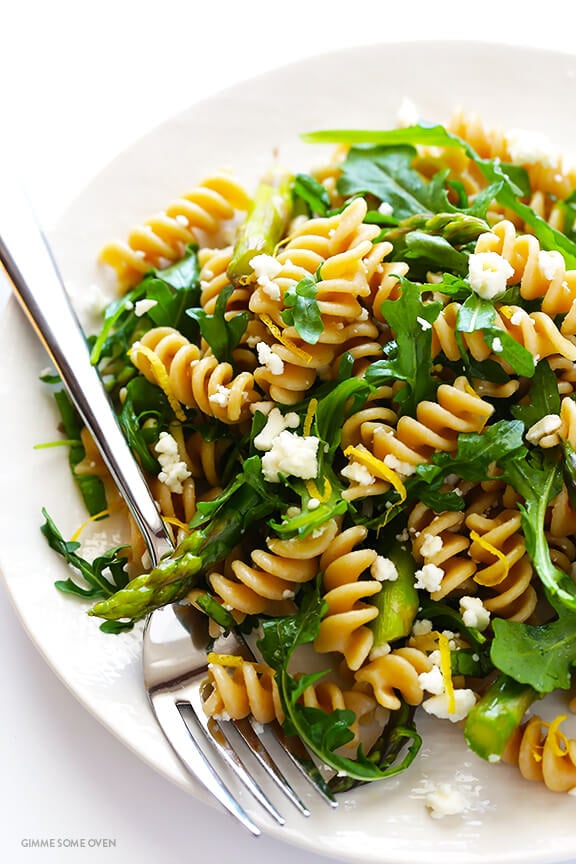 Plus, all of that green made this seem like the perfect salad to celebrate spring.  :)
So cheers to spring cleaning, and surprise recipes that have a way of making your day!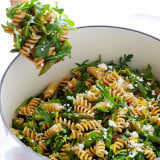 Asparagus and Arugula Pasta Salad
This Asparagus and Arugula Pasta Salad recipe uses some of my favorite spring ingredients, it's quick and easy to make, and it's sure to be a crowd-pleaser!
Ingredients:
1 pound fresh asparagus, ends trimmed and discarded
1 pound whole-wheat pasta (I used DeLallo's organic fusilli)
juice and zest of 1 lemon (about 3 tablespoons juice, 1-2 tablespoons zest)
1 tablespoon olive oil
(optional) 1 tablespoon red wine vinegar
2 large handfuls fresh baby arugula
2/3 cup crumbled feta or goat cheese (or Parmesan cheese)
1/4 cup loosely-packed julienned (or torn) fresh basil
freshly-cracked black pepper
(optional: 1/4 cup toasted pine nuts)
Directions:
Cut the asparagus on the diagonal into bite-sized pieces.  Set aside.
In a large stockpot filled with (generously-salted water*), cook pasta al dente according to package instructions.  About 3 minutes before the pasta is done, stir the asparagus in with the pasta.  When the pasta reaches al dente, pour the pasta and asparagus into a strainer (or strain out the hot water).  Then rinse the pasta and asparagus with cold water until cooled.
Return pasta to the stockpot and toss with lemon juice and zest and olive oil (and red wine vinegar, if using) until combined.  Add in arugula, cheese, basil, and a few pinches of fresh pepper (and pine nuts, if using), and toss until combined.  Taste and season with additional black pepper, if needed.
Serve immediately, or cover and refrigerate for up to 3 days.
*It's very important to be sure that your pasta water is well-salted, because this is the only time in the recipe that you can add salt.
All images and text ©
If you make this recipe, be sure to snap a photo and hashtag it #gimmesomeoven. I'd love to see what you cook!