Autumn Chicken Stew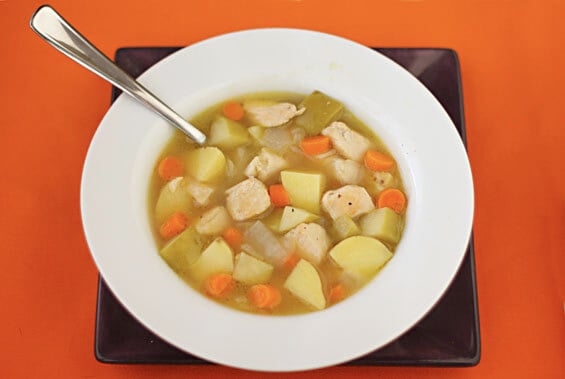 We finally turned on our heater today.  After a gorgeous, mild fall — chilly weather has now arrived.
So to warm up today, decided to make a soup with all of these apples we still have around.  I was in the mood for something easy and comforting, so ended up trying this easy recipe from Eating Well.  It called for parsnips, but I was feeling lazy (and warm with the heat!) and didn't want to make a chilly trip to the store.  So ended up substituting in some yummy potatoes I had on hand.
Unfortunately my fresh rosemary was also gone (can't wait for those little rosemary Christmas trees to show up in the stores!), so I was more than happy to sub in what I consider to be the other best kitchen invention "since sliced bread"….powdered rosemary!  I discovered this awhile back at Penzey's, and LOVE using it.  No little twigs in my bites of soup.  :)
Anyway, sure enough, the soup/stew was completely delicious.  A basic chicken soup with some hearty potatoes mixed in, highlighted by the sweet cooked apples, which also made the broth taste unbelievable.  Definitely a yummy sweet + savory meal — my kind of comfort food!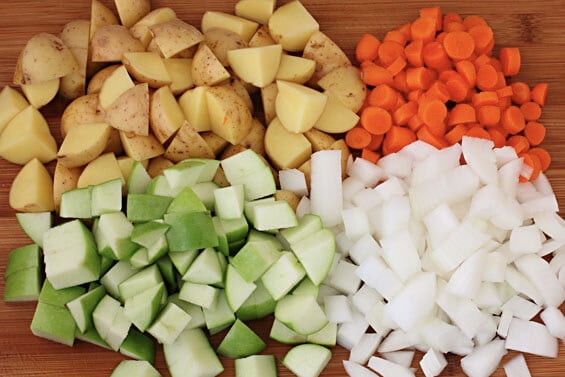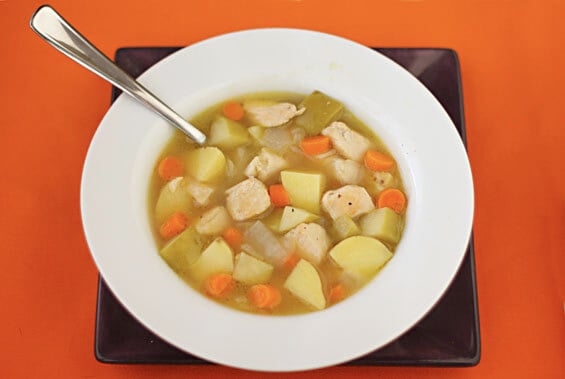 Autumn Chicken Stew
A delicious and easy chicken soup, highlighted with apples and rosemary! You will love this Autumn Chicken Stew recipe!
Ingredients:
2 Tbsp. olive oil, divided
1 lb. chicken breasts or tenders, diced into bite-sized pieces
1 large onion
2 lbs. of potatoes (I used Yukon gold), diced to the size of the chicken
1 cup chopped carrots
3 sprigs of fresh rosemary (1 tsp dried, or 1/2 tsp. powdered)
1/2 tsp. salt
1/4 tsp freshly ground black pepper
4 cups reduced-sodium chicken broth
2 Granny Smith apples, peeled, cored, and chopped
2 tsp. cider vinegar
Directions:
Heat 1 Tbsp. oil in a Dutch oven (or large cooking pot) over medium heat. Add chicken and cook, stirring occasionally, until just cooked through, 3 to 5 minutes. Transfer to a plate.

Add the remaining 1 Tbsp. oil to the pot. Add onion, potatoes, carrots, rosemary, salt and pepper and cook, stirring often, until the vegetables begin to soften, 3 to 5 minutes. Add broth and apples; bring to a simmer over high heat. Reduce heat to maintain a simmer and cook, stirring often, until the vegetables are tender, 8 to 10 minutes. Return the chicken to the pot and stir in vinegar. Check seasoning and add extra salt or pepper if desired.

If you make this recipe, be sure to snap a photo and hashtag it #gimmesomeoven. I'd love to see what you cook!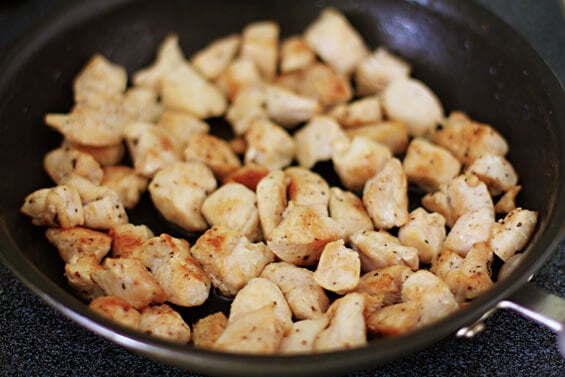 Ali's Tip:
If you'd like to use parsnips, just substitute 4 of them in place of the potatoes!