Autumn Kale Salad with Sweet Potatoes, Broccoli and Brown Rice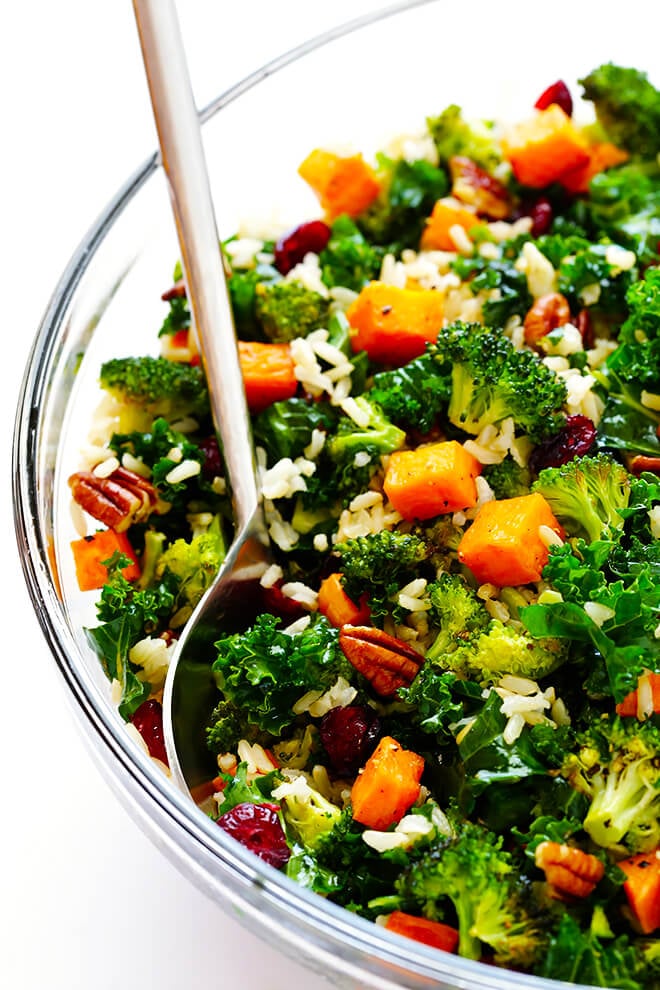 Oh my goodness, what a weekend!
If you happened to be following along on my Instagram stories the past few days, you probably saw that Barclay and I hopped in the car and took a little road trip up to Omaha for the weekend.  And you guys, we had the best time!  In Nebraska!!  (<– Who knew?!)
Neither of us had actually spent any time there before, but we'd had multiple friends tell us that the city is actually an under appreciated little Midwestern gem.  (And, living in Kansas City, we know a thing or two about Midwestern gems.)  ;)  And as it turned out, we completely agreed.  We loved it!!  We stayed at an awesome hotel, loved wandering around various neighborhoods, visited an awesome museum, said hello to practically ever animal at the zoo, and hit the jackpot with some killer restaurants and bars around town.  Like — it's Monday morning and we're back home now, and I still feel like I'm full from the weekend.  So. Much. Good. Food.
Anyway, I'll be sure to do a more detailed write-up on the trip later this week, and include all of our specific recommendations.  But gosh, it was just such a fun weekend.  And it absolutely fueled my little soapbox with my friends that we all need to take more little weekend trips around the Midwest.  So many cool places nearby to visit!  (Without having to take vacation days!)  :)
That said, now that we're home, I'm ready for a little post-vacation detox and am craving all the salads.  And one of the first ones I can't wait to re-make was this delicious autumn kale salad that I tried last week.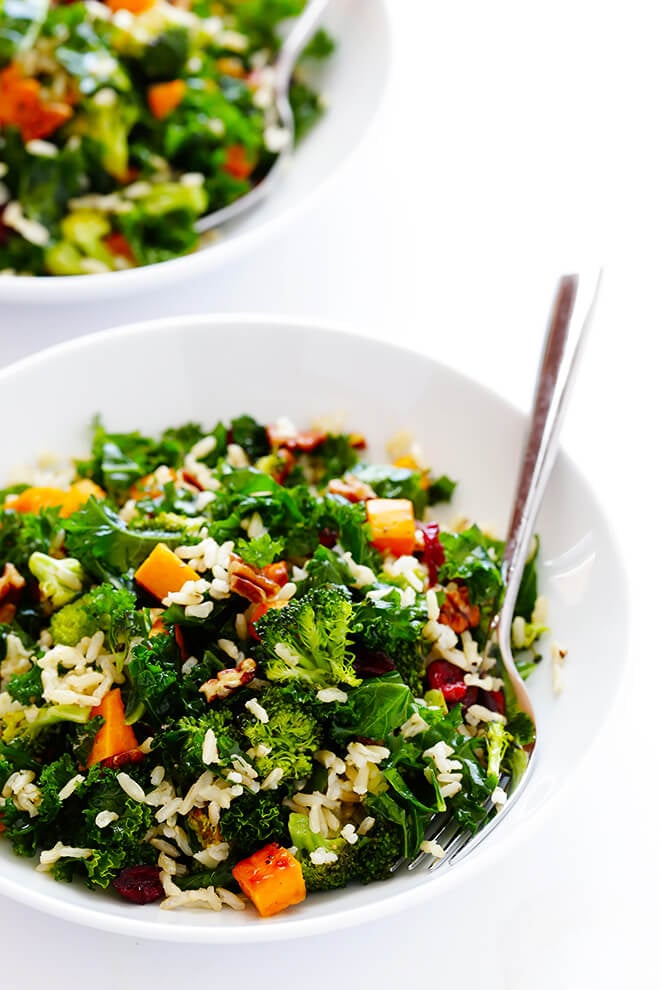 Actually, I wasn't quite sure what to call this one.  A kale salad?  Brown rice bowls?  Autumn harvest bowls?!?
Eh, whatever you call them, they are awesome.  They're nice and hearty, they're packed with lots of savory roasted sweet potatoes and broccoli, they're tossed with a simple vinaigrette, and they are absolutely delicious.  (Oh, and they happen to be naturally gluten-free and vegan too.  Win-win.)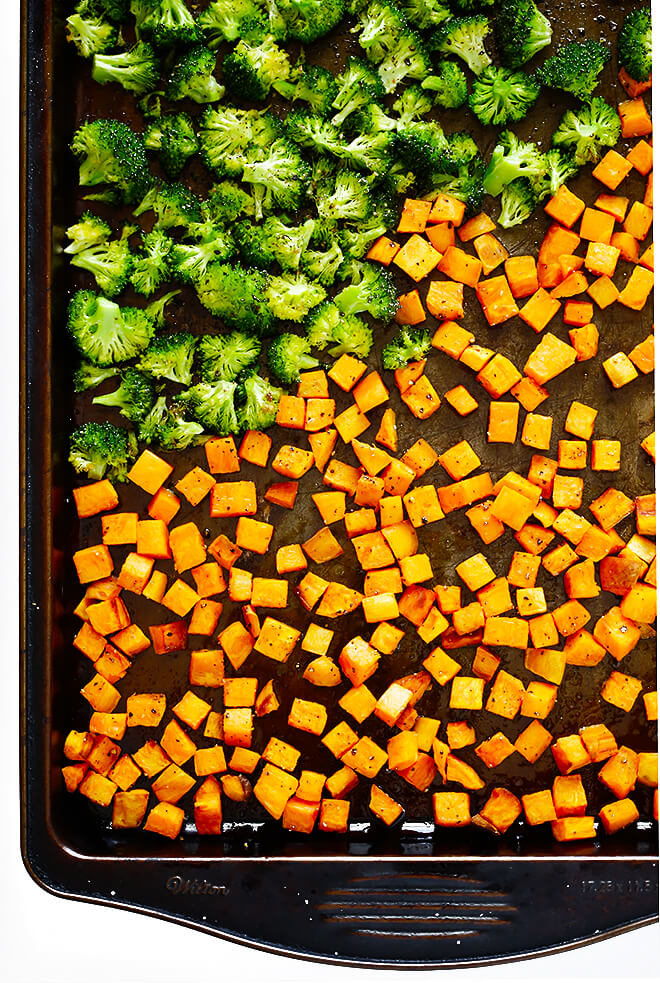 To make them, simply roast up a pan of diced sweet potatoes and broccoli.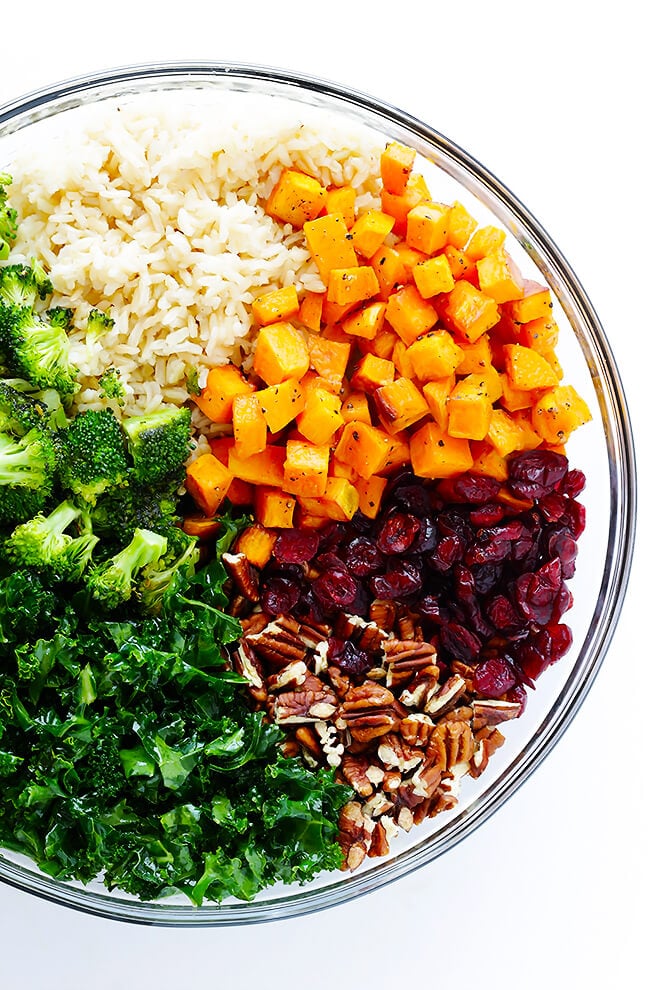 Toss those together with some kale (be sure to massage it, see below!), cooked brown rice, nuts (I used pecans, but walnuts or pepitas or almonds would also do), and some sweet dried berries to balance out the savory.  Drizzle with a simple vinaigrette, and toss to combine.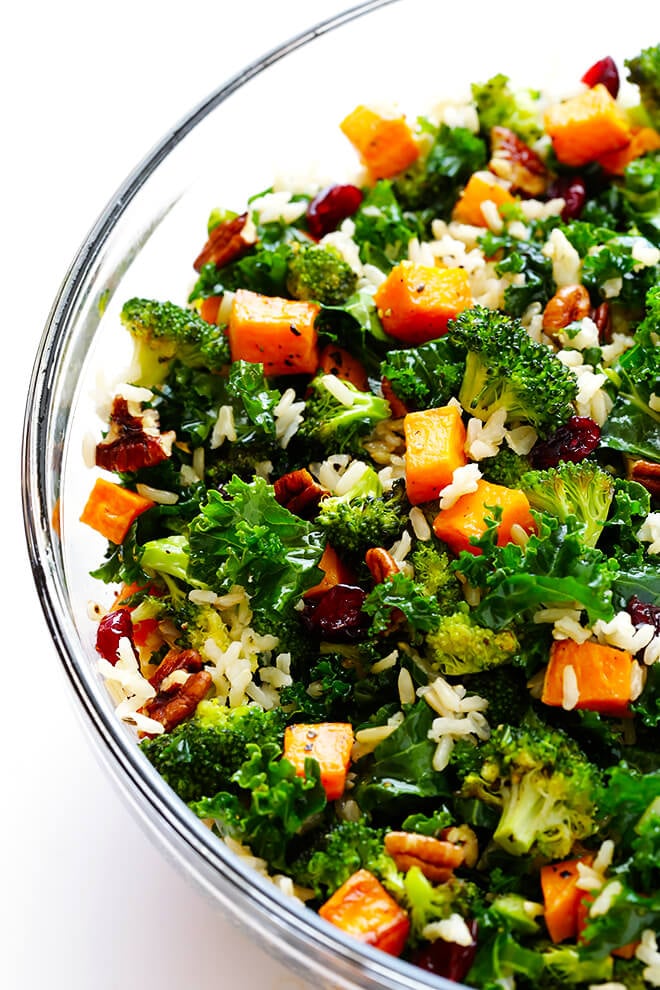 And then this gorgeous salad will be yours to enjoy.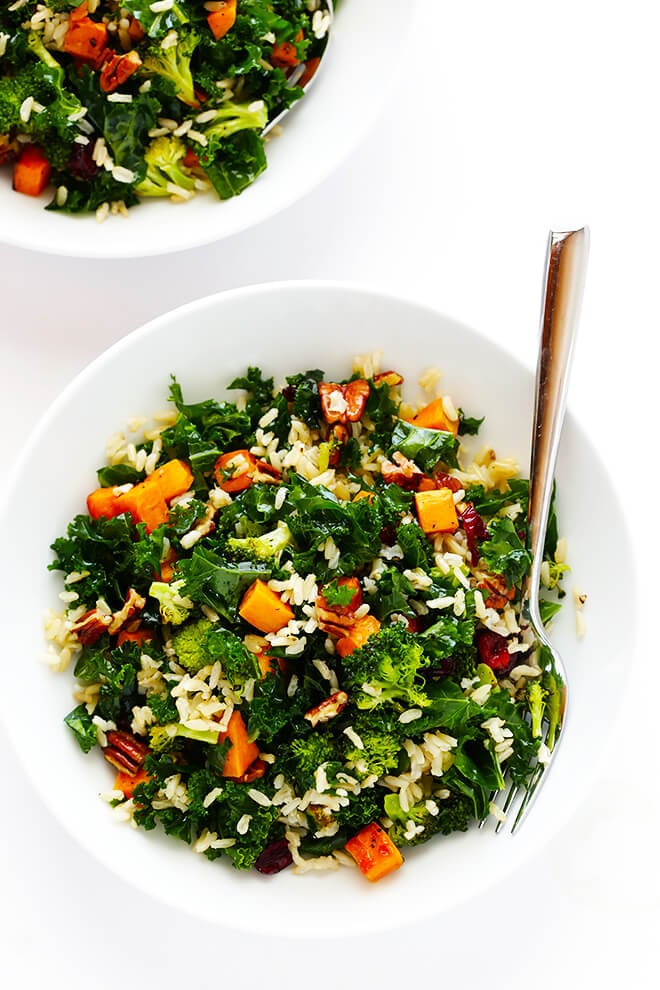 Serve it up warm, or chill it in the refrigerator for later.  And when I say "later" — the bonus perk of this salad is that it can last in the fridge for up to 3 days.  So it's an awesome make-ahead meal for busy weeks.  :)
Definitely a salad you can feel good about this season, and one that I hope you try soon!  Enjoy!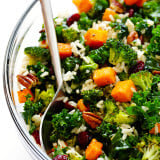 Autumn Kale Salad with Sweet Potatoes, Broccoli and Brown Rice
This Autumn Kale Salad with Sweet Potatoes, Broccoli and Brown Rice recipe is nice and hearty, it's naturally vegan and gluten-free, and all of those sweet and savory autumn flavors are SO delicious together!
Ingredients:
Salad Ingredients:
2 medium sweet potatoes, peeled and diced
2 cups roughly-chopped broccoli florets (about 1 small head of broccoli)
2 tablespoons olive oil
salt and pepper
4 cups chopped kale leaves
2 cups cooked brown rice or farro
2/3 cup dried cranberries or cherries
2/3 cup chopped toasted pecans
(optional: 1/2 cup crumbled feta or goat cheese)
Vinaigrette Ingredients:
3 tablespoons olive oil
2 tablespoons red wine vinegar (or apple cider vinegar)
pinch of salt and black pepper and garlic powder, to taste
Directions:
To Make The Salad:
Heat oven to 425°F.
In a large mixing bowl, toss the diced sweet potatoes with 1 tablespoon olive oil, and toss until combined
Spread the sweet potatoes out in an even layer on a large baking sheet.  Bake for 15 minutes, then remove from the oven and toss the sweet potatoes for even cooking.
Meanwhile, as the sweet potatoes are cooking, add the broccoli to that same large mixing bowl, along with the remaining 1 tablespoon olive oil, and toss to combine.  Once the sweet potatoes have been tossed, gently push them to one side of the baking sheet, and spread the broccoli out on the second half in an even layer.  Bake for an additional 15 minutes, or until the sweet potatoes are soft and cooked through, and the broccoli is roasted.  Remove from the oven, and transfer the sweet potatoes and broccoli to a large mixing bowl.
Add the kale*, brown rice, cranberries, pecans, and vinaigrette (see below), and toss to combine.
Serve warm, sprinkled with cheese if you'd like.  Or refrigerate in a sealed container for up to 3 days.
To Make The Vinaigrette:
Whisk all ingredients together until combined.
*In order to be sure that the kale is nice and soft, I recommend tossing it beforehand with 1 tablespoon of the vinaigrette, and massaging it with your fingers for 1 minute until the leaves are dark and soft.
All images and text ©
If you make this recipe, be sure to snap a photo and hashtag it #gimmesomeoven. I'd love to see what you cook!