Bacon Breakfast Tacos
I made you some breakfast tacos, y'all!
Actually, this recipe was inspired by my recent trip to Austin — a.k.a. The Land Of Breakfast Tacos — to kick off my partnership with Old El Paso as part of their Freshest Bloggers program.  I will tell you about that in a minute.
But before we get to the tacos, can I just talk a second about Austin?
This was my third time visiting the city, and it may have just been the charm.  I adore Austin.  Like, I can't imagine leaving my friends and community here in Kansas City.  But oh my goodness, I feel like Austin and I are kindred spirits.  Everything's quirky and local and artistic and nerdy and creative.  The weather is blissfully warm (yes, I will take June heat in Austin any day over freezing winters in KC).  And the whole town is unabashedly obsessed with tacos.  Every part of me just loved it.  And I am seriously feeling the tug.
So I have actually made the decision to head down there with my pup and rent a place on AirBnB and work remotely for a month this coming February.  I mean, why not?  I have a job that can allow me to travel, February is the month when winter feels tooooo long in KC, and what better way to scout out a new city?  The double bonus is that I think I have convinced another awesome blogger to come join me for the month too.  More on that to come.

But anyway, back to stories about Austin.  And our taco tour with OEP (plus a video with Yours Truly).  And these ridiculously delicious tacos, which I'm pretty sure need to happen in your life very soon.  :)
Fresh is always better.  And you all know how crazy I am for Mexican food.  So when Old El Paso reached out to see if I would be interested in joining their "Freshest Bloggers On The Web" partnership for this coming year, it seemed like a natural fit.  Their taco shells and green chiles and fresh tortillas (including these cool new tortilla bowls pictured above) are staples in my kitchen.  So I'm looking forward to whipping up some new Mexi recipes — full of fresh ingredients — to share with you all this year.
But to kick off the project, Old El Paso invited the group of bloggers participating in the program to come to Austin for an official "taco tour" of the city.
Twist. My. Arm.  
;)
We all stayed at this quirky and awesome boutique hotel — the Hotel San Jose.  It was built in 1936 as an "ultramodern" motor court, but today it is an urban bungalow-style hotel located right in the heart of Austin on South Congress Street.  If you are in Austin, I can't recommend staying there enough.  The staff is completely hospitable, the rooms genuinely feel like little bungalow homes with super creative and quirky and thoughtful decor (and even type-written poems waiting for you in the bathroom), and there is a large courtyard in the center of the hotel that hosts nightly happy hours.
Oh, and the hotel was also conveniently located next to one of my favorite places to get coffee in Austin.
For dinner, we had an amazing meal in this private room in the basement of La Condesa.  It was course after course after course of modern Mexican food.  But of course, I completely spoiled my appetite on chips and salsa.  What's new.  :)
The next day, we woke up bright and early to begin our oh-so-difficult task of the day — taste testing tacos galore.  Bring it on, Austin.
Our first stop was VeraCruz All Natural, a food truck with the friendliest owners.  They served us each three different kinds of tacos, chips and salsa and fresh fruit refrescos.  I was obsessed with the salsa and really loved the migas and fish tacos.  And the mango drink was the perfect refreshment on an already-hot Austin summer morning.
Next, we went to Joe's Bakery, which was actually recommended to me by the driver who picked us up from the airport.  This restaurant totally reminded me of the Mexican restaurants in Wichita near my high school where I grew up.  Classic tacos, a family-friendly atmosphere, and Mexican cookies galore.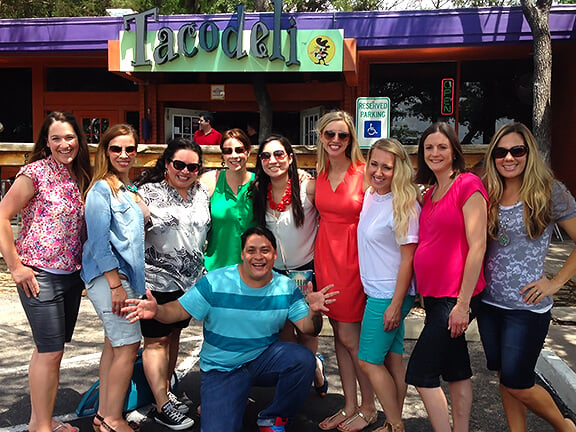 Our third stop — probably my favorite — was Tacodeli.
On the day we were there, they had thirty-six different kinds of tacos on the menu.  36!!!
We had the chance to sample about 8 of those, along with their queso and a few salsas (which were outstanding).  And they were all so fresh, flavorful and creative.  So of course, now I want to go back and sample all of the other tacos we missed.  ;)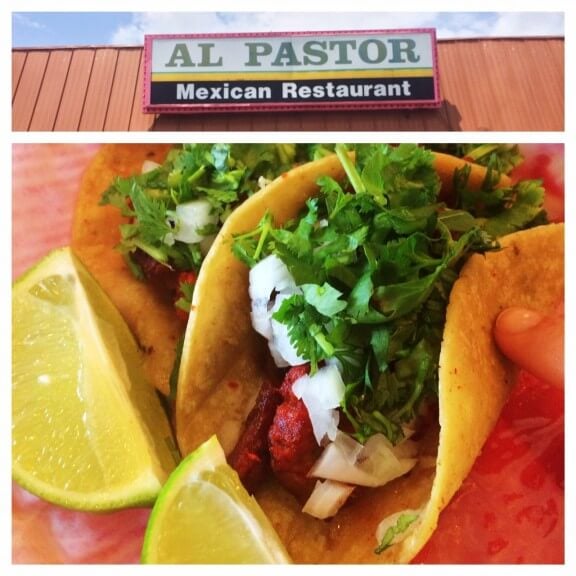 Our final stop was Al Pastor.  And oh man, by the time we arrived, I was beyond full.  But they claim to have some of the best al pastor tacos in town, so I managed at least a few bites to complete my dutiful research.  They were indeed quite delicious.
After all of the taco touring, we had a short break.  Then we loaded up the van and headed out to a local farmers market for our next project of the day — a fresh cooking challenge!
We were divided up into teams of two, and each pair was charged with creating a fresh meal — prepared with our loot from the farmers market — that featured an Old El Paso product.  I was paired with my friend Sommer from A Spicy Perspective.  And using the kitchen at The Silver Whisk cooking school, we created a rainbow nachos masterpiece and some fresh fruit ice cream bowls made with OEP's tortillas, which we deep fried and sprinkled with a sriracha-lime-salty-sugar mixture.  Pretty fun.
Oh, and they even had cupcakes there with our names on them.  Wait, our faces on them.  That was a first!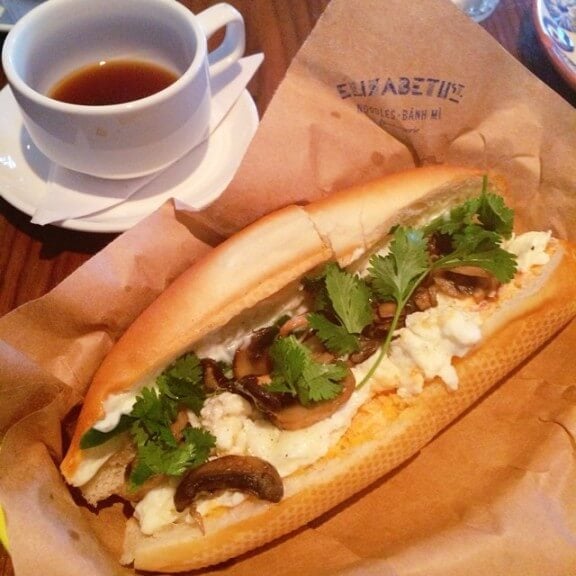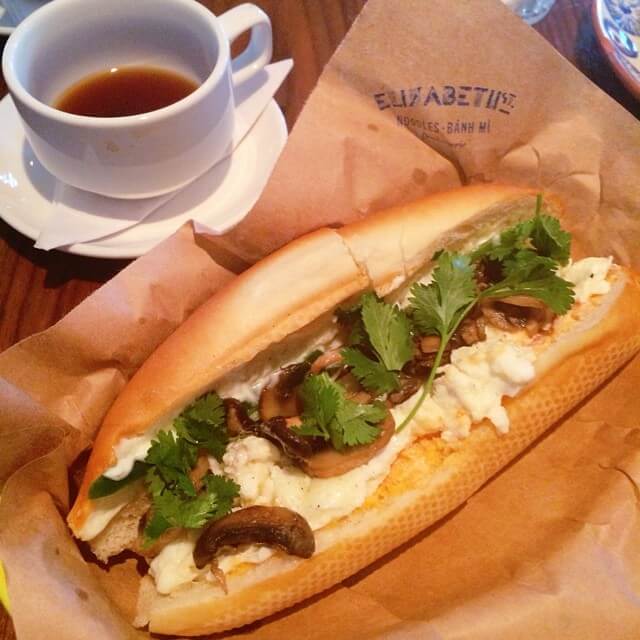 On the final morning, Maria and I met up with Jeanine from Love and Lemons at the Elizabeth Street Cafe for breakfast.  She and I shared the breakfast bahn mi, which was perfection.  So soft and flavorful and the perfect way to begin the day.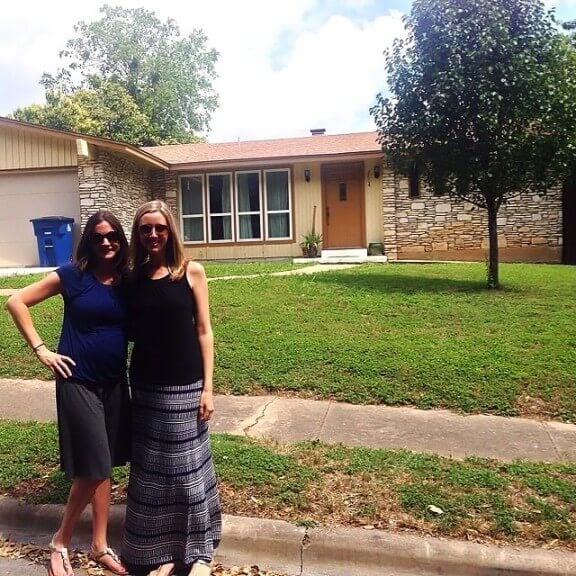 And of course, we couldn't leave Austin without paying tribute to the other best thing about Austin — Friday Night Lights!!!
Maria and I had been wanting to do the FNL driving tour for awhile now.  So Jeanine graciously spent the morning with us driving around and checking out various locations where the show was filmed, like Tim Riggin's land, Coach Taylor's house, Saracen and Grandma's house, and of course — the home of Tim and Billy Riggins themselves (pictured above).
If only Taylor Kitsch could have been there to be our tour guide… :)
All in all, it was a fantastic three days in Austin.  And even after three days of Mexican food, I still wasn't tired of it!  Which goes to show….hmmm, actually I'm not sure what that says about me.  I guess I just really really love Mexican food.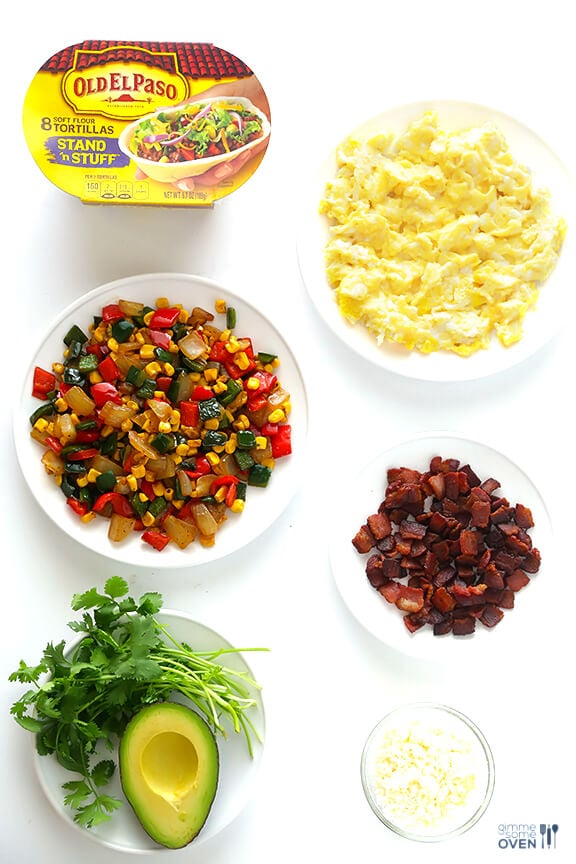 Admittedly, though, I have never cooked much Mexican food for breakfast.  But now I am officially hooked on all things "breakfast tacos", which seemed to be served basically everywhere in Austin.
I already have a migas recipe here on the blog.  So I thought it would be fun to share with you today a basic "eggs and bacon" breakfast taco.  I used Old El Paso's new "Stand & Stuff" soft flour tortillas on these, which I think are positively brilliant.  They stand up on their own, can hold basically anything you toss in them, and they are much easier to hold and eat with your hands.  Perfect for breakfast on the go.
I made mine with scrambled eggs, a veggie scramble with fresh red bell pepper, poblanos, onions and corn, bacon, avocado, cilantro and queso fresco.  Here's how to make 'em: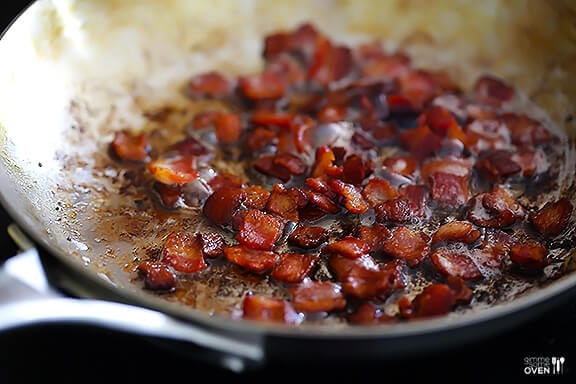 Begin by dicing your bacon, and then frying it up in a saute pan.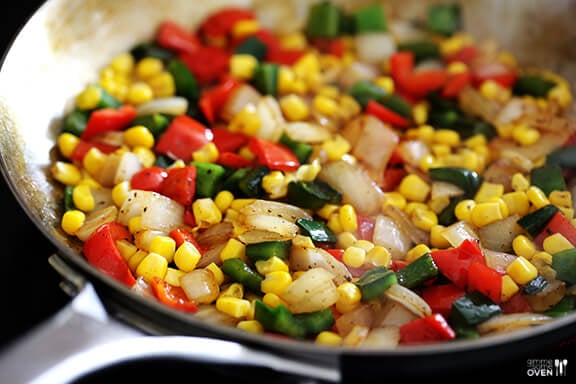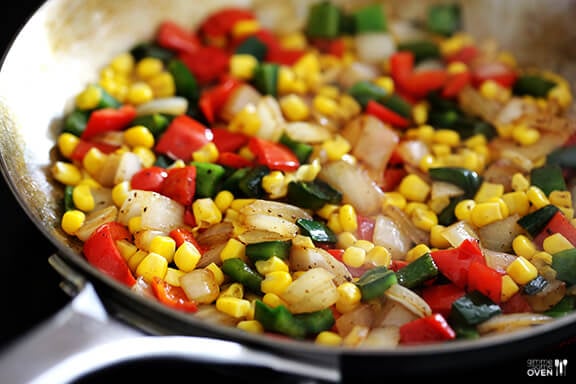 Reserve the bacon grease for extra flavor, and use it to cook your veggies for the scramble.  Transfer the veggies to a separate plate, then scramble your eggs in the same pan.
And then toss all of your ingredients together in the Stand & Stuff tortilla.  I layered the eggs, then the veggie scramble, then bacon, diced avocado, cilantro and crumbled cheese.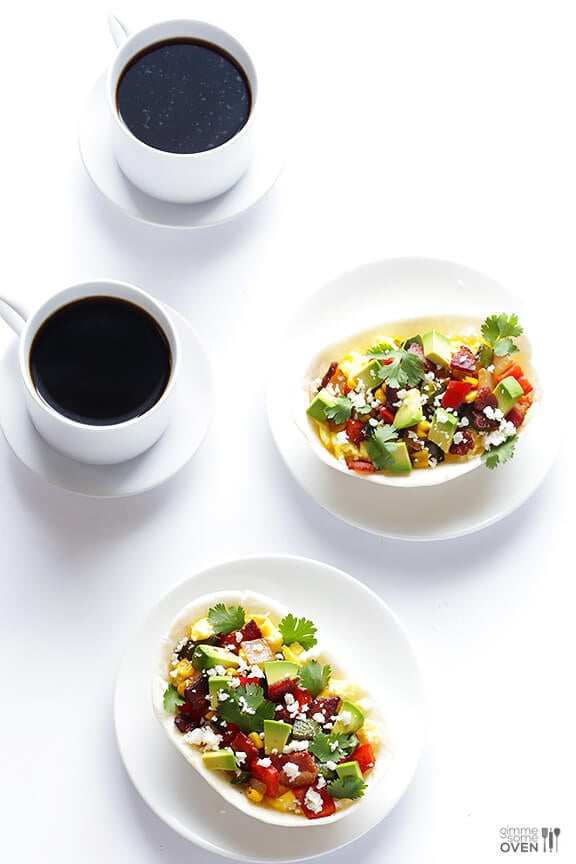 Sure enough, they paired perfectly with my morning coffee.  They pack tons of great flavors, lots of protein, all kinds of fresh veggies, and they're perfect for a grab-and-go breakfast if you're on the run.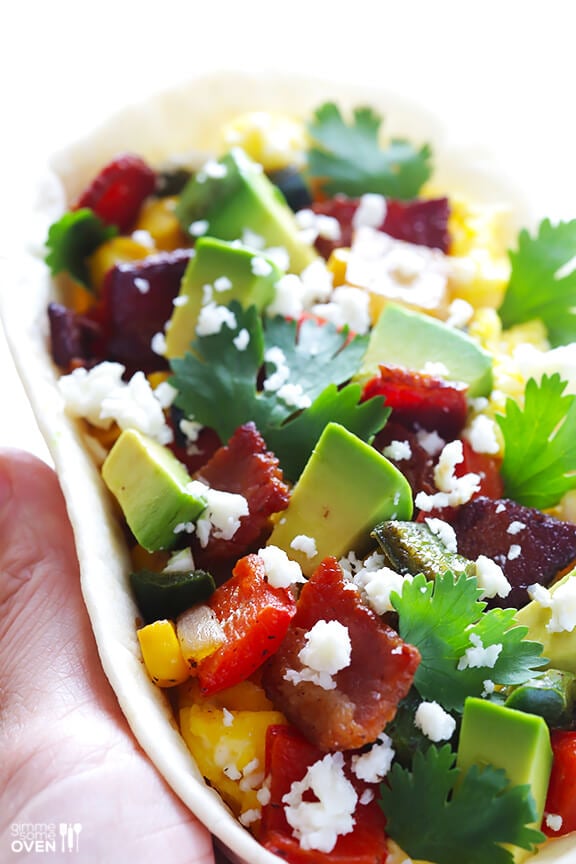 Mexican food for breakfast FTW!!!  Thanks for the inspiration, Austin.
And thanks for a great trip, Old El Paso!  Looks like it's going to be a fresh and delicious year ahead.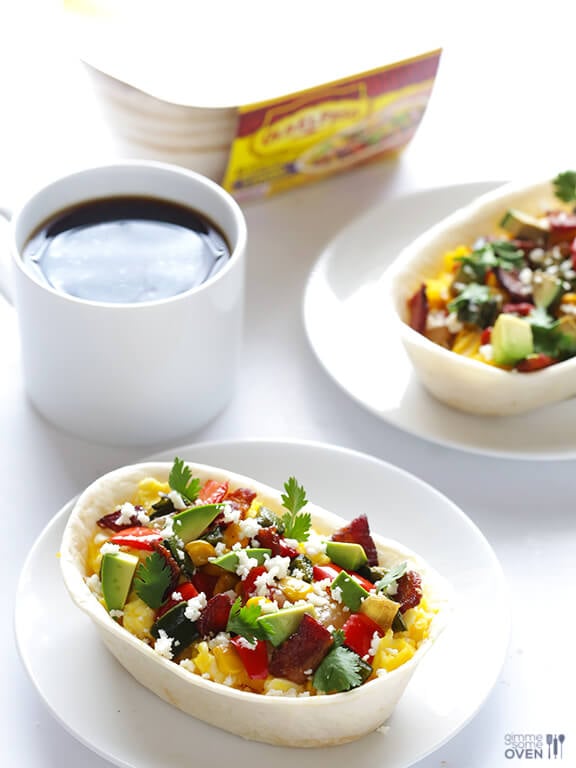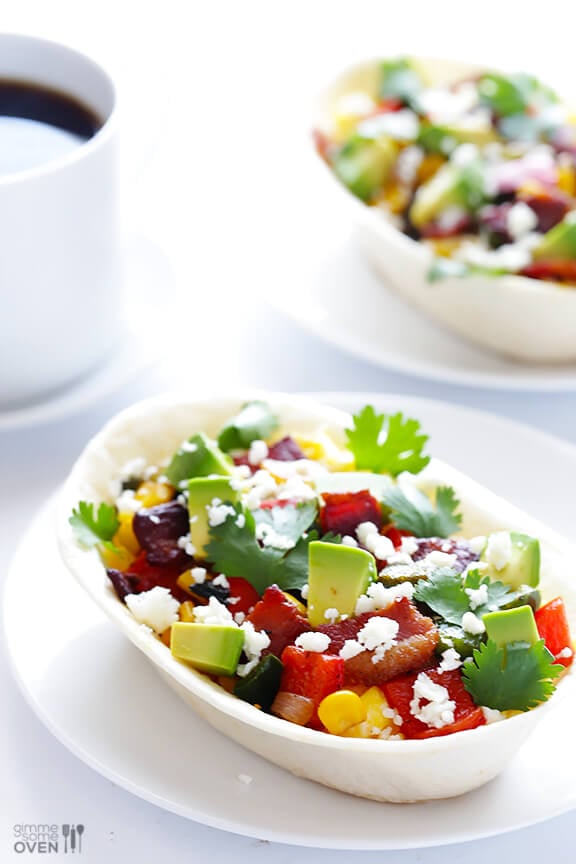 Bacon Breakfast Tacos
These bacon breakfast tacos pack lots of great flavors, lots of protein, and lots of healthy ingredients. And they are also a great breakfast you can take "to go"!
Ingredients:
4 slices thick-cut bacon, diced
1 small white onion, peeled and diced
1 poblano pepper, cored and diced
1 red bell pepper, cored and diced
½ cup whole-kernel corn
¼ teaspoon cumin
salt and pepper
8 eggs, whisked
2 tablespoons milk
4 Old El Paso Stand & Stuff Soft Flour Tortillas
1 avocado, peeled, pitted and diced
1/2 cup chopped fresh cilantro, loosely packed
¼ cup crumbled queso fresco or cotija cheese
Directions:
Saute diced bacon in a saute pan over medium-high heat until crispy, about 5 minutes, stirring occasionally. Transfer bacon to a separate plate using a slotted spoon. Reserve 1 tablespoon of the remaining bacon grease in the saute pan, and discard the rest.
Add onion, poblano, red bell and corn pepper to the pan. Sprinkle with cumin, and a generous pinch of salt and pepper, and stir to combine. Saute over medium-high heat for 5-7 minutes, or until the onion is soft and translucent. Transfer the mixture to a separate plate, and set aside. Rinse off the pan, then return pan to the heat.
Add the eggs and milk to the pan, and reduce heat to medium. Whisk to combine. Cook the eggs until scrambled, stirring occasionally, for about 3-4 minutes.
Remove pan from heat, and portion the eggs equally into the 4 flour tortillas. Top with a few spoonfuls of the onion mixture, then sprinkle with bacon, then top with avocado, cilantro and crumbled cheese. Serve immediately.
All images and text ©
If you make this recipe, be sure to snap a photo and hashtag it #gimmesomeoven. I'd love to see what you cook!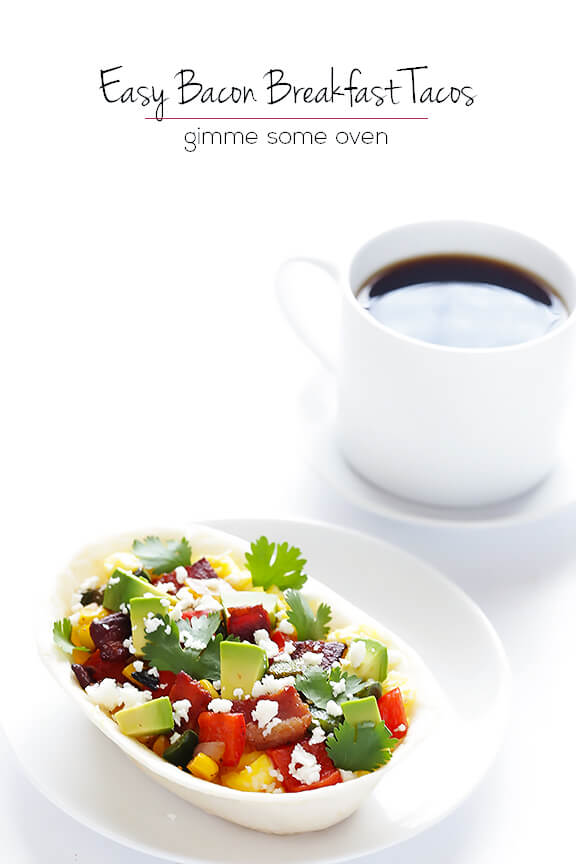 Disclaimer: This is a sponsored post.  I am partnering with Old El Paso this year for their Freshest Bloggers program, and have been compensated for my work, but all opinions are my own as always.  Thanks for supporting the brands which help make this site possible!