Bacon Cheddar Scones
Are you more of a sweet or savory person when it comes to brunch?
For the first thirty or so years of my life, I was firmly in the sweets camp.  The more French toast, cinnamon rolls, pancakes, parfaits, cereals, you name it…the merrier.  But in my early thirties, my body seemed to suddenly flip a switch and now all I crave in the mornings is savory, savory, savory.  Especially when I feel like actually cooking, and not just making avocado toast.  Quiches, breakfast tacos, hash browns, grain bowls, savory scones, and anything and everything egg-y are my jam.  (<– Hehe, or technically, my jam replacement.)
But that said, as much as I love a good savory brunch, I will still forever and always crave a strong cup of coffee and a cold glass of orange juice to balance them out.  Savory…then sweet…then savory…then sweet…the back-and-forth for me is where it's at.
And my latest new favorite sweet and savory combo?
These sunny bacon cheddar scones + a cold glass of orange juice.  ?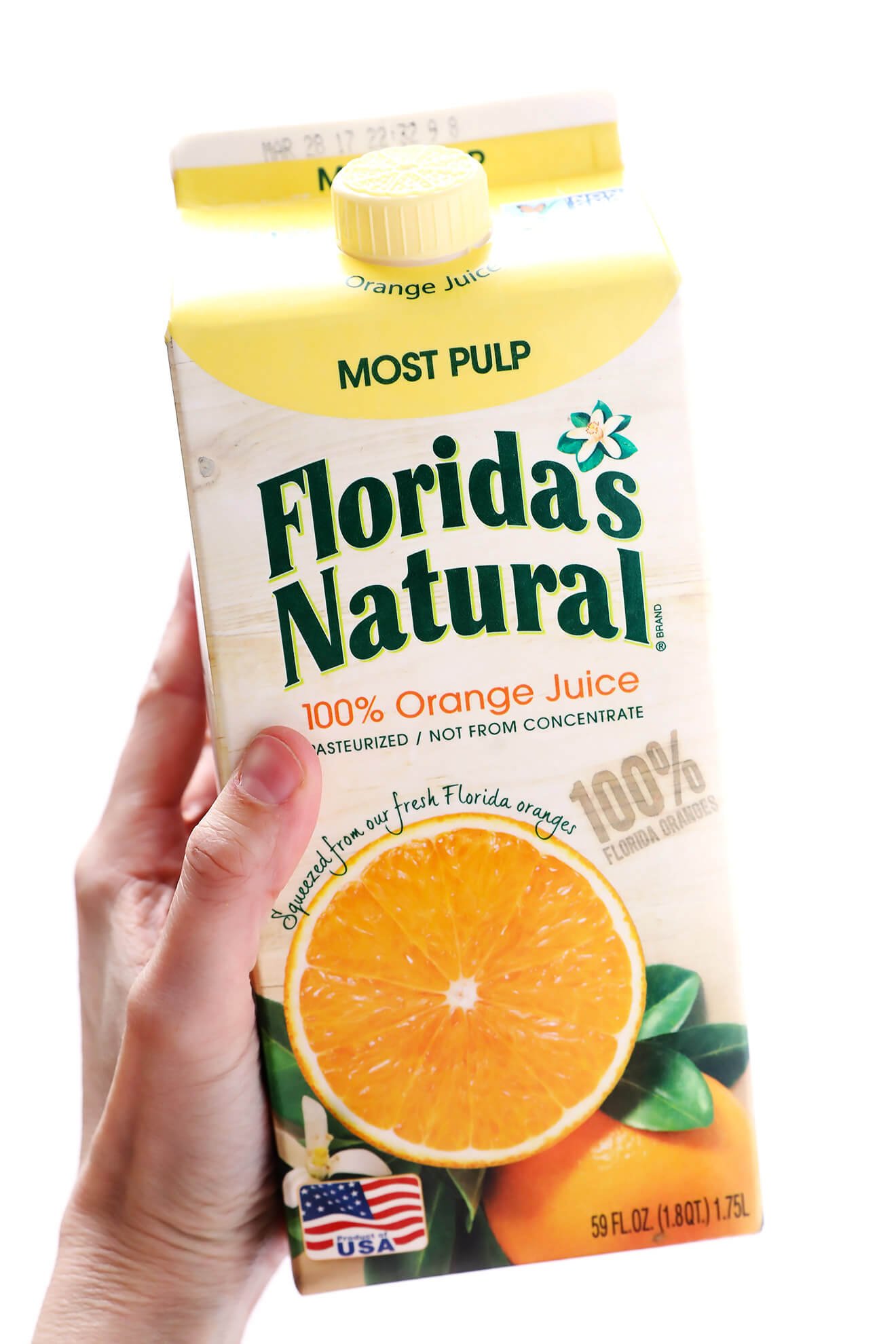 And when I say orange juice, I'm talkin' this stuff right here — not-from-concentrate Florida's Natural® Brand Orange Juice. (And yes, I fall in the "more-pulp-the-merrier" camp as well.)  I'm so excited to partner with this brand again in 2017 as part of their new Brunch Club, mostly because I've been a lifelong fan of their juice.  It's not-from-concentrate, and contains zero added water, sugars, or preservatives.  But mainly, I love their orange juices because they're all made from one simple ingredient — ORANGES.  Grown in Florida, of course, by hard-working Florida farmers.  (One of whom I even had the chance to meet — very inspiring!)
Anyway, I pretty much always have a carton of this orange juice in my fridge, and pour myself a small glass every morning to go with my coffee and breakfast.  And scones like these are the perfect kind of savory dish I love to balance out the sweet juice.
And bonus?  They're so simple to make!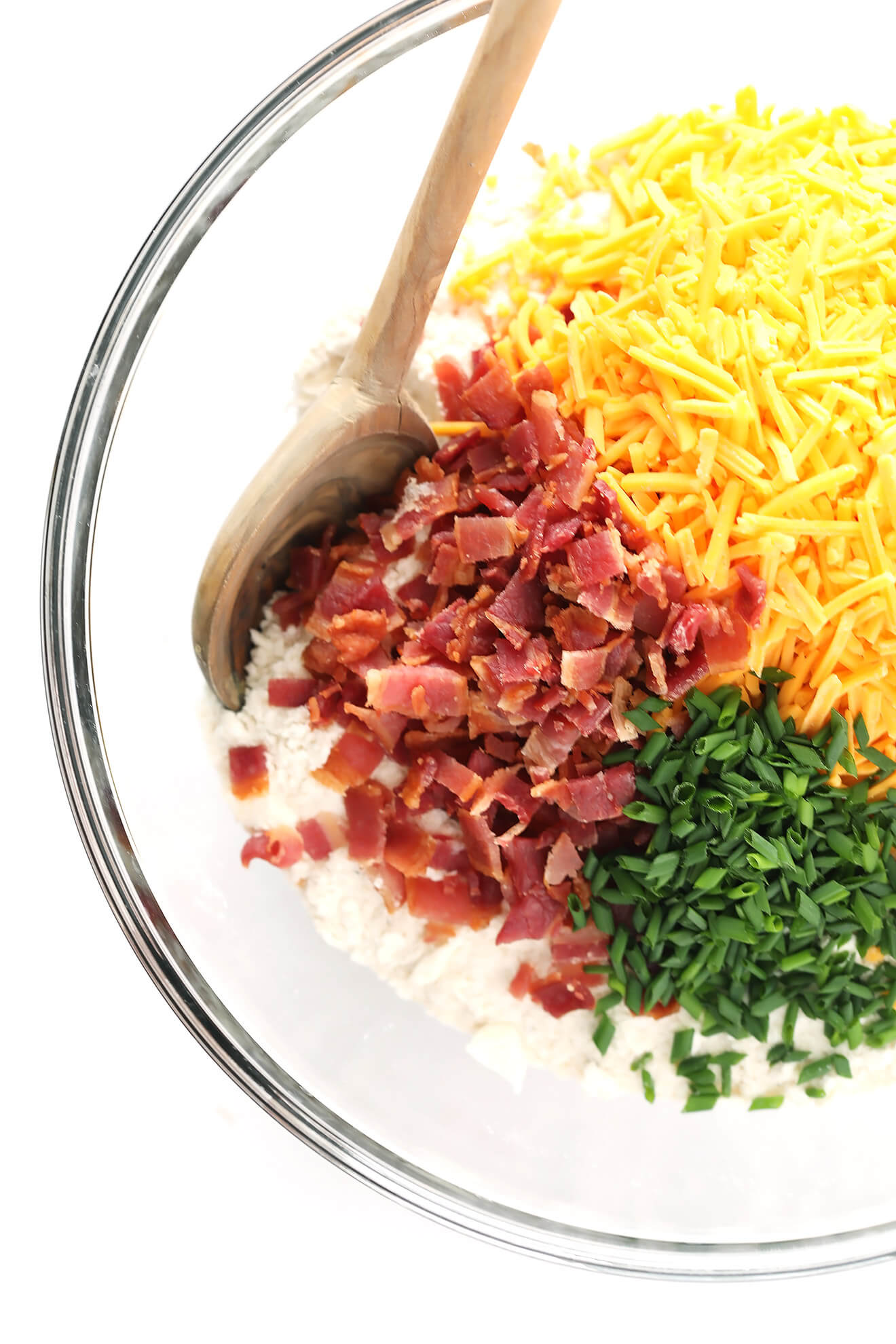 Just whip up a simple batter for scones, with a generous handful of cooked bacon bits, cheddar cheese, and green chives (or green onions) all mixed in.  Then give it a good knead until everything comes together, roll out the dough on a floured surface, and fold it over and re-roll it twice so that those biscuits will rise nice and high.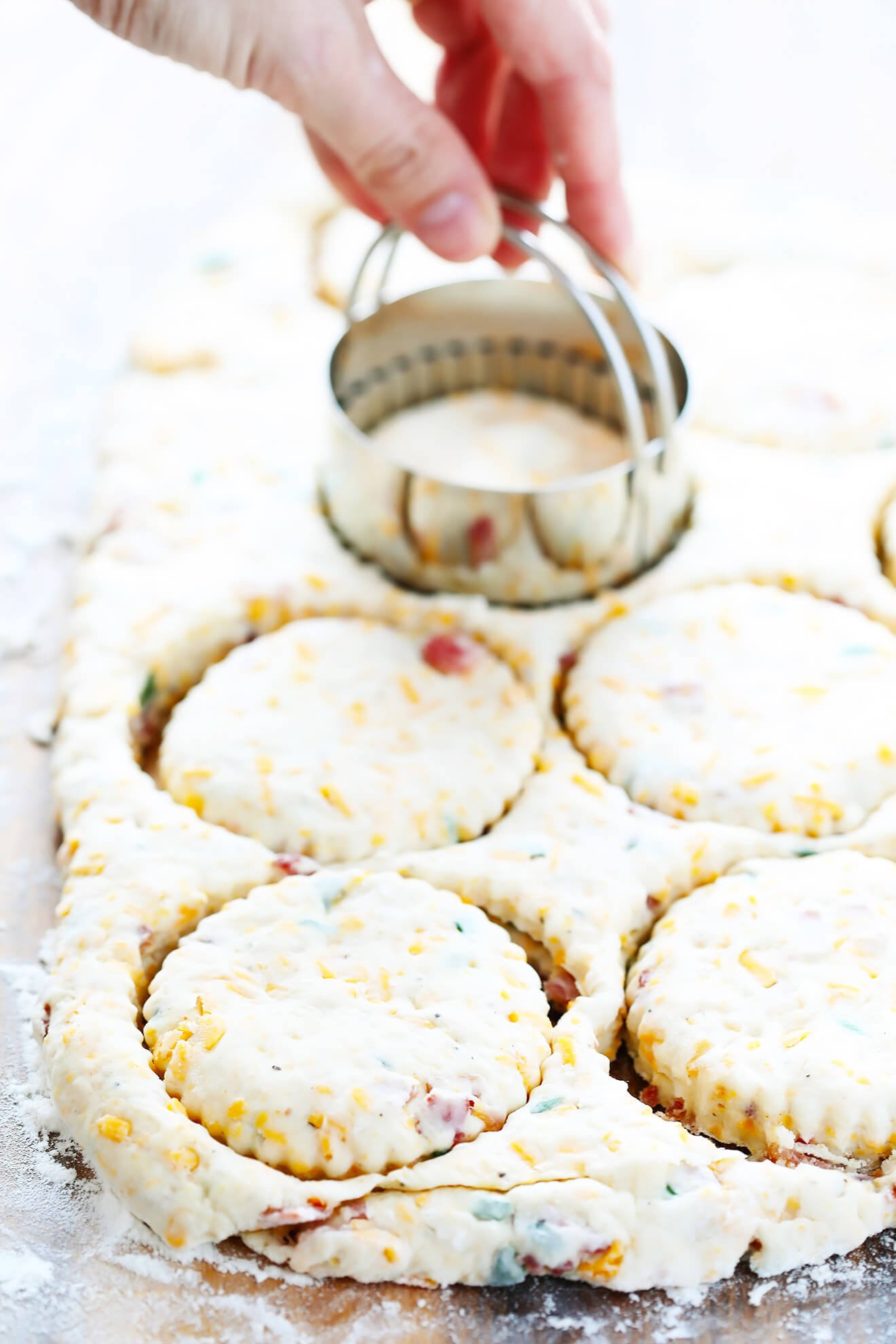 Then, you can use either a biscuit cutter to cut out individual scones.  OR you can roll out the dough into a large circle, and use a pizza cutter to cut it into triangle slices.  Up to you!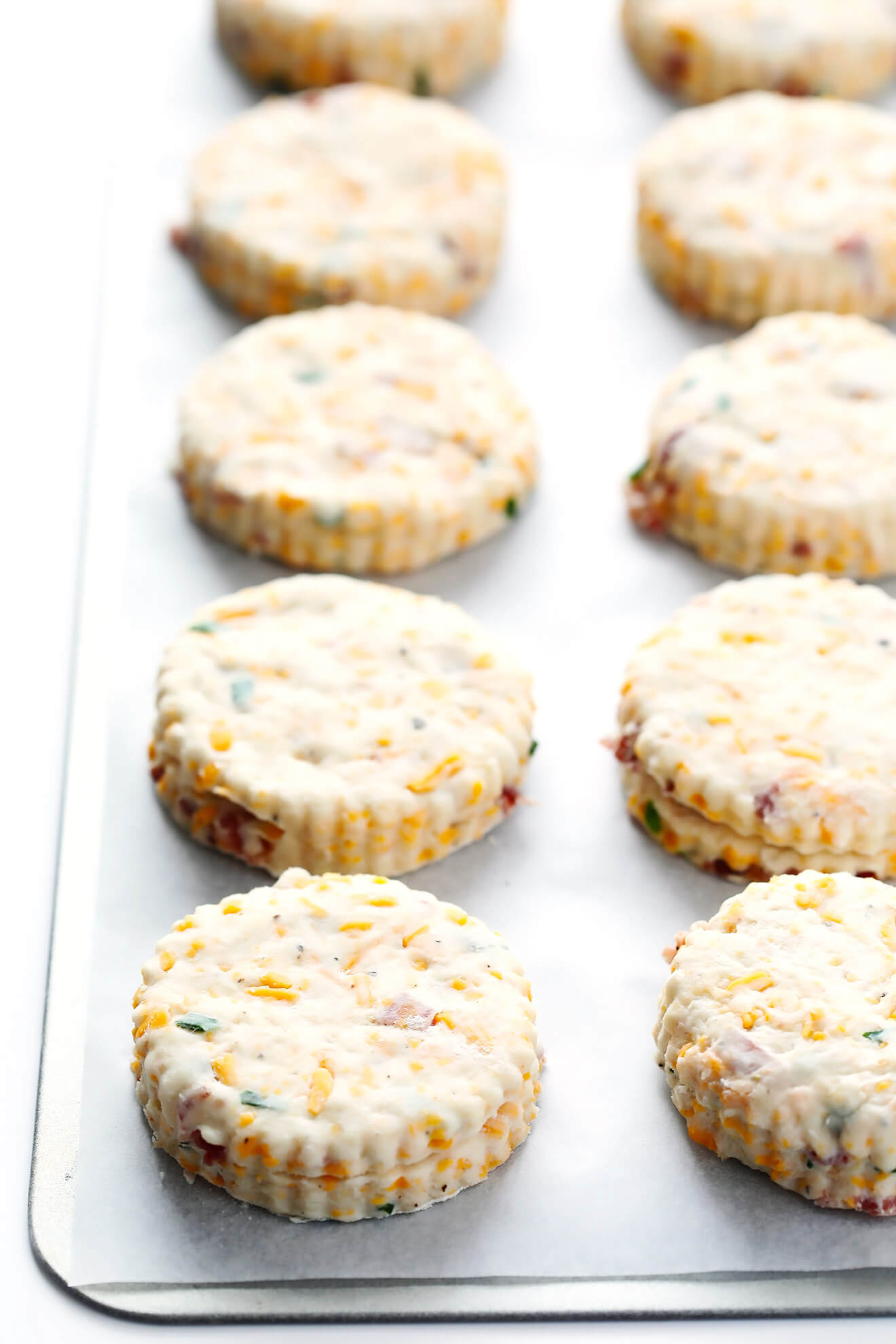 Brush the dough with an easy egg wash, if you'd like the tops to be extra crispy and golden.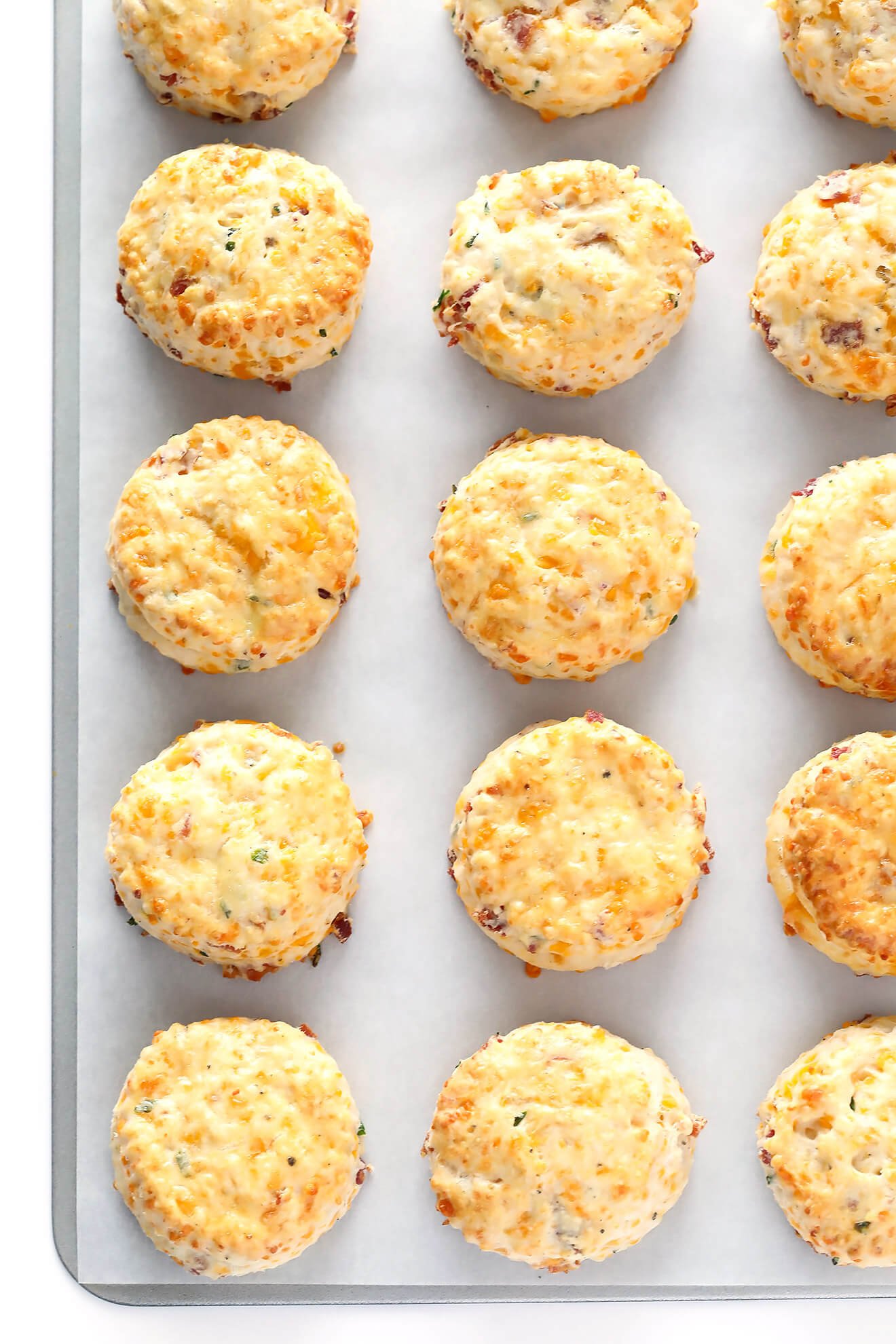 Then about 20 minutes later, these scrumptious savory scones will be yours to share and enjoy, with a cup of orange juice on the side!  Perfect for brunch with friends, or anytime you're ready for a comforting and delicious start to the day.
Enjoy, friends!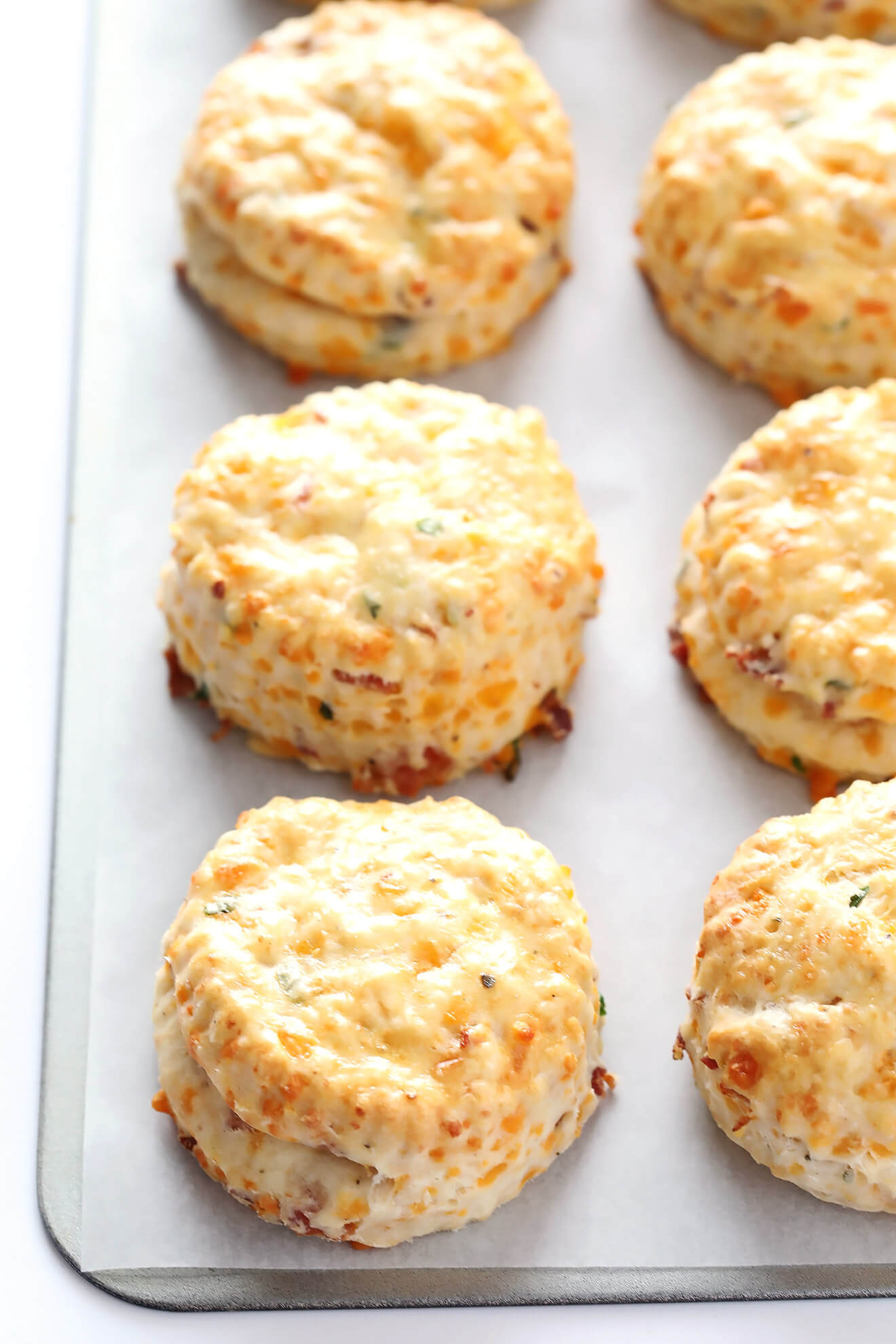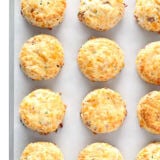 Bacon Cheddar Scones
These Bacon Cheddar Scones are full of big savory flavors, they're quick and easy to make, and SO delicious!
Ingredients:
3 cups all-purpose flour (or white whole wheat flour)
1 tablespoon baking powder
1 teaspoon salt
1/2 teaspoon freshly-ground black pepper
1/4 teaspoon garlic powder
pinch of cayenne
10 tablespoons cold butter, diced into 1/4-inch cubes
1 1/2 cups shredded sharp cheddar cheese
3 tablespoons chopped fresh chives
8 slices of thick-cut bacon, cooked and diced
1 cup + 2 tablespoons buttermilk
optional egg wash: 1 egg, 1 tablespoon water
Directions:
Preheat oven to 400°F.  Line a baking sheet with parchment paper, or grease with cooking spray.  Set aside.
In a large mixing bowl, whisk together flour, baking powder, salt, black pepper, garlic powder, and cayenne until combined.
Add the diced butter to the flour mixture, and use a fork (or your hands) to cut in the butter until the mixture resembles thick, coarse crumbs.
Stir in the cheese, chives and bacon until combined.  Then pour in the buttermilk, and knead the mixture with your hands until the dough is evenly combined.
Turn the dough out onto a floured surface, and use a rolling pin to roll it out until it is 1/2-inch thick.  Fold the dough in half horizontally, and then fold it in half again vertically (so that there are 4 layers in there).  Then roll the dough out again and roll until it is about 1/2-inch thick.  Use a biscuit cutter to cut out the biscuits (re-rolling the dough when necessary), and transfer them to the prepared baking sheet.
Optional: In a separate small bowl, whisk together the egg and water until combined.  Then brush the egg wash on top of the biscuits, so that the tops will be nice and golden.
Bake for 18-20 minutes, or until the biscuits are cooked through.
Serve warm, with a glass of not-from-concentrate Florida's Natural® Brand Orange Juice.
All images and text ©
If you make this recipe, be sure to snap a photo and hashtag it #gimmesomeoven. I'd love to see what you cook!
This post is sponsored by Florida's Natural Orange Juice, maker of my favorite orange juice.  Thanks for supporting the brands who help make this site possible!