Bacon & Jalapeno Stuffed Mushrooms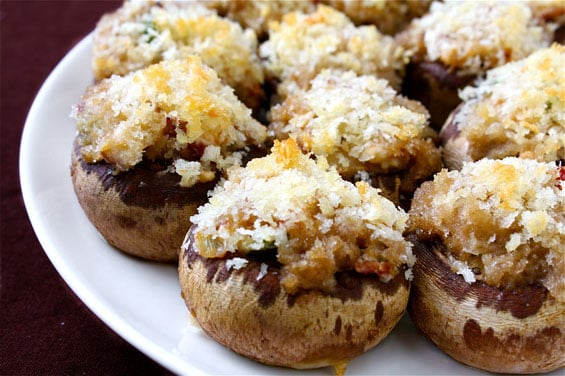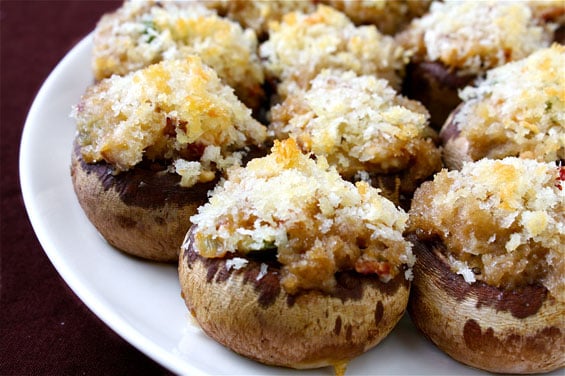 Up until about four years ago, I was anti-mushroom.  It's true.  Picked them off my pizzas, avoided them in salad bars, and even (gasp!) passed by any stuffed mushrooms at parties.  I know.  In the words of my mother, I of course "didn't know what I was missing"…  :)
Thankfully, though, an accidental bite of a delicious portabello mushroom (mistaken as a strip of steak) changed that all a few years ago.  Tried it.  Loved it.  And now still can't seem to get enough of them!  I suppose I'm making up for lost time…
Anyway, I absolutely love making stuffed mushrooms as appetizers.  Most often I love experimenting with more unusual ingredients in them.  But over Christmas, ended up trying this simple recipe for a party I was hosting, and fell in love with it.  The bacon and jalapeno mixture is fantastic as always, but the yummy panko topping totally sends them over the edge.  People go crazy for them!
So if you're looking for an easy appetizer with common ingredients, add this to your must-try list!  They will not disappoint.  :)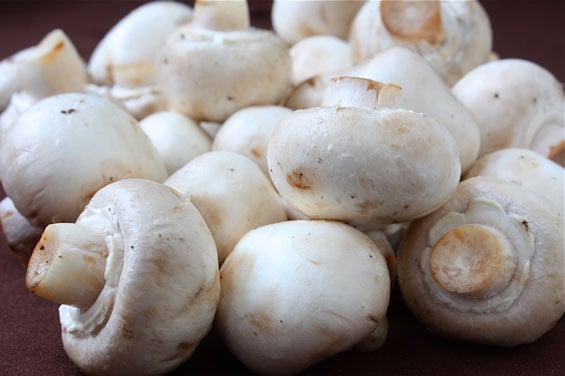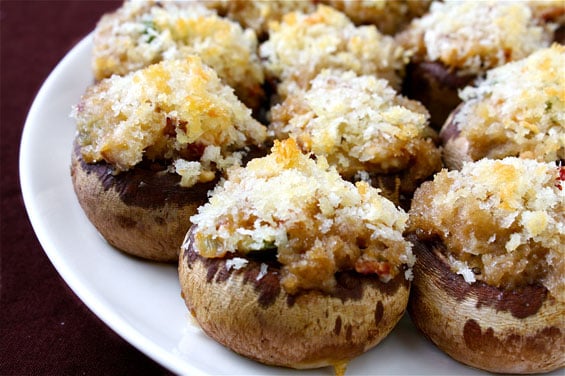 Bacon & Jalapeño Stuffed Mushrooms
This Bacon & Jalapeno Stuffed Mushrooms recipe is so good it will seem to disappear instantly! An absolutely delicious crowd-pleasing dish. You"ll love it!
Ingredients:
1/3 cup Panko bread crumbs (or regular bread crumbs)
1 Tbsp. butter, melted
1 lb. large button mushrooms
3 strips thick cut bacon, diced
1 jalapeno, minced
1/4 cup chopped yellow onion
2 cloves garlic, minced
1 oz. cream cheese (a quarter of a block)
1/3 cup shredded Monterrey Jack cheese (or other favorite cheese)
salt and pepper
Directions:
Heat oven to 350 degrees.
Begin by preparing the Panko topping. In a small bowl combine the panko bread crumbs with the melted butter. Toss until evenly coated. Set aside.
Carefully clean and stem the mushrooms. Set the caps on a small baking sheet. Chop half of the stems (we won't use the other half) and set aside.
In a small pan over medium heat cook the chopped bacon until crisp. Add the chopped onion, jalapeno, garlic and mushroom stems and cook until softened, about five minutes. Season with salt and pepper to taste. Set aside to cool slightly.
In a medium bowl, stir the shredded cheese with the cream cheese until well combined. Add the warm vegetable mixture and mix well.
Divide the filling evenly between the mushrooms. Top with the buttered Panko mixture. Bake for 20 minutes, or until the mushrooms are tender and the topping is golden brown. Serve warm.
If you make this recipe, be sure to snap a photo and hashtag it #gimmesomeoven. I'd love to see what you cook!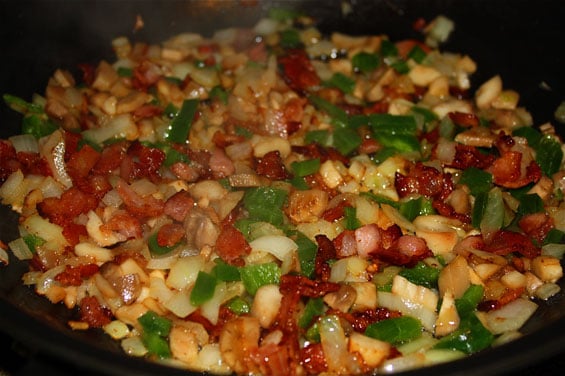 Ali's Tip:
If your mushrooms aren't huge and you end up having some leftover filling (like I did!), some other ideas for putting it to use might include:
topping for a baked potato or two (plus cheese!)
using it to fill a tortilla (plus cheese!) for a quesadilla
mixing it with a little more cream cheese and Monterrey Jay to make a dip