Baked Chicken Breasts
My all-time favorite oven baked chicken breasts recipe!  It never fails me, thanks to this simple 5-step method.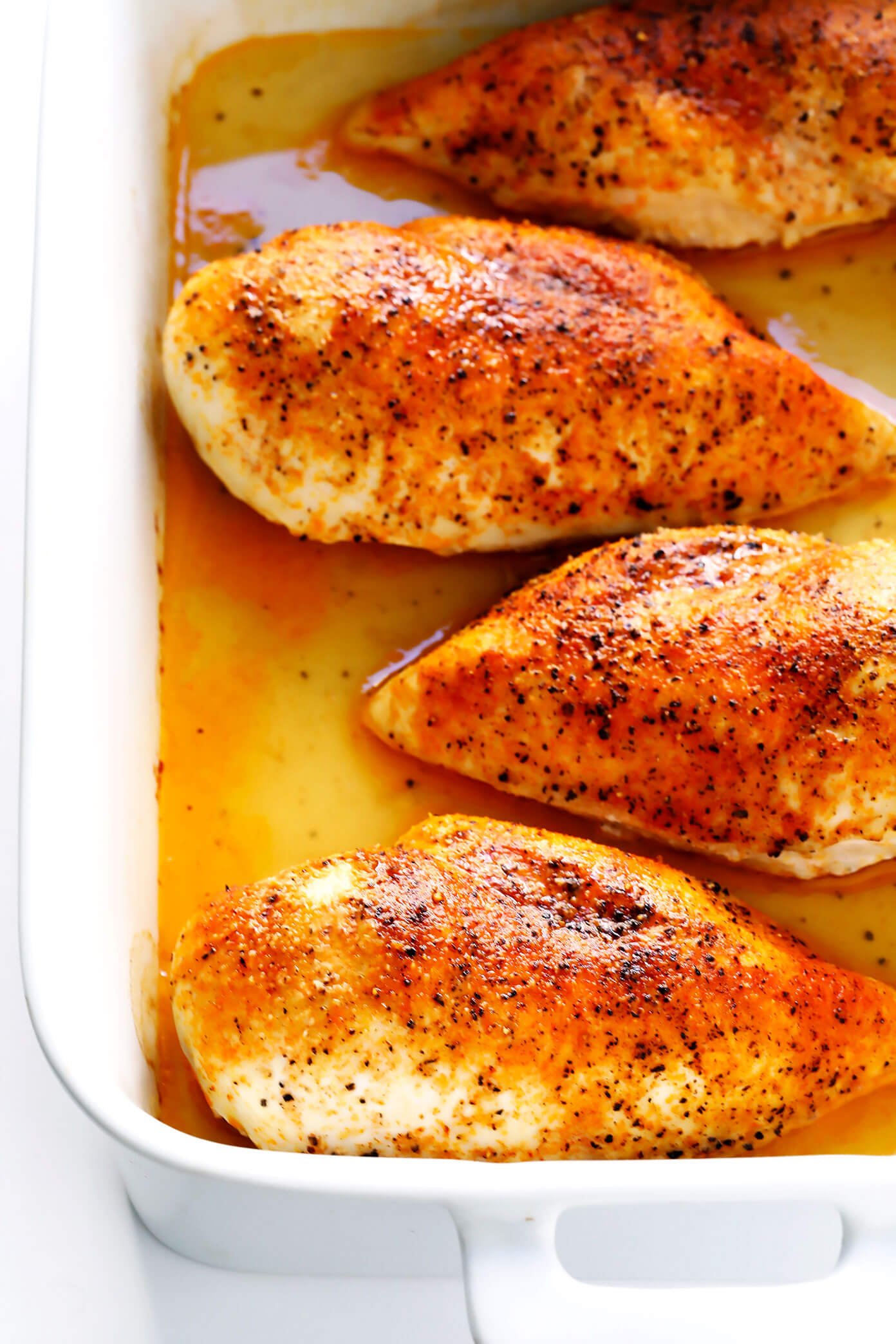 Every time we do a survey on the blog and ask what kinds of new recipes readers would like to see, the #1 request is always the same:
Chicken.
Specifically, recipe that call for boneless skinless chicken breasts.
Not thighs, not legs, not wings, all of which I personally happen to also love.  Nope, everyone seems to be interested in the lean white meat that comes with chicken breasts, and all the better when you don't have to mess with any skin or bones.  Plus, as lean proteins go, chicken breasts are pretty affordable.  They also extremely versatile to work with.  And — let's be real — you can make chicken taste like just about anything you like!
That said, anyone who has baked chicken breasts before will tell you that they can be annoyingly finicky to work with, especially when baked in the oven.  Cook them the wrong way and you'll end up with a dry, rubbery, tough, and flavorless disaster.  But cooked the right way?!  We're talkin' juicy, tender, flavorful, perfectly baked chicken breasts.
Let's make some!
Baked Chicken Breasts Recipe | 1-Minute Video
The Secret To Perfect Oven Baked Chicken Breasts
Everyone out there seems to have an opinion about how to make perfectly roasted chicken breasts.  But I thought I'd go on record today and share with you my favorite way for baking up my favorite bird.  It's incredible easy, it requires minimal prep, and it is absolutely foolproof (at least in my experience) for making juicy chicken breasts that you can either serve plain, cut up into strips, or shred for your favorite meal.  And — pro tip — these baked chicken breasts are also freezer-friendly, so go ahead and bake up a double batch to have leftovers for later!
All you need to remember is this simple 5-step acronym for making perfectly cooked chicken bbrrreasts: B.B.R.R.R.
Brine
Brush
Rub
Roast
Rest
Step 1: Brine The Chicken Breasts
Many people are in the habit of brining a turkey for Thanksgiving, but have never considered brining chicken breasts on a regular ol' weeknight.  I'm telling you — this step is an absolute must for anytime you want to bake chicken breasts in the oven.  Brining chicken is super easy, it makes your chicken extra juicy and moist (yes, I used the "m" word), and — best of all! — it can be effectively done in just 15 minutes.  Plus if you brine chicken in lukewarm water, it also helps bring the chicken to room temperature, which makes for more even cooking.
To brine chicken, simply fill a big bowl with warm (not hot) water.  Stir in a handful of salt until it mostly dissolves.  Then add your chicken breasts and let them sit in the saltwater to brine for at least 15 minutes.  If you are doing this in advance, you can cover and refrigerate the bowl of chicken and saltwater for up to 6 hours.  But you really don't want to let the chicken brine for much longer than that.
Then when you're ready to go, remove the chicken from the brine, rinse it with cold water, then pat it dry with some paper towels.  Again, don't skip this step!!!  You'll be amazed at the difference.
Edited: As it turns out, some store-bought chicken breasts are now sold pre-brined.  So double-check your packaging before doing this step.  If your chicken has already been pre-brined in a sodium solution, just move onto step two.  :)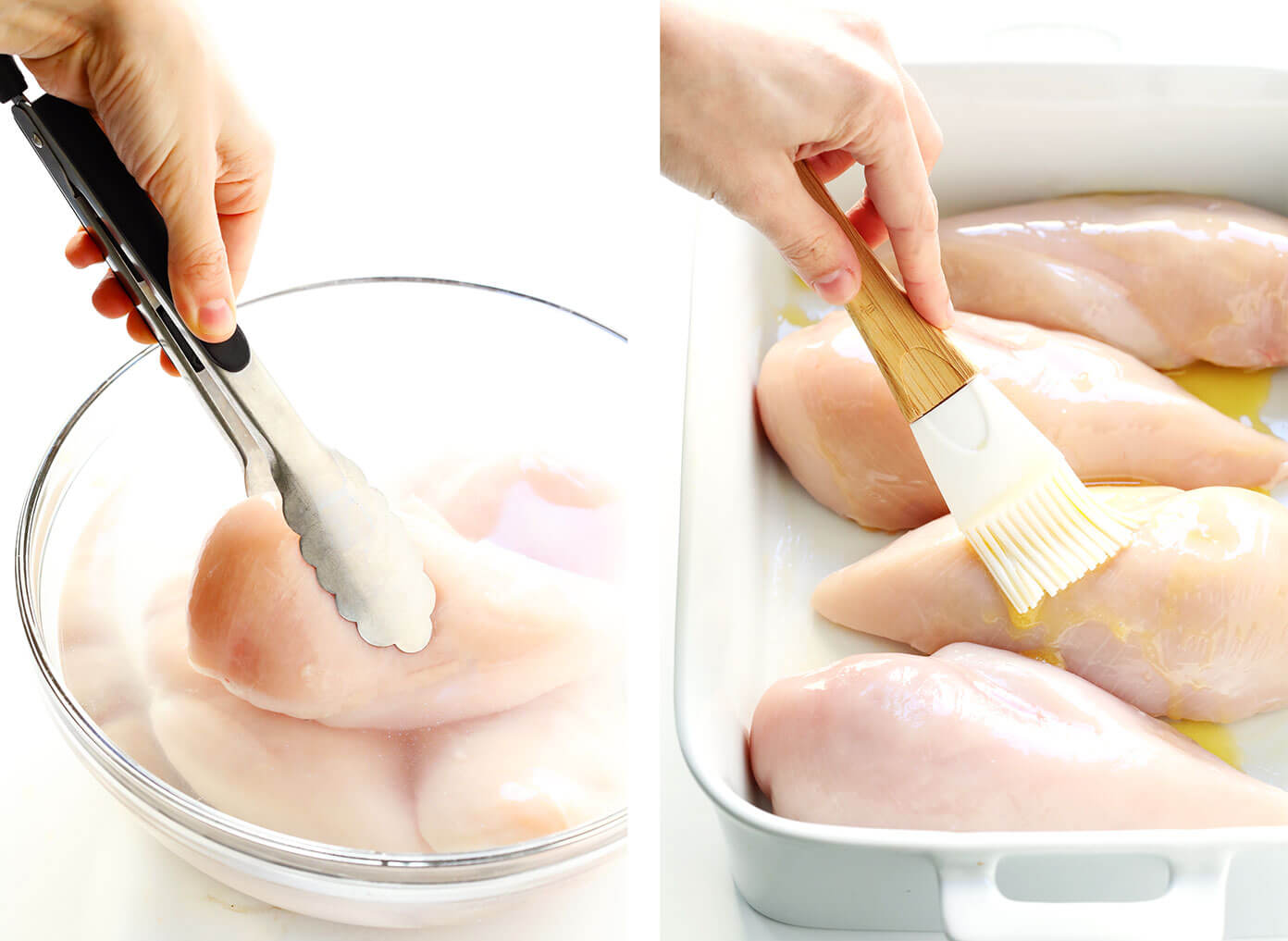 Step 2: Brush The Chicken Breasts
…with melted butter.  Or at least, I highly recommend using butter.  It adds great flavor and helps give a nice golden crust on the outside.  But if you'd rather use olive oil (or another favorite cooking oil), feel free.  Brush the breasts liberally on both sides, partly so that the chicken does not stick to the pan on the bottom, and also to help the seasonings stick.  Then place them in a large baking dish (affiliate link).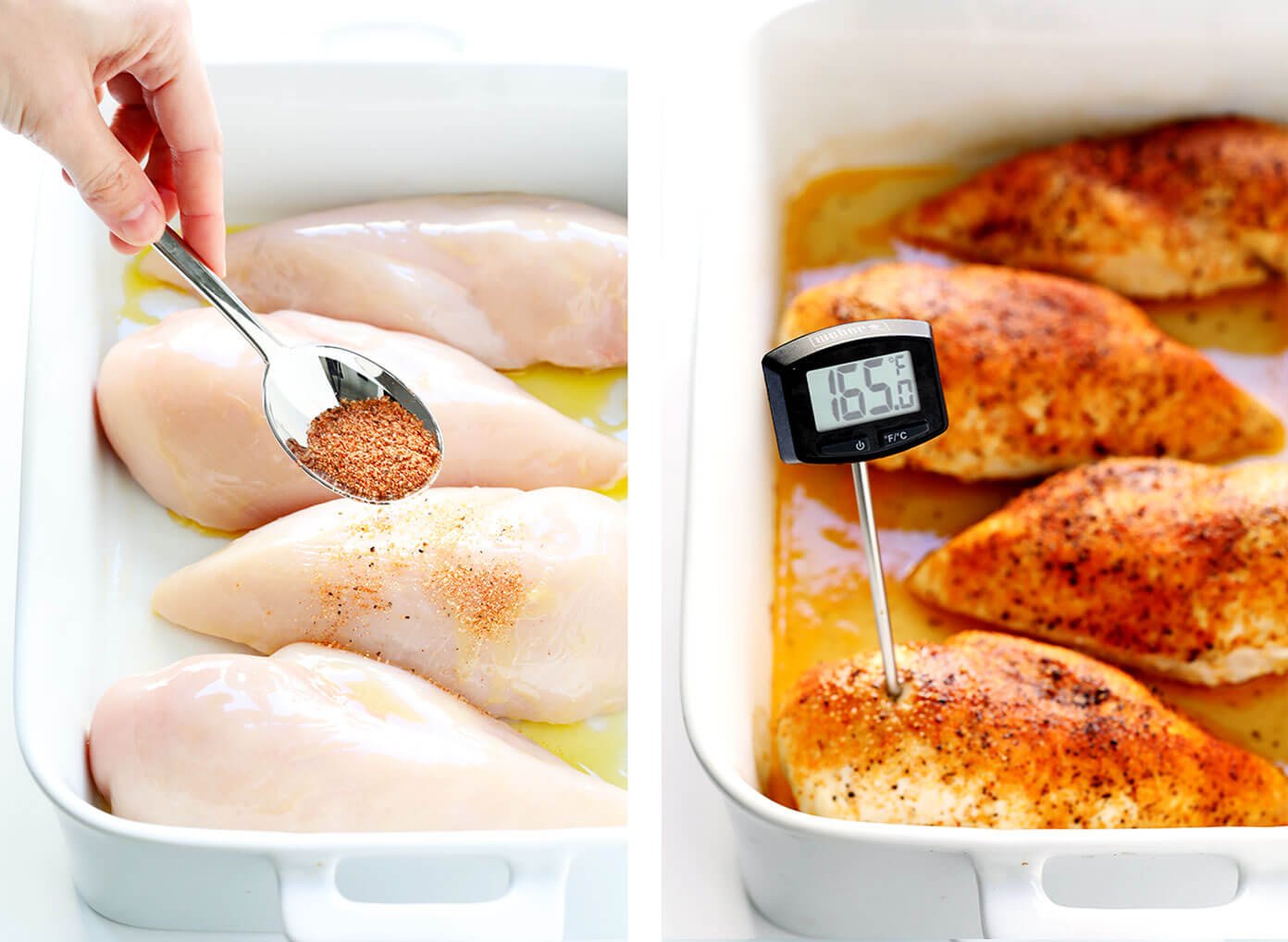 Step 3: Rub Chicken Breasts With Your Desired Seasoning
If you're really wanting to keep things simple, you can simply rub on some salt and pepper.  But again, chicken will pick up the flavor of whatever seasonings you add.  So even if it's just a simple dish that calls for "plain" chicken breasts, I highly recommend the simple chicken seasoning recipe I have included below that includes salt, pepper, garlic powder and paprika.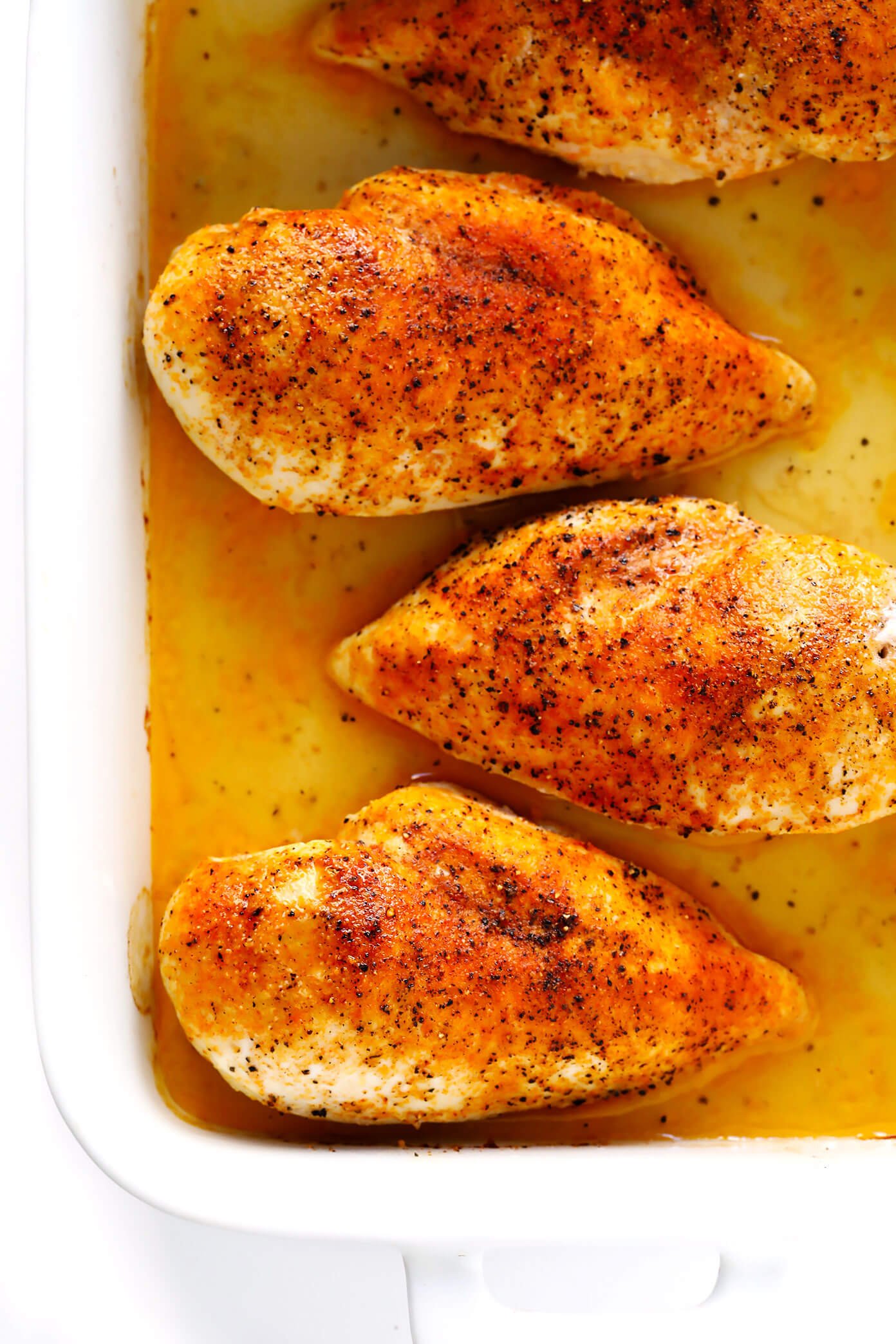 Step 4: Roast That Chicken!
So this is the step that causes some disagreement amongst chicken lovers — what temperature and how long to bake chicken breasts.  Do you bake your chicken low and slow (as in, 30 minutes at 350)?  Or do you roast chicken high and quick (as in, 15 minutes at 450)?  I have tried both — and just about every interval in between — dozens upon dozens upon dozens of times.  And after testing, I fall firmly in the latter camp when it comes to baked chicken.
I like to roast my chicken breasts on high heat. 🔥
Depending on the thickness of your chicken breasts (pro tip — be sure to pound them beforehand if needed with a meat mallet so that they are uniformly thick for even cooking), roasting chicken at 450°F should require a cooking time between 15-18 minutes.  It's speedy and it's easy.  But I love it most because cooking at high heat quickly develops a nice crispier "crust" on the outside of the breasts, which also locks in those juices and keeps the oven roasted chicken perfectly tender on the inside.  It's the best of both worlds.
I highly recommend investing in a small cooking thermometer to measure the cooked chicken temp in order to tell if it has fully cooked (160-170 degrees F), versus cutting into it with a fork (which lets those good juices seep out).  I use this instant-read thermometer (affiliate link) that I bought on Amazon for $15, and it will accurately measure your internal chicken temperature in seconds.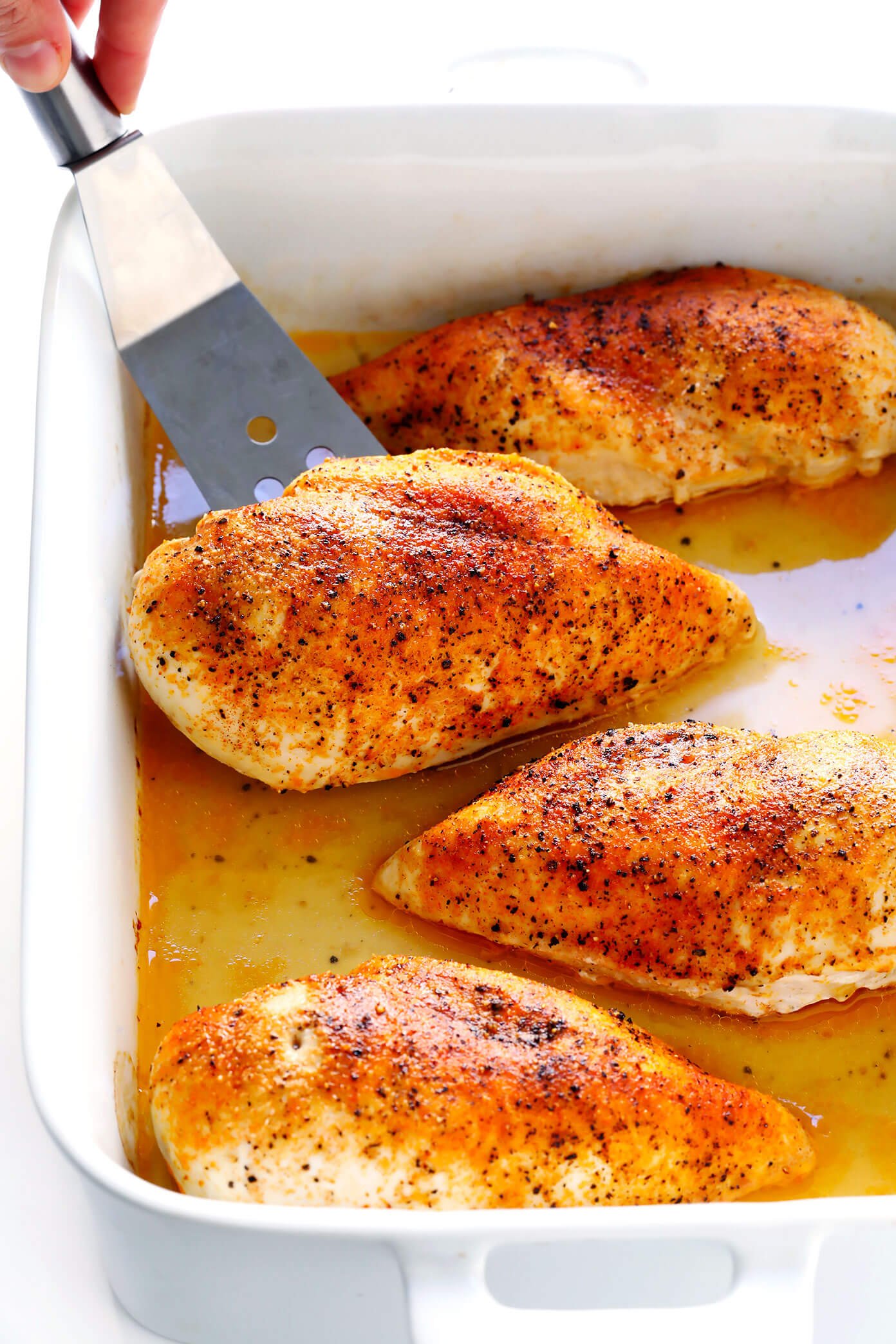 5. Rest Your Baked Chicken Breasts
And this is where that "patience is a virtue" stuff comes in.  You must, must, must let your beautifully baked chicken breasts rest before cutting into them.  This goes for any meat, really.  If you cut in right away, you lose all of the amazing juices and some of the tenderness that we're going for!
Instead, give the bird a rest so that it can finish cooking and soak back up all of those juices.  I recommend loosely tenting a sheet of aluminum foil over the pan to keep the heat in while the chicken rests.
Then after 5-10 minutes, you can finally serve and enjoy your perfectly-cooked chicken breasts.
And enjoy every last bite. ♡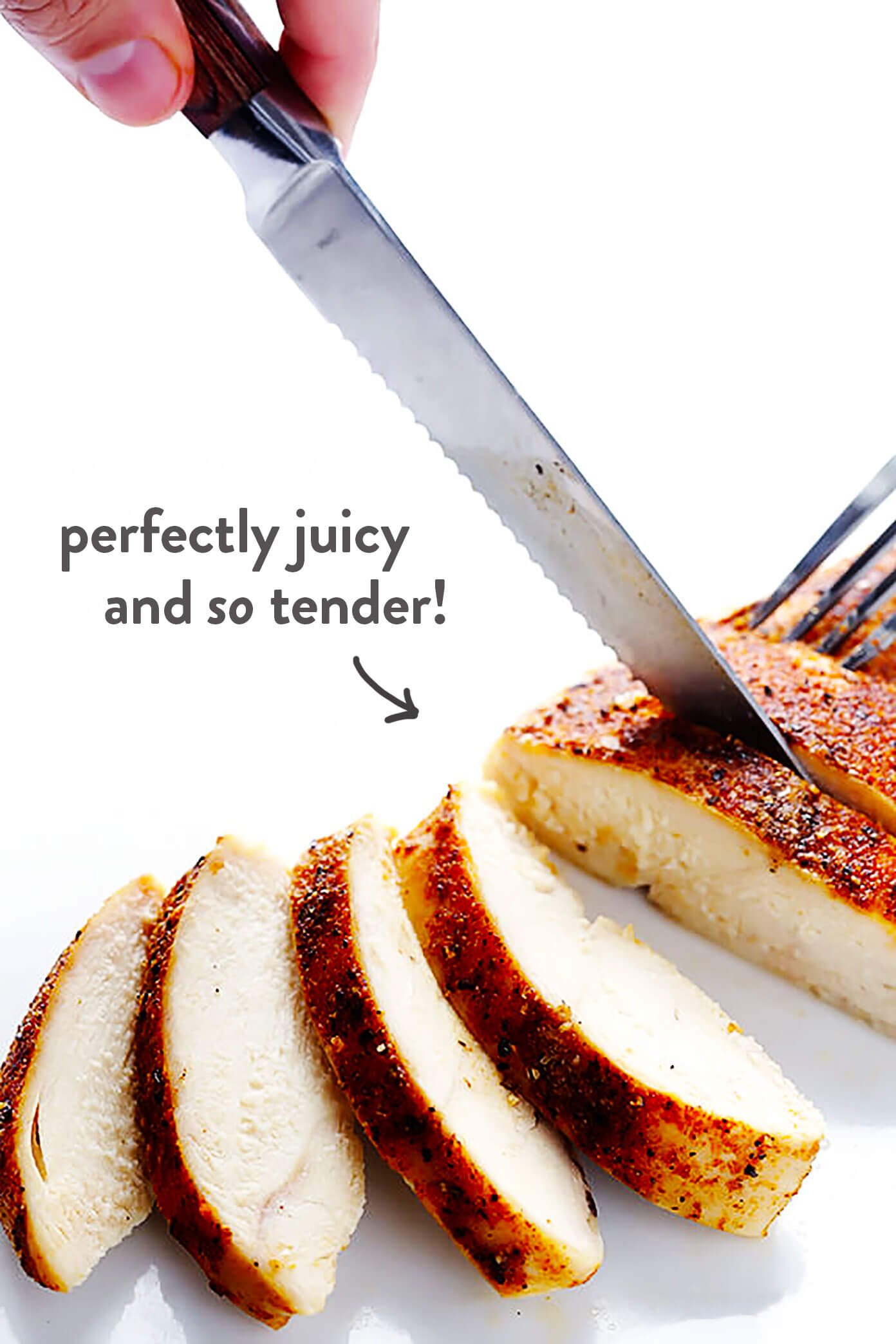 Ways To Use/Serve Baked Chicken Breasts:
The easiest way, of course, is just to serve these roasted chicken breasts fresh outta the oven.  But feel free to also slice, shred, or dice these oven baked chicken breasts for use in another recipe, such as these faves:
Or if you'd like to save them for later, these baked chicken breasts can also be refrigerated in a sealed container for up to 3 days, or frozen (I recommend shredding, dicing, or slicing the chicken beforehand) for up to 3 months.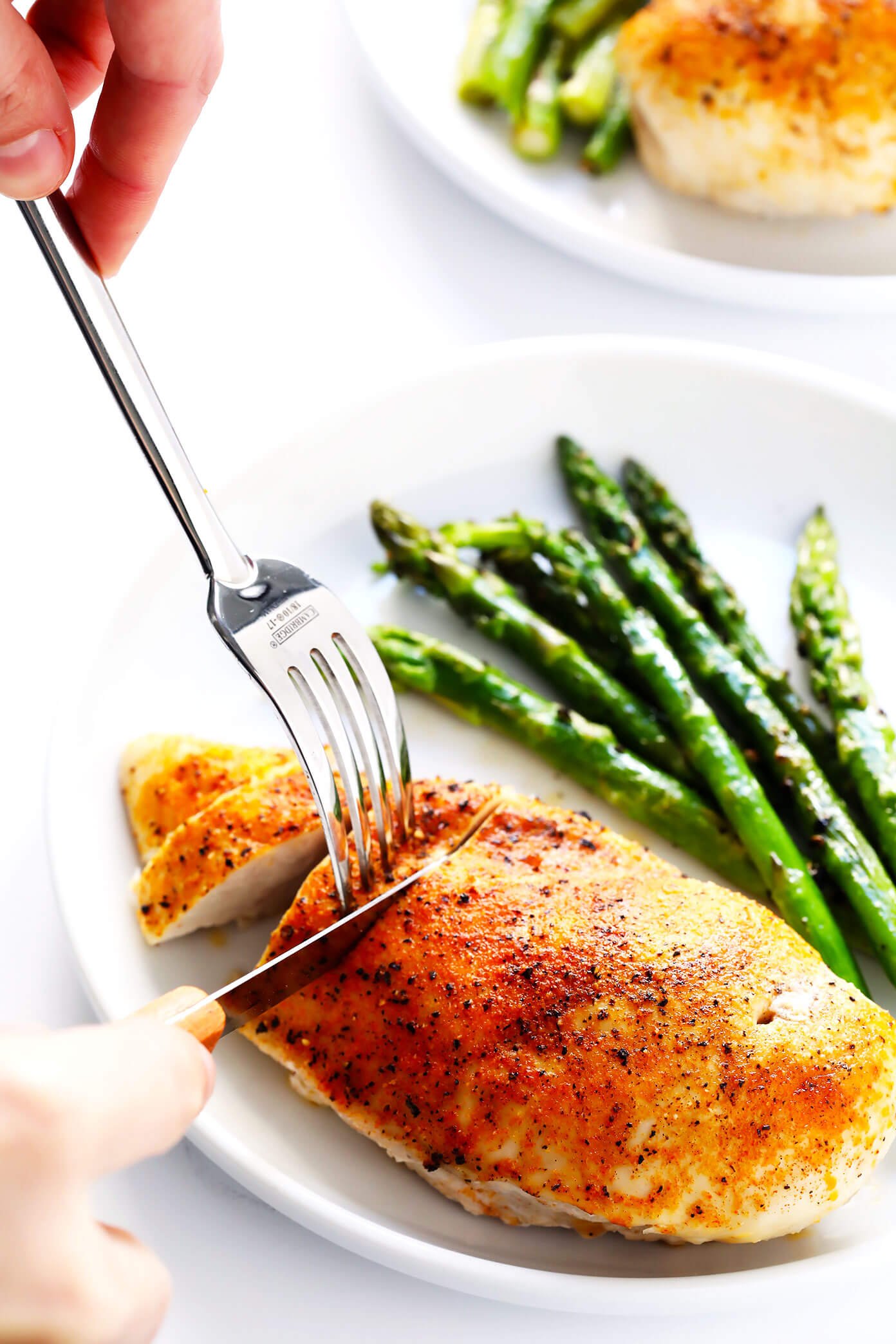 Side Dish Recipe Ideas:
Looking for some side dishes to serve with this baked chicken recipe?  Here are a few of my faves:
Enjoy, everyone!
This post contains affiliate links.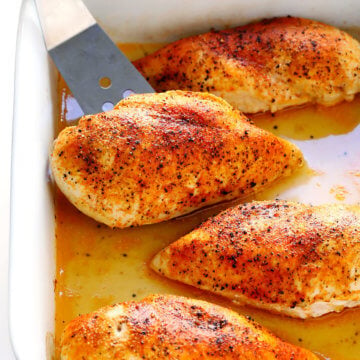 Baked Chicken Breasts
Learn how to make juicy, tender, delicious baked chicken breasts with this easy foolproof recipe.
Ingredients:
Baked Chicken Breast Ingredients:
4 boneless skinless chicken breasts, pounded to even thickness and brined in saltwater (*see easy instructions below)
1 Tablespoon melted butter or olive oil
1 teaspoon kosher salt
1/2 teaspoon freshly-cracked black pepper
1/2 teaspoon garlic powder
1/2 teaspoon paprika (I prefer smoked paprika)
Directions:
*To brine your chicken breasts, simply fill a large bowl with 1 quart of warm water and 1/4 cup kosher salt.  Stir to combine until most of the salt is absorbed.  Add the chicken breasts and let them sit in the mixture to brine for 15 minutes.  Or you can also also cover the bowl and refrigerate for up to 6 hours.  Remove the chicken breasts from the brine, rinse them with cold water, then pat them dry with some paper towels.  (Again, though, if your chicken breasts are sold pre-brined in a sodium solution, skip this step.)
Preheat oven to 450°F.
Place the chicken breasts in a single layer in a large baking dish.  Brush on both sides (turning once) evenly with the melted butter or olive oil.
In a separate small bowl, whisk the salt, pepper, garlic powder and paprika until combined.  Then sprinkle the mixture evenly over the chicken on both sides.
Bake for 15-18* minutes, or until the chicken is cooked through and no longer pink.  If you use a cooking thermometer to measure the temperature thickest part of the breast, it should be between 160-170°F.  (The FDA recommends 165°F.)
*Or, if you want the chicken to be a little bit browned and crispier on top, you can turn the broiler on high for the final 3-5 minutes and broil the chicken until it is cooked through and extra browned on top.  Keep a close eye on the chicken so that it does not overcook and/or burn.
Once the chicken is cooked, remove the pan from the oven and loosely cover the pan with aluminum foil.  Let the chicken rest for at least 5-10 minutes.  Then serve immediately.
Or, refrigerate in a sealed container for up to 3 days, or freeze for up to 3 months.
All images and text ©
If you make this recipe, be sure to snap a photo and hashtag it #gimmesomeoven. I'd love to see what you cook!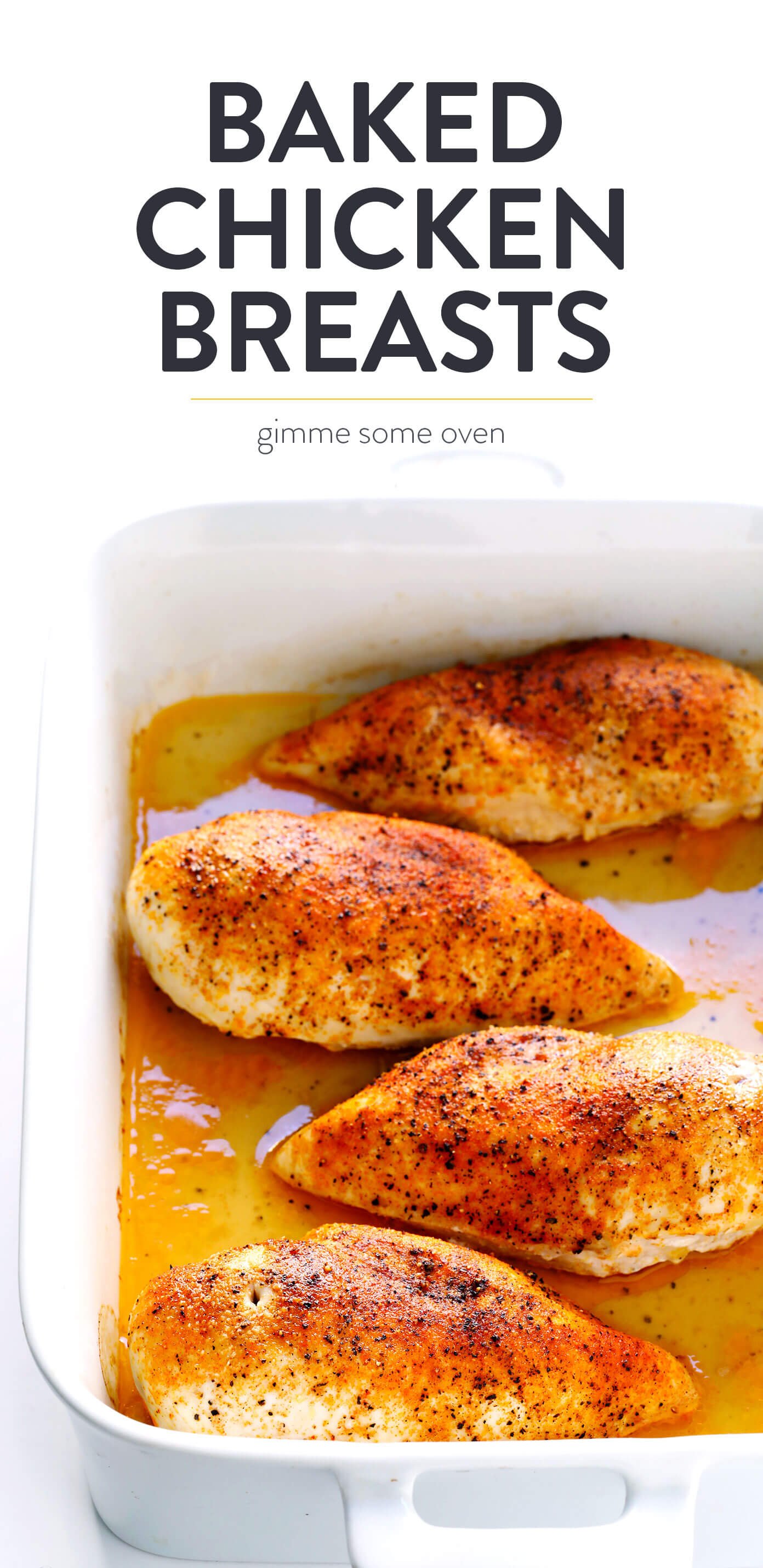 Also, if you're interested in a lemony twist on this recipe, check out this Baked Lemon Chicken.  Or check out our new post (below) for 5 Easy Chicken Marinades!