Baked Panko-Crusted Chicken Tenders with Honey-BBQ Dipping Sauce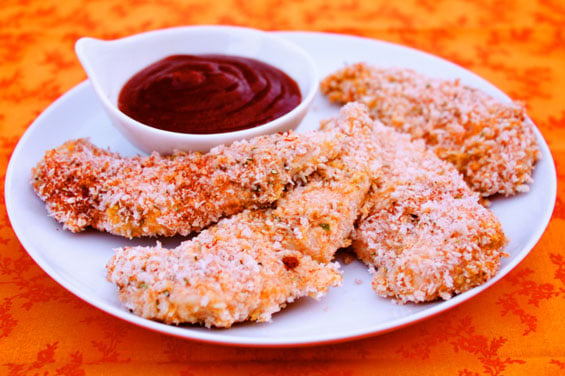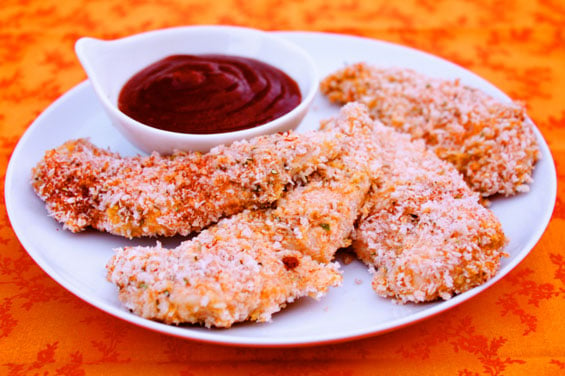 There are breadcrumbs…
And then there are Panko.  :) Mmmm…how I love these fabulously crispy and light Japanese breadcrumbs.  I honestly don't know how Americans missed out on them for so long.  They do wonders with adding great crunch and texture…especially to baked foods!
So this week decided to make use of the unopened bag in my pantry and make some classic baked chicken fingers.  This recipe is definitely one of my favorites.  It's full of subtle flavor, and is relatively quick to throw together.  And being that I live in Kansas City – land of all things BBQ – thought I'd be a good little citizen and whip up a simple honey-barbecue sauce to go along with.  But I've also included some other quick homemade sauce recipes below.
These are definitely "classic" for a reason!  Kiddos love them, and adults can love them even more knowing that they're b-a-k-e-d!  :)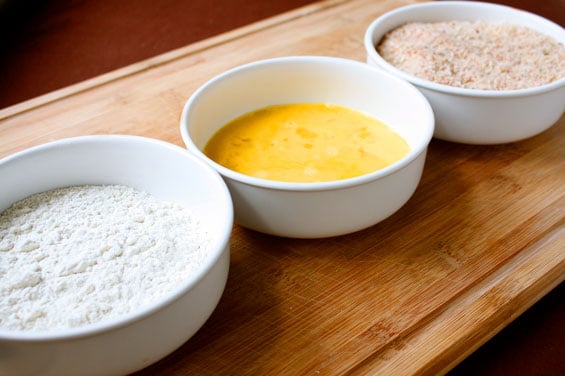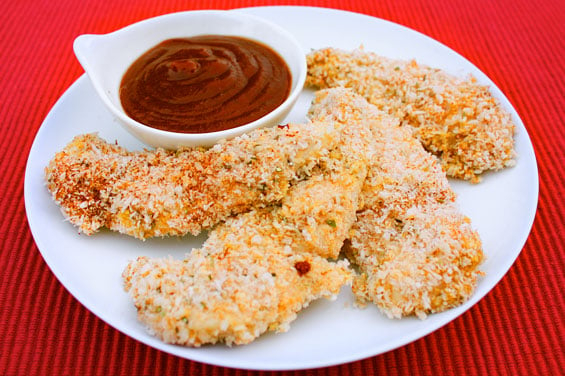 Baked Panko-Crusted Chicken Tenders with Honey-BBQ Dipping Sauce
You won't believe the delicious flavor and crunch of these yummy chicken tenders…and they're not even fried! Detailed recipe and photos included.
Ingredients:
1 1/2 lbs boneless skinless chicken breasts or breast tenders
1 1/2 cups panko breadcrumbs
1 tsp. oregano
2 tsp. garlic powder
1 tsp. smoked paprika
1/2 tsp. cayenne
1/2 tsp. kosher salt
Honey-Barbecue Dipping Sauce:
1/2 cup favorite barbecue sauce
3 Tbsp. honey
1/2 teaspoon freshly ground black pepper
2 eggs
1/2 cup flour
Directions:
Preheat oven to 350F. Prepare a baking sheet by covering it with foil and lightly spraying with cooking spray. Set aside.
In a small bowl or shallow dish, season the flour with salt and black pepper, and lightly beat the eggs in another shallow dish. In a third shallow dish, combine panko breadcrumbs with oregano, garlic, paprika, cayenne, salt, and pepper.
If using chicken breasts, prepare by putting one breast in between two layers of plastic wrap. Pound to an even thickness of approximately 1/2″. Remove plastic and slice into strips.
Dredge tenders in the flour to coat, shaking off any excess flour. Dip the floured chicken tenders into the egg and then coat the chicken tenders with the breadcrumb mixture. Arrange on baking sheet. Repeat with remaining strips.
Bake chicken tenders for 12-15 minutes, or until golden brown, flipping once part way through the cook time.
To prepare sauce, whisk together honey and barbeque sauce in a small bowl until combined. Season to taste with salt and pepper.
Ali's Tip:
There's a reason why restaurants offer you about 500 sauce options whenever you order chicken fingers.  It seems everyone has a different favorite!  So to provide a few more options, here are a couple other simple sauce recipes you can try…

Apricot Sauce
⅔ cup apricot preserves
2 Tbsp. soy sauce
1 Tbsp. freshly-squeezed lemon juice
2 tsp. ketchup
Honey-Mustard Sauce
1/3 cup mayonnaise
2 Tbsp. mustard
2 Tbsp. honey
Basil Aioli
1/2 cup mayonnaise
2 tsp. red wine vinegar
1 tsp. garlic powder
1/2 tsp. dried basil
salt and pepper, to taste
If you make this recipe, be sure to snap a photo and hashtag it #gimmesomeoven. I'd love to see what you cook!