Bell Pepper Egg-In-A-Hole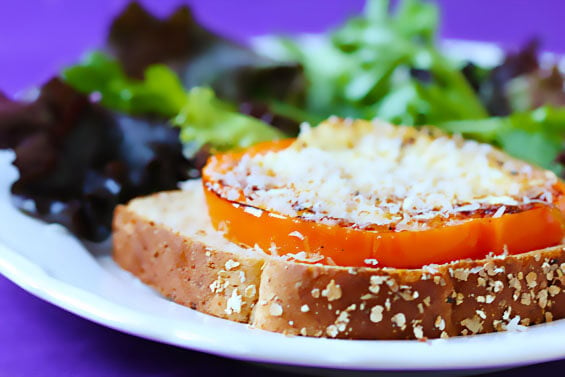 Ok, this was one recipe I had to try…  :)
Recently came across it in an issue of Martha Stewart Everyday, and was definitely intrigued.  Seemed like my kind of a twist on eggs and toast — so cute!  Since I've been stocking up on bell peppers this summer (both in my garden and at the farmers' market – yum!), decided to give it a go!
But I have to admit…my first attempt wasn't so "cute".  My first inclination was to go with the biggest, roundest bell pepper in my fridge.  But as soon as I cracked the eggs, I quickly discovered that they would hardly fill the "hole"…much less rise to the top!  So I ended up giving it another try with some skinnier bell peppers, and also sliced them a little thinner than the full 1/2-inch that the recipe required.  (Mine were maybe a centimeter or so high.)  Sure enough, voila — four charming, perfectly-cooked and perfectly-filled "bell pepper egg-in-a-hole" creations, courtesy of Martha.  Cute, cute, cute…and delicious!  :)
I ended up following the rest of her recipe to a tee, resisting the urge to throw in some extra herbs, and we agreed they were quite nice!  Definitely liked the extra Parmesan on top.  And the whole meal (which could easily serve four for breakfast, brunch, or lunch!) took less than 10 minutes to make.  Love it.  And definitely recommend it!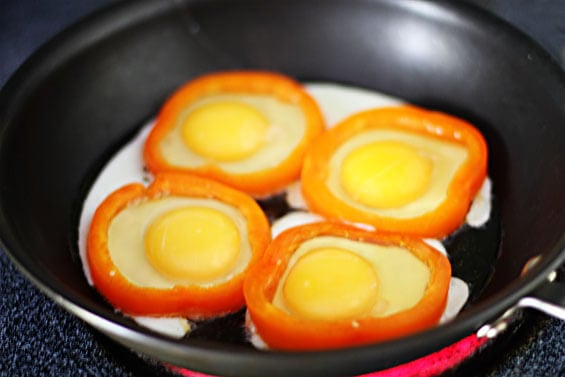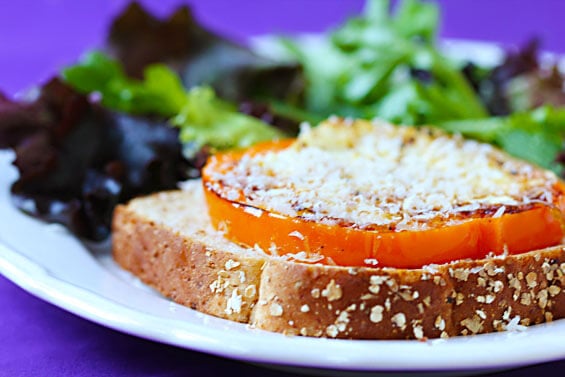 Bell Pepper Egg-In-A-Hole
A bright new breakfast twist on eggs and toast, you will love this Bell Pepper Egg-In-A-Hole recipe! Can be prepared in less than 10 minutes.
Ingredients:
2 tsp. olive oil
1 bell pepper (any color), cut into four 1 cm-thick rings
4 large eggs
coarse salt and ground pepper
1 Tbsp. grated Parmesan
4 slices multigrain bread, toasted
8 cups mixed salad greens
Directions:
In a large cast-iron or nonstick skillet, heat 1 teaspoon oil over medium-high heat. Add bell pepper, then crack 1 egg into the middle of each pepper ring. Season with salt and pepper and cook until egg whites are mostly set but yolks are still runny, 2 to 3 minutes. Gently flip and cook 1 minute more for over easy.

Sprinkle with Parmesan and use a spatula to place each egg on a slice of toast. Toss salad greens with 1 teaspoon oil and season with salt and pepper; serve alongside eggs.

If you make this recipe, be sure to snap a photo and hashtag it #gimmesomeoven. I'd love to see what you cook!
Ali's Tip:
To give this more of a Southwestern flare, you could add some finely chopped jalapeno (and maybe some finely chopped mushrooms!) inside the bell peppers when you first add them to the skillet.  Then just crack the egg on top of them, and immediately sprinkle with a pinch of cumin and chili powder on the egg.  Then garnish with some chopped fresh cilantro!