Berry Cream Cheese Pastries
Get ready!  I'm having a little too much fun with red, white and blue recipes this year…
First up are these fun little "Berry Cream Cheese Pastries".  I made a coconut version of these last month to post on Katie's blog, and one of my taste-testers who came over that week happened to be my sweet 8-yr-old piano student named Elton.  He looked at them suspiciously when I sent him home with a few, but his mom told me that he ended up loving them and asked if they could drive back for more!
Coincidentally, I also saw them this week when I made a new "red, white and blue" version with blueberries and a strawberry drizzle.  And this was the resulting text from his mom: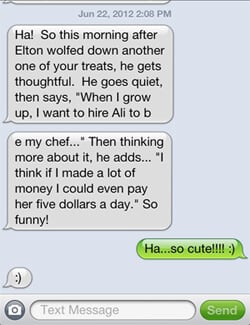 And…there is my life's calling.  :)  I love that little guy!  And also love these little pastries!  Seriously, they were so much fun to make, and as you can see below, I even customized some into little American flags.  Sure enough, my friends (and little Elton) LOVED them.  Definitely a delicious, crowd-pleasing dessert for the 4th of July, Memorial Day, or any other occasion to celebrate our red, white and blue!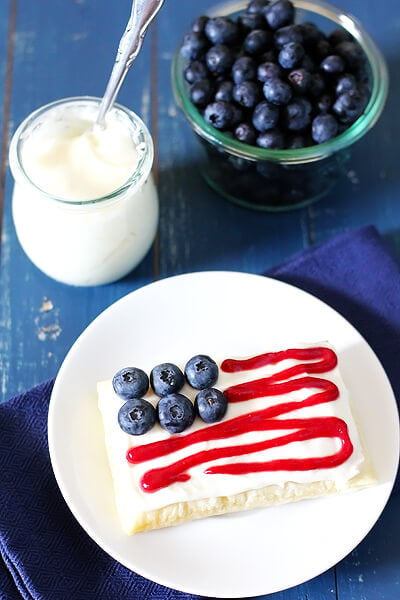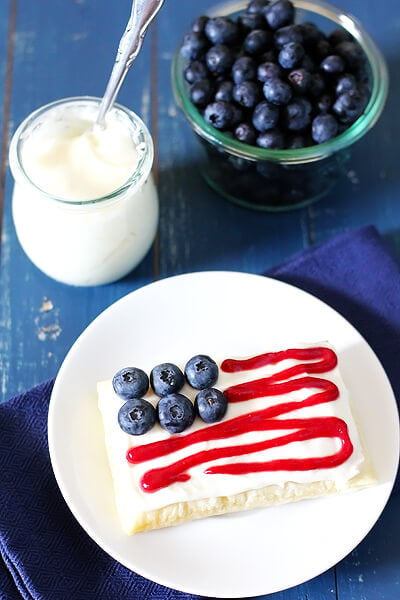 Berry Cream Cheese Pastries
Celebrate the "red, white and blue" with these adorable little pastries! Made easy with puff pastry, these little desserts are fun to customize and your friends and family will LOVE them!
Ingredients:
1 package (2 sheets) frozen puff pastry, thawed
1 (8 oz.) package cream cheese, room temperature
2 cups powdered sugar (or more)
4 Tbsp. butter, softened
2-3 cups strawberries, hulled
2 Tbsp. sugar
1 cup fresh blueberries
Directions:
Preheat oven to 400 degrees F.
Lay out thawed puff pastry on a floured surface, and gently using a rolling pin to even out the creases. Use a pizza cutter or a large knife to cut the pastry into your desired shapes. (I made about 16 squares with one sheet, and 6 rectangles with the other sheet, but you can also use cookie cutters or cut different sized shapes.) Lay out the cut pastry dough on a baking sheet or two. Then use a fork to then poke numerous holes into the middle of each piece, to minimize inflation.
Bake pastry according to package directions until it is puffed and very lightly golden, about 12-15 minutes. Remove and let cool.
While pastry is baking, use a blender or food processor to puree strawberries and sugar. Transfer mixture to a small saucepan and bring to a boil over medium-high heat. Reduce heat to medium-low, and let simmer for 10-15 minutes until reduced and thickened. Remove from heat.
Meanwhile, whisk together (or use an electric mixer to combine) the cream cheese, butter and powdered sugar on medium-high speed until smooth. Add more powdered sugar if you would like a thicker cream cheese spread.
Assemble the pastries by topping the cooked puff pastries with the cream cheese spread, then layer with the drizzled strawberry mixture and blueberries. Serve immediately, or cover and refrigerate for up to a few days.
Ali's Tip:
Feel free to substitute in cherries or raspberries for the red fruit drizzle!
All images and text ©
If you make this recipe, be sure to snap a photo and hashtag it #gimmesomeoven. I'd love to see what you cook!