The BEST Healthy Granola!
This really is the best healthy granola recipe!  It's quick and easy to make, naturally sweetened with (just a little) maple syrup, and always so flavorful and delicious.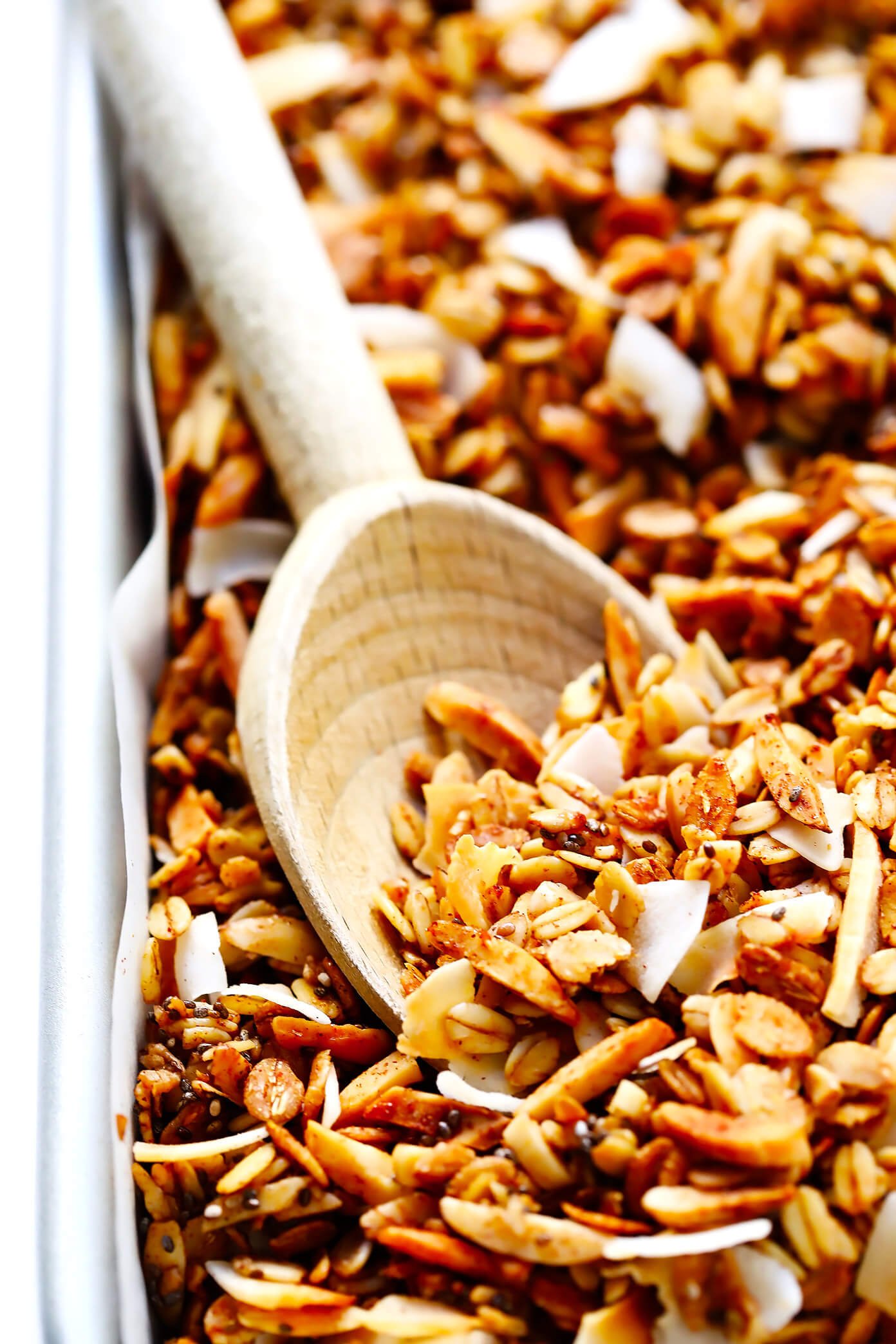 Alright, time to pin, print, save, tag, or bookmark this recipe however in the world you prefer.  Because I'm telling you, this one is a total keeper.
Friends…meet my all-time favorite homemade granola recipe! ♡
As I'm sure you've noticed by now, our little household has a borderline out-of-control granola obsession.  We're constantly whipping up various kinds of granola (or granola bars) to keep on hand for easy breakfasts, lunches, snacks, and — let's be real — our fair share of lazy weeknight dinners cozied up on the couch with a bowl and a side of Netflix.  We love it plain, we love it drowning in almond milk, we love mixing it with fresh fruit and Greek yogurt into parfaits, we love sprinkling it on everything from desserts to mashed potatoes to salads (<– yes, surprisingly good).  We just freaking love granola.
And while I have shared over a dozen kinds of fun and quirky granola recipes here on the blog over the years, I will be the first to admit that the vast majority of the time, we usually keep things simple and default to this classic healthy granola recipe right here.
In my granola-obsessed opinion, it's simply the best.
Partly because it's super quick and easy to make, with ingredients you probably already keep in your pantry.  Partly because it's full of feel-good ingredients, including lots of protein and omega-3s.  Partly because it isn't overly sweet, just lightly tossed with a bit of honey or maple syrup.  Partly because it's perfectly crunchy, and easy to customize with whatever ingredients you love most.  But mainly, I just love this granola recipe because it is downright delicious.
So if you're on the search for a back-pocket, tried-and-true, perfectly-crunchy, all-kinds-of-flavorful, feel-good granola recipe of your own, I highly recommend giving this one a try.  I think you're going to love it!
The Best Healthy Granola Recipe | 1-Minute Video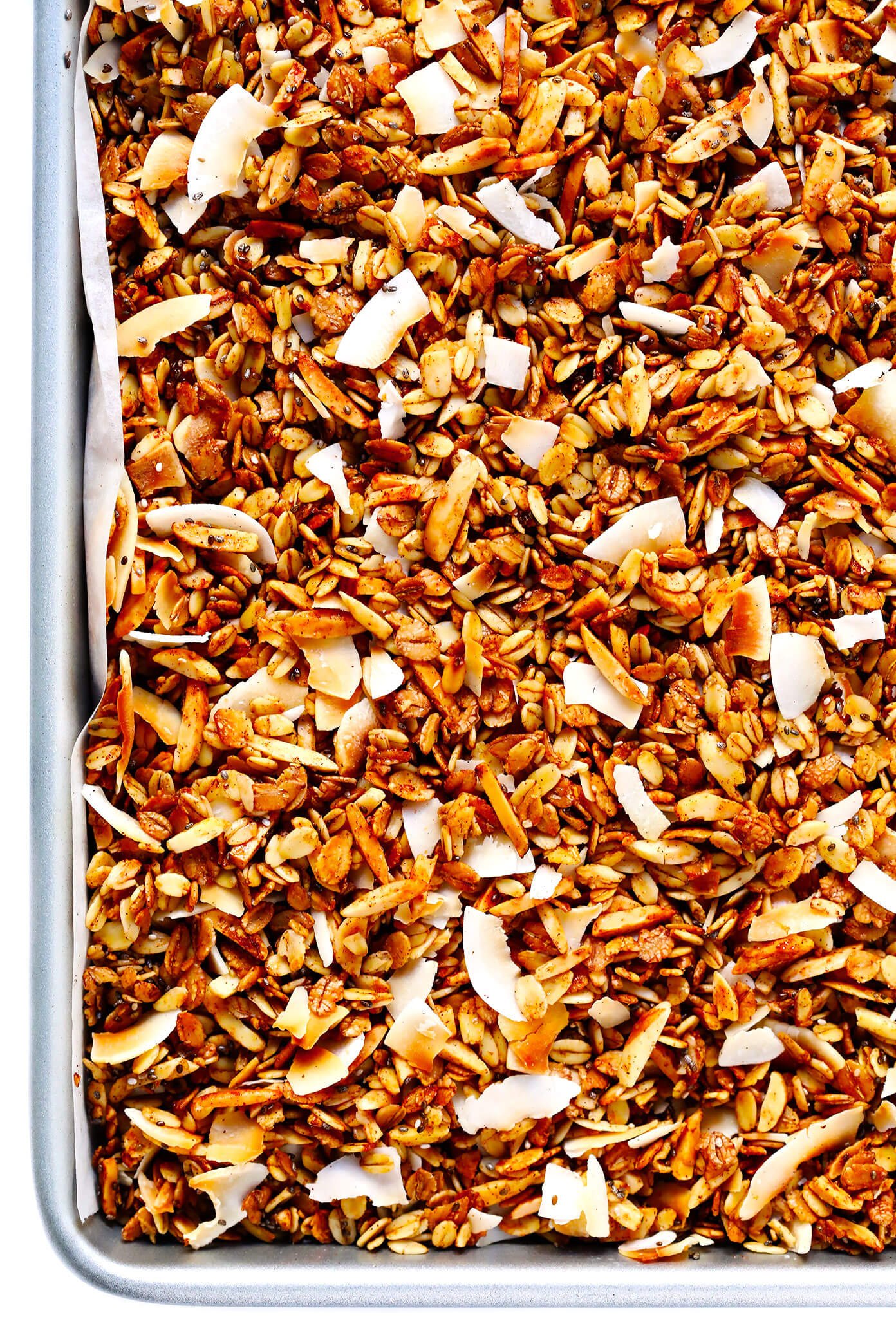 Homemade Granola Ingredients:
To make this homemade granola recipe, you will need:
Old-fashioned oats: Also known as rolled oats.  If making this recipe gluten-free, be sure to double-check that the brand you buy is certified GF.
Nuts: I almost always use slivered almonds in my granola.  But feel free to replace them with your favorite nuts or seeds (like pepitas or sunflower seeds).
Chia seeds: I like sprinkling these in for extra omega-3s, but feel free to omit them if you prefer.
Melted coconut oil: Or your preferred kind of oil.
Honey: Or maple syrup.
Ground cinnamon, salt and vanilla extract: To flavor the granola.
Flaky coconut: Or you can use shredded coconut, or omit the coconut altogether.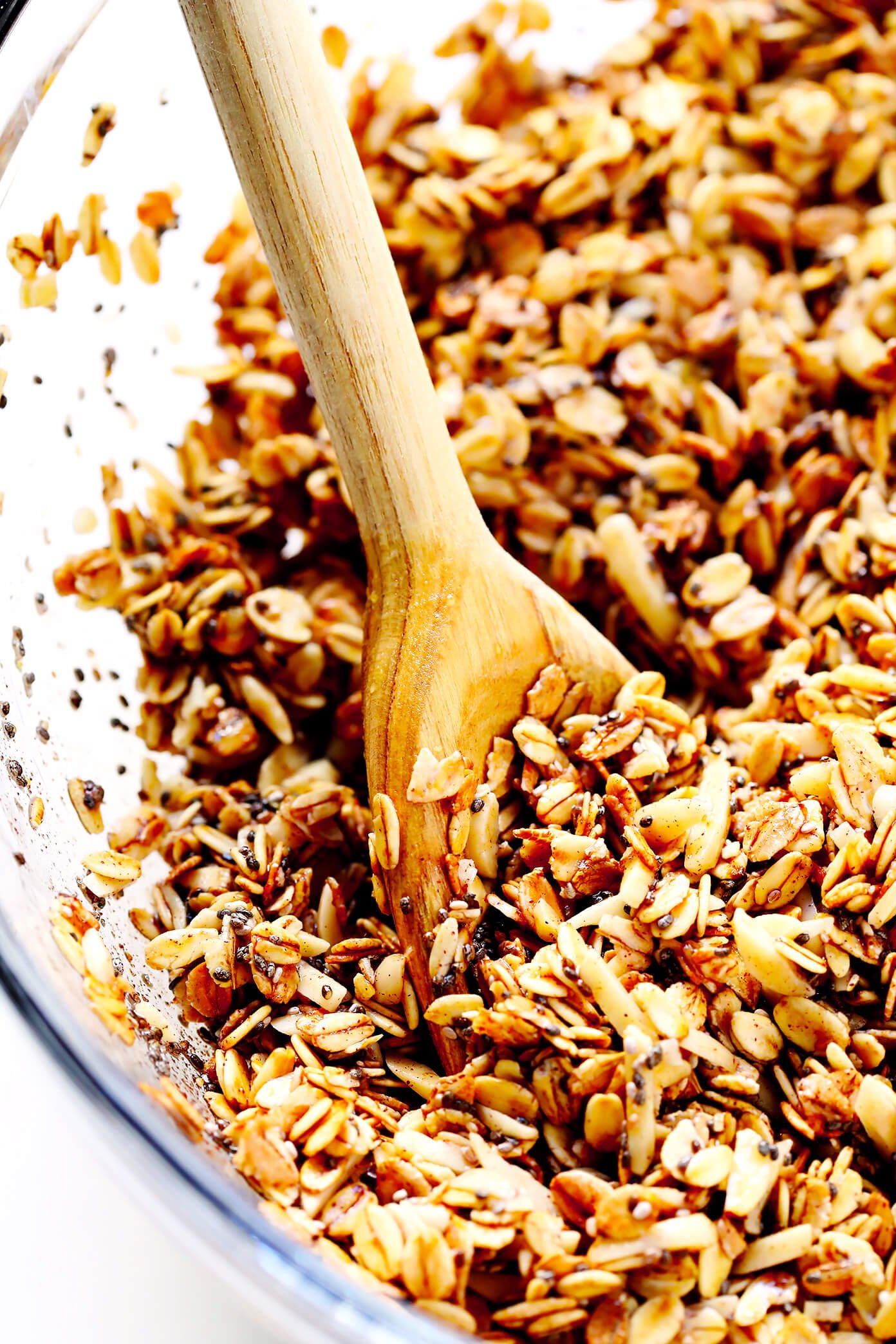 How To Make Granola:
Alright, let's talk about how to make granola!  Simply:
Toss together (most of) the dry ingredients.  Oats, almonds, chia seeds, cinnamon and salt, that is.  We'll save the coconut and any extra add-ins for later.
Add the wet ingredients.  Whisk together the melted coconut oil, maple syrup, and vanilla.  Then drizzle it over the dry ingredients and give everything a good toss until it's evenly mixed.  Spread the mixture out evenly on a large parchment-covered baking sheet.
Bake.  Let the mixture bake at 350°F for 20 minutes.  Then remove from the oven and give the mixture a thorough stir.
Add coconut.  Then sprinkle the coconut evenly on top of the granola.  (We're doing this so that it's just lightly toasted and doesn't overcook.)  And pop the baking sheet back in the oven for another 5 minutes, keeping a close eye on the coconut so that it doesn't burn.  Then remove the baking sheet from the oven and transfer it to a wire rack.
Let the granola cool.  Wait for about 20-30 minutes, or until the granola has completely cooled to room temperature.  Then use a spoon (or your fingers) to break it up into your desired size of clumps.
(Optional) Add your mix-ins.  Then at this point, if you plan to add any chocolate chips, dried fruit, or other add-ins, go ahead and stir them in.  And finally…
Enjoy!  You can either serve the granola right away.  Or transfer it to a sealed container, and it should keep for up to 1 month.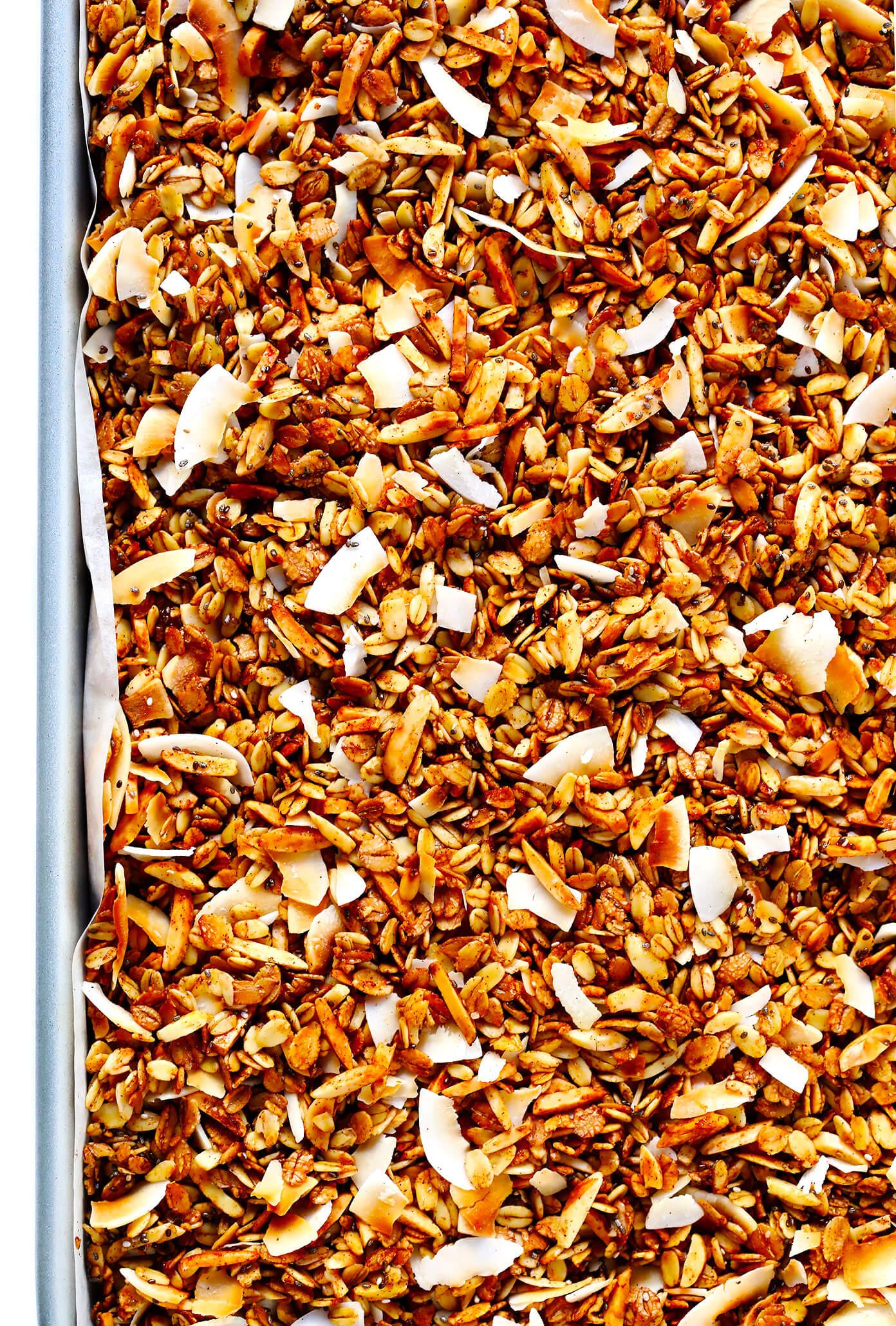 Possible Variations:
Want to customize your granola a bit more?  Feel free to add in extra:
Dried fruit: Any kind of chopped dried fruit would be delicious here.
Chocolate chips: As would, of course, your favorite kind of chocolate chips.
Peanut butter: Feel free to stir in 1/4 cup natural peanut butter (stir it into the melted coconut mixture) if you would like.
Warming spices: I've kept the recipe simple below with just using ground cinnamon.  But feel free to add in any other additional warming spices that you love, such as ground nutmeg, cloves, ginger and/or allspice.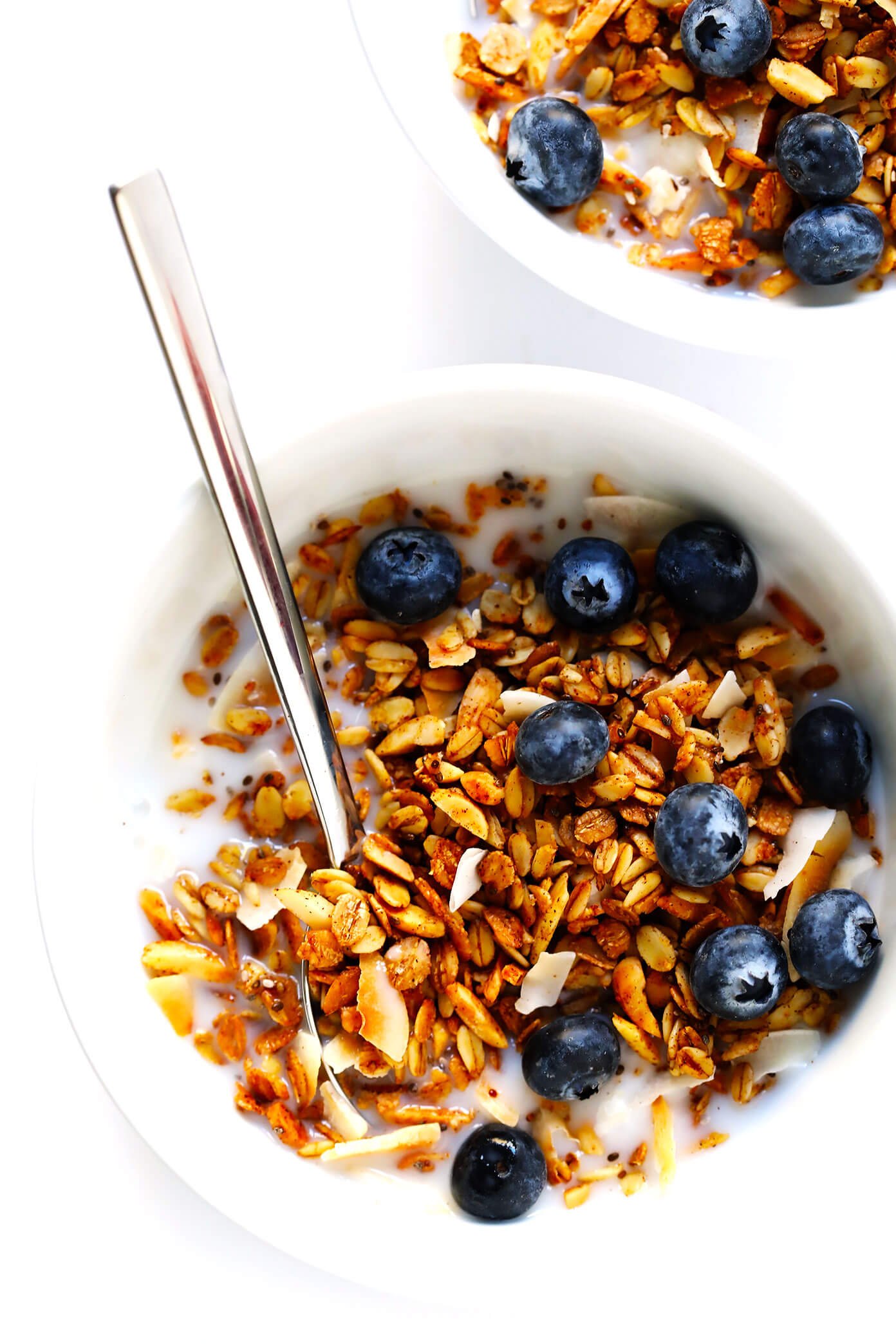 More Favorite Granola Recipes:
Be sure to check out some of my other favorite granola recipes too!
The Best Healthy Chocolate Granola (recipe coming tomorrow!)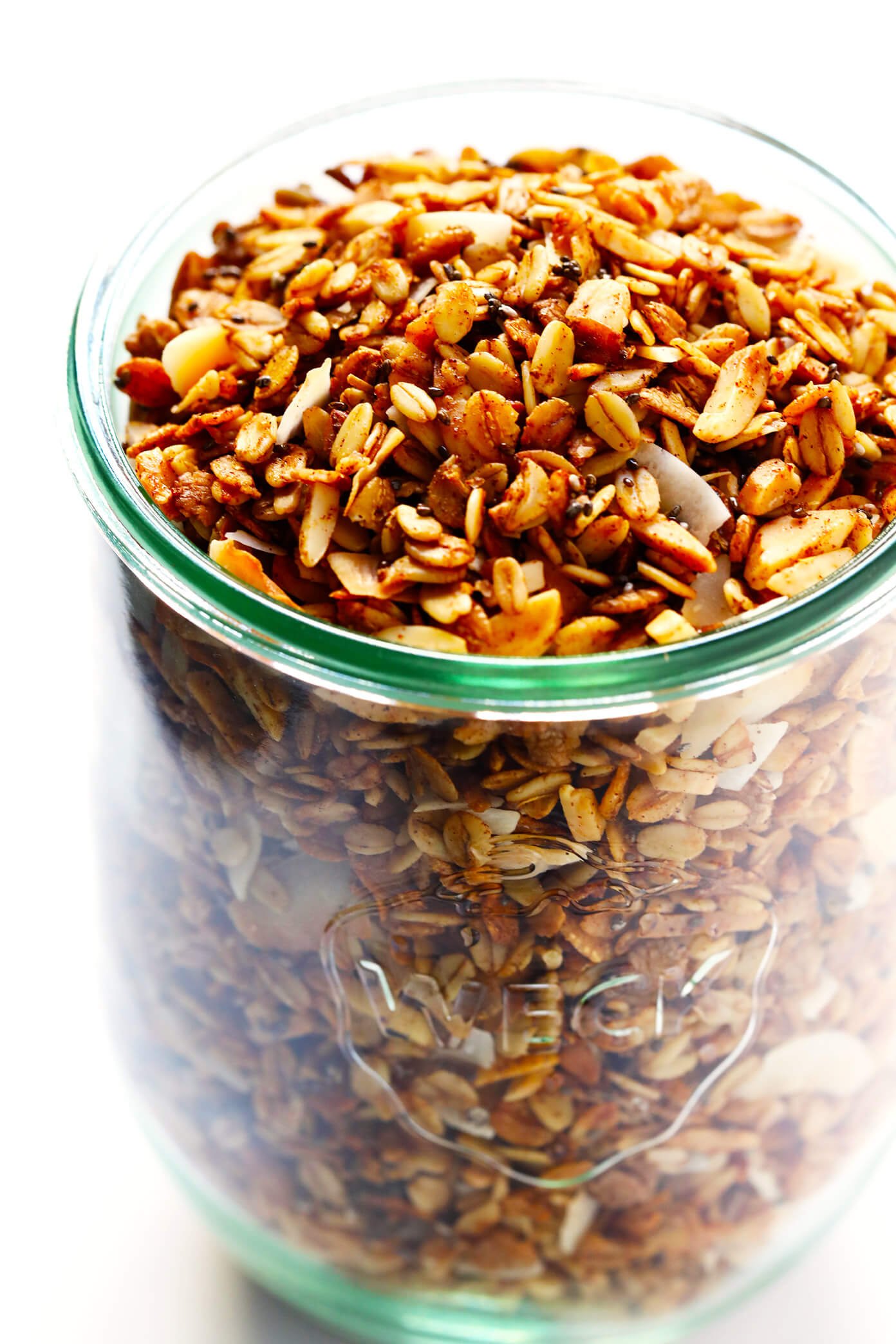 Enjoy, everyone! 💛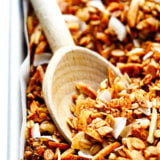 The BEST Healthy Granola!
This truly is the BEST healthy granola recipe!  It's quick and easy to make, it's naturally sweetened with (just a little) maple syrup, and so flavorful and delicious.  See above for more ideas on how to customize your granola too.
Ingredients:
4 cups old-fashioned oats*
1 cup slivered almonds (or your preferred kind of nuts/seeds)
1/4 cup chia seeds (optional)
2 teaspoons ground cinnamon
1 teaspoon sea salt
1/2 cup melted coconut oil
1/3 cup maple syrup
2 teaspoons vanilla extract
2/3 cup unsweetened flaked coconut (or 1/2 cup shredded coconut)
1/2 cup chopped dried fruit or semisweet chocolate chips (optional)
Directions:
Heat oven to 350°F.  Line a large baking sheet with parchment paper, and set aside.
In a large mixing bowl, stir together oats, almonds, chia seeds, cinnamon and sea salt until evenly combined.
In a separate mixing cup, stir together the melted coconut oil, maple syrup and vanilla extract until combined.  Pour the coconut oil mixture into the oats mixture, and stir until evenly combined.
Spread the granola out evenly on the prepared baking sheet.  Bake for 20 minutes, stirring once halfway through.  Then remove from the oven, add the coconut, and give the mixture a good stir.  Bake for 5 more minutes, until the granola is lightly toasted and golden.
Remove from the oven and transfer to a wire baking rack.  Let cool until the granola reaches room temperature.  Then stir in the dried fruit, chocolate chips or any other optional add-ins you might prefer.
Serve immediately, or store in an airtight container at room temperature for up to 1 month.
*If making this recipe gluten-free, be sure to use certified GF oats.
All images and text ©
If you make this recipe, be sure to snap a photo and hashtag it #gimmesomeoven. I'd love to see what you cook!