"best part of waking up"
This post may contain affiliate links. Please read my disclosure policy.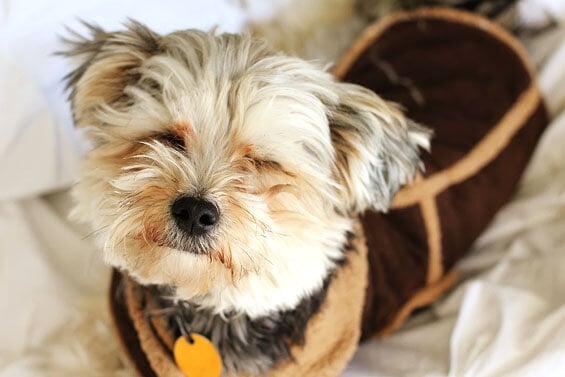 In honor of their new jingle-writing contest, Folgers has posed their famous question to some food bloggers to answer — what's your "best part of waking up"?
I'd love to say that my mornings include a homemade breakfast and a leisurely cup of coffee enjoyed with a book or the day's news. But my little puppy here would have to testify that I'm nnnnnot so great with the alarm clock. So more often than not my mornings are more of a scramble lively-paced adventure in making it to work on time, often with a bag of Cheerios in tow. :)
But regardless of how early I wake up, my hands-down favorite part of the morning is quite simply looking out my bedroom window and feeling the newness of the day. Seeing that light has once more emerged from darkness. Listening to the sounds of my neighborhood waking up and preparing for another day. Finding hope in mercies anew. I know it may sound cliche, but (even when I'm sleep-deprived or running at a crazy pace) mornings always leave me in awe. Grateful for these days we've been given.
So what is your "best part of waking up"???
Check out what some other bloggers have to say here. And then would also love for you to visit the Folgers site and vote on your favorite jingle, and let us know which one is your favorite! (Each day that you vote, you're also entered in a contest to win prizes — one of five $100 grocery store giftcards, or the $10,000 grand prize! Here is the link to the rules.)
As a musician myself, I've had a fun time voting. Love that the ten semi-finalists have such diverse styles, but I have to say that my favorite has to be Courtney R. Her voice is absolutely beautiful, and I love her acoustic, mellow take on the jingle. Check her and the others out, and see what you think, and be sure to vote daily for a chance at some stellar prizes!
Cheers to mornings and the best parts of waking up! :)