Blue Cheese Bacon Macaroni and Cheese
Blue cheese.
People seem to either love it or hate it.
But if you're a lover (and even if you're not, this one might persuade you), do I have an epic new macaroni and cheese recipe for you.

I mean, let's be real.  I think that blue cheese and bacon are two of the best things on the planet.  And the combination of the two is a match made in savory heaven.  So I was basically sold on this recipe before I made it, as were a handful of friends who volunteered to be taste-testers on this one days in advance, and apparently as were my Instagram friends who went gaga over this photo.
But guess what?  I didn't think it possible, but it was even better than I expected. :)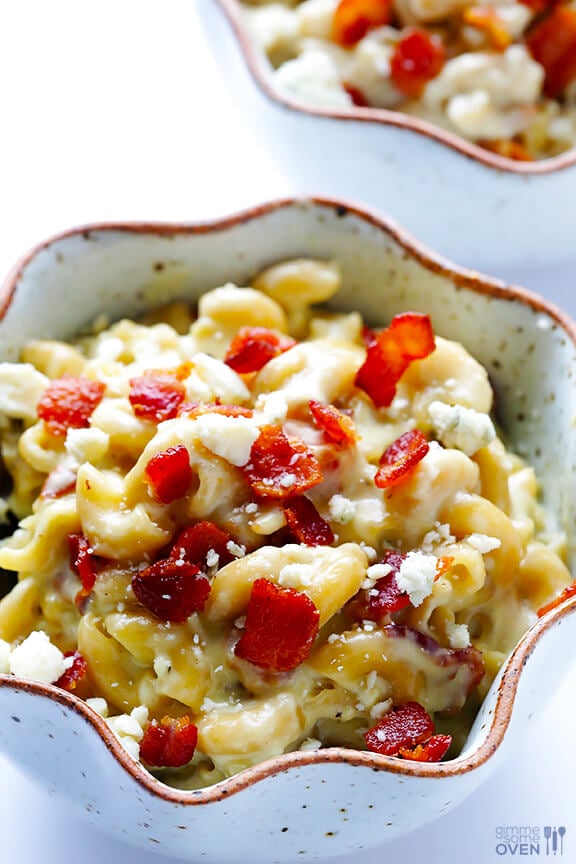 I had actually been dreaming about trying this recipe for awhile.  But when my friends Rachel and Brandy announced that they were organizing a Mac and Cheese Mania (#maccheesemania) to feature tons of recipes from food bloggers and readers like you, I decided it was time to make it happen.
I admit, I thought about trying to do a lighter version of this recipe with turkey bacon and light blue cheese, to go with the whole-wheat pasta and lighter base recipe that I already use.  But when I like to indulge, I like to indulge.  I would so rather have a smaller portion of the real deal than cutting corners when it comes to bacon and cheese.  You're welcome to make substitutions if you'd like, but I'm going for the all-things-in-moderation approach with this one.
Here's how to make it!
We begin with mmmmbacon.  Dice it up and then saute it until crispy.  (Or you can microwave it between paper towels as my grandma taught me to do in order to minimize grease.)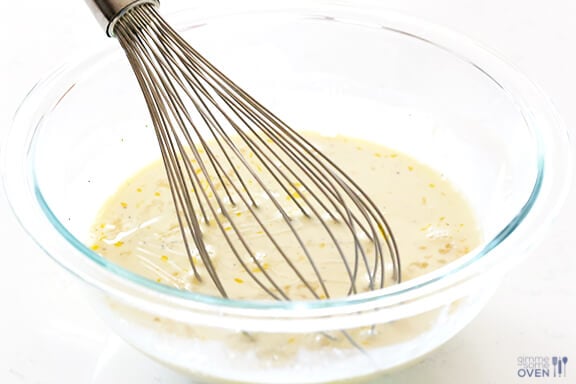 Then, in a separate bowl, whisk together the creamy sauce base.  This is the one I use in all of my macaroni and cheese recipes on the blog, and I love it!  It's quick and easy, and also made lighter with 2% evaporated milk.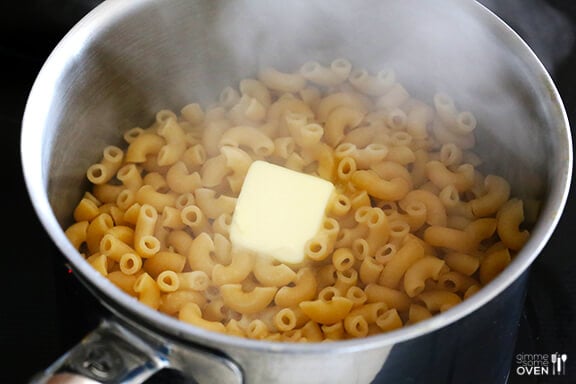 Then cook up your macaroni until it's al dente.  And melt a bit of butter in there to get things started.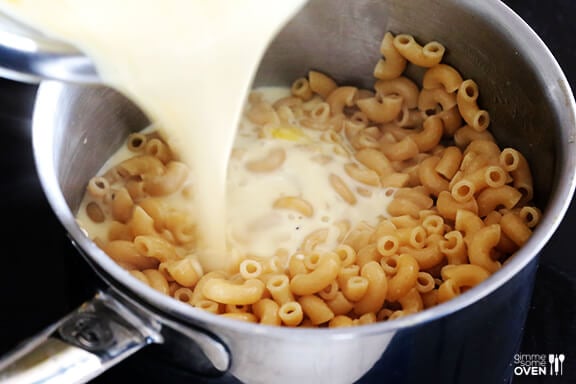 Pour in the creamy sauce…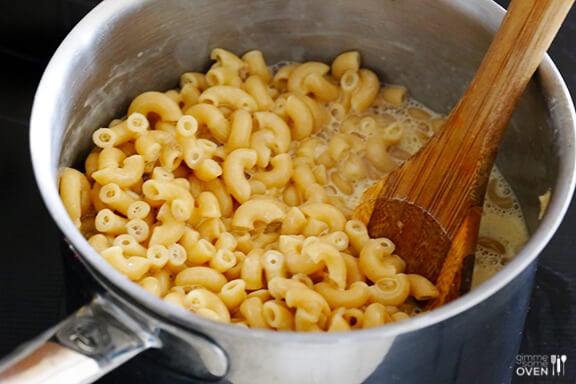 …and continue cooking until it reaches a simmer and thickens a tiny bit.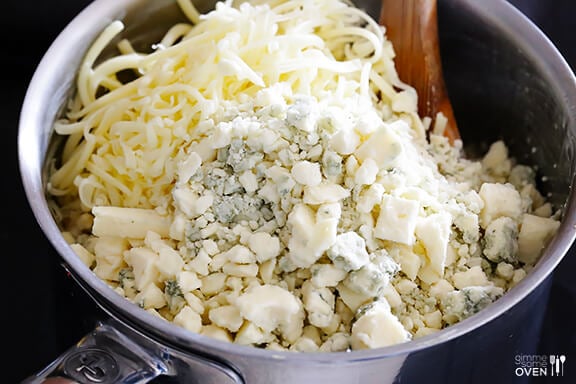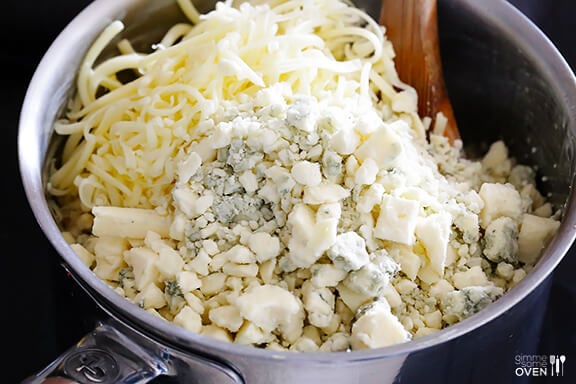 Then comes the moments when the heavens part and you hear the angels sing…CHEESE!
I like my macaroni extra flavorful, so I paired the blue cheese with a sharp white cheddar which I adored.  But feel free to use any other cheese with the blue.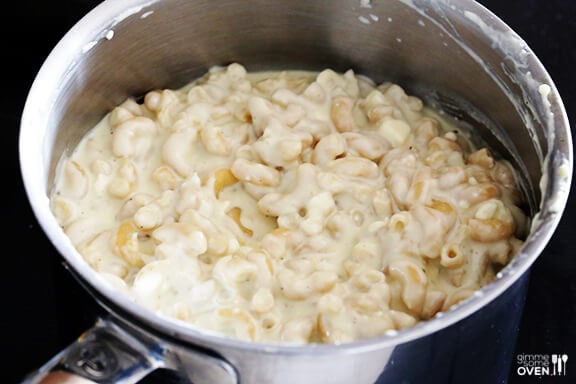 Then stir it all in until the cheese is nice and melted…
And then add the sprinkles — err, bacon — on top, and stir to combine.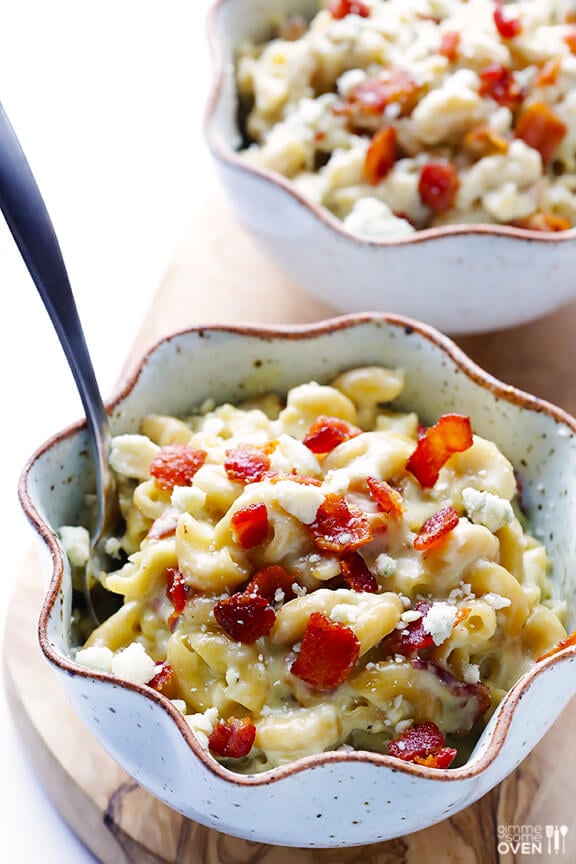 Oh, and then for good measure, add on a little extra bacon and blue cheese on top.  Just for decor, you know.  ;)
Seriously, this blue cheese bacon mac and cheese was everything I hoped it would be and more.  It was rich, creamy, the perfect amount of blue cheesy, and that smoky bacon just sent it over the edge.  Plus it came together in about 30 minutes, which means this will probably be happening again very soon in mi casa.
As my friend Cate said, this one is "two thumbs and two toes up".  SO GOOD.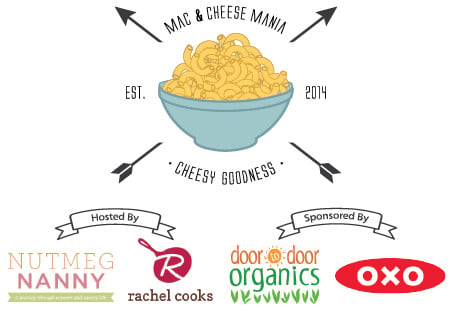 Speaking of good, let's talk a little more about this Mac and Cheese Mania that's hitting the world wide webosphere today.  All sorts of amazing bloggers are posting their own epic mac and cheese recipes, including:
Jalapeno Popper Mac & Cheese by Heather's Dish, Buffalo Cheddar Mac and Cheese by Eats Well With Others, Creamy Spinach Artichoke Macaroni and Cheese with Gouda by Sarah's Cucina Bella, Light Sweet Potato Mac 'n Cheese Recipe by Cookin' Canuck, Macaroni and Cheese Fritters by Amuse Your Bouche, Skinny Chicken Mac and Cheese Casserole by A Zesty Bite, Creamy Pancetta + Leek Macaroni and Cheese by Simply Scratch, Smoked Bacon Mac and Cheese by Cravings of a Lunatic, Pizza Mac and Cheese by Very Culinary, Crab Mac and Cheese by Dine & Dish. Bacon & Eggs Breakfast Mac & Cheese by Sweet Remedy, Fried Mac & Cheese Balls by The Little Kitchen, Sweet Pork Macaroni and Cheese by Oh, Sweet Basil, Butternut Squash Quinoa Mac n' Cheese Bake by Queen of Quinoa, Lightened Up Buffalo Chicken Mac and Cheese by Prevention RD, Butternut Mac and Cheese with Pretzel Crust by Healthy. Delicious., Skinny Greek Mac and Cheese with Crunchy Pita Chip Topping by The Law Student's Wife, Potato Skin Mac and Cheese by Eat Your Heart Out, Homestyle Baked Mac & Cheese by Pocket Change Gourmet, Bacon Mac and Cheese Egg Rolls by Miss in the Kitchen, Pepper Jack Mac and Cheese by Crunchy Creamy Sweet, Blue Cheese Bechamel Mac and Cheese by Sweetphi, Korean Mac & Cheese by Cooking with Books, Black and Blue Mac and Cheese by Fabtastic Eats, Tomato and Leek Mac and Cheese by Susie Freaking Homemaker, Healthier Mac & Cheese with Chipotle Peppers by Go Gingham, Mac and Cheese Ice Cream by Fat Girl Trapped in a Skinny Body, Blue Cheese & Bacon Macaroni & Cheese by Gimme Some Oven, Poutine Mac and Cheese with Andouille Gravy by Climbing Grier Mountain, Double Smoked Chicken Mac and Cheese by Girl Carnivore, Creamy Greek Yogurt Mac and Cheese with Peas and Bacon by Running to the Kitchen, Nudel Gratin by Crumbs and Chaos, Mushroom and Truffle Sea Salt White Cheddar Macaroni and Cheese by Big Bear's Wife, Roasted Poblano and Goat Cheese Mac by Daisy at Home, Creamy Cauliflower 'n Cheese with Bacon by Barefeet in the Kitchen, Wisconsin Cheese, Brats, and Onion Macaroni and Cheese by a farmgirl's dabbles, Spinach Queso Mac & Cheese by Bake Your Day, Roasted Garlic Mac and Cheese with a Pancetta Parmesan Crust by Mountain Mama Cooks, French Onion Mac & Cheese by Dinners, Dishes, and Desserts, Healthier Macaroni and Cheese by Texanerin Baking, Pulled Pork Mac and Cheese by CafeTerraBlog, Macaroni and Cheese Stuffed Peppers by Cook the Story, Jack Daniels Mac and Cheese by The Slow Roasted Italian, Lobster Mac and Cheese by FoodieCrush, Green Chili 5-cheese Baked Mac and Cheese by A Southern Fairytale, Homemade Elbow Noodle Tutorial + a Recipe for Roasted Veggie Mac by Bakeaholic Mama, Salsa Verde Mac-n-Cheese (two ways) by Eat2Gather, Cauliflower Mac and Cheese with Crispy Panko Topping by The Lemon Bowl.
(Whew, check out all of that mac and cheese!)
Ok then as a bonus, we are inviting all of you (that means you!  no blog required!) to upload YOUR favorite recipes to share the mac and cheese love and be entered in a giveaway to win some stellar prizes.  So visit Rachel Cooks and Nutmeg Nanny to learn more and enter for a chance to win!
Alright, onto the recipe for my blue cheese and bacon version.  Hope you love it as much as I do!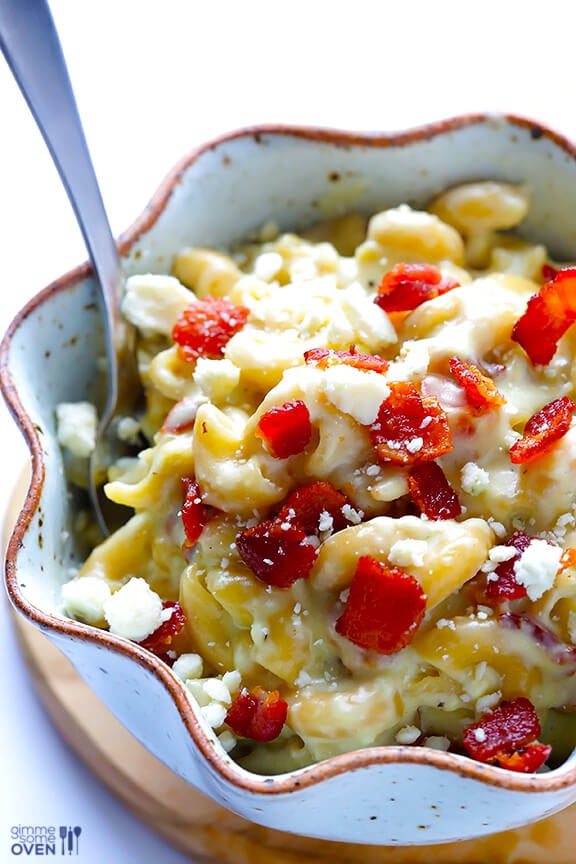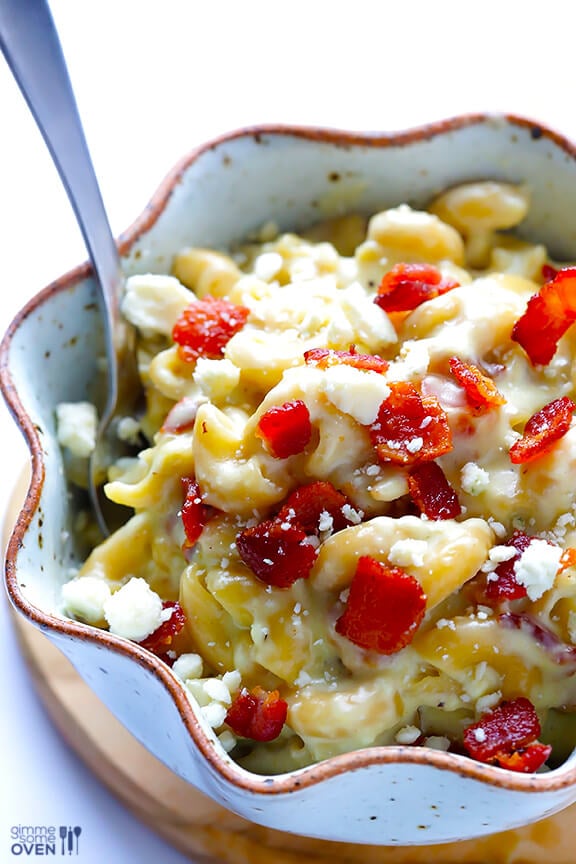 Blue Cheese Bacon Macaroni and Cheese
Blue cheese and bacon are the PERFECT combo for this killer macaroni and cheese recipe.
Ingredients:
8 strips (about 1/2 lb.) bacon, diced
1 (12-ounce) can 2% evaporated milk
1 large egg
1/2 tsp. salt
1/4 tsp. ground black pepper
pinch of cayenne
8 oz. elbow macaroni (I used DeLallo whole wheat)
1 Tbsp. butter
5 oz. crumbled blue cheese
4 oz. freshly-grated sharp white cheddar cheese
Directions:
Heat bacon in a skillet over medium-high heat for about 5-7 minutes, stirring frequently, until crispy.
In a separate bowl, whisk together evaporated milk, egg, salt, pepper and cayenne until combined. Set aside.
Meanwhile, bring a large pot of generously-salted water to a boil, and cook the pasta al dente according to package instructions. When the pasta is cooked, drain it and then return it to the pot and reduce heat to medium-low. Immediately add the butter, and toss until the butter is melted. Pour in the evaporated milk mixture and stir until combined. Continue cooking over medium-high heat, stirring occasionally, for about 3-5 minutes, or until the sauce comes to a simmer.
Remove pan from heat and add in the cheeses. Stir until melted, then stir in the cooked bacon. Serve immediately, garnished with extra bacon and blue cheese if desired.
All images and text ©
If you make this recipe, be sure to snap a photo and hashtag it #gimmesomeoven. I'd love to see what you cook!