Brown Butter Cinnamon Rolls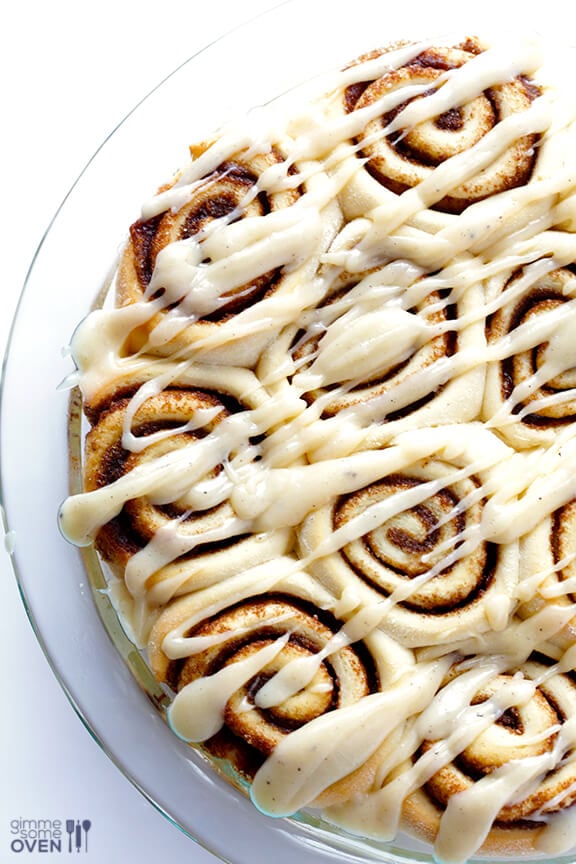 Just when I thought cinnamon rolls couldn't get any better, well, two words say it all…
…brown butter.
I mean, come on!  I have made my 1-Hour Cinnamon Rolls recipe a zillion times.  But it was not until recently that the idea even occurred to me to brown the butter in it.  Once I had the idea, though, you'd better believe I made a batch of these stat.  But then I didn't even think to add brown butter to the cream cheese frosting, so then I had to make a second batch.  And then I got so frosting-happy that I poured basically a lake of frosting on them which — while heavenly — was not quite photogenic.  So alas, I just "had" to make a third batch with a reasonable amount of frosting.  And, ahem, taste test them too.
Food blogging is rough, guys.  ;)
Seriously, though, back to brown butter.
I considered just popping a note in the original 1 Hour Cinnamon Rolls recipe suggesting that people also try it with brown butter.  But frankly, this version tasted epic enough that it felt totally worthy of its own super special post.  The brown butter changed everything!
Sure, they are still sweet and soft and doughy and cinnamon-sugary as always.  But brown butter brings a depth and nuttiness to any recipe that's unlike any other ingredient.  And it's so easy to make too!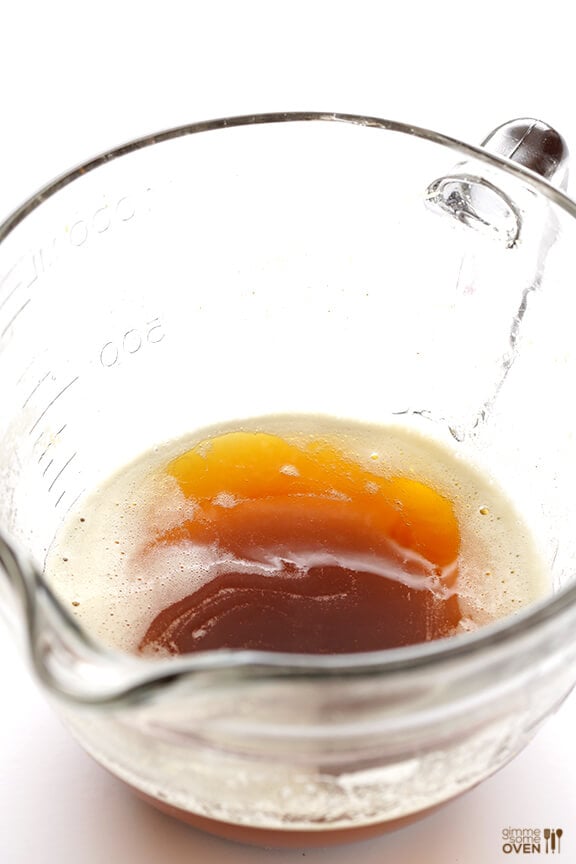 I have included instructions in the recipe below for how to make brown butter on the stovetop (classic).  But I discovered a few years ago that it's also super easy to make in the microwave, and have been doing that ever since.  Just pop your butter in a very large microwavable bowl.  (You need a large bowl because it will bubble up and you don't want it to overflow.)  Then microwave it for about 3-5 minutes or until the butter turns a nice amber color.  You don't want it too dark, or it will burn.  But you also don't want it too light, because then it isn't as flavorful.  So aim for a nice middle ground.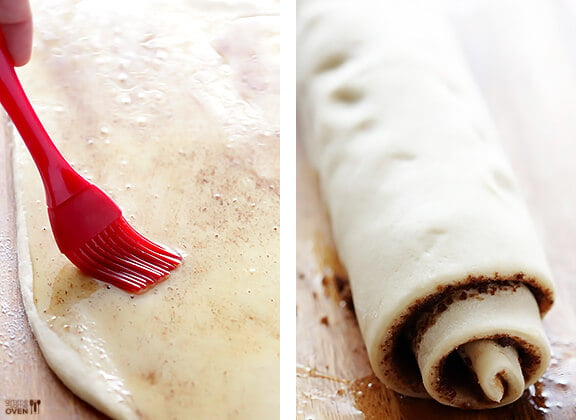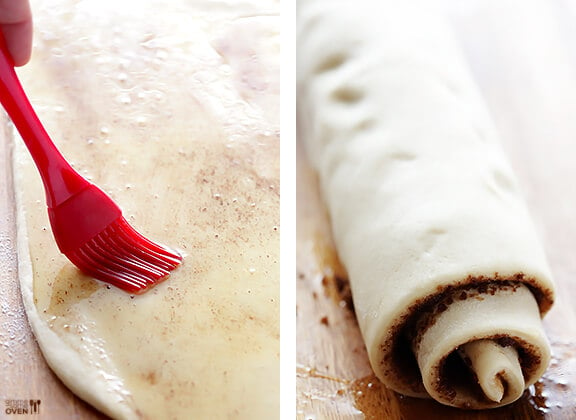 Then mix up your simple dough, let it rise, then roll it out into a large rectangle.  Brush some of your melted brown butter on it (and don't worry if a little spills over the sides of the dough).  Then sprinkle it with your cinnamon and sugar mixture, and roll the dough up nice and tight.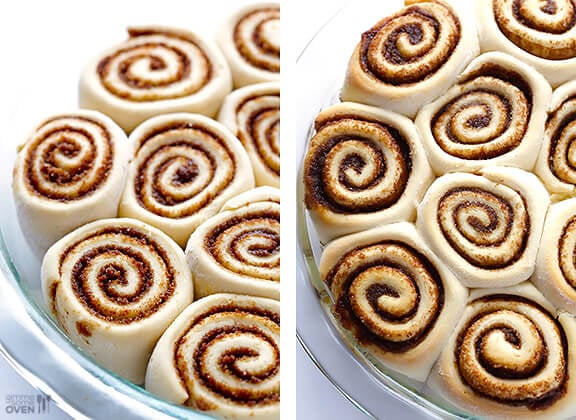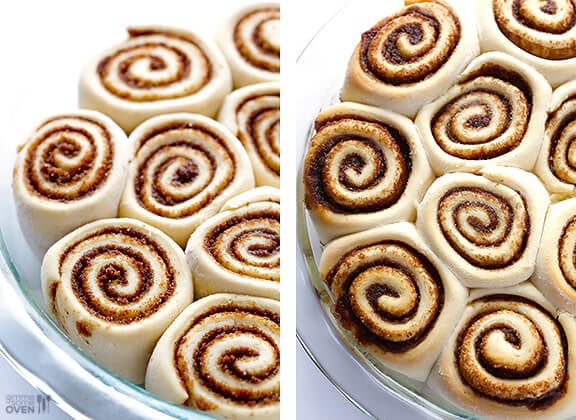 Cut it into 12 equal pieces and place it in a greased baking dish, and let the rolls rise awhile longer.  Then bake them for 15-20 minutes until slightly golden on top and cooked through.  And whip up your brown butter cream cheese frosting while they are a-cookin'.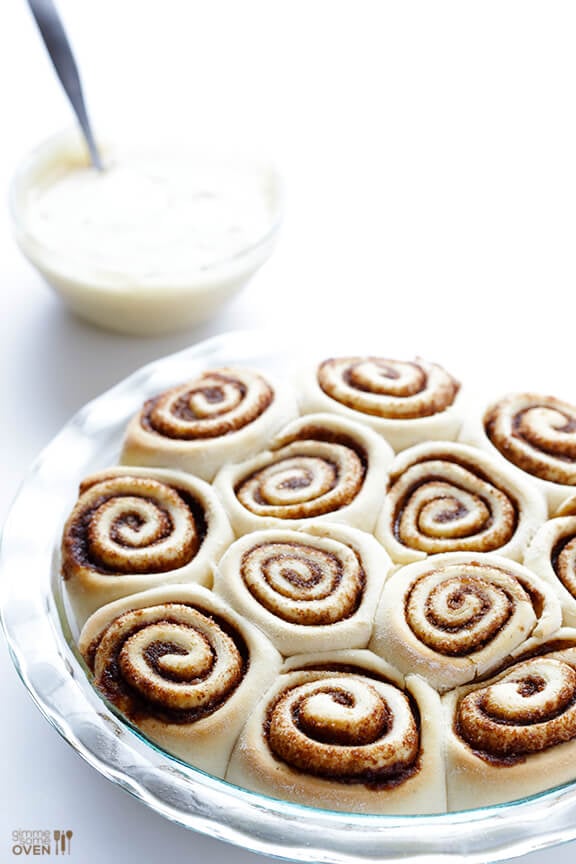 Once you pull the warm rolls out the oven, drizzle them generously (even more generously than my photos) with all of the frosting…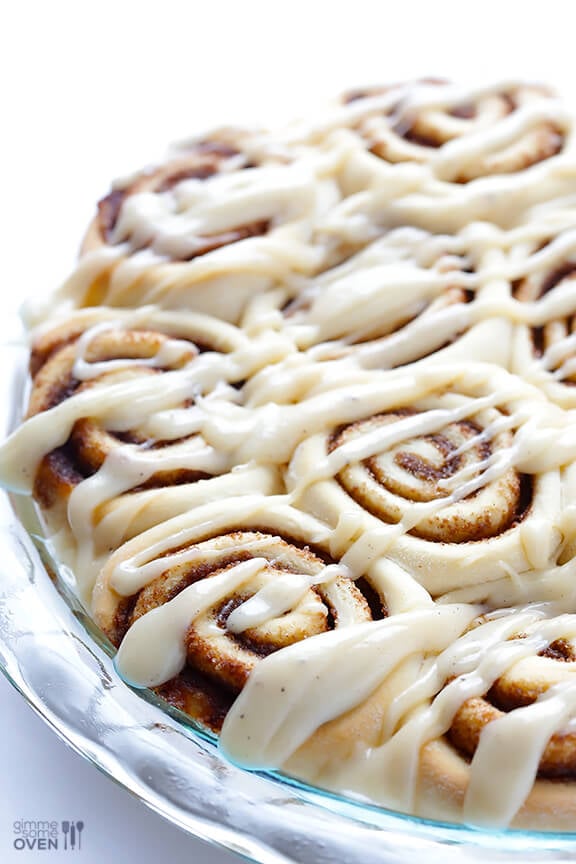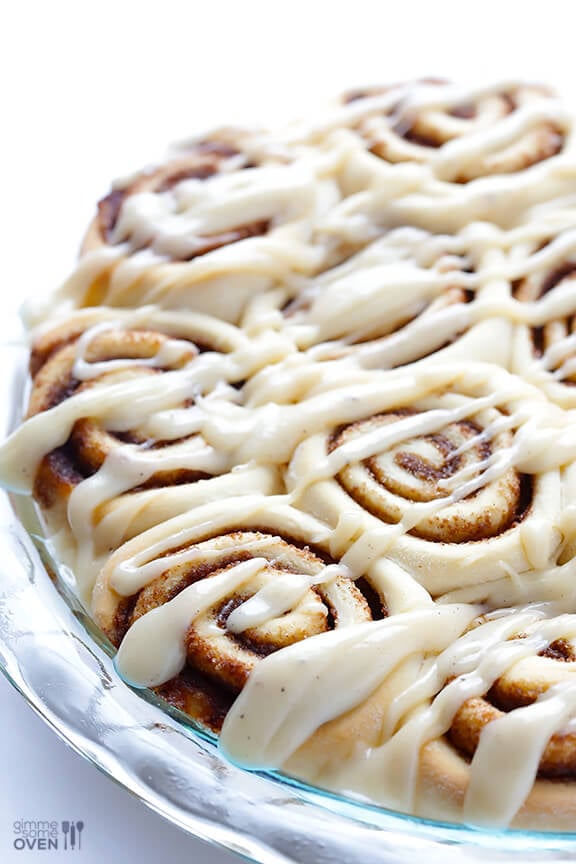 …and then dive in and grab a bite while they're still warm.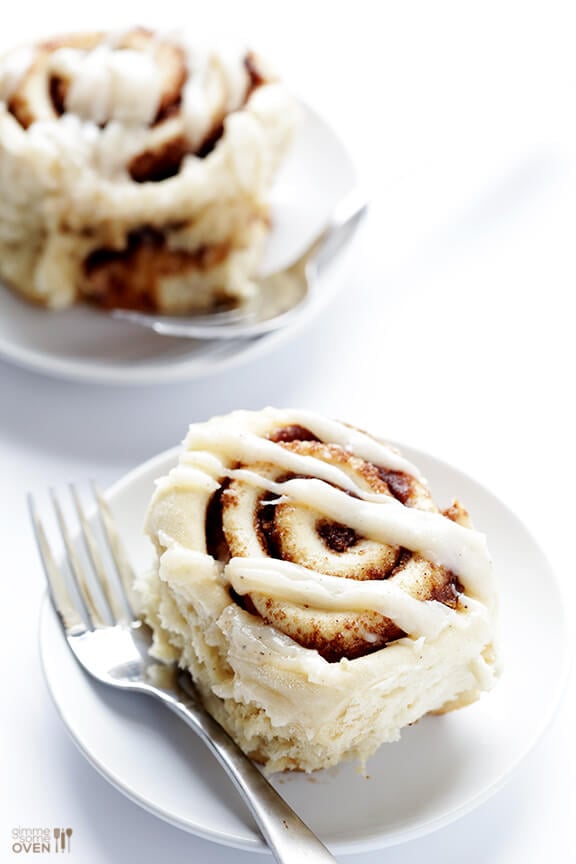 Trust me.  Once you try this brown butter version, I'm pretty positive there will be no going back.
Enjoy every last bite!  :)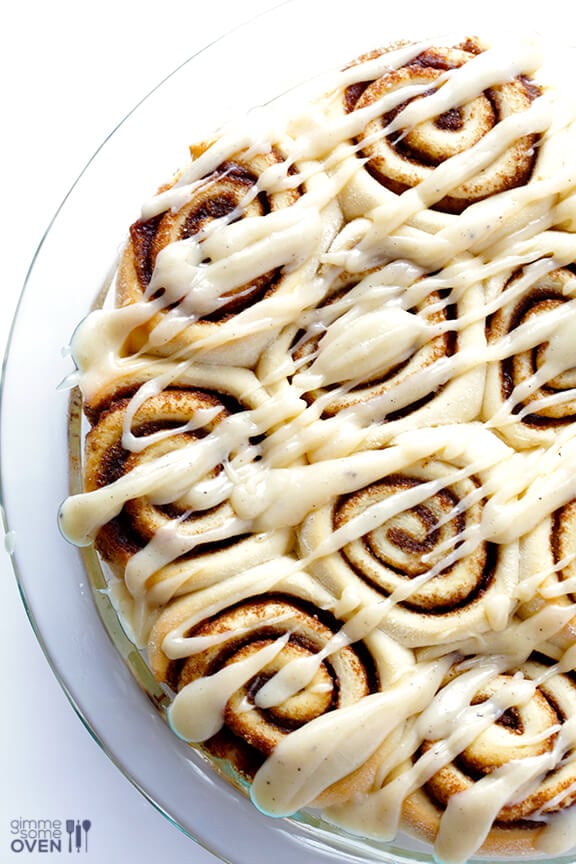 Brown Butter Cinnamon Rolls
Brown butter makes all the difference in this delicious (and quick!) Brown Butter Cinnamon Roll recipe.
Ingredients:
Dough Ingredients:
1 cup milk (I used 2%)
1/4 cup (melted) brown butter (*see instructions for brown butter below)
3 1/2 cups all-purpose flour, divided
1/4 cup granulated sugar
1/2 tsp. salt
1 envelope instant or 'rapid rise' yeast (approx. 2 1/4 tsp)
1 egg
Cinnamon-Sugar Filing Ingredients:
1/3 cup granulated sugar
1/3 cup packed brown sugar
2 Tbsp. ground cinnamon
1/3 cup (melted) brown butter
Brown Butter Cream Cheese Frosting Ingredients:
2 Tbsp. (melted) brown butter
4 ounces cream cheese, softened
1/2 cups powdered sugar
1-2 Tbsp. milk (if needed)
Directions:
To Make The Brown Butter:
Before you begin making the dough and filling, prepare your brown butter.
To make brown butter in the microwave, place butter in a large microwaveable bowl and heat for 3-5 minutes, or until the butter has come to a boil and then turns an amber color. Be careful that the butter does not burn.
To make brown butter on the stove, place butter in a large saucepan and heat over medium-high heat until boiling. Let the butter boil for 2-4 minutes, or until it turns an amber color. Be careful that the butter does not burn.
To Make The Dough & Filling:
Pour the milk into a microwave-safe bowl. Heat on high in the microwave for 30 seconds, then remove and stir in the melted brown butter, and test the temperature with your finger. You want the mixture to be lukewarm, but not hot to the touch. If it is too cool, continue heating the mixture in the microwave for 20 second intervals, pausing after each to stir, until the mixture reaches the correct temperature. If the mixture gets too hot, let it sit out for a few minutes until it has cooled to the lukewarm temperature.
In a separate bowl, whisk together 3 cups flour (not all of the flour), sugar and salt until combined.
In the bowl of a stand mixer (**see note below for an alternative method of making this by hand*) fitted with the dough hook attachment, add yeast and lukewarm milk mixture and stir by hand to combine. Add the flour mixture and egg, and beat on medium-low speed until combined. If the dough is sticking to the sides of the bowl, add the remaining flour, 1/4 cup at a time, until the dough begins to form a ball and pulls away from the sides of the bowl. Continue beating for 5 minutes on medium-low speed. Remove the dough hook and cover the bowl with a damp towel and let rest for 10 minutes.
Meanwhile, make your filling by whisking together sugars and cinnamon in a bowl until evenly combined.
When the dough is ready, turn it out onto a floured work surface. Then use a floured rolling pin to roll the dough out into a large rectangle, about 14 x 10 inches in size. (If you want all edges to be even, you can use a pizza slicer to cut the dough into a perfect rectangle.) Use a knife or pastry spatula to spread the melted brown butter evenly over the entire surface of the dough. Then sprinkle the cinnamon and sugar mixture evenly on top of the melted butter so that the entire surface of the dough is covered.
Beginning at the 14-inch edge, tightly roll up the dough. And then give the final seam a little pinch so that it seals. Use a piece of dental floss*** to "cut" off the two ends of the roll (an inch on each end) so that they are even, then discard the dough that was cut away. Use the floss to cut the remaining dough into 12 equal pieces.
(***To cut dough with dental floss, simply break off a piece of floss about 12 inches long. Then very carefully slide the middle of the floss under the dough to the place where you want to "cut". Then pull the ends of the floss up and cross over the top of the dough, and give a quick tug to literally cut all the way through the dough. This is the best method for not squishing your dough while cutting it — although the standard knife method still works too.)
Place each of the cut cinnamon rolls into a greased pie plate or 9 x 13-inch baking dish. Then cover again with a damp towel, and leave the dish in a warm place to rise for 25 minutes.
While the dough is rising, make the icing (instructions below).
When the rolls have risen, uncover the dish. Then place on the center rack of the oven and bake at 350 degrees F for 15-20 minutes, or until the rolls are golden and cooked through. Remove and let cool on a wire rack for at least 5 minutes. Drizzle with frosting and serve.
To Make The Brown Butter Cream Cheese Frosting:
Either in the bowl of an electric stand mixer, or a mixing bowl, whisk the melted brown butter and cream cheese together until combined. Add in powdered sugar and whisk until combined. If the icing is too thick, add a tablespoon or two of milk to thin it out.
**If you do not have an electric stand mixer with a dough attachment, you can simply stir the ingredients together, and then knead by hand for 5-7 minutes.
All images and text ©
If you make this recipe, be sure to snap a photo and hashtag it #gimmesomeoven. I'd love to see what you cook!