Roasted Brussels Sprouts, Bacon & Pepperjack Macaroni & Cheese
This past weekend, I had the privilege of traveling to Roanoke to gather with a bunch of food bloggers for the first-annual Mixed conference.  I will be posting more photos and stories of the event soon.  It was a total blast!
One of the highlights of the weekend came as a total surprise to me.  My Roasted Vegetable Macaroni & Cheese ended up winning a midnight mac 'n' cheese contest sponsored by Dreamfields Pasta!  I was more than a little shocked, and have no doubt that my face turned beet red as I walked up to receive the prize.  But they were awesome, and even gave me a red sash, black feather boa and a little tiara.  So fun!  :)
Ironically, though, I had just made and photographed a new twist on my favorite recipe the week before.  So it's all the more fun to post it for you now!  Instead of all of my summer veggies, I decided to make some macaroni and cheese with some yummy brussels sprouts and bacon.  And then my favorite twist was using some spicy Pepperjack cheese instead of cheddar.  As I posted on Instagram, I couldn't even wait to finish photographing before I had to dive in and try some.  SO good!!!
Cheers to favorite mac and cheese recipes!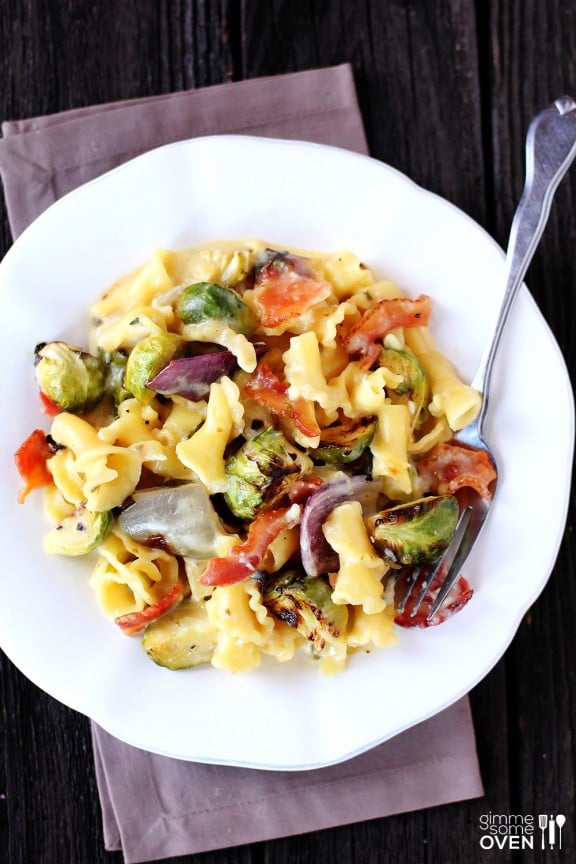 How To Cut Brussels Sprouts | 1-Minute Video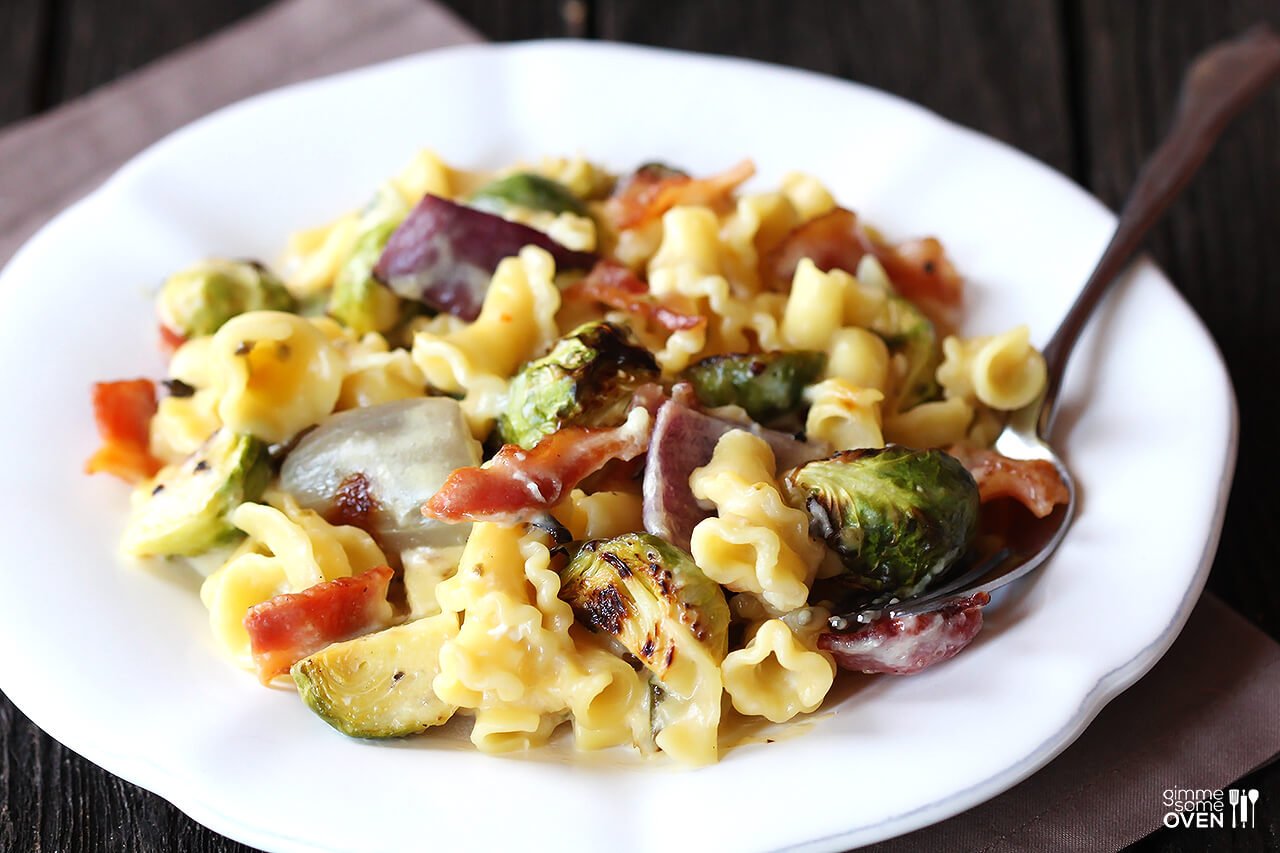 Brussels Sprouts, Bacon & Pepperjack Macaroni & Cheese
Kick up your mac 'n' cheese with some roasted brussels, bacon and lots of Pepperjack cheese. Delish!
Ingredients:
1 lb. brussels sprouts, quartered
1 red onion, peeled and vertically sliced
1 head garlic, cloves peeled
2 Tbsp. canola or vegetable oil
1 (12-ounce) can 2% evaporated milk
2 large eggs
1/2 tsp. salt
1/4 tsp. ground black pepper
8 oz. elbow macaroni or other pasta
1 Tbsp. butter
6-8 strips of bacon, cooked and diced
8 oz. freshly shredded Pepperjack cheese (it will melt better if you shred a block yourself)
1/4 cup Parmesan cheese, plus extra for garnish
Directions:
Preheat oven to 400 degrees F.
In a large bowl, toss the brussels sprouts and red onion with 2 Tbsp. canola or vegetable oil. Season with extra salt and pepper. Place the vegetables on a baking sheet covered with aluminum foil, and give it a shake so that they spread out in an even layer. Divide out garlic cloves and wrap them in aluminum foil to form a sealed packet, and place that in a corner of the baking sheet. Bake for 30-40 minutes, or until vegetables are soft and just beginning to brown around the edges. Remove.
While the vegetables are roasting, bring a large pot of generously-salted water to a boil, and cook the pasta until al dente. Drain the pasta, and then return the pasta to the pot and toss with butter over medium-high heat until melted.
In a separate bowl, whisk together the evaporated milk, eggs, salt, and pepper until combined. As soon as the butter is melted with the macaroni, pour in the evaporated milk mixture and stir until combined. Continue cooking over medium-high heat, stirring occasionally, for about 5-8 minutes, or until the sauce comes to a simmer.
Remove pan from heat and stir in the bacon, grated Pepperjack and Parmesan until melted. Then gently stir in the roasted vegetables until combined. Serve immediately.
All images and text ©
If you make this recipe, be sure to snap a photo and hashtag it #gimmesomeoven. I'd love to see what you cook!