Brussels Sprouts, Cranberry and Quinoa Salad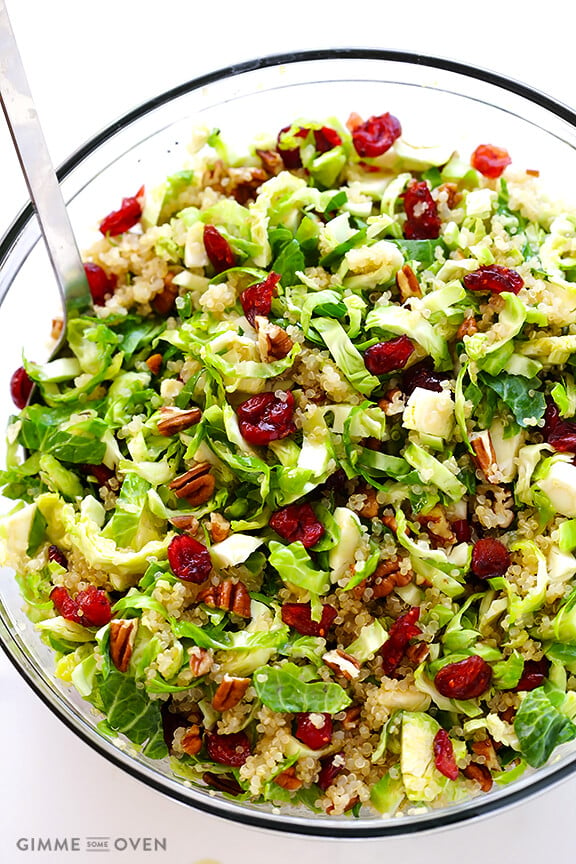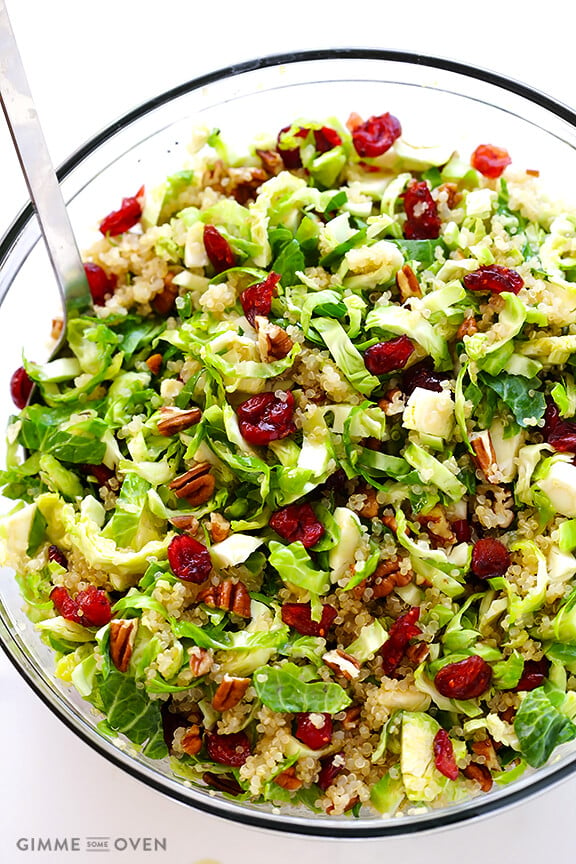 Do you ever wonder what food trends will look like a generation from now?
Every now and then when I'm walking through the grocery store, my mind starts to wonder — what produce will be the hot new trend in 20 years?  What methods of cooking will be most popular?  What foods that we eat today will no longer be in the grocery store?  Heck — will there even be grocery stores, or will most of our groceries arrive on our doorstep via drone?!  (I'm guessing that day may be closer than we think!)
I guess I'm never surprised that artistic trends so often change, like in fashion and music and film.  But it's so interesting to me that the food on our plates also so dramatically evolves from generation to generation — in part because of the artistic and creative side behind the culinary "arts", but also because of the hundred or so other factors from sustainability to cultural influences to technological innovations and so much more.  Things are constantly changing, that's for sure, but I kind of love that.  We could live in a world where our basic sustenance has been the exact same for thousands of year.  But instead, it's something we're still exploring and learning about and getting creative with day after day, year after year, decade after decade.  Pretty cool.
Anyway, no grand conclusions here.  But I was thinking about this the other day as I picked up a bag of brussels sprouts.  Yeah — remember when those were like The Most Dreaded Food Ever a generation ago?  And now they are oh-so-popular and everywhere?  I certainly never would have guessed 20 years ago that roasted brussels would turn into one of my favorite side dishes.  And seriously, I never would have even guessed 5 years ago that I would love eating them raw in a salad!
Times change.  And at least with this recipe, I'm so glad they have.
Have you tried shredded or "shaved" brussels sprouts in a salad yet?  I started buying them at Trader Joe's a few years back and was instantly hooked when I found out that you could actually eat them without sauteing or roasting them.  They are so good!!  And they basically function just like cabbage in a slaw once they're shredded.
So to get in the holiday spirit with reds and greens, I decided to whip up a brussels sprouts and cranberry salad for the holidays this year.  And then for a little extra protein, I also threw in some quinoa and pecans.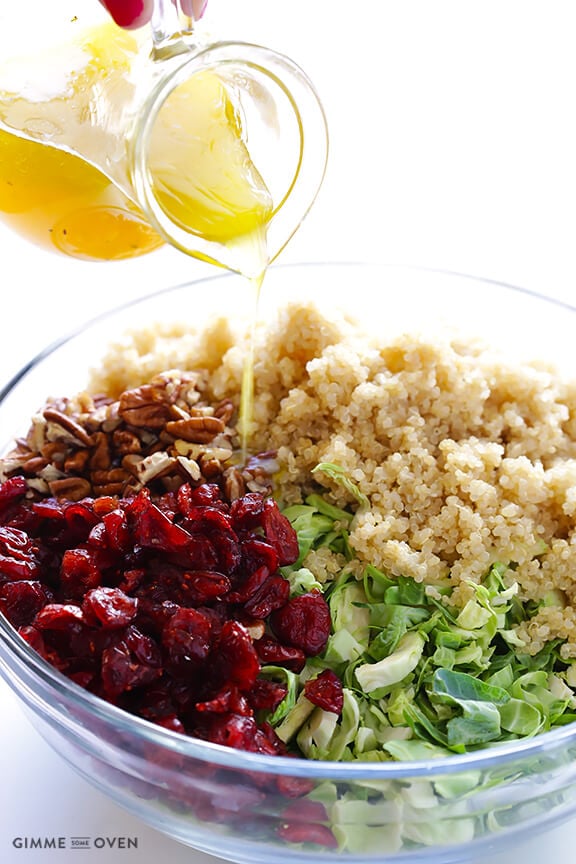 And then since oranges and cranberries are a match made in heaven in my mind (and also in this recipe and this recipe), I tossed the salad with a very light orange vinaigrette.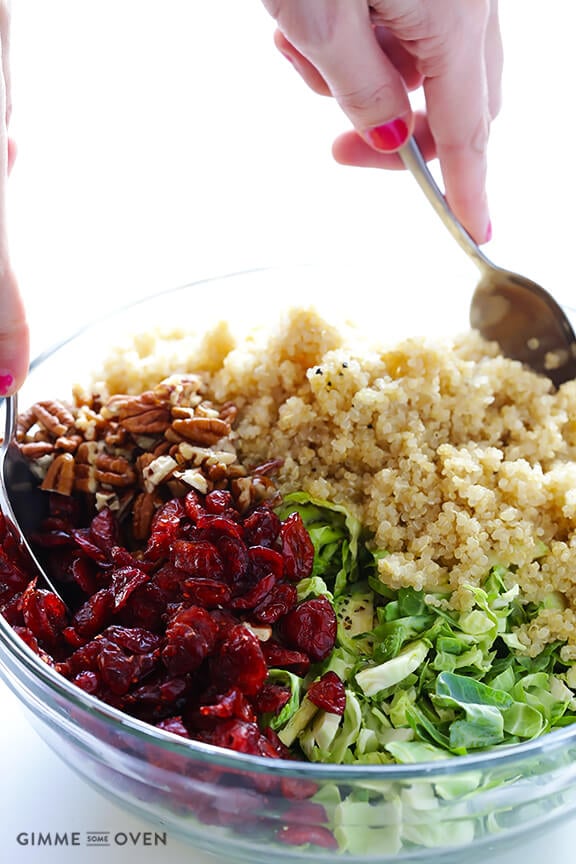 Then I tossed it all together…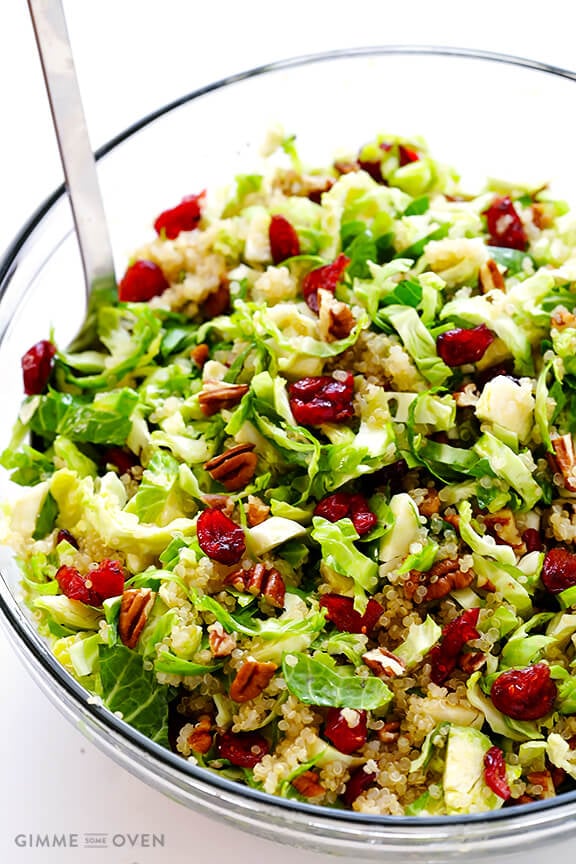 And voila!  The most beautiful, light, holiday salad — which also happens to be vegan — was born.  And even with shredding my own brussels, it was ready to go in the amount of time it took to prepare the quinoa.
Easy peasy.  And SO good.
Long live the brussels sprouts trend!!
How To Cut Brussels Sprouts | 1-Minute Video
Brussels Sprouts, Cranberry and Quinoa Salad
This Brussels Sprouts, Cranberry and Quinoa Salad is simple to make, naturally vegan and gluten-free, and wonderfully light and delicious!
Ingredients:
Salad Ingredients:
1 pound brussels sprouts, rinsed and ends trimmed, then halved lengthwise and thinly sliced crosswise
2 cups cooked quinoa (here is a tutorial/recipe for how to cook quinoa)
1 cup dried cranberries
2/3 cup chopped pecans, toasted
orange vinaigrette (see below)
Orange Vinaigrette:
1/4 cup freshly-squeezed orange juice
1/4 cup olive oil
2 tablespoons apple cider vinegar
pinch of salt and pepper
Directions:
To Make The Salad:
Toss all ingredients together until combined.
To Make The Orange Vinaigrette:
Whisk all ingredients together until combined.
All images and text ©
If you make this recipe, be sure to snap a photo and hashtag it #gimmesomeoven. I'd love to see what you cook!