Buffalo Chicken Salad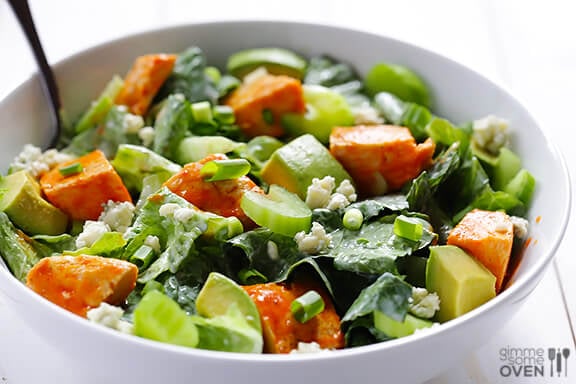 I am nearing the end of my first full week at home in…well…weeks.  And it has been wonderful.
Without a doubt, getting to spend the majority of the summer on the road traveling to various places has been a complete privilege and a blast.  After being in a job with hardly any vacation time — let alone travel — for 7 years, it has been a thrill to hop from place to place for work, and also to have the flexibility with self-employment to throw a few purely "vacation" trips to see friends and family in there.  But I think I am learning that as much as I am a complete traveler at heart, I am also quite equally a homebody.
Quite simply, I love being home.
I love waking up in the morning next to a snuggly pup, and hitting the snooze buttons to soak in a few extra minutes of the warm sunshine beaming through my east window.  I love the dance of trying to create two or three new recipes a day in my tiny kitchen, stacking ingredients and dishes expertly high so that my laptop can have its designated counter space to blast music or episodes of Arrested Development while I work.  I love that my friends are a minutes (or even a floor) away, and love spontaneous Trader Joe's runs and rooftop wine nights and deep-hilarious-honest-challenging-encouraging conversations as much as I do.  I love that my coffee shop next door feels like a second home, and that my work time there is always wonderfully interrupted by conversations with friends new and old.
And as much as I love eating new food and new places out on the road, I love being able to cook what I want at home.
So when the buffalo craving hit recently, I happened to be home in Kansas City and ran to the grocery store to make it happen.
Since it's summer and my fridge is filled with greens, I decided to just make a simple fresh buffalo chicken salad.  I'm sure this has been done plenty of times on the blogosphere before, but it was new to my kitchen.  But I have a feeling this salad may turn into a staple before long.  It was just as comforting as I'd hoped!
Fresh Romaine lettuce is tossed in a yummy Greek yogurt blue cheese dressing.  And then all of the buffalo classics — spicy chicken, blue cheese, chopped celery and green onions — are sprinkled on top.  Oh, and yes you might have spied some avocado in there.  I couldn't resist.  ;)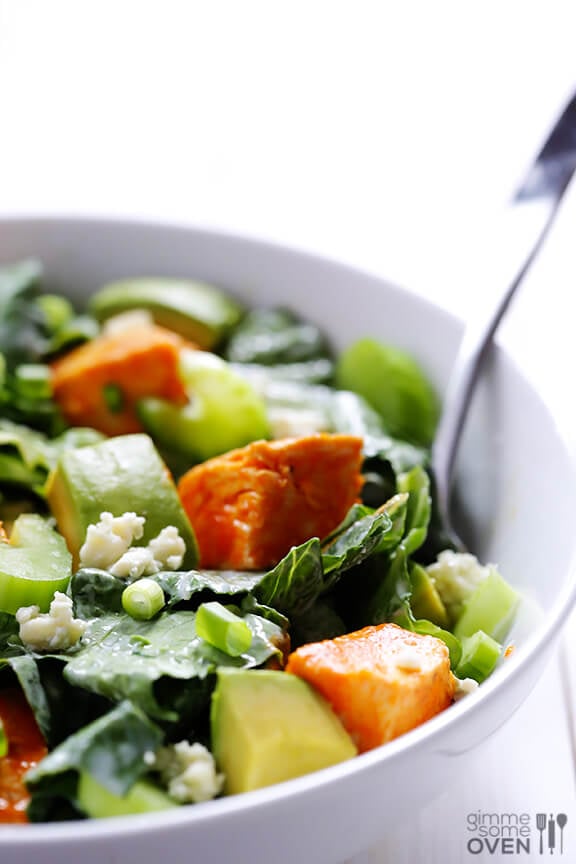 I'm still definitely looking forward to the great meals and memories that are yet to come in my travels this summer.  But as a Kansas girl, I can't help but say it.  There really is no place like home.
(Especially with this buffalo chicken salad is on my table.)  ;)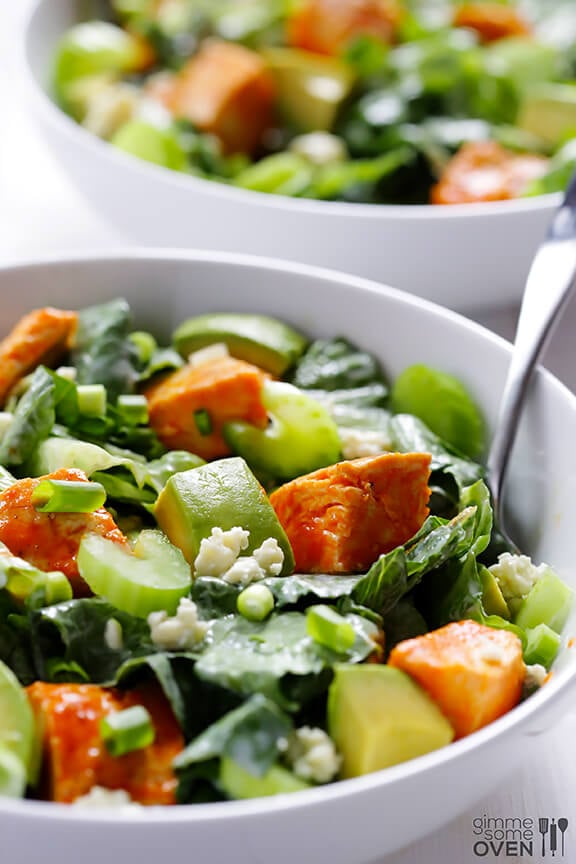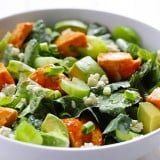 Buffalo Chicken Salad
Buffalo chicken ingredients make for a tasty fresh salad!
Ingredients:
Salad Ingredients:
2 (8-ounce) boneless, skinless chicken breasts
salt and pepper
2 Tbsp. olive oil
3 Tbsp. cayenne hot sauce (I prefer Frank's)
8 cups roughly-chopped Romaine lettuce
2 celery stalks, thinly sliced
2 scallions, thinly sliced
1 avocado, diced
crumbled blue cheese
Greek Yogurt Blue Cheese Dressing (recipe below)
Greek Yogurt Blue Cheese Dressing Ingredients:
1/2 c plain Greek yogurt
1/2 cup crumbled blue cheese
1 garlic clove, finely minced
1 Tbsp. red wine vinegar
1 Tbsp. lemon juice
pinch each of cayenne pepper, salt and black pepper
(optional: a tablespoon or two of milk to thin the dressing, if needed)
Directions:
To Make The Salad:
Place chicken breasts between two pieces of plastic wrap and use a meat mallet to pound to even thickness, about 1/2-inch thick. Season on both sides with salt and pepper.
Heat oil in a large saute pan over medium-high heat. Add chicken breasts and cook for about 5 minutes per side or until cooked through and no longer pink inside. Remove from heat and transfer chicken to a plate to rest for at least 5 minutes. Cut into strips or bite-sized pieces, then toss chicken with your desired amount of buffalo sauce.
Meanwhile, toss together lettuce, celery, scallions and avocado with the Greek Yogurt Blue Cheese Dressing until combined. Serve topped with the buffalo chicken.
To Make The Dressing:
Whisk all ingredients together until combined. Stir in a little extra milk if needed to thin.
All images and text ©
If you make this recipe, be sure to snap a photo and hashtag it #gimmesomeoven. I'd love to see what you cook!